Coronavirus and cycling: A timeline of the pandemic's effect on the sport
From the first outbreak in December to mass race cancellations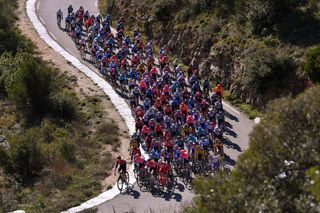 (Image credit: Getty Images Sport)
In early December, 2019, the first cases of a mysterious new respiratory illness emerged in Hubei province in China and despite the Chinese government's best efforts, the disease now known as Covid-19 caused by a new coronavirus SARS-CoV-2 has spread to every country on the planet.
In four months the virus has moved from an unknown animal source to the level of a global pandemic, declared by the World Health Organisation on March 11, 2020.
Cyclingnews followed the course of the outbreaks as they affected the sport of cycling.
January 27, 2020 – first race postponed
The Tour of Hainan was postponed due to coronavirus as the number of global cases approached 3,000 with 80 deaths and 37 cases confirmed outside of China, and 11 countries affected.
February 11, 2020 – Olympic fears
The Olympic organisers dismiss fears coronavirus could derail Tokyo 2020 Games despite the number of cases worldwide rising to 43,000 with over 1,000 deaths and 395 cases confirmed outside of China. The virus had spread to 24 different countries.
February 21, 2020 – More Chinese races postponed
The UCI postpones the Tour of Chongming Island, a Women's WorldTour event, which was due to take place from May 7-9, the Tour of Zhoushan Island - scheduled for May 12-14 - and the Tour of Taiyuan - scheduled for May 31 as the virus tally hit 76,000 cases, 1200 outside China, 2200 deaths and 26 countries affected.
The first three cases were confirmed in Italy and soon worries about RCS Sport's spring races began to form.
February 26, 2020 – Coronavirus infections take off in Italy
Over the course of a week, the number of cases in Italy exploded to more than 300, and RCS Sport director Mauro Vegni expressed concern over the races. Strade Bianche and Trofeo Alfredo Binda were also under threat as Italian officials scrambled to clamp down the region.
February 27, 2020 – UAE Tour stopped as coronavirus hits entourage
The final UAE Tour stages were called off after two coronavirus cases were confirmed in the race entourage. The initial reports pointed to Italy as the source of the virus at the race, with Italian staff likely infected before coming to the race. The race hotels in Abu Dhabi were locked down, with riders, staff and journalists confined first to the hotel then to their rooms.
Chris Froome and the rest of the riders, staff and journalists underwent several rounds of testing over the next few days.
March 1, 2020 – Most UAE Tour teams allowed to leave as coronavirus isolated to one floor of hotel
Some teams were allowed to leave but UAE Team Emirates, Cofidis, Groupama-FDJ and Gazprom-Rusvelo were kept quarantined in the hotel as six people from the Russian and UAE teams tested positive for the coronavirus.
The lack of information and isolation was a source of frustration.
By this point the virus had infected over 87,000 worldwide, with 7169 confirmed cases outside China, almost 3,000 deaths and 58 counties impacted.
March 4, 2020 – teams withdraw from racing
Teams withdraw en masse from racing to prevent both the spread of the virus and risk of riders being quarantined in hotels.
Meanwhile, the riders cooped up in the hotel in Abu Dhabi received gaming consoles, bikes and stationary trainers to help pass the time.
March 5, 2020 – Strade Bianche cancelled
RCS Sport announced the cancellation of Strade Bianche as the number of infections in Italy topped 3,000 with 107 deaths.
March 6, 2020 – Milan-San Remo cancelled for first time since World War II
Tirreno-Adriatico, Milan-San Remo and the Tour of Sicily, GP Larciano, Trofeo Alfredo Binda and Settimana Coppi e Bartali are postponed or cancelled as the entirety of Lombardy region is under government-declared isolation.
March 7, 2020 – Paris-Nice goes on as planned
Paris-Nice gets underway without eight WorldTour teams despite the number of coronavirus cases in France rising to 613 with nine deaths.
Worldwide the number of cases exceeded 100,000 with 93 countries affected and 3,400 dead.
March 9, 2020 – Paris-Nice 'behind closed doors' as Gazprom-Rusvelo riders transported to hospital with Covid-19
A government ban on gatherings of more than 1,000 people in France forced Paris-Nice organisers to run the race 'behind closed doors' - limiting access for fans to riders at the start and finish of all stages.
France reported the second highest number of coronavirus infections in Europe behind Italy with 1,116 confirmed cases and 19 deaths but the race continued.
Dmitry Strakhov (Gazprom-Rusvelo) is the first professional cyclist to be publicly confirmed as positive for the coronavirus. He and two teammates were transferred from the Abu Dhabi hotel to a hospital. They were said to be in a good condition.
March 11, 2020 – Paris-Nice continues
Race director Christian Prudhomme insisted Paris-Nice would be completed despite coronavirus epidemic despite speculation that the town of Nice would prevent the race from coming there. In Northern France, the Tour de Normandie was cancelled.
The Volta a Catalunya organisers planned to employ the same distancing strategy as ASO used for Paris-Nice to ensure the WorldTour race could go on as planned.
Meanwhile in Belgium, there was increased concern about the Tour of Flanders as the number of cases rose to 239 in the country.
March 12, 2020 – Belgian government stops all sporting events in March
The Belgian Minister of Sport Ben Weyts consulted with the various sporting federations on Thursday including Cycling Vlaanderen and decided to halt all sporting events except professional football for the month of March.
Fernando Gaviria confirmed he had tested positive for coronavirus in a social media post from the UAE, where he is hospitalised but feeling fine, while most of Gazprom-RusVelo were allowed to leave after completing their 14-day quarantine in Abu Dhabi.
Organisers of the Volta a Catalunya announced the race would be put off rather than trying to employ the isolation measures used by Paris-Nice.
March 13, 2020 – Giro d'Italia postponed
As Italy's coronavirus situation remained dire and Hungary issued a declaration of a state of emergency, preventing the Budapest Grande Departe from going on, RCS Sport was forced to announce that the Giro d'Italia would be postponed.
The new date for the race will be announced by April 3 as the UCI will need to reschedule almost two months worth of worldwide races.
The ASO, meanwhile, continued Paris-Nice even in light of the French Federation stopping all cycling events with immediate effect (except Paris-Nice), Bahrain McLaren did not start stage 6 to from Sorgues to Apt, while Israel Start-Up Nation decided not to take the start of stage 7.
Cape Epic in South Africa, the Women's Tour in Great Britain, Tour of the Gila and a number of other race in the USA and all racing in Canada through May 1 were cancelled.
March 14, 2020 – Redlands Bicycle Classic cancelled
As the coronavirus case numbers in the USA increased to over 2,000, the Redlands Bicycle Classic joined the list of cancelled races and USA Cycling was forced to consider how the mass-postponements would affect Olympic Selections as the organisers of Tokyo 2020 Olympic Games insisted the event would go forward.
March 15, 2020 – UCI suspend all racing until April 3
Governments began taking sweeping action worldwide to shut down movement of people to contain the pandemic. The UCI suspended all races until at least April 3, USA Cycling through April 5. The ASO and Flanders Classics cast doubt on the running of Tour of Flanders and Paris-Roubaix and even the Ardennes Classics as a result.
Riders in Italy and Spain faced problems training as officials discouraged cycling over fears that an accident would take up medical services needed for coronavirus sufferers. With no races, Mathieu van der Poel wondered why riders are even training.
March 17 – Flanders, Roubaix, Flèche and Liège postponed
The Tour of Flanders, Paris-Roubaix and the men's and women's Flèche Wallonne and Liège-Bastogne-Liège have been officially postponed due to the coronavirus pandemic. The races were due to take place on April 5, 12, 22 and 26, respectively.
The announcements come after a slew of late-April and early-May races were also postponed or cancelled, including the WorldTour races Itzulia Basque Country and Tour de Romandie and all British events through the end of April, including the Tour de Yorkshire.
March 18 – Amstel Gold Race and Scheldeprijs join list of postponments
More races joined the list of postponments as April's Scheldeprijs and Amstel Gold Race were called off. The races were due to be held on April 8 and 19, respectively.
Elsewhere, discussions about the Giro d'Italia's prospective new date got under way, with UCI President David Lappartient suggesting Autumn as a potential position for the Grand Tour as well as the postponed Monument Classics.
March 19 – Hinault asks for quick decision on Tour de France
With the coronavirus exploding across the globe and hospitals in Spain joining the ones in Italy in being overrun with patients, the voices calling for the Olympic Games and Tour de France to be postponed began to rise.
Bernard Hinault, ambassador to the Tour de France, said: "If the Tour needs to be cancelled, let's not hesitate," adding that the latest the decision can be made would be early June.
March 20 – June Tour of Slovenia cancelled
The race cancellations began to move into June as the Tour of Slovenia was cancelled. Egan Bernal, meanwhile, tested negative for the virus as he returned home to Colombia.
March 21 – Harm Vanhoucke assaulted while training
The escalating crisis threatens both the future of riders out of contract and races and, according to Quickstep boss Patrick Lefevere, the entire business model of cycling.
Lotto Soudal's Harm Vanhoucke, out training in Belgium where non-essential travel is prohibited but athletes are allowed to train alone outside, was assaulted by a driver.
March 22 – IOC says Olympics cancellation not on agenda
The IOC issued a statement saying that cancellation of the 2020 Olympic Games in Tokyo was not on the agenda. Elsehwere, Lotto Soudal riders Thomas De Gendt and Jasper De Buyst honoured Milan-San Remo with a 300km training ride.
March 23 – First nations pull out of Olympics
Canada and Australia became the first nations to pull out of the Olympic Games as IOC member Dick Pound said that the Olympics would have to be postponed.
March 24 – Tokyo Olympics postponed to 2021
The big news of the day was the confirmed postponement of the Olympic Games. In the wake of the announcement numerous athletes, including 2016 road race champions Anna van der Breggen and Greg Van Avermaet, gave their opinion of the move.
March 25 – A Tour behind closed doors?
France's sports minister suggested that the Tour de France could be held behind closed doors if it were to go ahead in July. UAE Team Emirates rider Max Richeze was finally released from hospital after testing negative for coronavirus. Meanwhile, the mayor of Kluisbergen said that reorganising the Tour of Flanders in 2020 was unlikely.
March 26 – Belgian riders face 50km training limit
Belgian riders face limits on time spent riding outdoors after the country's interior minister mooted a 50km rule in an interview with Het Nieuwsblad.
March 27 – Gaviria finally released from hospital
Fernando Gaviria was finally released from hospital in the UAE after testing negative for the virus. Elsewhere, Unipublic, the organisers of the Vuelta a España, said that they are working as if the race will go ahead as planned in late August.
March 28 – ASO give May 15 deadline for Tour decision
Tour de France organisers ASO reportedly set a deadline of May 15 for a decision on whether the Tour de France will go ahead in July, behind closed doors, or be delayed.
March 29 – Chabbey continues work in Swiss hospital
Bigla-Katusha rider Elise Chabbey continues her work battling the virus in a Swiss hospital, a month after starting.
Teams cut riders' salaries as coronavirus hits sponsors
After Lotto Soudal announced voluntary pay cuts, Astana cut its salaries 30 per cent after already having pay delays in January and February. The team confirmed it would trim pay until racing resumes.
Bahrain Merida's riders and staff were hit even harder when the organisation cut their pay 70 per cent through May.
The crisis led the AIGCP teams organisation to appeal to the UCI for help, while the women's team union UNIO suggested the pandemic could put women's teams into jeopardy.
The CCC Team moved to suspend the majority of its staff and cut riders' salaries, while Deceuninck-Quickstep feared a budget cut.
British Cycling furloughed a third of its staff and cut £4 million out of its budget.
UCI suspend through June as Tour of Utah cancelled
The UCI suspended racing through June, further condensing the available dates for rescheduling races later in the season. The Criterium du Dauphine and Tour de Suisse were postponed or cancelled, while across the Atlantic the Tour of Utah in August was cancelled and Canada's Tour de Beauce and Tour de Gatineau postponed.
The dates for the rescheduled Olympic Games in 2021 were in conflict with the Tour de France's dates, suggesting that the pandemic could continue to impact calendars well into next year.
Tour of Flanders organisers insisted they would try to hold the race in 2020, coming up with a September 19 date for a pre-Worlds build up.
Teams, riders, UCI, anti-doping suffer cuts
Tour de France postponed, UCI calendar restructured
Other news

Thank you for reading 5 articles in the past 30 days*
Join now for unlimited access
Enjoy your first month for just £1 / $1 / €1
*Read any 5 articles for free in each 30-day period, this automatically resets
After your trial you will be billed £4.99 $7.99 €5.99 per month, cancel anytime. Or sign up for one year for just £49 $79 €59

Join now for unlimited access
Try your first month for just £1 / $1 / €1