Sea Otter Classic potentially next on coronavirus' path of trade show destruction
Organisers of the Sea Otter Classic are monitoring the situation amid growing concerns around the Covid-19 virus outbreak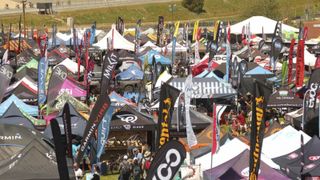 (Image credit: Sea Otter Classic)
In an uncommon move that has seen global trade shows such as the Geneva Motor Show cancelled owing to the coronavirus pandemic, the Sea Otter Classic might be following a similar path according to an announcement made by the organisers of North America's largest bicycle festival yesterday.
"We are carefully monitoring the coronavirus situation. We've been in discussions with various agencies to determine the best course of action regarding the 2020 Sea Otter Classic," said Frank Yohannan, president and CEO of the Sea Otter Classic.
"We will make a final decision on our position within a couple of days.  As you can imagine there are many consequences to consider and we appreciate your patience."
The Sea Otter Classic would potentially comprise a host of trade shows to get the axe in the wake of the Covid-19 outbreak.
Apart from the Geneva Motor Show, the tech world's Mobile World Congress and Facebook's F8 Developer Conference have been cancelled along with the Chinese legs of both the Formula One and Formula E, as well as the final two stages of the WorldTour race, the UAE Tour.
"Our sympathy goes out to those affected by coronavirus and we extend our gratitude to all health care workers fighting to contain its spread," Yohannan said.
Aaron is Cyclingnews.com's Tech Editor. As the former gear editor of Bicycling magazine and content manager of the Absa Cape Epic, he has tons of experience writing about bikes. A competitive racer and Stravaholic, he's twice ridden the Cape Epic and completed the Haute Route Alps. When not riding, racing or testing bicycles in and around the UK's Surrey Hills where he now lives, he's writing about them for Cyclingnews and BikePerfect. Rides: Cannondale Supersix Evo Dura Ace Rim, Cannondale Supersix Evo Disc, Trek Procaliber 9.9 MTB 
Sign up to the Cyclingnews Newsletter. You can unsubscribe at any time. For more information about how to do this, and how we hold your data, please see our privacy policy
Thank you for signing up to Cycling News. You will receive a verification email shortly.
There was a problem. Please refresh the page and try again.