Commentary: Why it's better not to ride together in the time of coronavirus
What does staying two metres apart mean while moving?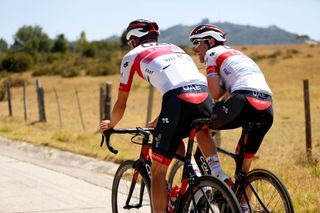 (Image credit: Getty Images Sport)
Cycling, especially road cycling, means being closely packed with riding companions or competitors for hours. But the coronavirus has changed all that. As the potentially deadly Covid-19 pandemic has escalated across the globe, cyclists wonder, "Is it safe to ride outside together?" Cyclingnews looked at the science and can only conclude that no, you should not, and in fact, you really should just stay home.
A new study in the New England Journal of Medicine has given some grave evidence that the coronavirus can remain viable on surfaces for days and can be transmitted by people with no symptoms. Most countries are lagging woefully behind in testing, and some countries have basically given up on trying to identify all infected individuals.
In the United States, most states are discouraging healthy people from seeking tests to keep them away from doctors offices or hospitals with a potentially high number of infected people.
You can be infected and not know it, like the Republican Senator from Kentucky, Rand Paul, who, asymptomatic, went to the Senate gym and swimming pool to work out, then got his positive coronavirus test results a few hours later.
The science
The virus stability study, done by researchers at the National Institute of Allergy and Infectious Diseases and University of California in Los Angeles, compared the survival of the previous SARS coronavirus, SARS-CoV-1, to the new virus that emerged in China in December, SARS-CoV-2, in the air and on surfaces.
They simulated cough droplets by spraying a virus solution through a nebuliser (similar to an asthma inhaler) and measuring how many infectious particles they found at time points over three hours.
Like its predecessor, SARS-CoV-2 remained in the air at infectious levels in laboratory conditions (65% humidity and temperatures of 21-23°C) "throughout the duration of our experiment (3 hours)", they wrote.
Rachel Bender Ignacio MD MPH, an infectious disease specialist from Seattle, clarified that there is plenty of evidence the virus is not spread person to person in aerosols, but is transmitted through larger droplets when people cough or sneeze and then pick it up by being in close proximity or from surfaces near where an infected person coughed or sneezed.
Disease control experts say six feet away is enough to avoid picking up the virus from an infected person, but Bender Ignacio says, "There is no science to know what distance you need in a slipstream" and advises against group rides.
Two other studies have shown evidence that asymptomatic SARS-CoV-2-infected people are capable of transmitting the virus because they have the same amount of virus particles in their lungs.
"The viral load that was detected in the asymptomatic patient was similar to that in the symptomatic patients, which suggests the transmission potential of asymptomatic or minimally symptomatic patients," a study by researchers in China concluded this week.
The two studies point towards cycling outside with others not in your living unit, even two metres apart from each other, not being a good idea - at the very least because if you are injured you might need to go to a hospital where the risk of being infected is much higher, and you might find medical care to be scarce.
But Bender Ignacio hopes people will continue to be smart and cycle solo or with their family unit, taking extra care to not crash because exercise is good for the immune system.
Spain, France, Andorra and Italy have discouraged people from going outside, with varying degrees of punishment for violations because people naturally gathered in groups. The best action is to listen to what your officials tell you to do.
The better we are at keeping off the streets, away from anyone but your family or living companions, the quicker we can end the pandemic and get back to racing. We are all in this together, so please be smart, stay safe, stay healthy, and ride the trainer.
This article was revised on March 24, 2020 to clarify the unlikelihood of being infected from particles in the air whilst cycling solo, well away from others.

Thank you for reading 5 articles in the past 30 days*
Join now for unlimited access
Enjoy your first month for just £1 / $1 / €1
*Read any 5 articles for free in each 30-day period, this automatically resets
After your trial you will be billed £4.99 $7.99 €5.99 per month, cancel anytime. Or sign up for one year for just £49 $79 €59

Join now for unlimited access
Try your first month for just £1 / $1 / €1
Get The Leadout Newsletter
The latest race content, interviews, features, reviews and expert buying guides, direct to your inbox!
Laura Weislo has been with Cyclingnews since 2006 after making a switch from a career in science. As Managing Editor, she coordinates coverage for North American events and global news. As former elite-level road racer who dabbled in cyclo-cross and track, Laura has a passion for all three disciplines. When not working she likes to go camping and explore lesser traveled roads, paths and gravel tracks. Laura's specialises in covering doping, anti-doping, UCI governance and performing data analysis.