Black Friday bike deals: Don't want to wait? Here are today's best bike deals
By Cyclingnews
Black Friday is fast approaching but that doesn't mean bike deals aren't available today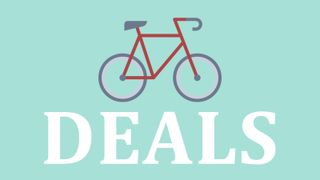 (Image credit: Transparentpng)
Welcome to Cyclingnews' roundup of Black Friday bike deals. Of course, we're a little early to the party, Black Friday isn't until November the 27th (pop it into your diary), but we have good reason. 
Black Friday is no longer a one-day or even a one-weekend event. For the past few years, a select few retailers have turned Black Friday into a month-long event, starting November 1st. Assuming the same happens this year, we're but a few days away from seeing the first of the Black Friday bike deals. 
That doesn't mean there are no deals available today, though. 
On any typical day, heading to the internet in search of some great bike deals would probably be a straight forward task. The sheer abundance of bicycle manufacturers and the increasing rate at which they innovate in a bid to outdo their competition means that there is generally an abundance of unsold bikes in the world. As a result, when supply outstrips demand, bike deals become almost hard to miss. 
2020 has been far from a typical year. But if there's been one good thing to come as a result of the COVID-19 pandemic, it's that millions of people have decided to take up cycling. However, the coinciding closure of factories meant that while demand increased, supply all but ceased and, the subsequent scarcity of stock is still a long way from recovery, not to mention those once-abundant bike deals are becoming ever rarer. However, here at Cyclingnews, we're not just experts on bike racing, we know a thing or two about where to find great bike deals, so rather than having to wait for those Black Friday bike deals, read on to peruse what we've found today.
Starting with road bikes, we've put together a few deals for each of our two most popular audiences, the USA and the UK. 
Road bikes as a term no longer encompasses a singular form of bicycle, and nowadays you can get anything from wind-cheating aero road bikes made from carbon fibre to traditional-looking bikes made from steel. 
If this is what you're looking for, our guide to the best road bike deals should supply everything you need. We also have plenty of road based buying guides, chief of which is our overarching guide to the best road bikes. 
Road bike deals USA
Road bike deals UK
Gravel biking has become increasingly popular over the past few years. With new bikes springing up every five minutes, the best gravel bikes get better and better, and as a result, the gravel bike deals become more readily available, however with increased popularity comes increased demand, so don't expect the discounts to hang around for long this Black Friday. If you don't find what you're looking for here, our guide to the best budget gravel bikes might help you on your way. 
Gravel bike deals USA
Gravel bike deals UK
As we touched on at the start, the rate at which commuting by bicycle has risen throughout 2020 has been astronomical. If you're looking to follow in the footsteps of, well... everyone, and make the healthy choice for your commute, our guide to the latest commuter bike deals should serve you well, however, if you want some helpful advice on the subject, check out the following buyer's guides. 
Commuter bike deals USA
Commuter bike deals UK
Over the past few years, electric bike technology has completely transformed and, as a result, people's interest in riding them has soared. No longer are electric bikes faux-mopeds with a twist-and-go accelerator, today's e-bikes tailor assistance based on how hard you're pushing on the pedals yourself. The result is that you still get a workout, but either you get to your destination much faster, or you get there with a considerably lower output of effort. Perfect for the commuter who doesn't want to arrive at the office covered in sweat. 
If you're after a full roundup of deals, our electric bike deals guide. Otherwise, our buying guides to the best electric bikes and best electric road bikes should help you choose what to buy. 
Electric bike deals USA
Electric bike deals UK
If you're more into riding off-road rather than on, then you'll probably be interested in our sister site, Bike Perfect. Just a year old, the website is purely dedicated to providing news and buying advice to mountain bikers. 
MTB deals USA
MTB deals UK
Teaching your kids to ride a bike is something that every parent will have to do at some point or another. Like the rest of your bicycle-based shopping, hunt down the best deals to make sure you don't overpay for something they'll only end up growing out of within around 45 minutes anyway. 
Kids' bike deals
If you're not specifically after a new bike, but you're still looking for cycling deals, then we've got you covered. 
The list below overviews our ecosystem of articles dedicated to finding the best deals available. We've got deals pages tailored to road bikes, electric bikes, clothing and more. As well as retailer-specific deals pages such as Wiggle and Evans Cycles. We've even got a page dedicated to GoPro cameras. 
Where to find your own cycling deals?
When is Black Friday?
Black Friday takes place the day after Thanksgiving. For 2020, this means Black Friday will be held on November 27th, with Cyber Monday following on November the 30th. Both will undoubtedly deliver great bike deals, perhaps the best you're likely to see all year.
When will Black Friday bike deals begin?
Casting our minds back to previous years, some retailers have turned Black Friday into a month-long event, meaning cycling deals often begin on November 1st. In 2019, this was a tactic employed by Chain Reaction Cycles, Wiggle, and Tredz in the UK.
For this reason, we believe Black Friday bike deals will begin to appear on Sunday the 1st of November. 
How long do Black Friday deals last?
We can't say for certain, but in previous years, Black Friday bike deals have lasted until the end of Cyber Monday - which this year is on November 30th. However, each individual deal will be subject to available stock - once it's gone, it's gone. With this year's heightened interest in cycling, 
Is it just bike deals on Black Friday?
Oh heck no. Black Friday isn't limited to any product, in particular, and you'll find deals on everything from bikes and helmets to coffee machines and Christmas decorations. Judging by our memory of previous years' Black Friday sales, you'll undoubtedly see deals on brands such as Specialized, Wahoo, Trek and Rapha, along with discounts across all products. 
The whole of Black Friday weekend (and the weeks leading up) are always awash with huge road bike deals, cheap bike helmets, GoPro deals and more, so unless you fancy some serious multi-tabbing, just bookmark this page for bikes and black Friday cycling deals for everything cycling related, and we'll handpick the best black Friday bargains. For those in the northern hemisphere, this is the perfect time of year to pick up a turbo trainer deal, and it's an equally good time to find some Garmin deals.
Sign up to the Cyclingnews Newsletter. You can unsubscribe at any time. For more information about how to do this, and how we hold your data, please see our privacy policy
Thank you for signing up to Cycling News. You will receive a verification email shortly.
There was a problem. Please refresh the page and try again.