Kids' bike deals: The best value deals where stock still exists
By Cyclingnews
Take advantage of our round-up of the best kids' bike deals while stock remains available in the run-up to Christmas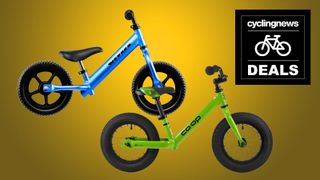 (Image credit: Courtesy)
This year, stocks of kids' bikes may be few and far between, but here at Cyclingnews, we've combed the internet for the best deals on wheels for your mini-shredder this Christmas.  
Demand over the summer and limited stock levels mean that there aren't as many discounts or products to go around, but we've managed to uncover some great deals on balance bikes right through to 24in-wheel kids' bikes, just in time for Christmas.
For budget-aware parents, it's important to avoid overspending on the best kids' bikes, especially since your child will probably have a growth spurt shortly after getting it. Luckily, there still are a few kids' bike deals available right now.
So with Christmas fast approaching, if you are thinking of picking up a new bike for your little one, the time to act is now if you want to avoid disappointment. Retailers, suppliers and now even the couriers are struggling to keep up with demand, and we would venture a guess that any remaining stock will sell out quickly on the run-up to the big day.
Kids' bike deals USA
Kids' bike deals UK
Balance bike deals USA
Balance bike deals UK
Haven't found the right deal?
If you're still hunting for deals, we won't just leave you hanging. Instead, we're happy to provide you with the tools to help you find your own. 
Not every one of the following retailers sells kids' bikes, but they all have a connection to cycling in some regard, whether that's accessories, clothing or tech.
Sign up to the Cyclingnews Newsletter. You can unsubscribe at any time. For more information about how to do this, and how we hold your data, please see our privacy policy
Thank you for signing up to Cycling News. You will receive a verification email shortly.
There was a problem. Please refresh the page and try again.