Best cheap cycling clothing: Deals to help you save on your new cycling kit
By Cyclingnews
The best cheap cycling clothing combines a high-quality product with a great price, the best way to get that is with deals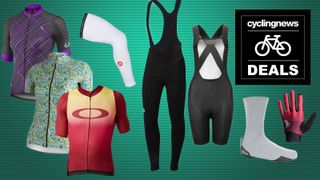 (Image credit: Future)
We all know that you get what you pay for, and generally, when it comes to cycling clothing the higher-priced items will perform better and last longer than their cheaper counterparts. However, not everyone has bottomless pockets full of cash to throw at their cycling wardrobe. 
Luckily, if you're on the hunt for cheap cycling clothing, you're in the right place. To save you the time searching through endless retailer websites and the sea of cycling deals in the hope of finding something good, we've taken the liberty of rounding up the best deals we can find, so you can grab some high-quality cycling clothing at more affordable prices.
So if your favourite bibs are getting worn, your waterproof jacket is no longer waterproof, or if you simply fancy picking up a spare jersey, it is well worth exploring our pick of today's best cycling clothing deals. 
With retailers offering some serious discounts, this could be your chance to pick up some cheap cycling clothing whilst still getting high quality, long-lasting kit.
Cycling clothing deals in the USA
Jerseys, jackets and base layer deals - USA
Whether you're looking for a summer jersey for the months ahead, a winter jacket to stave off the worst of the weather, or a base layer to go beneath, there's little point in paying over the odds when there are great discounts available all year round. Even with cycling's popularity spike over the past 12 months, there are still some really good quality cheap cycling clothes in the sales - the best of which we've listed below. 
Bib shorts & tights deals - USA
No piece of cycling clothing will have more of an effect to comfort on the bike than bib shorts or tights. A good pair will provide hours of in-saddle comfort, compress muscles to reduce fatigue, improve aerodynamics and protect you from the weather. If you need any help deciding, we have put together a guide that breaks down the best cycling shorts. 
If you're hunting down some great cheap cycling clothing and you need a pair of shorts for the summer ahead or tights to keep the chill off your knees, then keep scrolling. 
Accessories - USA
A perfect addition to extend your summer kit a little further into spring and autumn, ideal for early rides or changeable weather when the temperature is likely to fluctuate mid-ride.
Cycling clothing deals in the UK
Jerseys, jackets and base layer deals - UK
With winter in our rear view mirror and summer on its way, now it a great time to pick up some cheap cycling clothing. The discounts are best on winter gear, but there are still plenty of discounted jerseys to take advantage of. 
Bib shorts & tights deals - UK
We all know that winter is never far away here in the UK, so while you might be looking ahead to summer and shopping for bib shorts, there's never a bad time to take advantage of deals on bib tights. 
Accessories - UK
Whether you're after arm and knee warmers so you're prepared for spring weather, or you're in need of some overshoes (because let's face it, it's probably going to rain again soon) the following deals provide some great quality items whilst still getting cheap cycling clothing. 
Looking for more than just cheap cycling clothes?
If you're not just in the market for new clothing, Cyclingnews is scouring the web for the best deals on everything from turbo trainers and head units to shoes and complete bikes.
Sign up to the Cyclingnews Newsletter. You can unsubscribe at any time. For more information about how to do this, and how we hold your data, please see our privacy policy
Thank you for signing up to Cycling News. You will receive a verification email shortly.
There was a problem. Please refresh the page and try again.