Gravel bike deals: Save on Specialized, Santa Cruz, Cannondale and more
By Cyclingnews
The best gravel bike deals available today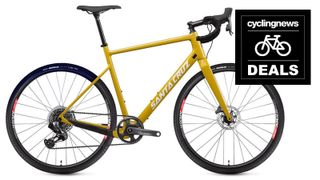 (Image credit: Santa Cruz)
Gravel bikes are wonderful things, because they sit somewhere in the middle of road cycling and mountain biking, offering efficient pedalling alongside the ability to go off-road. It's no surprise that the travel restrictions during the COVID-19 pandemic has prompted lots more people to explore their own backyard, meaning that gravel cycling has boomed even more than before. It's also no surprise that the increase in demand has left many retailers with low stock levels.
This means that gravel bike deals are a little harder to come by as of late, but don't fear, there are still plenty of bargains to be found. To save you the hassle of searching for them yourself, the team at Cyclingnews have scoured the net for some of the best deals we could find.
If you're not sure how to choose, our guide to the best gravel bikes has all the info you need, along with a roundup of our favourite gravel bikes. If you're unable to find a deal here, then our guide to the best budget gravel bikes may well get the ball rolling instead.
And of course, being the deal hunter you are, don't pass up the opportunity to check out our cycling deals roundup.
And finally, before we get into the deals, if you're wondering what size bike you need, then we've got you covered with our full explainer on how to make sense of manufacturers' size and geometry charts, aptly named, what size bike do I need?
Best gravel bike deals
Gravel bike deals: USA
Gravel bike deals: UK
Still unsure on the best gravel bike for you?
Our best gravel bikes guide will help you see what's available on the market today in terms of benchmark performance, however, if the purse strings are a little tighter, then our guide to the best budget gravel bikes should have you covered, or if you're just starting out, check out best beginner's gravel bikes.
Even more deals
Sign up to the Cyclingnews Newsletter. You can unsubscribe at any time. For more information about how to do this, and how we hold your data, please see our privacy policy
Thank you for signing up to Cycling News. You will receive a verification email shortly.
There was a problem. Please refresh the page and try again.