Cyber Monday gravel bikes: Save on gravel bikes from Santa Cruz, Cannondale, Niner and more
By Cyclingnews
The best Cyber Monday gravel bike deals available today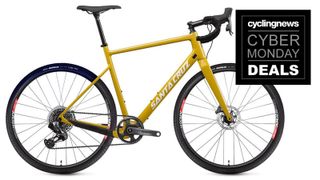 (Image credit: Santa Cruz)
Cyber Monday is upon us and, with it, a seemingly endless stream of prices are being slashed, although deals on bikes aren't as common this year because of shortages in stock around the world. That said, if you know where to look, you can still find bikes with sizable savings, and the team at Cyclingnews is on the hunt. Below, you can find the best deals on gravel bikes, but we're also seeking out the discounted road bikes, e-Bikes, and commuters, so be sure to check out our Cyber Monday bike deals round-up.
If you're wondering what size bike you need, then we've got you covered with our full explainer on how to make sense of manufacturers' size and geometry charts, aptly named, 'what size bike do I need?'.
Gravel cycling, as a discipline, sits somewhere in the middle of road cycling and mountain biking. You're probably familiar with the term – hence you're here looking for Cyber Monday gravel bikes – but if you're uncertain, our guide to the best gravel bikes has all the info you need, along with a round-up of our favourites.
Responding to the increased popularity, various manufacturers have launched dedicated gravel bikes to fulfil the desires of its customers, and, as time goes on, model years progress and new bikes are launched. As we transition from one model year to the next, Cyber Monday presents a great opportunity to grab a gravel bike bargain.
To help you spend less time shopping and more time riding, we've outlined the best gravel bike deals below. Oh, and because we're kind, we've organised them by price and territory, so scroll down to see what we've found.
Additionally, given that you're here, you're probably looking for maximum value for money from your gravel bike, so if you're unable to find a deal here, then our guide to the best budget gravel bikes may well get the ball rolling on your new-bike day.
Cyber Monday sales: Quick deals
Today's best deals: USA
Today's best deals: UK
Best Cyber Monday gravel bike deals
Cyber Monday gravel bikes: USA
Cyber Monday gravel bikes: UK
More Cyber Monday deals
Think you can do better?
While we've given a full rundown on what we feel are the Cyber Monday gravel bike deals available right now, more are added every day. If none of the above deals got your gravel senses tingling and think you can find a better deal, here's a round-up of retailers that regularly offer gravel bike deals.
Head over to any or all of these retailers and let us know if there are any more great road bike deals that we've missed.
Still unsure on the best gravel bike for you?
Our best gravel bikes guide will help you see what's available on the market today in terms of benchmark performance, however, if the purse strings are a little tighter, then our guide to the best budget gravel bikes should have you covered.
Sign up to the Cyclingnews Newsletter. You can unsubscribe at any time. For more information about how to do this, and how we hold your data, please see our privacy policy
Thank you for signing up to Cycling News. You will receive a verification email shortly.
There was a problem. Please refresh the page and try again.