Amazon 'Prime Day 2' Early Access Sale: More great deals for cyclists
Black Friday comes early: Here are the best Amazon Prime Early Access cycling deals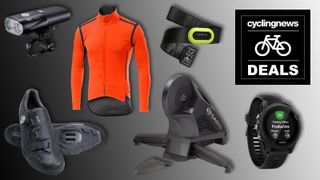 (Image credit: Courtesy)
The Black Friday deals aren't here quite yet but if you're after some discounted cycling kit, then you're in luck because the Prime Early Access Sale is. You could head straight to Amazon and find some deals for yourself, but in all the excitement, you run the risk of missing out on some of the hottest offers from the second day of the sale. We also have our Amazon prime day live blog to keep you fully up to date on the best deals as they go live.
It's day two of the Prime Early Access Sale and there are still plenty of offers to be had. We've done some digging and have pulled together our pick of some fantastic cycling-specific offers and deals to help you grab a bargain. You can take a look at our headphones deals page if you want to add music to your ride. Don't forget to also head to our useful bike deals page for some more money-saving offers though, as Amazon is just one of the many places currently offering great discounts for cyclists.
The Prime Early Access Sale will run until midnight (BST) on October 12, so the clock is ticking on lots of these deals and that's assuming they don't sell out. Either way, they certainly won't be around forever, so take advantage of the Amazon cycling sale and take a look at our top picks below.
The one minor caveat to an Amazon cycling sale is that to get the best deals, you'll need to be signed up to Amazon Prime. There are a host of benefits for doing so, but none greater than the discount you'll, which can easily offset a month's subscription.
Amazon also offers a free trial period for new users, but if you sign up specifically for a Prime Day cycling deal, set a reminder to cancel your subscription once your order has been delivered, otherwise you'll end up funding Jeff Bezos' next odd-shaped spacecraft.
Rest assured, we only ever share deals that we would be happy to buy ourselves, and we use various tools to assess the quality of the deals on offer. This includes software that allows us to compare prices against the wider market, as well as tools that allow us to compare over time. Therefore, you can be confident that any deal included in this Amazon cycling deals roundup will be a genuinely good deal for that respective product.
What are the best Amazon cycling deals available right now?
Quick Prime Day Deals USA
🚲 13% off Apple Watch Series 8: $399.00 $349.00 (opens in new tab)
🚲 47% off Saris H3 smart trainer: $1099.99 $579.99 (opens in new tab)
🚲 33% off Garmin Edge 530 GPS computer: $299.99 $199.99 (opens in new tab)
🚲 43% off Apple AirPods 2nd Gen: $159.00 $89.99 (opens in new tab)
🚲 48% off Camelbak Podium bottle: $11.00 $5.75 (opens in new tab)
Quick Prime Day Deals UK
🚲 55% off Cateye AMPP 800 front light: £64.99 £28.99 (opens in new tab)
🚲 46% off Garmin HRM Pro heart rate monitor: £119.99 £64.99 (opens in new tab)
🚲 35% off Garmin Edge 130 Plus: £169.99 £109.99 (opens in new tab)
🚲 49% off Garmin Fenix 6X Pro: £599.99 £329.99 (opens in new tab)
Deals from elsewhere:
Competitive Cyclist (opens in new tab): Deals on Shimano, Assos, Castelli and more
REI (opens in new tab): Save on road, and gravel kit
Backcountry (opens in new tab): 20% off any one full-priced item
Mike's Bikes (opens in new tab): Save big on Specialized bikes
ProBikeKit (opens in new tab): Save on pro team kit and Campagnolo carbon wheels
Sigma Sports (opens in new tab): Huge deals on POC helmets, Vel wheels and more
Wiggle (opens in new tab): Half-price turbo trainers and more
Amazon Prime cycling deals USA
Amazon Prime cycling deals UK
Deals from everywhere else
Here at Cyclingnews, we're dedicated to providing you, our readers, with the best buying advice when it comes to bikes, cycling clothing, components, and accessories. Around annual events like Prime Day and Black Friday, we compile the best deals available so that once you've decided on your purchase, you can also find the best price.
However, you don't need to wait until big sale events to get great deals on cycling tech, we have a range of pages dedicated to providing you with great prices on great products.
For a broad-ranging roundup, our bike deals guide is regularly updated with deals on everything related to two wheels. However, if you know what you're looking to buy, the following guides go into more detail on specific categories:
The latest race content, interviews, features, reviews and expert buying guides, direct to your inbox!
As the Tech Editor here at Cyclingnews, Josh leads on content relating to all-things tech, including bikes, kit and components in order to cover product launches and curate our world-class buying guides, reviews and deals. Alongside this, his love for WorldTour racing and eagle eyes mean he's often breaking tech stories from the pro peloton too.
On the bike, 30-year-old Josh has been riding and racing since his early teens. He started out racing cross country when 26-inch wheels and triple chainsets were still mainstream, but he found favour in road racing in his early 20s and has never looked back. He's always training for the next big event and is keen to get his hands on the newest tech to help. He enjoys a good long ride on road or gravel, but he's most alive when he's elbow-to-elbow in a local criterium.
The latest race content, interviews, features, reviews and expert buying guides, direct to your inbox!
Thank you for signing up to The Pick. You will receive a verification email shortly.
There was a problem. Please refresh the page and try again.