Amazon Prime Day cycling deals
By Cyclingnews published
A recap of the best cycling deals from Prime Day 2021, and a look ahead to 2022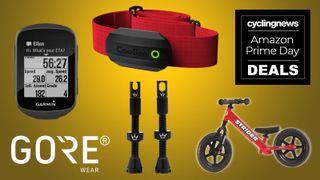 (Image credit: Courtesy)
Amazon Prime Day is an annual sale event across all global iterations of Amazon, the worlds largest online retailer. It's actually two days long, and while it typically takes place in July, the past two years have gone a little rogue. The 2020 event took place in October, and Prime Day 2021 was held in June.
The purpose of Cyclingnews' Amazon Prime Day cycling deals roundup is to collate the best deals (for cyclists, of course) available at Amazon in the lead-up and throughout the event, and rest assured, we only ever share deals that we would be happy to buy ourselves.
We pick out any genuinely good deals that help our readers save money on their purchases. We also highlight deals to avoid, and where you can find the same product at a better price.
Prime Day 2021 was held on the 21st and 22nd of June, so it has now come to a close, but it's not long to wait until the next big sale event. We can always count on Black Friday, scheduled for the end of November for discounts, and we'll be bringing you all of the best Black Friday deals then. Of course, if you can't wait that long, then we've compiled all of today's best deals in our roundup of cycling deals.
If you scroll down, you'll also find links to our category-specific deals roundups where we cover things such as Garmin deals, the best ways to get a cheapest Zwift setup and more.
The one - minor - caveat to Amazon Prime Day is that to get the best deals, you'll need to be signed up to Amazon Prime. There are a host of benefits for doing so (music, streaming, free delivery etc), but at £7.99 / $12.99 per month, it's only good value if you're going to use them. Luckily, for first-timers, Amazon also offers a free trial period, which will enable you to take advantage of the Amazon Prime Day cycling deals... just remember to cancel your trial before you're charged!
When is Amazon Prime Day 2022?
Of course, Amazon Prime Day cycling deals only appear when Prime Day is near, but that's not to say you need to wait another year. The Amazon Prime Day 2022 date is yet to be announced by Amazon but going by previous (non-COVID-affected) years, the likelihood is that Prime Day 2022 will run over two days during the middle of July.
However, there are rumours of a second Prime Day in October, as reported by T3, and then Black Friday will quickly be upon us, followed by the Boxing Day sales and then the January sales will have you covered between now and then, as well as our various deals roundups.
Want to find deals for yourself?
What were the best deals during Amazon Prime Day 2021?
USA Deals
UK Deals
Deals from everywhere else
Here at Cyclingnews, we're dedicated to providing you, our readers, with the best buying advice when it comes to bikes, cycling clothing, components, and accessories. Around annual events like Prime Day and Black Friday, we compile the best deals available so that once you've decided on your purchase, you can also find the best price.
However, you don't need to wait until big sale events to get great deals on cycling tech, we have a range of pages dedicated to providing you with great prices on great products.
For a broad-ranging roundup, our cycling deals guide is regularly updated with deals on everything related to two wheels. However, if you know what you're looking to buy, the following guides go into more detail on specific categories:
Alternatively, if you've got a voucher to spend, or you simply want to check out the best deals from a specific retailer, check out our retailer-specific guides:
Sign up to the Cyclingnews Newsletter. You can unsubscribe at any time. For more information about how to do this, and how we hold your data, please see our privacy policy
Thank you for signing up to Cycling News. You will receive a verification email shortly.
There was a problem. Please refresh the page and try again.