Cheap electric bikes: the best electric bike deals available
Cheap electric bikes promise the world but often fail to deliver, so we recommend saving money on quality e-bikes by taking advantage of these electric bike deals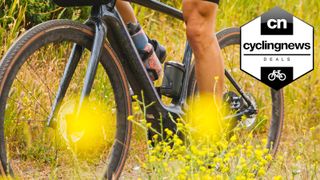 (Image credit: Specialized)
Electric bikes are booming in popularity, and as with any new technology, there are options at a multitude of price points that cater to riders' various budgets. The problem with this is that cheap electric bikes often promise the same performance benefits of their more premium competition and seem like a no brainer. However, where they regularly fall short is durability, serviceability and ultimately, the number of miles they will last before a problem renders it little more than an ornament. 
The best electric bikes are designed and built by reputable bike brands that understand the stresses and strains that a bicycle will undertake and the result is an electric bike that will stand the test of time. While the initial expenditure might be hard to justify, better quality electric bikes will always offer greater value for money on a money-per-mile basis.  
Finding electric bike deals are a great way to get the best of both worlds; saving money while ensuring you buy a quality product, and luckily, finding an electric bike deal is becoming more and more possible. The popularity and availability of e-bikes have been on an upward trend for a number of years now, and as product cycles move from one year to the next, the availability of 'old' models increases, often resulting in great deals and better quality cheap electric bikes. 
If you're unsure which e-bike is the best, check out our guide to the best electric road bikes for a roundup of our favourite motor-assisted road bikes. It is filled with information to help you make the best choice. 
Otherwise, scroll down for today's best deals on electric bikes. Alternatively, if you're not looking for pedal-assistance, head here for all the best road bike deals. You'll probably want a helmet too, so be sure to check out our roundup of cheap bike helmets to save money while saving your brain in the event of a crash.
Road electric bike deals
Hybrid electric bike deals
Electric mountain bike deals
Still unsure on the best bike for you? 
E-bikes might not be for everyone, but don't worry, Cyclingnews has loads of great cycling buying advice to help you choose your next bike:
We also have a number of deals roundups, where you can find deals on road bikes, helmets, turbo trainers and more:
Sign up to the Cyclingnews Newsletter. You can unsubscribe at any time. For more information about how to do this, and how we hold your data, please see our privacy policy
Thank you for signing up to Cycling News. You will receive a verification email shortly.
There was a problem. Please refresh the page and try again.