Electric bike deals: Discounts on road, hybrid and mountain e-bikes
By Cyclingnews
Cheap electric bikes promise the world but often fail to deliver, instead, save money on quality e-bikes with our pick of the best electric bike deals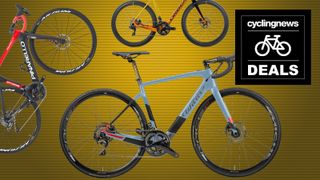 (Image credit: Courtesy)
As is the case with all bikes right now, electric bikes are booming in popularity and therefore in fairly short supply. With the chaos brought about in the bike industry by the COVID-19 pandemic, factories have been closed and demand is still rising amid further lockdowns. 
However, lucky readers, the Cyclingnews team is well-versed in sourcing the best bike deals. That means we can save you the time endlessly trawling through websites in search of something that meets the holy trinity of 'good', 'affordable', and 'available'. 
The problem with cheap electric bikes is that they often promise the same performance benefits as their more premium competition, but then fall short on durability, serviceability and longevity. So we're here to help you get the best of both worlds: high-quality electric bikes at discounted prices. 
Below you'll find all the best electric bike deals in one place, broken down into electric road, gravel, hybrid and mountain bike, but if you're unsure which e-bike is the best for your needs, check out our guide to the best electric bikes, which is filled with information to help you make the best choice. And if you're wondering what size bike you need, then we've got you covered with our full explainer on how to make sense of manufacturers' size and geometry charts, aptly named, 'what size bike do I need?'.
Electric bikes USA
Electric bikes: Road bikes USA
An e-road bike will not only give you the electric assistance you need to cover long distances, it will also be built around road geometry - either race or endurance-focused - and will be designed to ride as efficiently as possible and take you anywhere the tarmac leads.
Electric bikes: Gravel bikes USA
An e-gravel bike will often have similar geometry to e-road bikes, although you can expect them to accommodate wider tires, feature gravel-specific components and finishing kit, and in many cases be built to feel a lot more stable and smooth over rough ground.
Unfortunately, due to high demand of e-gravel bikes and a very short supply, we are currently unable to find any discounted models at this time. We'll update this as soon as they become available, so watch this space.
In the meantime, check out our guides to the best budget gravel bikes if you want to head off-road on a budget.
Electric bikes: Hybrid bikes USA
Electric bikes UK
Electric bikes: Road bikes UK
Electric bikes: Gravel bikes UK
As we said above, it's unfortunate but there's huge demand for e-gravel bikes and a very short supply at the moment, so we haven't been able to find any deals at this time. We'll update this section as soon as they start to become available again, so watch this space.
Electric bikes: Hybrid bikes UK
Electric bikes: Mountain bikes UK
Still unsure on the best bike for you? 
E-bikes might not be for everyone, but don't worry, Cyclingnews has loads of great cycling buying advice to help you choose your next bike:
Sign up to the Cyclingnews Newsletter. You can unsubscribe at any time. For more information about how to do this, and how we hold your data, please see our privacy policy
Thank you for signing up to Cycling News. You will receive a verification email shortly.
There was a problem. Please refresh the page and try again.