Cheapest Zwift setup: Turbo trainer deals and a guide to the most affordable indoor setups
By Josh Croxton
Just starting out on Zwift? Our guide to the cheapest Zwift setup will guide you through the process without emptying your bank account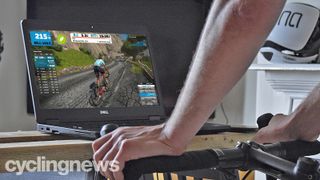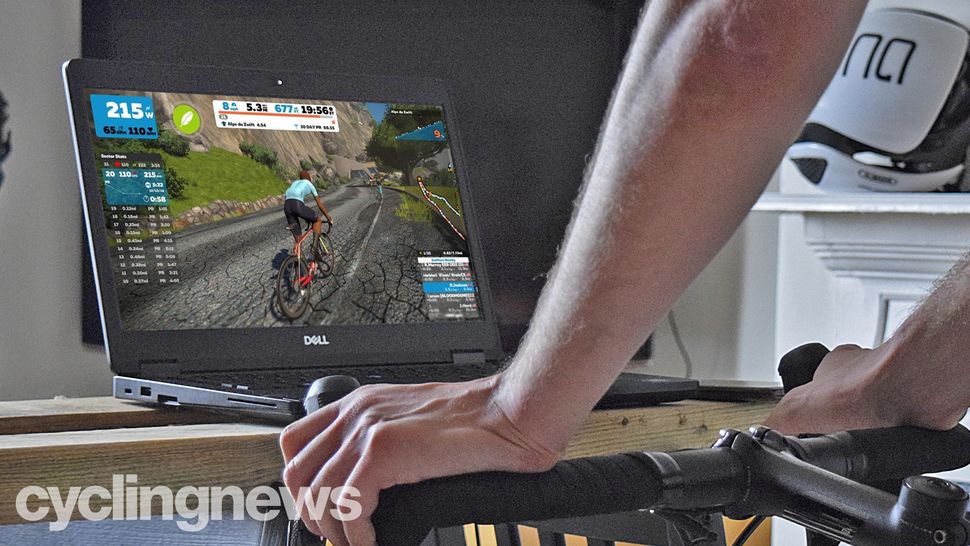 (Image credit: Josh Croxton)
Due to the COVID-19 pandemic, millions of people are now working from home. Without the exercise that once came courtesy of the daily commute, alternative riding options to train, race and socialise are becoming increasingly popular. 
Swathes of pro cyclists also took to eRacing to replace their WorldTour calendar. With Zwift recently playing host to the 2020 virtual Tour de France, the popularity of the platform is on an ever-upward trajectory. Zwift even built new Mont Ventoux and Champs Elysées worlds for virtual Tour de France. 
With the increased popularity of the discipline at the start of lockdown, there was a huge surge in demand - not to mention a shortage of supply due to closed factories - which depleted stock across retailers around the world. Luckily for those still looking to take their training indoors, stock levels are recovering. 
The best turbo trainers can cost a small fortune, but you can absolutely bring your training indoors on a budget. 
Below, we overview the various ways you can get onto Zwift, the cheapest ways for each, along with the deals to get you rolling indoors on a budget.
Subscription cost
Zwift itself is priced as a monthly subscription of £12.99 / $14.99 a month. However, retailers do occasionally offer three- or 12-month subscription gift-vouchers that can save you a bit of money. 
TrainerRoad is similarly priced at $19.95 per month, although there is an annual subscription of $189.00 which equates to the better price of $15.75 per month. 
While Zwift is undoubtedly the biggest of the various indoor cycling apps, it's worth noting that the following setups will also work with others such as The Sufferfest and Rouvy, so once you're set up, you can test out the various platforms for yourself. 
The best turbo trainers (that are actually in stock)
Due to current self-isolation advice, there's an unprecedented rise in turbo trainer demand, meaning product availability is sparse. Therefore, many retailers have been out of stock and deals are hard to come by. For that reason, we've found that many of the products we list below will be out of stock by the time you read them. Therefore, we've decided to add the very best turbo trainer deal here, no matter the price bracket. 
We want to help our readers find a great deal without the endless out-of-stock dead ends, so here at Cyclingnews, we'll do our best to keep this section updated with the best deals that are currently available. 
It's the required hardware that can add up to make getting onto Zwift a rather expensive investment. Without taking advantage of a turbo trainer deal, the most premium setup will cost you four figures for the turbo trainer alone and that's before you consider the cost of the bike, possible additions of a computer or tablet, as well as a fan (you'll need a fan!). If you're planning on running Zwift in an unpowered garage or shed, you may even need to factor in an extension lead and an ethernet cable. The overwhelming thought of all this investment might put you off, but thankfully, we're here to help. 
We're going to answer the question: What is the cheapest Zwift setup, and what do I need to get on to Zwift without paying a fortune?
If you've read our guide to Zwift, you'll know there are a couple of turbo trainer types: direct-drive and wheel-on. You'll also know that some trainers are smart, meaning the resistance can be controlled by software (Zwift, TrainerRoad, etc), whereas others are 'dumb', and will need to be controlled by your gear selection or a manual resistance controller that clamps to your handlebars.
Of course, once you're up and running, you won't be limited to Zwift. All of the below options will work with other training software such as TrainerRoad, The Sufferfest, Rouvy and more. 
The absolute Cheapest Zwift setups, in price order
Basic turbo trainer
Assuming you already have a road bike to use, the cheapest Zwift setup uses a 'dumb' turbo trainer and a speed sensor. While we'd generally recommend buying new, stock is extremely hard to come by at the moment, so as long as you're confident in what to look for, you can save yourself some cash by shopping for Turbo Trainers on eBay.
With a dumb turbo trainer, Zwift calculates power output based on the speed of the rear wheel so the downside is that there will be a delay between power output and your in-game avatar's response. 
This isn't too problematic for long steady efforts, but for sprint efforts or Zwift races, a smart trainer or power meter would offer a better in-game experience.
To fit your bike onto the turbo trainer, you'll also need an adaptor for the rear axle. This is where it gets a little bit confusing, as you'll need to get the right adaptor for your bike. If your bike uses quick-release axles, the most common rear spacing (distance between the dropouts) is 130mm for road bikes. If your bike uses bolt-thru axles (a closed dropout with a threaded bolt), then check the axle itself for size spec (the most common on road bikes is 142 x 12mm).
If you don't have a bike to use, our roundup of the best budget road bikes will help, or check out our road bike deals to see if you can grab a bargain.
With the surge in indoor cycling popularity as a result of coronavirus, many budget trainers are out of stock and the cheapest turbo trainers are pretty hard to come by, but we've found a few for you.
Power meter
A slightly more accurate method of using Zwift is with a power meter. It'll cost more than a speed sensor, but it will come with added accuracy, along with the benefit of being able to take that accuracy outdoors. 
We recommend choosing something with Bluetooth compatibility as well as ANT+, because it will communicate with more computers, phones and laptops than an ANT+ only device. You can overcome with an ANT+ adapter, but that's an extra cost we're trying to avoid. 
A power meter paired with your device running Zwift will increase the accuracy of your in-game experience and will be a great training tool for intervals and steady-state training, theoretically resulting in long-term performance gains. 
Your choice of power meter will depend on your bike and the subsequent compatibility requirements. More details can be found in our guide to the best power meters, but here are a few of the best deals we're able to find. 
Power meter pedals
Power meter pedals aren't exactly cheap. They're generally twice the price of a budget crank-based power meter or a wheel-on smart trainer. However, the benefit to owning power meter pedals over a smart turbo trainer is the flexibility to use it in multiple scenarios: At the gym, at home on your own Zwift setup, outside in the real world. 
The initial spend might be higher, but if you intend on using your bike outside as well as on the turbo, you will benefit from a single consistent reading of power across all of your training sessions. 
If your gym doesn't have smart bikes like a Wattbike, with a pair of power meter pedals and a polite request, your gym might allow you to swap them onto one of their non-smart indoor bikes - the type used for spin classes. Pair them with your Bluetooth enabled phone or tablet and you've got Zwift at the gym - great for those who are often on the road. 
Smart wheel-on turbo trainers
The resistance of a smart turbo trainer can be controlled by software and work in perfect harmony with your Zwift experience, meaning when the road points up, pedalling gets harder, just like in the real world. 
There are many different smart wheel-on turbo trainers available, but here are a few of the best deals we've been able to find. 
Smart direct-drive turbo trainers
For the ultimate experience and a true road feel, a direct drive turbo trainer really does offer a considerably better experience compared to a wheel-on trainer. Not only does it prevent that laboured pedalling-through-treacle feeling, but it's also considerably quieter and doesn't chew through tyres like Ken Block on a track day. The top-spec direct-drive trainers add extra niceties such as vibration (to provide off-road feel in off-road in-game sections) and generally have a higher maximum power and incline simulation. 
Yes, they're a far cry from the cheapest Zwift setup that this article provided at the top, but if you're looking for a premium turbo trainer setup, you can still save money with the following deals. 
UK and Europe
USA & Canada
Rollers
Rollers are the left-field inclusion here in that your bike isn't fixed into place, and as such requires greater concentration in order to avoid riding off the side. Great for working on core strength whilst riding, but for beginners, they certainly take some getting used to. Also, while not impossible, a sprint session is better undertaken on a turbo trainer. 
Premium solution: smart bike
Alternative: Gym subscription
All of the above options assume you already have a bike ready to be used in conjunction with a turbo trainer, but what if you don't? 
As gyms are slowly starting to open their doors to the public after lockdown, this can be the cheapest Zwift setup of them all, especially if you're already paying for gym subscription anyway.
If you're a member of a gym, there's a likelihood your gym has a Zwift-ready bike with a built-in power meter such as a Stages bike or Wattbike. If you're unsure, you can either check with the gym's staff as to the facilities available, or simply search for bluetooth devices using your phone. If the smart bike of choice is found, it's likely that it'll connect up to Zwift without a hitch. 
Bring a power bank though, as Zwift can be battery intensive and your gym buddies mightn't appreciate you trailing USB cables across the floor. 
What you need for Zwift
Turbo trainer
For any Zwift setup, you'll likely need a turbo trainer, if you're looking for advice on which to get, we have a guide to the best turbo trainers. 
You can alternatively use a smart bike. An adapted gym bike will work although we'd not suggest buying one of these over the other, better options available to you.
Rollers aren't completely out of the question, but you'll need resistance rollers to avoid spinning 140rpm and unless you already own these, you're much better off investing in a turbo trainer. Most will come with a front-wheel riser block, but if not, adding one of these will prevent your weight from being pushed onto your hands.
Internet
You'll need an internet connection. This can come in the form of 4G but be careful with your data allowance if choosing this option - in our test, a one-hour-long Zwift ride used approximately 300MB of data. 
Running an ethernet cable to the garage mightn't be the most permanent solution, but it might be the only option you have. If you're considering this method, a second router or WiFi booster is an alternative idea.
There's nothing more '21st century' than getting dropped due to a poor internet connection, but it's annoying nonetheless. 
Zwift compatible computer
You'll need a Zwift compatible computer. This can be in the form of a PC, a laptop, tablet, Apple TV, or even your smartphone. The majority of us will already have something that technically can run Zwift, but in our experience, an iPhone screen is too small to read the data numbers when riding at or near your limit. 
Bluetooth / ANT+
Bluetooth or ANT+ connectivity. If your turbo trainer, power meter or speed sensor are ANT+ only, you're likely to need an ANT+ adapter. If you're using Bluetooth, then there's a greater chance your device will connect without the need for an adapter. 
Mains power
You'll ideally need a power supply, especially if using a smart trainer. Some of the best turbo trainers, such as the Tacx NEO 2T, will work without, but you'll also want a fan and you don't want your laptop's battery life to cut your ride short.
For anyone looking to run Zwift in a garage or outbuilding, a power supply and wifi connection might not be a guarantee. The options here will very much depend on your circumstances. If you're unable to run a permanent power supply, an extension lead and temporary ethernet cable might be the only option. You can get a 50m extension lead from Amazon for around £35.00, and a similar length ethernet cable for around half that. 
A fan
You'll also need a fan. OK, you don't need a fan, but when you're sweating from places you didn't know existed, we promise you'll want one more than you've ever wanted anything before.
From our experience, the Honeywell HT900e is a great mid-sized powerful option, and it can be fixed to a wall. But if you're unsure, the general rule is the bigger the better. 
Things to improve your Zwift experience
1. Desk
You might want a desk. If you're running a laptop, you'll need to be able to reach it so you can use the Zwift menu without having to climb off the bike. Brands do make dedicated turbo trainer desks, such as the Wahoo Kickr Desk, but for the budget-conscious, you can often make do with a less dedicated solution, such as an ironing board or a stepladder.
2. Sweat protector
To protect your bike against corrosion from the cumulative drips of salty sweat, you can get a dedicated sweat protector to catch the drips. The majority of sweat will drip from your face and shoulders, so it's the handlebars that need the most protection. Therefore, a towel placed atop the bars and stem will generally do a good job - with the added benefit of being able to wipe your brow every so often. 
For the budget-conscious, a towel or an old sweatshirt draped over the handlebars and top tube can have the same outcome. 
3. Turbo trainer floor mat
Unless you're in the garage or shed, you'll probably want to protect your floor from your salty sweat droplets, not to mention the damage caused by the feet of your turbo trainer. A turbo trainer mat will offer this protection and are available pretty cheap, but an old yoga mat or even an offcut of kitchen lino will do the same job - just don't cut it out of your parents' kitchen floor!
4. Turbo trainer tyre
If using a wheel-on turbo trainer - especially a cheap one - the roller's interaction with the soft rubber of your rear tyre can quite quickly churn through your rubber and cause a square edge and ruin the tyre's on-road performance. Dedicated hard-wearing turbo trainer tyres exist to overcome this very problem. You could invest in a dedicated turbo trainer tyre, or alternatively, if you regularly ride on the road, upgrade your best road tyres and recycle your old part-worn tyre for indoor-use only.
Our advice
If you're setting up Zwift for the first time and your budget is limited, our advice would be to invest your money in the trainer and the fan, to begin with, then add to the experience later with the unessential peripherals. Look for a turbo trainer deal to ensure you're getting the most bang for your buck.
Any questions / tips?
If you have any Zwift setup related questions, feel free to drop us a comment below - we'll be sure to answer as many as we can, and if, during your own pain-cave building process, you've learned any tips and tricks that will help others looking to invest in a cheap Zwift setup, feel free to share them.
Sign up to the Cyclingnews Newsletter. You can unsubscribe at any time. For more information about how to do this, and how we hold your data, please see our privacy policy
Thank you for signing up to Cycling News. You will receive a verification email shortly.
There was a problem. Please refresh the page and try again.