Cheap turbo trainer deals: A guide to the best-value Zwift setups
There are loads of cheap bike turbo trainer deals out there, so here's a bit of guidance on the ones we recommend, looking past 'cheap' in favour of great value buys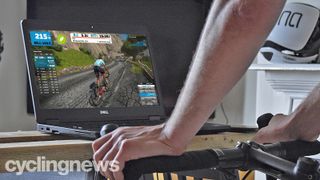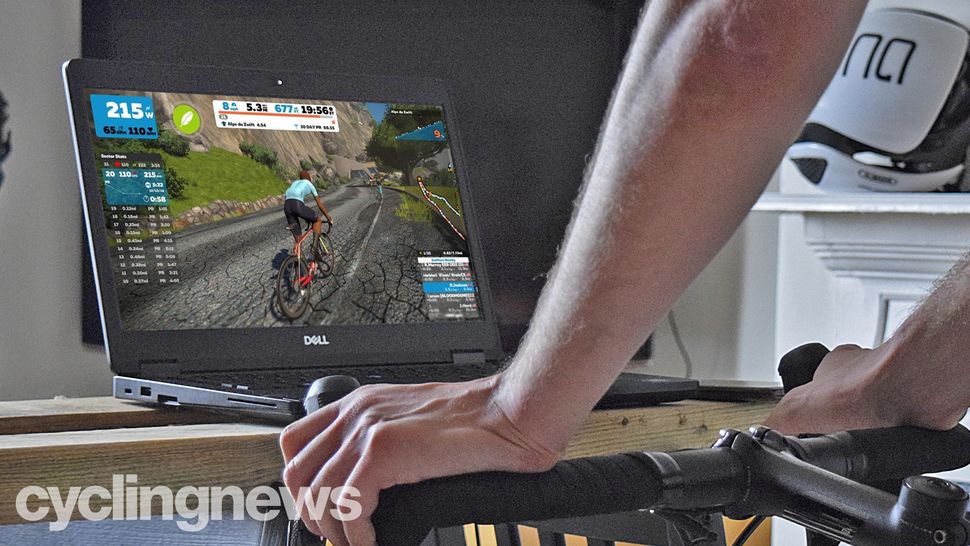 (Image credit: Josh Croxton)
Welcome to Cyclingnews' roundup of turbo trainer deals, where you'll find a collection of the best deals on the best indoor bike trainers, complete with a detailed guide to getting onto smart indoor apps such as Zwift without spending big.
We judge the best smart trainers based on a balance of features, performance, quality and price, with that last part a key component of a product's value. However, when a product is discounted, a once-expensive smart trainer can instantly become great value for money, and in our eternal endeavour to share the best bike deals with our readers, we've seen dozens of turbo trainers on offer.
During the pandemic, as indoor cycling boomed in popularity, many brands overinvested in stock, expecting the boom to create a new elevated level of participation. In reality, once lockdowns eased, things went back to how they were before, and a lot of brands are now sitting on a lot of stock.
Given not all smart trainers are created equal, knowing which one to buy could be difficult. Some people will want the lowest price available that is compatible with Zwift, whereas others will want a higher level of specs without having to pay top money. We'll use this guide to try and help you balance the list of features against the new discounted price.
Best cheap turbo trainer deals
In this section, we'll break down the deals by trainer type, and explain whether or not they will be compatible with Zwift (and others) straight out of the box.
As a broad overview, smart trainers, smart bikes and smart rollers will be compatible, whereas basic trainers need you to bring extra sensors along to ensure compatibility.
Smart trainer deals
Smart trainers, by definition, feature 'smart' connectivity in the form of Bluetooth and ANT+. This allows the trainer to connect to your computer/phone/tablet and allows the app (Zwift, et al) to control the resistance in line with virtual hills or workout intervals.
Smart bike deals
While trainers need you to mount your own bike onto them, smart bikes offer everything: pedals, saddle, handlebars and more. They're also easily adjustable so that multiple people in one household can use them, and they typically come with belt-driven gear, which is quieter, cleaner, and more durable than the chain on your bike. The downside to all this is that smart bikes are far from the cheapest Zwift setup available.
Basic trainer deals
This is where we get into the weeds a little. On their own, basic trainers are not Zwift compatible. They don't have power sensors or Bluetooth or ANT+ connectivity, and therefore they cannot sense how much power you're pushing through the pedals, nor can they share any information with your chosen indoor cycling app.
They do, however, enable you to mount your bike onto them and provide resistance against your pedalling. Add in a speed sensor and cadence sensor, or a power meter, and these sensors will transmit the necessary info to Zwift.
Rollers deals
Rather than bolting your bike to the trainer via the rear axle, with rollers, you simply balance your bike on top, and as your wheels turn, your steering inputs keep you upright. It can take a bit of a learning curve to get used to it, but it becomes natural after a bit of practice.
Like trainers, rollers also come in 'smart' and 'basic' formats. The same primary differences apply in that smart rollers are Zwift compatible, while basic rollers aren't. The one caveat to this is that basic rollers don't typically tend to offer any resistance to your pedalling. They're fine for riding at low intensities and high cadences, but you'll find them lacking if you want to do anything more taxing.
All rollers, smart and basic, are very good for working on pedalling technique, as they require you to pedal smoothly and maintain balance in order not to crash.
Guide to getting onto Zwift
That's the turbo trainer deals covered, but if you're here with questions, then this is the section for you. Throughout the remainder of this page, we'll walk you through everything you need to know when setting up your indoor cycling setup for the first time.
Zwift cost
At the end of the free trial period - which has recently been extended from seven to 14 days, Zwift is priced as a monthly subscription of £12.99 / US$14.99 / AU$19.99 per month. You can even refer friends in exchange for 30 days free.
For context, TrainerRoad is similarly priced at US$19.95 per month, although there is an annual subscription of $189.00 which equates to a better price of $15.75 per month. Wahoo RGT has a freemium model, allowing unlimited kilometres to be ridden in a pared-down version of the game without any monthly payments, or you can subscribe to Wahoo X at $14.99 / £14.99 per month (or $129.00 / £129.00 per year) to get RGT and Systm bundled together.
Which trainers are compatible with Zwift?
In this section, I will run through all the different ways you can immerse your workouts into the virtual world of Zwift. I will explain the technology you need, the cost, and how 'connected' you'll become.
Some solutions will only transmit information in one direction, in that it will transmit your pedal strokes to the game and move your avatar through Watopia (Zwift's virtual world). Other solutions will transmit information in both directions, meaning that in addition to the above, the scenery will affect how hard it is to pedal. IE, if you're going uphill, the resistance will increase.
So Zwift itself is reasonably inexpensive, but it's the required hardware that can add up to make getting onto Zwift a rather expensive investment. If you don't take advantage of a turbo trainer deal, the most premium setups will easily cost thousands and that's before you consider the cost of the bike, possible additions of a computer or tablet, as well as a fan. If you're planning on running Zwift in an unpowered garage or shed, you may even need to factor in the cost of an extension lead, WiFi booster, and even the light bulbs.
The overwhelming thought of all this investment might put you off, but thankfully, I'm here to help, and by a stroke of fortune, I've had to deal with all of the above.
By now, you'll know there are a couple of types of turbo trainers: direct-drive and wheel-on. You'll also know that some trainers are smart, meaning the resistance can be controlled by software (Zwift, TrainerRoad, etc), whereas others are 'simple' or 'basic', and will need to be controlled by your gear selection or a manual resistance controller that clamps to your handlebars.
While Zwift is undoubtedly the biggest of the various indoor cycling apps, it's worth noting that the following setups will also work with other training software such as TrainerRoad, Wahoo SYSTM, Rouvy and more, so once you're set-up, you can use whichever you please.
Basic trainers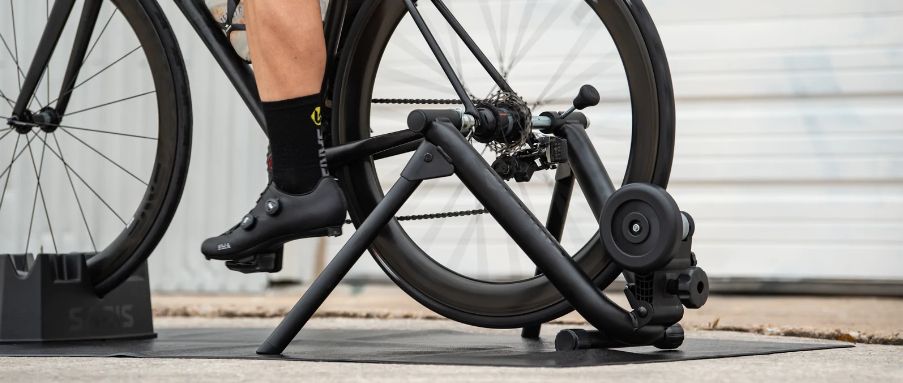 Basic trainers are NOT compatible with Zwift by themselves, but you can use them. All you need to add is a speed sensor. With a simple trainer and speed sensor, Zwift calculates power output based on the speed of the rear wheel. Zwift engineers have tested and mapped the resistance curve of almost all trainers on the market so that they can use the speed reading to calculate your power, which it uses to drive your avatar.
The downside is that there will be a delay between power output and your in-game avatar's response. This isn't too problematic for long steady efforts, but for sprint workouts or Zwift races, a 'smart' trainer or power meter will offer a smoother in-game experience.
To fit your bike onto the turbo trainer, you'll also need an adaptor for the rear axle. This is where it can get a little bit confusing, as you'll need to use the correct adaptor for your bike. If your bike uses quick-release axles, the most common rear spacing (the distance between the dropouts) is 130mm for road bikes. If your bike uses bolt-thru axles (an axle that goes through the hub and threads into the frame), then check the axle itself for size spec (the most common on road bikes is 142 x 12mm).
If you don't have a bike to use, our roundup of the best bike for cycling indoors will help, check out our roundup of bike deals to see if you can grab a bargain, or jump to our gym-based Zwift solution below.
You'll also need the speed sensor itself. This simply wraps around your rear hub and will connect to Zwift using either ANT+ or Bluetooth. Find a sensor that speaks Bluetooth to avoid having to buy an ANT+ adaptor for your laptop or tablet.
Power meters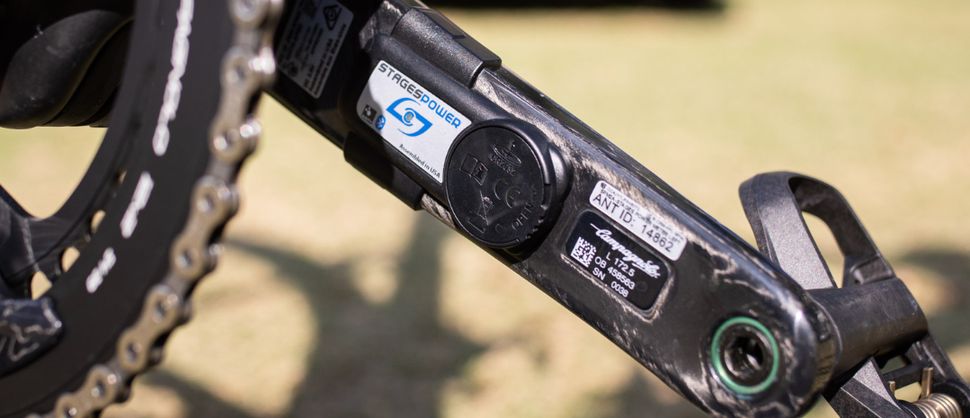 A slightly more accurate method is using Zwift with a power meter and a dumb trainer.
It'll cost more than a speed sensor, but it will come with added accuracy (and immediate responsiveness), along with the benefit of being able to take your power measurement outdoors too. The initial spend might be higher, but if you intend on using your bike outside as well as on the trainer, you will benefit from a single consistent reading of power across all of your training sessions.
However, this method will still rely on the basic resistance of your trainer, rather than having your trainer respond to in-game gradient changes.
I recommend choosing something with Bluetooth compatibility as well as ANT+ because it will communicate with more computers, phones and laptops than an ANT+-only device. You can overcome that with an ANT+ adapter, but that's an extra cost we're trying to avoid.
A power meter paired with your device running Zwift will increase the accuracy of your in-game experience and will be a great training tool for intervals and steady-state training, theoretically resulting in long-term performance gains.
Your choice of power meter will depend on your bike and its compatibility requirements. More details can be found in our guide to the best power meters.
Power meter pedals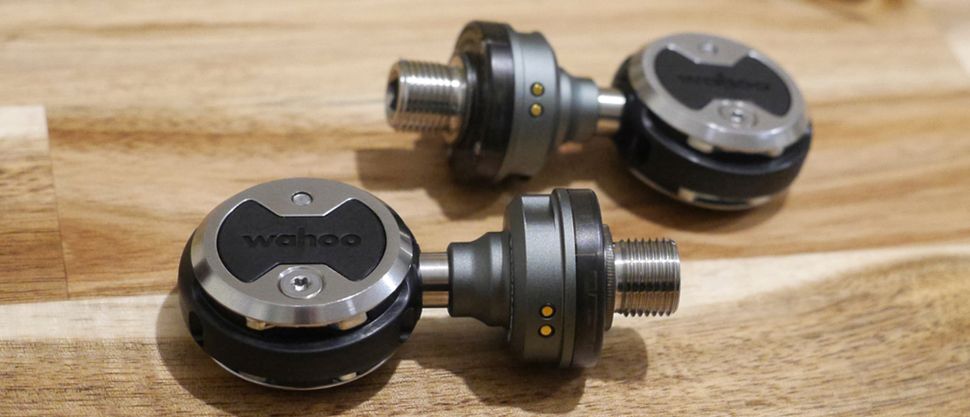 Power meter pedals do the same thing as any power meter, but instead of being built into your crank, hub or bottom bracket, they are built into your pedals, which can be very useful.
They're generally more expensive than a budget crank-based power meter and are often around the same price as the cheaper direct-drive trainers, but they come with a trick.
The benefit to owning power meter pedals over a smart turbo trainer or any other power meter is the flexibility to use them in multiple scenarios, given their small size and broad compatibility. You can use it at home on your own Zwift setup, outside across multiple bikes, and even at the gym.
If your gym doesn't have smart bikes like a Wattbike, with a pair of power meter pedals and a polite request, your gym might allow you to swap them onto one of their non-smart indoor bikes - the type used for group classes. Pair them with your Bluetooth-enabled phone or tablet and you've got Zwift at the gym. It's great for those who are often on the road with work and don't have the means to take their bike and turbo trainer with them. I've done it myself numerous times; it's much easier to pack a pair of shoes and pedals, and it means I don't have to resort to going for a run.
Smart wheel-on turbo trainers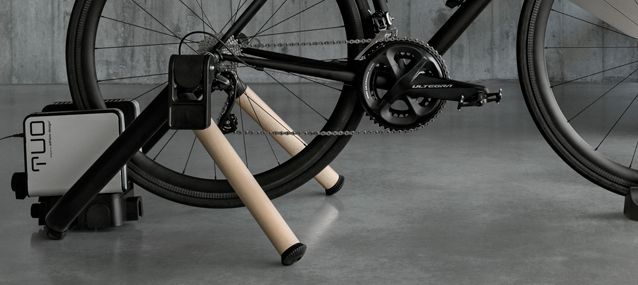 Due to the prices of direct drive smart trainers continually dropping, wheel-on smart trainers are becoming redundant, and I wouldn't recommend buying something in this middle section of the market. Especially not at the retail price. However, I'm still including it here for your information, and because there are a few discounted products around that may be worth considering.
Smart wheel-on trainers are, as their name suggests, smart. Their resistance can therefore be controlled by software and work in perfect harmony with your Zwift experience. This means that when the road goes uphill in the game, pedalling gets harder just like it would in the real world.
They are 'wheel-on', which means you keep the wheel on your bike and place your tyre against a roller, while a special rear axle holds the bike in place on the trainer. Resistance is applied to the roller, which transmits through your tyre and wheel to your pedals.
The problem here is that resistance is usually limited by the friction between your tyre and the roller. You will also need a trainer-specific tyre with a hard rubber compound, or you run the risk of wearing through your tyres quickly. Also, the small flywheel offers minimal inertia, which means it can often feel like you're pedalling through treacle rather than rolling along a smooth road. Some are better than others in this regard, but they are rarely as good as direct-drive trainers.
Smart direct-drive turbo trainers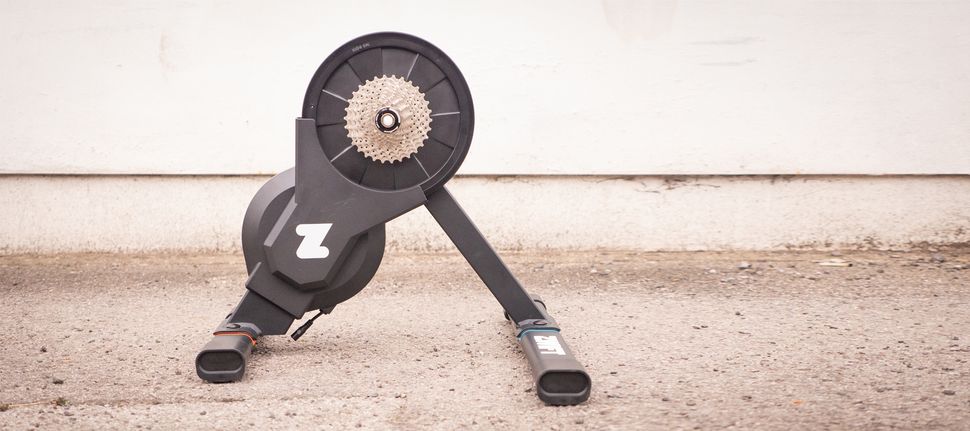 Direct-drive trainers require you to remove your rear wheel and then replace it with the trainer itself, connecting your groupset to a cassette that's fitted directly to the flywheel.
It offers a much-improved experience, a true road feel and a considerably better experience compared to a wheel-on trainer. Not only does it prevent that laboured pedalling-through-treacle feeling, but it's also considerably quieter and doesn't chew through tyres like the cool kids doing skids.
Be aware that budget trainers don't often come with a cassette, so you'll need to factor that into the cost. The top-spec direct-drive trainers add extra niceties such as vibration (to provide off-road feel in off-road in-game sections) and motorised freewheeling (to prevent the flywheel from stopping, requiring a sprint to get it going again when your avatar is riding downhill) and they generally have higher maximum resistance and incline simulation.
Yes, they're a far cry from the cheap Zwift setups that this article promised at the top, but if you're looking for a premium turbo trainer setup, the good news is that prices are coming down all the time, and there are plenty of deals around.
Rollers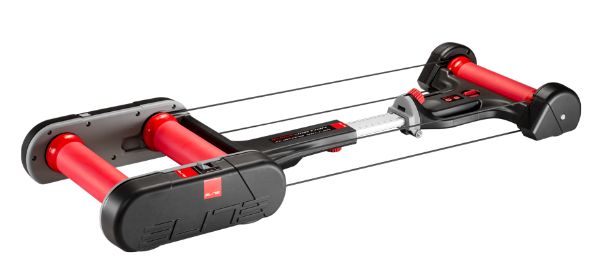 Rollers are the left-field inclusion here, but they certainly warrant a ticket to the party. They differ in that your bike isn't fixed into place, and as such, it requires greater concentration in order to avoid riding off the side. They take a bit of getting used to - just search YouTube for 'first-time cycling rollers' for proof - but they're great for working on balance and core stability whilst riding.
However, while not impossible, a sprint session is probably better undertaken on a turbo trainer.
Smart bikes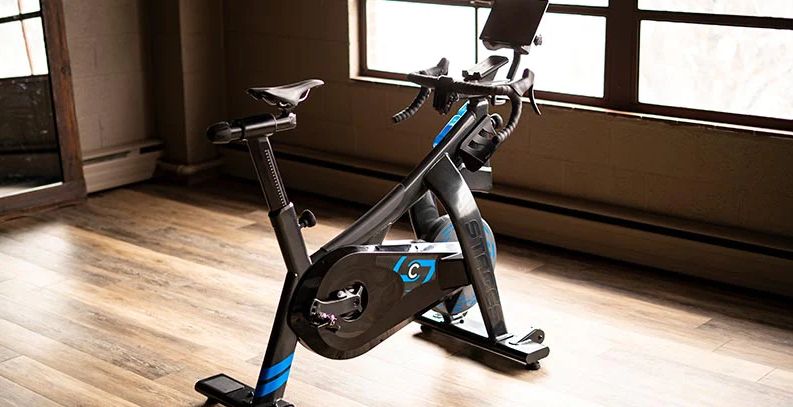 All of the options above assume you already have a bike to use for your Zwift setup, but what if you don't? Enter the smart bike. These all-in-one solutions take the brains from within a turbo trainer and fit them into a complete bike system, removing the need to use your own bike.
The positives are that they're permanently set up and ready to go. They often use a belt-drive system and electronically-adjusted resistance to mimic shifting instead of a chain-and-derailleur, which combines to decrease noise and increase durability.
However, they're big and heavy, so they need to be given a dedicated space in your home; they can't just be hidden under the stairs after you're finished. They're also not cheap - far from the cheapest Zwift setups available - but they're a great premium solution for indoor cycling's most dedicated participants, as well as multi-cyclist households, and they're also not immune to inclusion in the sales.
Gym subscription
If you don't have a bike, and you can't afford a smart bike, then what are your alternatives? Buying both a bike and a basic trainer could be an option, but allow me to present an alternative: The gym subscription.
This can be the cheapest Zwift setup of them all, especially if you're already paying for a gym subscription anyway.
If you're a member of a gym, there's a chance your gym already has a Zwift-compatible bike with a built-in power meter such as a Stages bike or Wattbike.
If you're unsure, you can either check with the gym's staff as to the facilities available or just open up the settings on your phone and search for Bluetooth devices. If a smart bike is found, it's likely that it'll connect up to Zwift without a hitch. Bring a power bank though, as Zwift can be battery-intensive for your phone/tablet, and other gymgoers won't appreciate you trailing charging cables across the floor.
Other things you'll need for Zwift
I've covered your trainer requirements extensively so far, but as mentioned at the top, there are other things you'll need for Zwift, and that'll be explained here as a series of questions and answers.
Do you need internet for Zwift?
Yes, you'll need an internet connection. This can come in the form of mobile data (4G / 5G) but be careful with your data allowance if choosing this option - in my test, a one-hour-long Zwift ride used approximately 300MB of data.
If you're Zwifting in your spare bedroom, then you're probably fine for signal, but if you're in the garage or shed, then you might have extra needs. Running an ethernet cable from your house to the garage mightn't be the most permanent solution, but it might be the only option you have. If you're considering this method, a second router or WiFi booster is an alternative idea. I use Google Nest at home, where I bounce the WiFi to my garage.
Do you need mains power for Zwift?
Not necessarily, but ideally yes.
A select few of the most feature-rich turbo trainers, such as the Tacx NEO 2T, will work without mains power, but you'll probably also want a fan and you don't want your laptop's battery life to cut your ride short.
For anyone looking to run Zwift in a garage or outbuilding, a power supply might not be a guarantee. The options here will very much depend on your circumstances. If you're unable to run a permanent power supply, then an extension lead and temporary ethernet cable might be the only option. You can get a 50m extension lead from Amazon for around $40/£30, and a similar length ethernet cable for around half that.
There's a good chance it'll be dark in your garage too, but you can get plug-in light bulbs from Amazon for around $20/£15, which are essentially a cable with a plug at one end and a lightbulb connector at the other.
If an extension lead isn't going to work for you, then a generator might be a solution. I've looked into solar and rechargeable generators, but these typically don't have enough juice to power a full workout, with the laptop, fan, trainer and lights running. Therefore, a petrol/diesel generator might be the only solution, as much as it's not as good for the environment.
Do you need a computer for Zwift?
Yes, you'll need a Zwift-compatible computer. This can be in the form of a PC, a laptop, a tablet, an Apple TV, or even your smartphone. The majority of us will already have something that technically can run Zwift, but in our experience, a phone screen is too small to read the data numbers when riding at or near your limit. Check out our guide to the best computers and tablets for Zwift for a few recommendations.
Is Bluetooth or ANT+ best for Zwift?
You'll need Bluetooth or ANT+ connectivity to run Zwift, and neither one is necessarily better than the other. ANT+ can typically connect to multiple devices simultaneously, whereas Bluetooth usually has a limit. However, no smartphone, tablet or laptop will have ANT+ built in, whereas most have Bluetooth.
Almost all new turbo trainers, power meters and speed sensors can work with both. However, if you're using an old power meter, then it may be ANT+ only, in which case, you're likely to need an ANT+ adapter for your computer. Our 'what is ANT+' guide takes a deep dive into the technology.
If you're using Bluetooth, then there's a greater chance your device will connect without the need for an adapter, which will obviously save you some money.
Should I use a fan with Zwift?
You technically don't need a fan, but once you've tried cycling indoors without one, we promise you'll want one more than you've ever wanted anything before.
The oncoming air that you get when cycling in the real world performs a huge role in cooling you down. When you take that away by remaining stationary, you very quickly overheat. Your body's natural response to this is to sweat... a lot.
This gets out of the realm of 'cheap', but if you want a real pain cave hack, buy as many fans as your budget will allow, then plug them all into smart plugs with remote control (or Amazon Alexa). This way, you won't need to get off your bike to switch them on and off, and you can leave them switched off for the first few minutes until you need them. Or go the whole hog and buy the Wahoo Kickr Headwind.
What accessories can improve your Zwift experience?
Desk
If you're running a laptop, you'll need to be able to reach it so you can use the Zwift menu without having to climb off the bike. Brands do make dedicated turbo trainer desks, such as the Wahoo Kickr Desk (opens in new tab), but for the budget-conscious, you can often make do with a less dedicated solution, such as an ironing board or some adjustable shelving from your local hardware store.
Sweat protector
To protect your bike against corrosion from the cumulative drips of salty sweat, you can get a dedicated sweat protector to catch the drips. The majority of sweat will drip from your face and shoulders, so it's the handlebars that need the most protection. Therefore, a towel placed atop the bars and stem will generally do a good job - with the added benefit of being able to wipe your brow every so often. For the budget-conscious, a towel or an old sweatshirt draped over the handlebars and top tube can have the same outcome. Don't drape anything over your bars when using rollers as if it gets caught in the front wheel, you'll be in trouble.
Turbo trainer floor mat
Unless you're in the garage or shed, you'll probably want to protect your floor from your salty sweat droplets, not to mention the damage caused by the feet of your turbo trainer. A turbo trainer mat will offer this protection and are available pretty cheap, but an old yoga mat or even an offcut of kitchen linoleum will do the same job. Our tried and tested method is to use interlocking floor mats designed for gyms or garages. Not only do they offer protection, but they also offer a few millimetres of cushioning which helps with your natural rocking motion whilst riding.
A turbo trainer-specific tyre
If using a wheel-on turbo trainer - especially a cheap one - the roller's interaction with the soft rubber of your rear tyre can quite quickly churn through your rubber. Dedicated hard-wearing turbo trainer tyres exist to overcome this very problem. You could invest in a dedicated turbo trainer tyre, or alternatively, if you regularly ride on the road, upgrade your best road bike tyres and recycle your old part-worn tyre for indoor use only.
Riser block
If you're using a wheel-on trainer, it will lift your rear wheel off the ground, which tilts you forward into an unnatural position. A riser block goes beneath your front wheel to level you out again. They don't need to be anything special, the cheapest versions can be found cheaply at Amazon. Or you can save that and slide a piece of wood or a few books (ideally taped together so they don't slide) beneath your front wheel. However you choose to bodge this, just make sure it's stable enough not to topple during sprint efforts.
Where should I spend my money first?
If you're setting up Zwift for the first time and your budget is limited, our advice would be to invest your money in the trainer and the fan, to begin with, and then add to the experience later with the peripherals. Look for a turbo trainer deal to ensure you're getting the most bang for your buck.
The latest race content, interviews, features, reviews and expert buying guides, direct to your inbox!
As the Tech Editor here at Cyclingnews, Josh leads on content relating to all-things tech, including bikes, kit and components in order to cover product launches and curate our world-class buying guides, reviews and deals. Alongside this, his love for WorldTour racing and eagle eyes mean he's often breaking tech stories from the pro peloton too.
On the bike, 30-year-old Josh has been riding and racing since his early teens. He started out racing cross country when 26-inch wheels and triple chainsets were still mainstream, but he found favour in road racing in his early 20s and has never looked back. He's always training for the next big event and is keen to get his hands on the newest tech to help. He enjoys a good long ride on road or gravel, but he's most alive when he's elbow-to-elbow in a local criterium.
The latest race content, interviews, features, reviews and expert buying guides, direct to your inbox!
Thank you for signing up to The Pick. You will receive a verification email shortly.
There was a problem. Please refresh the page and try again.