Cycling deals: the biggest savings on bikes, clothing and accessories from around the world
By Josh Croxton
Cycling deals might be plentiful, but finding the best can be time-consuming, so whether you're looking for a GoPro or a new gravel bike - here's our roundup of the best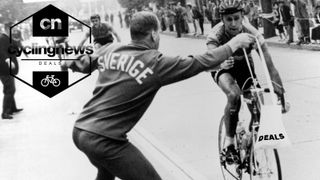 (Image credit: Getty Images)
It doesn't matter if you're shopping for a specific product such as a new gravel bike or a cheap bike helmet, the huge amount of cycling retailers and their cycling sales are bound to help you save some money. Of course, you might just be browsing in the hope that you'll find a cycling deal that you can't resist. Either way, sifting through all the sales can take time that you might not have.
Luckily for you, we've done the hard work. We trawled through the various sale pages, picked out the best cycling deals available today and outlined them below. To make things easier still, we've organised our picks by the product category, split USA and UK prices and organised by price. 
Check out our round-up below, and act now to avoid missing out.
USA top cycling deals
UK top cycling deals
Road Bike deals
Retailers are often offering road bike deals to clear out their old stock with new bikes arriving all the time. Below, you'll find a few of today's best deals, but if you're looking for more, check out our roundup of the best road bike deals, where we have the best available prices for some of the most popular road bikes. We've also put together a guide to the best Specialized bike deals.
Helmet deals
If you're trying to save some money on a cycling helmet, you should never do so at the expense of quality, and Cyclingnews would advise against buying second hand or from an untested brand. Therefore, buying a discounted brand-name helmet is a good way to ensure safety while saving money.

If you're looking specifically for a helmet deal, we have a dedicated Cheap bike helmets page where we've collated the best deals. 
GoPro deals
Whether you fancy yourself as the next YouTube vlogging sensation or you simply want evidence in the event of driver-aggravation, a GoPro is likely to be your first choice action camera brand. Our GoPro needs will be different to other sports - battery life, low-light quality and mounting options are likely to be more important than dive depth, for example - so we've considered that when finding deals for you.
Our roundup of the best GoPro deals will provide you with the tools to decide which GoPro you need, along with the best deals available today. 
Turbo trainer deals
While a turbo trainer sees a popularity increase during winter months, that's not to say they are exclusive to colder, rainy days. The training structure achievable with a turbo trainer eliminates junk miles and ensures every moment in the saddle is tailored to achieving performance benefits. 
That's not all, with the ever-present danger of riding on the roads, more people are looking for alternatives, and getting your cycling fix indoors has recently become a more enjoyable process with the advent of interactive apps such as Zwift. 
Check out our full roundup of the best turbo trainers.
E-bike deals
E-bikes, love them or loathe them, are here to stay. For as long as they increase the number of time that people spend on bikes, the Cyclingnews team think e-bikes are a positive addition to the world of cycling. That said, not all e-bikes are made equal, a cheap e-bike is unlikely to stand the test of time and ultimately cost more in the long run. Taking advantage of an electric bike deal is a good way to get a quality product without paying the full asking price. Below we've highlighted our favourite deals of the moment, but head over to our roundup of the best electric bike deals for more. 
Cycling lights deals
Brighten up your day with some great deals on bike lights. No matter the time of year, or even time of day, if you ride on the roads, it's recommended that you ride with a bike light. It will never be a detriment to your ride, and a flashing LED has been proven to increase your visibility among traffic - which will undoubtedly increase safety. Here's our roundup of the latest deals on bike lights. 
Power meter deals
You don't need to be chasing that Cat 1 license to warrant buying a power meter. We've all heard the claims that a power meter is one of the most beneficial training tools, but they can be equally useful for finding imbalances between legs, prevent overworking in physiotherapy and rehabilitation, and can even be used when comparing the difference between the aerodynamic efficiency of two positions.
Wheels deals
A new pair of road bike wheels can be a pretty hefty investment, so it makes sense to save yourself some cash and take advantage of retailers' cycling deals, here's our roundup of the best. 
Cycling computer deals
Smartwatch deals
Cycling clothing deals
Cycling shoes deals
Need a new pair of cycling shoes? Well, you're in luck! With new innovations being added to cycling shoes every year, there are some great discounts on a huge range of cycling shoes.
Components
Accessories
Other cycling deals
Where to browse the best cycling deals
Sign up to the Cyclingnews Newsletter. You can unsubscribe at any time. For more information about how to do this, and how we hold your data, please see our privacy policy