Best winter cycling jackets 2022 - Outer layers to keep you warm on the bike
The best winter cycling jackets provide weatherproofing and insulation to keep you warm and dry on the bike. These are our favourites, with a guide on how to choose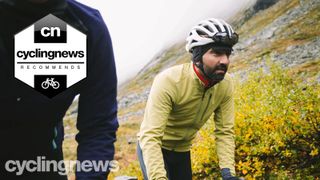 (Image credit: Velocio)
The best winter cycling jackets are designed to keep you warm and dry, protect you from the elements and breathe so that you don't 'boil in the bag'. It might not be the most glamorous part of the cycling season but winter cycling is a fact of life for many cyclists, so it's worth investing in some good quality outerwear. The foundation of this starts with the best winter cycling jackets, and it extends to the best cycling overshoes, the best winter cycling gloves, and the best winter bib tights.
Whether you're racing, training or commuting to work, the specific demands of cycling in the harsh conditions aren't easily met, and if you want to stay comfortable out on the road, getting your clothing choices right is vital. Winter jackets, in particular, are a key piece of your armoury, as while your legs will generate some heat through use, protecting your core and arms from the elements is paramount to keeping you warm and in control of your bike.
The choice used to be limited to fleeced, long-sleeve jerseys or plastic rain capes, but development and innovation in fabrics and fit means that clothing for cold and wet conditions have come on in leaps and bounds over the last few years.
Our roundup of the best winter cycling jackets below will cover insulating jackets designed to keep you warm when the mercury drops, and while many will feature a level of water resistance, for absolute waterproofing performance, check out our guide to the best waterproof cycling jackets.
However, if you're unsure on exactly what to look for when buying, skip to the bottom for a buying guide on what to look for in a winter cycling jacket.
Best winter cycling jackets
Best overall
Specifications
Price:
£290 / $369 / €330 / AU$488
Reasons to buy
+
Excellent at wicking away sweat
+
Quality pockets work as well as a summer jersey
+
The right fabrics in the right places
+
Ultra-warm
Reasons to avoid
-
High price
-
Short-drop tail
-
Small tooth zipper can degrade over time
The Assos Mille GT Jacket Ultraz Winter uses a combination of multilayer fabrics that offer brilliant breathability and stretch, but also waterproofness to over 10,000mm. Unlike DWR treated fabrics, this waterproofness is permanent, as the fabrics use a PU bonded membrane to achieve this, rather than a coating applied post-manufacturing.
These various fabrics are strategically placed to maximise performance – with heavier fabrics on the chest, tops of the arms and shoulders, and lighter, stretchier fabric across the lower back for a form-hugging fit. There is also an internal RX fleece lining and an integrated snood for added insulation and comfort.
The design is typically Assos, with the premium details and high-quality construction you would expect, and there are five colour options available including an extremely bright orange. The only downside is that this quality and performance doesn't come cheap.
Read our Assos Mille GT Ultraz Jacket review to find out why we gave it a full five stars.
Best for the shoulder seasons
Specifications
Price:
£230 / $319 / AU$450
Reasons to buy
+
Low bulk
+
Perfect fit
+
Cavernous pockets
If your winters aren't brutal enough to warrant the intense warmth of the Mille GT Ultraz, then Assos' Mille GT Winter softshell jacket might be just the thing instead. Similarly earning a five-star review from us, the Winter jacket is designed for three-season riding, seeing you through the shoulder months and through most of the winter if this season is fairly mild where you live.
It features a front panel made from NEOS medium fabric, which has a three-layer construction for absolute warmth, and a PU membrane for water-resistance and windproofing. Inside you'll find a waffled-texture that's similar to wool.
Similarly to the Utraz above, the Mille GT Winter jacket has a snug fit and low-bulk design. It boasts some very spacious pockets so you can carry everything you need, and while it won't keep you dry in a downpour, it will suit most of your colder-season riding.
For more on why we gave it full marks, have a look at our Assos Mille GT Winter Jacket review.
Best for warmth in all conditions
Specifications
Price:
£300 / $‌366 / €‌371 / AU$‌582
Reasons to buy
+
Two-layer construction
+
Warm in all conditions
+
Taped seams
+
Clever collar and cuff
Reasons to avoid
-
Loose neck and shoulders could be better fitted
-
Zippers aren't cam locked
-
High price
If you're looking to ride in comfort during cold season, then chances are you've been recommended something from Castelli. The brand's Gabba jacket became synonymous with winter wear, and this new Alpha RoS (Rain or Shine) 2 jacket sets an all-new benchmark in what a winter cycling jacket can achieve.
With a double layer design, the inside sees a warm insulating layer that sits separate from the outer waterproof layer. A double cuff design means there's no longer a choice between putting the sleeves inside your gloves or out, and the taped shoulder seams keep any rain and spray on the outside.
The jacket uses Gore's Infinium Windstopper 150 fabric, three pockets at the rear - all of which feature drainage holes, for the worst of the rainy days - with the addition of a zippered 'security' pocket. Reflective detailing is used to help keep you visible at night.
For more insight into its performance, read our full review of the Castelli Alpha RoS 2 jacket.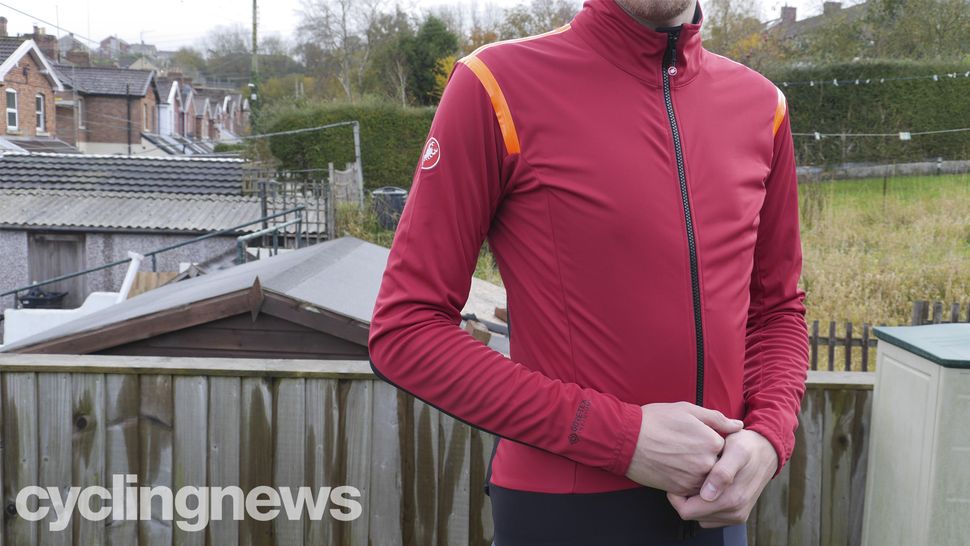 Best for milder winters
Specifications
Price:
£250 / $305 / €‌309 / AU$485
Reasons to buy
+
Taped seams
+
Temperature range 7-15C (45-59F) and still comfortable when colder
+
Double-layer construction
+
Zippered security pocket
Reasons to avoid
-
Zip neck guard gets in the way when trying to zip up
As the name suggests, the Alpha RoS 2 Light takes the popular Alpha RoS 2 jacket and uses lighter materials to offer the same construction and fit but for milder conditions. Castelli quotes the jacket for use between 7-15C (45-59F), but we've worn it down to freezing whilst remaining comfortable.
Instead of a 3D fleecy material, the inner layer is made from a similar material to Castelli's race jerseys, offering an extra layer of fast-wicking material between your base layer and your jacket. The outer is the same GoreTex Infinium from the Alpha RoS 2, and as such offers the same excellent weatherproofing.
We've remained perfectly comfortable on rides up to the top end of the temperature range and expect it would be fine on even warmer days still. This means it is one of the best cycling jackets for multi-season versatility, and the fact that it will be useful for three-quarters of the year makes the high price a much easier prospect to swallow.
If you were buying just one winter cycling jacket and wanted to avoid ever being left out in the cold, then the standard Alpha RoS 2 jacket is the one we'd go for, but if you live anywhere that temperatures rarely meet zero then the Alpha RoS 2 Light is a brilliant option.
Read the complete review of the Castelli Alpha RoS 2 Light jacket.
Best for overall comfort
Specifications
Price:
£310.00 / $300.00 / AU$410.00
Reasons to buy
+
Plenty of room for a phone in the zippered side pocket
+
Lots of stretch in the pockets
+
Polartec Alpha internal insulation feels great against the skin
Reasons to avoid
-
Outer is quick to overwhelm in sustained rain
While this jacket may not stand up to the harshest of winter weather, it is an absolute joy to wear because it's so comfortable (just as its name suggests). It uses Polartec fabrics throughout, for superior insulation and lofted breathability, by creating a space between your body and the jacket, both trapping air for warmth and facilitating airflow.
On the exterior you'll find Neoshell fabric, which has a multilayer construction that keeps water out (to an extent) but allows moisture to escape. It has three standard pockets at the rear and a side zippered pocket that's large enough to store a phone, and comes in a range of really classy colours.
Read our full review of the Sportful Total Comfort Jacket for more details.
Best for changing weather conditions
Specifications
Price:
£199.99 / $220.00 / AU$289.99
Reasons to buy
+
Excellent collar
+
Brushed fleece lining feels good against the skin
+
Options for visibility
Reasons to avoid
-
Narrow pockets that sit high on the back
-
The light colours won't withstand road spray
The Gore Wear C5 Gore-Tex Infinium Jacket is designed to be versatile for changing weather conditions, and sits one step above a long sleeve jersey. It provides good protection from wind and light rain, and breathes well in case the temperature unexpectedly rises.
On the other hand if the mercury suddenly plummets, the C5 jacket can easily be incorporated into a winter layering system, so if you need one jacket that will see you through most weather conditions and adapt quickly, this could be the one for you.
For a full breakdown of its key features, check out our Gore Wear C5 Gore-Tex Infinium Jacket review.
Best value for money
Specifications
Price:
£179.99 / $299.99 / AU$TBC
Reasons to buy
+
Effective wind and damp proofing
+
Separate fleece core for sub zero warmth
+
Particularly cosy collar
+
Loads of rear pocket capacity
+
Good combo value
+
Decent breathability and fast drying
+
Syncs with Endura's spine vented jerseys and base layers
+
Stand out or stealth colours with reflective details
Reasons to avoid
-
Potentially tight yet wrinkly fit
-
DWR rinses off very quickly
-
Spine syncing can be too breezy
Building upon the success of its Pro SL HC jacket, Endura added ventilation points, a waterproof membrane and an extra fleece gilet to create the winter-ready Pro SL 3 Season jacket. This combination of two garments in one, makes it extremely good value for money, and a seriously versatile piece that can serve you well for three quarters of the year.
If you're already a fan of Endura, and/or use its spine-vented jerseys and base layers, then you'll be pleased to know that the Pro SL 3 Season jacket also features a mesh material on the spine to work well alongside those other pieces. This helps your body to shed heat from behind so that you don't overheat.
It's a jacket that's loaded with features, including a Transloft-esque thermal fabric to lock in the warmth, mid-weight windproof panelling to protect the parts most vulnerable to wind chill, an extended waterproof tail for splash guarding, and some super useful pockets with the brand's own take on the traditional 3-pocket design.
Get the full details in our Endura Pro SL 3 Season jacket review.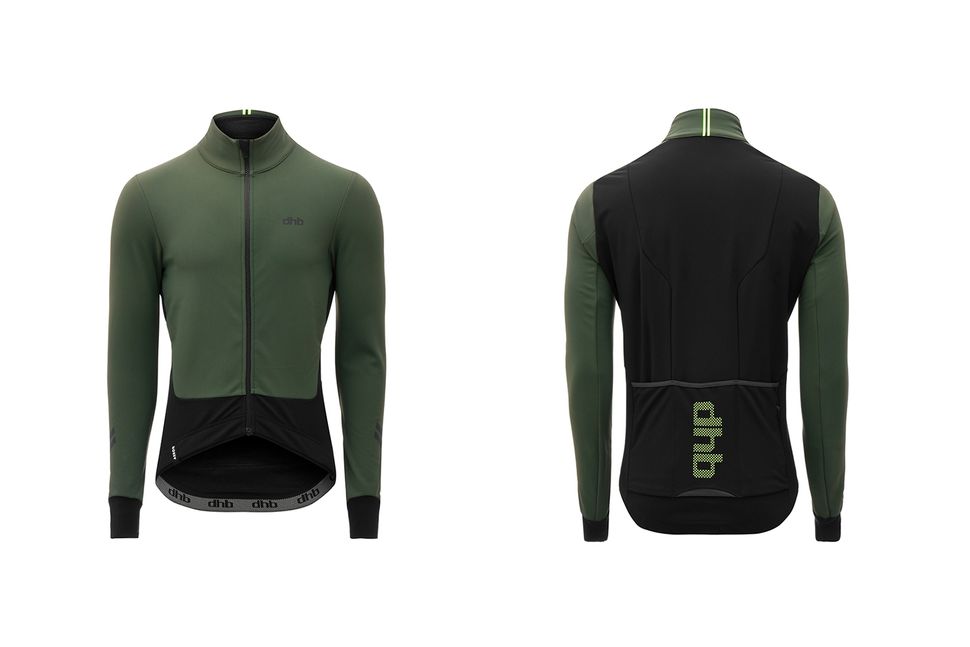 dhb Aeron Deep Winter Softshell Jacket
Best for winter cycling on a budget
Specifications
Price:
£150 / $190 / €145 / AU$240
Reasons to buy
+
Great value price
+
Designed for super cold conditions
Reasons to avoid
-
Only one non-high-vis colour option
As usual, dhb's Aeron Deep Winter Softshell jacket packs in features and performance well beyond what its price tag would suggest.
Constructed from a multi-layer softshell fabric, it has a true wind and waterproof membrane – rather than a DWR surface treatment that would eventually wear out and need to be refreshed.
The company rates the jacket as suitable for temperatures ranging from -2 to 10-degrees Celsius, so it should be suitable for the majority of winter days out on the bike. It's so warm that dhb actually recommends another winter cycling jacket (the dhb Aeron All Winter Softshell Jacket) in its range for those that run hot.
It also includes reflective details – dhb Flashlight Technology (FLT) – on the front, back and sleeves for added visibility.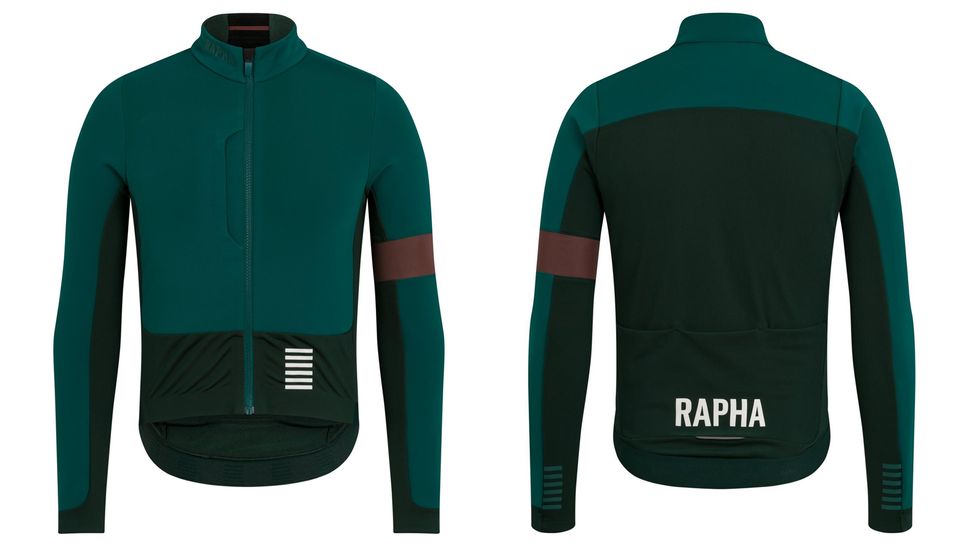 Rapha Pro Team Winter Jacket
Best for those hard training rides
Specifications
Price:
£180 / $250 / €215 / AU$315
Reasons to buy
+
Elegant styling
+
Easy-access chest pocket
+
High-quality construction
The Rapha Pro Team Winter cycling jacket is the British brand's highly versatile top tier winter jacket. Like the rest of the Pro Team range, it's designed at the cutting edge of Rapha's fabric technologies, and performs dutifully in a range of temperatures. Designed to be worn either with a base layer or over a base layer and jersey combo on those super-cold days.
There's a neat pocket on the chest for easy access to your essentials, and three traditional pockets at the rear to hold the bulkier items. Designed with a particularly race-ready fit, the jersey features a dropped tail for extra protection against the elements at the back. There is also a selection of high-visibility details dotted throughout to keep you lit up at night.
Rapha has used thicker wind- and splash-proof fabrics on the front of the jacket, as well as a raised collar and elongated cuffs, all in the name of keeping the chill on the outside.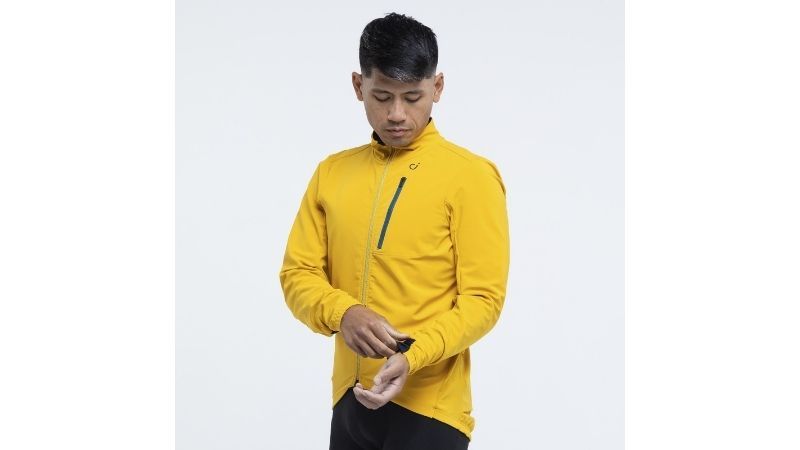 Velocio Signature Softshell jacket
Best for downpours
Specifications
Price:
£244 / $299 / €TBC / AU$359
Reasons to buy
+
Broad size range
+
10K waterproofing
+
Primaloft insulation
Having refined the fit for 2020, Velocio's Signature Softshell jacket is inspired by touring motorcycle jackets, in particular the shape of the sleeves, the articulated shoulders and chest area, and the curved shape of the back. This helps the jacket to mould nicely around the body while in the cycling position.
The fit is trim and flap-free, while also offering room for layers and full mobility of movement. Velocio partnered with eVent to develop a three-layer softshell construction which combines Direct Vent stretch membrane with Primaloft for superior insulation, topped with a DWR-treated outer layer for 10K waterproofing.
Giro Chrono Pro Alpha Jacket
Best for the deepest of winter riding
Specifications
Price:
£219.99 / $264.49 / €263.49 / AU$388.49
Reasons to buy
+
Designed for super cold temperatures
+
DWR coated, water repellent fabrics
+
Polartec Alpha insulated
+
Windproof
Reasons to avoid
-
Pockets are a little tricky to access while on the bike
Giro's Chrono Pro Alpha Jacket is designed to be worn in the depths of winter, when temperatures reach just below freezing. It deploys several winter-ready technical fabrics to do the job, including Windproof Polartec Windbloc, which keeps icy chills at bay, and Polartec Alpha Direct Active Insulation to help you stay warm and toasty around the core.
Outside, the fabric receives a DWR coating for water repulsion, and wrist cuffs that feature a thumb hole are used to keep the wind out and provide an extra level of cosiness. At the back are three pockets with an extra zipped pocket for valuables, which expand to store a fair amount of cargo - ideal for stowing lots of snacks to help keep your winter energy levels up.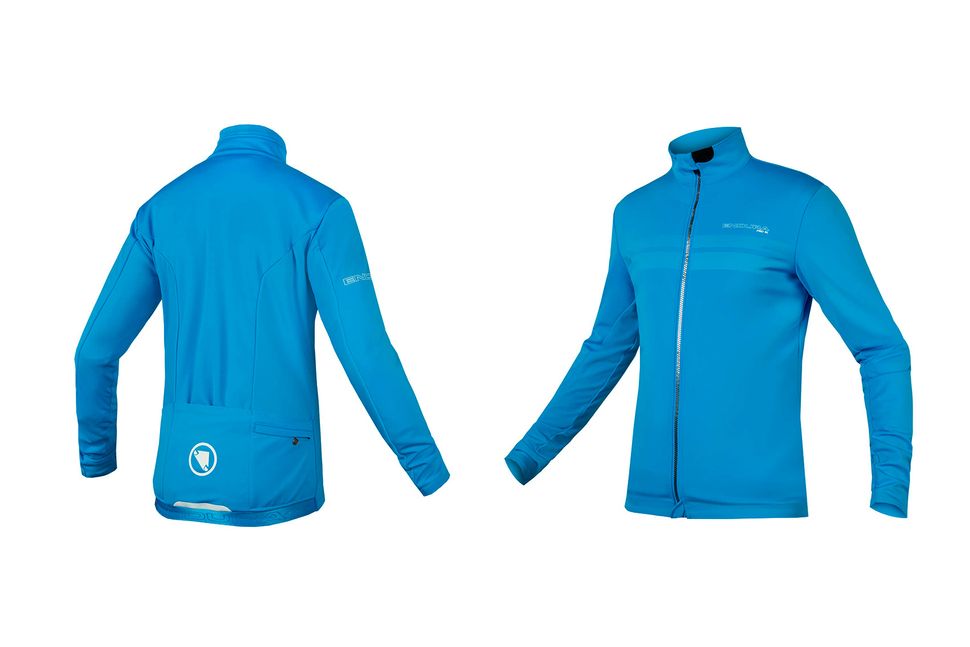 Endura SL Thermal Windproof Jacket II
Best for layering up
Specifications
Price:
£159.99 / $224.99 / €174.99 / AU$289.99
Reasons to buy
+
Simple styling
+
Good value price
+
90-day satisfaction guarantee
Endura is a Scottish brand, and with all that experience of cold Scottish winters, it knows how to make a good winter cycling jacket.
Featuring a high stretch, windproof soft-shell fabric with thermal lining and high wicking side panels, the Endura SL Thermal Windproof Jacket II is designed for hard rides in cold conditions.
The collar is also double layered and high cut, for extra warmth and comfort, and the cuffs are usefully extended so that they integrate with your gloves – another area where the cold could otherwise easily creep in.
The cut is slim but it's not Italian, so there should be room to layer up underneath on really cold days. Endura also offers a 90-day satisfaction guarantee on its Pro SL range, meaning you can test it out and send it back for an exchange or refund if you're not completely happy.
There are only two colour choices – black and bright blue – so if those aren't to your taste, you might have to look elsewhere.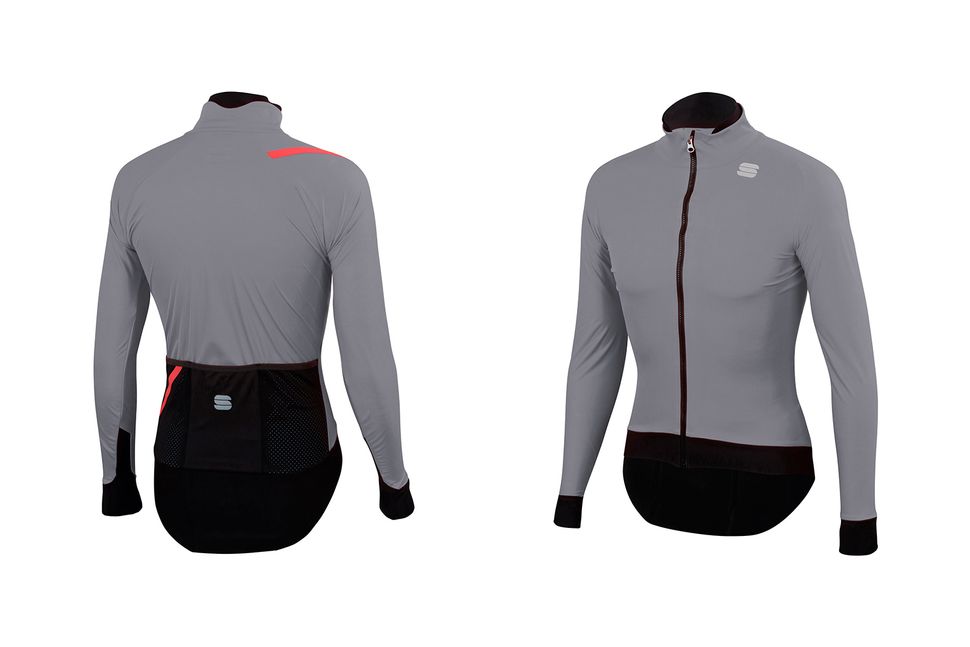 Sportful Fiandre Pro Jacket
Best for the pros
Specifications
Price:
£240 / $279.49 / €229.90 / AU$402.32
Reasons to buy
+
Lightweight but with good protection
+
Stretchy, aerodynamic fit
Reasons to avoid
-
Size runs smaller than expected
Designed for training and racing in cold and wet conditions, the Fiandre Pro Jacket was developed in collaboration with WorldTour pro riders.
It's made from the super stretchy, wind and waterproof Polartec NeoShell fabric – which Polartec claims is the world's most breathable waterproof fabric technology – and features fully taped seams, plus a waterproof zipper for even greater protection from the elements.
As the 'Pro' moniker suggests, the cut is designed for the lithe bodies of professional cyclists, and it fits best when riding in a racy position. It's definitely one you want to consider sizing up if you're simply a normal person or just want to be able to layer up underneath.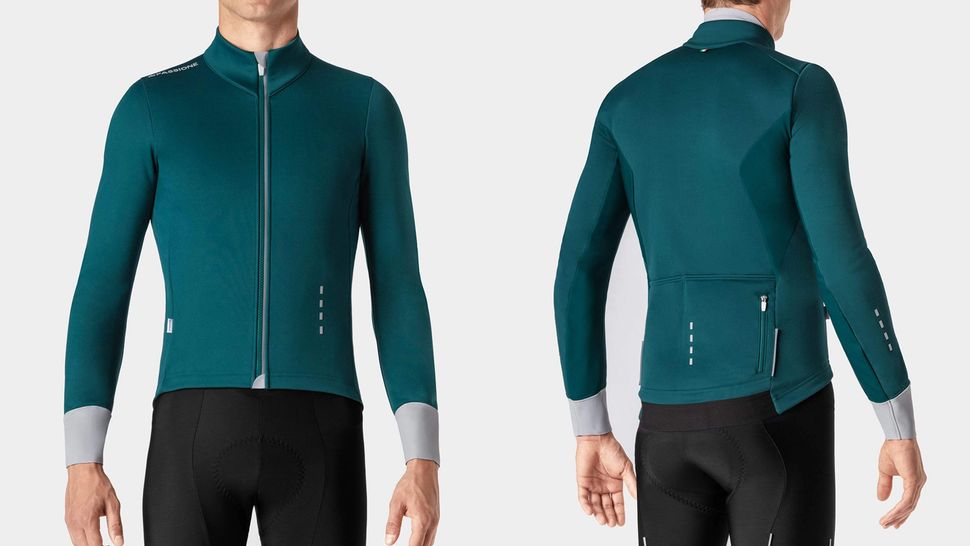 La Passione Prestige
Best for race day
Specifications
Price:
£160 / $205 / €170 / AU$285
Reasons to buy
+
Close fit
+
Extra waterproof rear zipped pocket
+
High collar and ergonomic cuffs
+
Highly reflective
+
Good value price
Reasons to avoid
-
Close race cut won't suit all
Direct-to-consumer brand La Passione cuts out the middlemen to offer a pro-cut Prestige winter cycling jacket at a more affordable price.
Designed to be used in cold temperatures, the Prestige Winter cycling jacket features a three-layer construction which thermoregulates body temperature and makes the jacket windproof and water resistant.
Fit is cut close and the stretchy materials eliminate any unnecessary flapping. The high cut collar, ergonomic cuffs and rear jacquard elastic band with silicone gripper batten down the hatches to assure that no cold weather sneaks inside the jacket. Two rear pockets provide storage plus a zipped valuables pocket that has extra waterproofing.
Finished with reflective trimmings to help you stay visible in the dark, the Prestige winter cycling jacket should see you through the season comfortably.
How to choose the best winter cycling jacket
How should a winter cycling jacket fit?
As with all cycling clothing, winter jackets come in a range of fits. Some will be designed to be form-fitting and aerodynamic, often with racers in mind. Others will have looser fits, with consideration for fit off the bike, and the ability to layer up underneath for added versatility or protection.
There are some jackets that try to do it all, but most specialise and target a specific type of rider and usage.
The jackets chosen here have been selected with road use in mind, and therefore largely prioritise a close, aerodynamic fit, to varying degrees. While any of these will work just fine for off-road or MTB use, we'd still suggest looking for mountain bike jackets that have been specifically designed for those disciplines if you're intending to dedicate a lot of your riding time to heading off-road.
How do cyclists keep warm in the winter?
The key to keeping warm in winter is to layer up. The more layers you wear, the easier it is to trap air between layers of clothing, and that's what helps keep you warm when the mercury drops.
To help you stay toasty throughout the winter without having to resort to indoor cycling, wear your best cycling base layer beneath your best cycling jersey, top it with a great winter cycling jacket and then treat yourself to some of the best winter cycling gloves. Don't forget to keep your bottom half warm as well. Check out our guide to the best winter bib tights and our comprehensive guide to winter cycling for everything else you'll need to keep cycling all year round.
What's the best windproof winter cycling jacket?
While the wind helps keep you cool and dry in the summer, it's one of your worst enemies in the winter. Windproof fabrics do just as they say and block the wind from passing through the fabric and cooling you down.
It used to be that windproof fabrics lacked breathability and you would, therefore, end up cold and wet simply from your own sweat. But modern fabrics have vastly improved in this regard.
Many brands also strategically use panels of different materials across their jackets – with heavier, less breathable fabrics on the front, and lighter, more breathable fabrics on the rear, for example.
Alternatively, some jackets, especially those which use heavier fabrics, incorporate zippered vents that can be opened and closed to further regulate ventilation.
What's the best water repellent winter cycling jacket?
Along with lower temperatures, winter also brings rain. In constant rain, you'll likely be better off with one of the best waterproof cycling jackets. But on more changeable days, a softshell jacket with water repellent fabrics or Durable Water Repellent (DWR) treatment is best.
These jackets can shrug off road spray or a short shower, but usually offer better fit, comfort and breathability than a dedicated waterproof jacket.
There can be a downside though – these treatments and membranes can often reduce breathability, although the penalty with high-end modern fabrics is small. The perfect jacket for a slightly warmer, wet day might not be best for a cold, dry day, where you really don't want your own sweat to make you cold.
What's the best way to stay visible at night in winter?
It goes without saying that if you're riding in the dark, you need to take a look at our guide to the best bike lights. Don't overlook reflective detailing and/or high-visibility colours for your clothing, however.
If the clouds close in, or if you end up staying out slightly longer than planned, light levels can drop, and bright colouring or added reflective elements will help other road users spot you out on the road.
Furthermore, high-visibility doesn't have to mean you look like you're wearing safety equipment anymore, with many brands now offering a range of colours beyond fluorescent yellow.