Best aero helmets: Maximum protection, minimum drag
The best aero helmets will help you go faster for less effort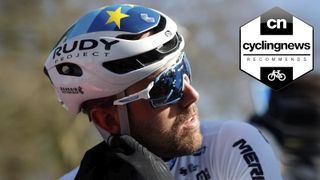 (Image credit: Getty Images Sport)
The best aero helmets can come with many benefits. The cycling world has become infatuated with aerodynamics and one brand even goes as far as to state that aero is everything, although we might not agree with that 100 per cent. There is, however, probably a good reason as to why the majority of the WorldTour peloton use aero helmets for all but the hilliest of days.
The benefits of aerodynamics have long been espoused by time triallists, whose discipline relies on innovation because every possible time-saving measure is crucial. However, over the past decade, the marginal-gains mentality has filtered into other disciplines, and in turn has led to the creation of the aero road cycling helmet.
For many, the best road bike helmet will come from this list of the best aero helmets, as the prospect of higher speeds for fewer watts - cycling's holy grail if you will - is the sole focus when making a purchase. However, if you're a time triallist, you can typically save even more watts with the best time trial helmets.
The aero road helmet is easily distinguishable by its profile, often featuring a smooth frontal area with a decreased quantity of air vents. Often the rear will extend to guide the passing air beyond the rear of the head with minimal turbulence.
With the reasonably large frontal area of a cycling helmet, it makes sense that the easier it can slice through the air, the higher the speed and less power output required. This is where a rider such as a breakaway specialist might see the attraction, for whom that extra half a kilometre per hour could mean the difference between winning and losing.
All of the best aero helmets are unisex, but there are a few brands making women's specific products with features catering to the needs and wants of female cyclists. If that's you, check out the best women's bike helmets.
The best aero helmets ridden and rated
Why you can trust Cyclingnews Our expert reviewers spend hours testing and comparing products and services so you can choose the best for you. Find out more about how we test.
The best aero helmet for low noise
Specifications
Aero claim:
Saves 60 seconds over 100-miles at 25mph compared to the Vanquish
Retention:
Roc Loc 5 Air micro-dial adjustment
Sizes:
51cm to 63cm in S / M / L
Pro teams:
Groupama-FDJ, Canyon SRAM
Reasons to buy
+
MIPS Spherical builds MIPS into the helmet body
+
Quiet aero performance
+
Good ventilation
Giro claims that the Eclipse Spherical is its most aero road helmet ever. It uses the unique-to-Giro MIPS Spherical tech, where the MIPS sliding plane is built into the helmet between two EPS foam layers, rather than being attached to the helmet's inner surface. It's a tidy solution that Giro says enhances crash protection.
On the inside there are just four narrow pads across the top of the helmet and an antimicrobial brow pad, but despite this comfort was first rate. There's plenty of airflow through the helmet, so speed isn't bought at the expense of heat build-up, although the less aero Giro Aether is that bit cooler.
The Giro Eclipse Spherical manages to be light, well vented and low profile, to the extent that we questioned whether we'd been sent the right size helmet. It's also designed to be quiet.
For more information, check out our Giro Eclipse Spherical review.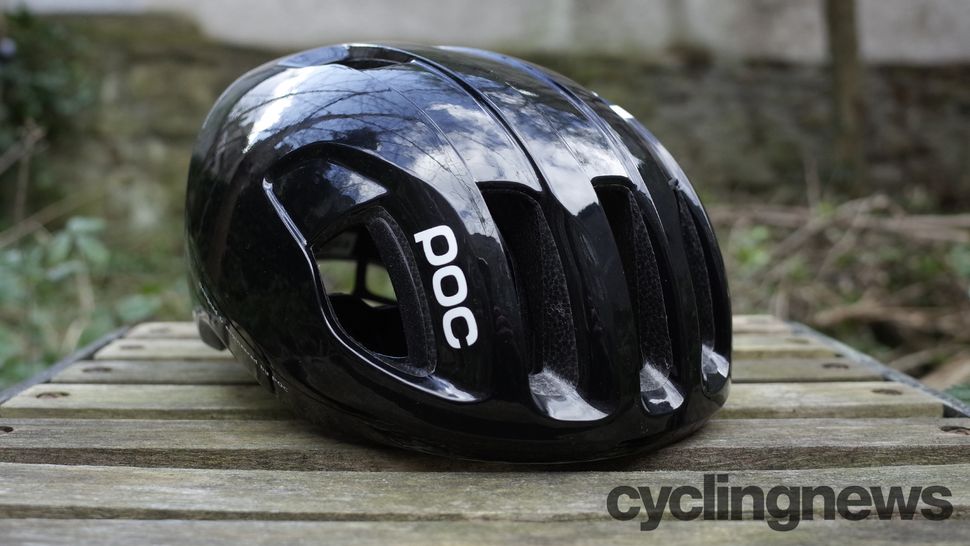 The best aero helmet for ventilation
Specifications
Retention:
Dial adjustment
Sizes:
50cm to 61cm in S / M / L
Pro teams:
EF Education-EasyPost
The POC Ventral Spin helmet is not necessarily the first you'd look to when seeking an aero helmet, however, it's a contender worth considering for those who include ventilation as part of the equation.
Unlike POC's previous aero helmet, which consisted of little more than their Octal being fitted with a solid outer shell, the POC Ventral Spin underwent considerable aerodynamic and CFD testing throughout its development. POC adopted a 'whole-helmet approach', which they claim has helped to enhance aerodynamic performance and decrease air turbulence. Additionally, the air-flow design has been optimised in order to increase ventilation and thus accelerate cooling.
Like most of the helmets in POC's line-up, the POC Ventral SPIN uses SPIN technology (Shearing Pad INside) to protect your brain against the effects of oblique or rotational impacts.
We've got a full review of the Poc Ventral Spin too if you want to know more.
The best aero helmet for comfort
Specifications
Aero claim:
Developed and engineered in the wind tunnel with the collaboration of Swiss Side
Safety:
Rudy Project WG11
Retention:
RSR 10-dial adjustable
Sizes:
55cm to 61cm in S+M / L
Pro teams:
Bahrain Victorious
Reasons to buy
+
Lightweight
+
Lots of fit adjustment
+
Good strap management
Reasons to avoid
-
Only two size options
-
Matt finish prone to scuffing
Wind tunnel tested along with aero wheelmaker SwissSide, the Nytron is available in three matt colour options. There are only two size options, which start at 55cm, so the Nytron may not fit if you have a smaller head. It may not work well with a ponytail either, but we found it to be one of the most comfortable fits we've tested.
Rudy Project has also safety tested the Nytron against its internal safety standard for protection against rotational impacts, which it passed by a wide margin. It's well ventilated, too.
The Rudy Project Nytron looks stylish and not over-logoed although we didn't rate the rear Nytron sticker and the chrome accents on the rear cradle and there was a bit of wind noise when turning to look around.
Find out how the Rudy Project Nytron fared on test if you want a deeper dive.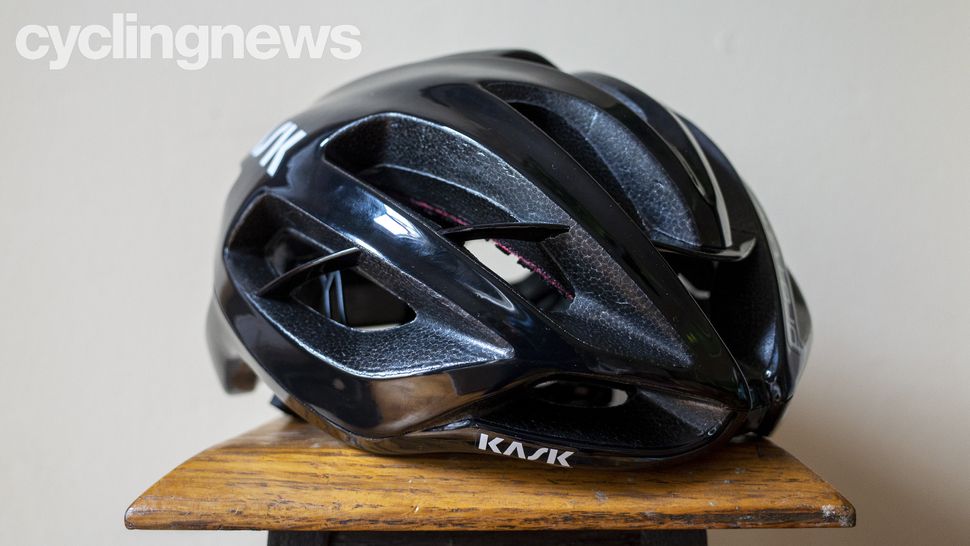 The best all rounder aero helmet
Specifications
Retention:
Octo fit, rubberised micro dial
Sizes:
52cm - 62cm in S / M / L
Pro teams:
Ineos Grenadiers
Reasons to buy
+
Great all-rounder
+
Well ventilated
+
Range of colours
+
Secure fit
+
Snug-fitting chin strap with no flap
Reasons to avoid
-
Low head retention can interfere with caps and headbands
The Kask Protone is a well-revered helmet that strikes a perfect balance between aerodynamics and ventilation. The 12 large frontal vents offer a great amount of airflow across the head, while the smooth rounded profile at the back helps guide air beyond the head with minimal turbulence.
Kask's 'Octo Fit' system serves to offer a range of adjustability to fit all head sizes. This offers a secure all-around fit, that holds the head in a secure, but comfortable fit. There is also an eco-leather chin strap, along with 3D dry padding, which both serve to offer additional comfort.
Like all of Kask's helmets, the Protone has undergone - and passed - the 'Kask WG11 rotational impact testing' protocol.
We've got a review of the Kask Protone too, for the aero-curious.
The best aero helmet for crash notification
Specifications
Aero claim:
50 seconds at 40kph over a standard road helmet
Retention:
Magnetic buckle, micro-dial adjustment
Sizes:
51cm to 63cm in S / M / L
Pro teams:
Bora-Hansgrohe, Quickstep-Alpha Vinyl, SD-Worx
Reasons to buy
+
MIPS included
+
ANGi crash sensor
+
Comfortable
Specialized's focus with the updated Evade was to take their original aero helmet, and make it faster, lighter, and more ventilated. Specialized says the new Evade is as cool as a bare head while saving six seconds over the previous Evade. Developed in their own wind tunnel, dubbed the Win Tunnel, Specialized claims this is the fastest helmet it's ever tested.
One of the unique features of the Specialized S-Works Evade is Specialized's crash detection device, ANGi (angular and ground force interface). When paired with the Specialized app, if it detects an impact, a message will be sent to your pre-chosen contacts to notify them. Strava's Beacon feature offers a similar outcome but is triggered by a speed decrease, which from experience, can lead to unwanted panic at a simple traffic light stop.
The Evade comes with a 'gutter action' brow pad, which is designed to direct sweat away from the eyes and, in a nod to their female customer base, it uses the Mindset HairPort II micro-dial fit system, which aids ponytail management.
For more details, read our full review of the Specialized Evade II.
The best aero helmet for keeping warm
Reasons to buy
+
Deep Koroyd crown for extra safety
+
Full hardshell protection
+
Neat glasses storage
+
Warm in winter
Reasons to avoid
-
Limited ventilation
-
Small sizing
Endura offers a helmet that combines aero tech and aesthetics with a Koroyd honeycomb design for safety purposes.
According to Endura, the Koroyd material crushes in a more linear fashion. This means that when the helmet hits the ground or an object in a crash, the forces will be more evenly spread out throughout the helmet. This, Endura says, lowers the chance of injury.
Our testers found that the Endura Pro SL is a lightweight, feature-packed helmet, but that the airflow on this helmet is not particularly great, so it's not suited for the hottest summer rides. On the other hand, it does offer some insulation for cold winter base miles.
Find out how the Endura Pro SL fared on test.
The best lightweight aero helmet
Specifications
Aero claim:
Best at an average speed of 40km/h
Safety:
In moulding EPS Foam
Retention:
Magenetic buckle, micro-adjustable dial
Weight:
285g (actual, large)
Pro team:
Astana-Qazaqstan
Reasons to buy
+
Feels aerodynamic
+
Effective channelled cooling
+
Fidlock buckle
+
Good weight for an aero helmet
Reasons to avoid
-
Fit won't suit all heads
-
No sunglasses storage
-
No rotational safety technology
Limar's Air Speed helmet has a decent amount of ventilation for an aero helmet, with effective cooling channels to help you shed heat. It's the very helmet that Limar used to kick off its Air Revolution concept, inspired by the shapes formed in nature. It was developed in collaboration with the Astana Pro Team, and tested at the Magny-Cours wind tunnel in France.
It has a long shape with an unvented crown area, while the low and wide shape extends behind the ear for some additional coverage. It's constructed with EPS and finished with a Monoshell in-mould, which essentially means the helmet is made up of a single piece to reduce turbulence as air flows across it.
Limar's Air Fit retention sits comfortably against the back of your head, while there's vertical adjustability in three positions. The Limar Air Speed helmet is comfortable enough to be worn all day without any pressure point build up or points of irritation, though its ovalised egg shape may not suit all heads, so we advise you try before you buy.
We've got more details in our full review of the Limar Air Speed.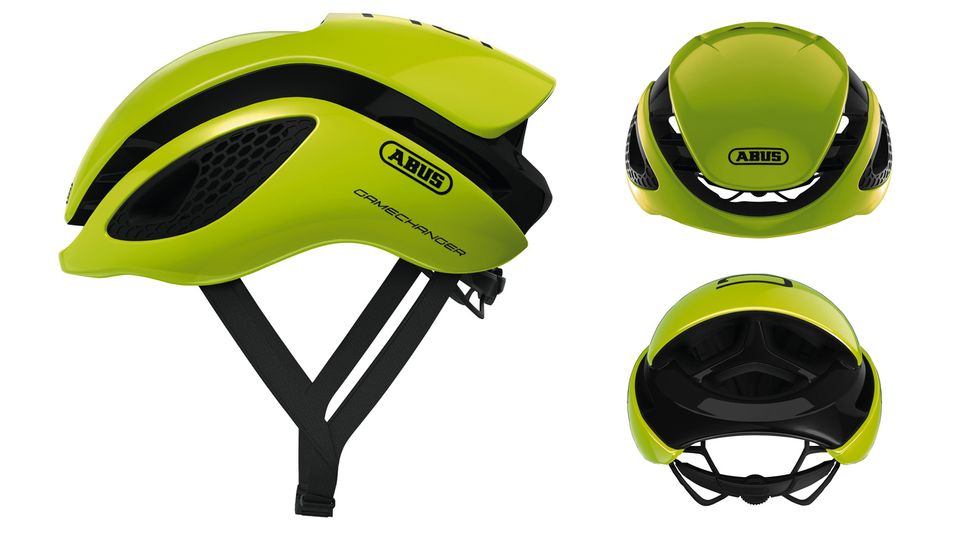 Abus Gamechanger
Best aero helmet for multiple head angles
Specifications
Sizes:
51cm to 62cm in S / M / L
Pro teams:
Alpecin-Fenix, Movistar Team
Reasons to buy
+
Aerodynamic whatever the head angle
+
Cleverly designed pads don't rely on velcro to stay put
One of the major attractions of Abus GameChanger is the fact that Abus has optimised the helmet's aerodynamics across a range of head tilt angles. So no matter what your position on the bike, you can be confident the helmet is cutting through the wind with ease.
The Abus GameChanger is a highly adjustable helmet, meaning there should be a comfortable configuration for all head shapes and sizes. The 'FlowStraps' are aerodynamically positioned, skin-friendly chin straps that offer a close, yet comfortable, chafe-free fit. The one downside is that these straps don't feature adjustable dividers, but our tech writer Josh and his race teammates have been using this helmet for three years now and can attest that this doesn't cause any issues.
Finally, while the aesthetics of the Abus GameChanger are somewhat divisive, you can at least be confident that you won't be wearing the same as everyone else on the Sunday club run.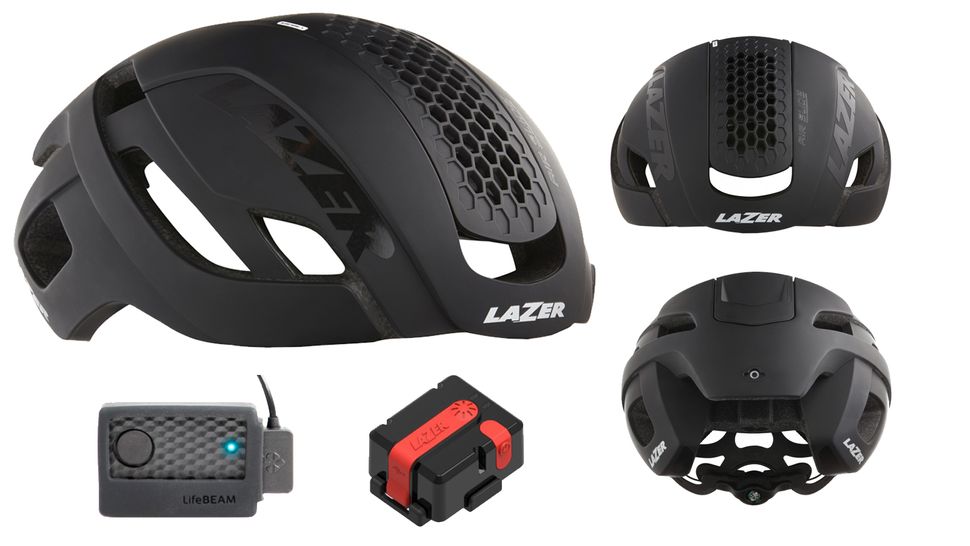 Lazer Bullet 2.0 MIPS
Best aero helmet for visibility
Specifications
Frontal vents:
Four plus 'Airslide' sliding vent
Retention:
Advanced Turnfit system
Sizes:
50cm to 61cm in XS / S / M / L
Pro teams:
Team Jumbo-Visma men & women
Reasons to buy
+
Feature-rich
+
Adjustable ventilation
+
Rear LED
The Lazer Buller 2.0 is a helmet that will capture tech-lovers' imaginations with the array of features that are available, some of which are standard but others will come at a cost.
However, before we get into these features, it's worth stating the Lazer Bullet 2.0 is, as a standalone helmet, a worthy inclusion in this list. It features a MIPS slip liner for added impact protection, an 'Airslide' closeable vent, a magnetic clip-on panoramic Zeiss lens, and internal channelling that uses the Venturi effect to help you keep a cool head. It also comes with a rear LED light and reflective stickers to increase visibility in low-light conditions.
The Lazer Bullet 2.0 is compatible with Lazer's integrated helmet tech, meaning for an added fee, you can add the Inclination Sensor and the LifeBeam heart-rate monitor.
Met Manta
Best aero helmet for style gurus
Specifications
Aero claim:
4 watts at 50kph
Retention:
MET's Safe-T Advanced micrometrical fit system
Sizes:
52cm to 62cm in S / M / L
Pro teams:
UAE Team Emirates
Reasons to buy
+
Integrated eye docking for sunglasses
+
Lightweight
+
Fit ergonomics and 360-degree fastening belt
+
Beautifully designed
+
MIPS-C2 rotational slip-plane technology
Reasons to avoid
-
Strap management system a bit fussy
The MET Manta was first launched at the 2015 Tour de France, ridden by the likes of Steve Cummings for the then MTN-Qhubeka team. Now, there's a 2021 model that has improved on its predecessor and is worn by UAE Team Emirates.
One of the biggest positives of the Manta is the balance that MET has struck between a closed aerodynamic shape and good levels of ventilation. Users of the Manta are quick to remark at how well the helmet cools the head, rather than causing overheating.
The latest version of the Manta MIPS uses a similar design to its predecessor and keeps certain features like the NACA vent on the top of the helmet, which promotes maximum efficiency with minimal drag. The brand has also enhanced some features like the Fidlock magnetic buckle and the inlet sunglasses port.
The new Manta boasts aero savings thanks to a lower, tube-shaped profile at the rear of the helmet. In the wind tunnel, the 2021 Manta saves 4 watts over the 2019 version while positioned at 77-degrees, and it saves 3 watts at 65-degrees. MET also claims to have an improved front-facing airflow.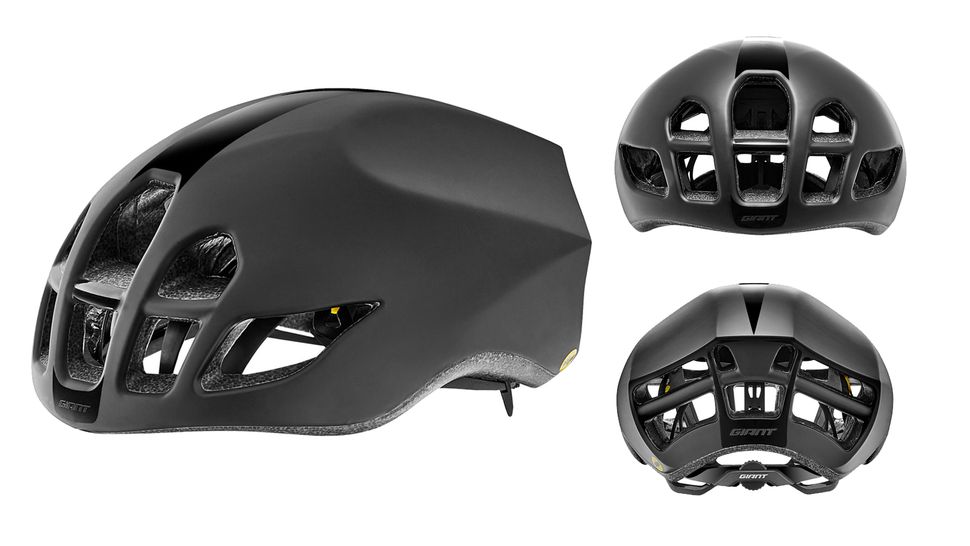 Giant Pursuit MIPS
Best aero helmet for those that want a different option
Specifications
Sizes:
51cm to 63cm in S / M / L
Pro teams:
Team BikeExchange-Jayco
Reasons to buy
+
Crash replacement guarantee
The Pursuit MIPS is touted by Giant as the ultimate in all-around aerodynamic performance. While no specific aerodynamic claims are made by the Taiwanese brand, they do claim that it minimises drag, producing maximum speed in real-world rider positions and that the eight vents up front are 'drag neutral', which, when combined with internal channelling and vents at the back, allow for good airflow through the helmet without compromising aerodynamic performance.
Speaking of fit, the Pursuit MIPS is notable in its offering of two fit styles, Western (with a more oval shape) and Asian (with a more round shape). The Pursuit also uses Giant's Element Strap System which combines with the MIPS Cinch Pro retention system to provide a secure fit with plenty of adjustment.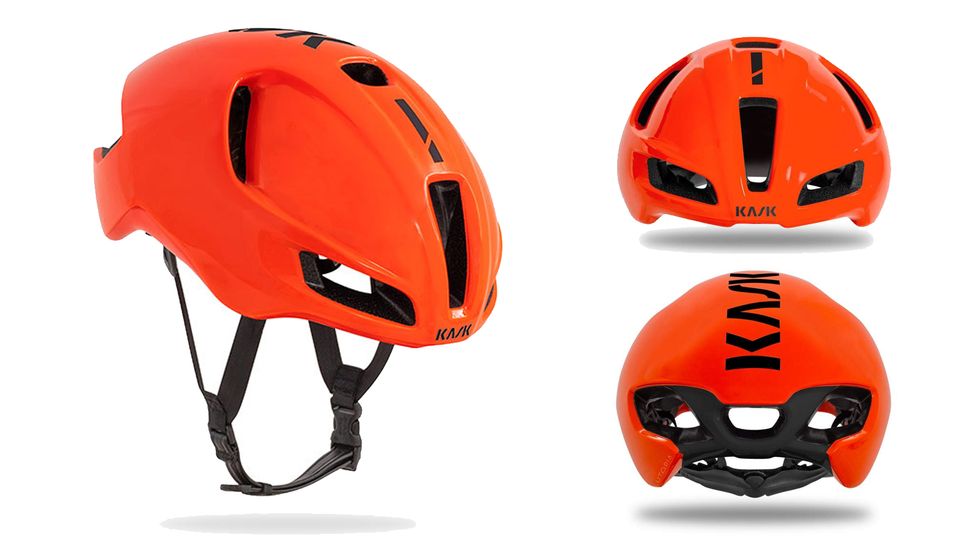 Kask Utopia
Best aero helmet for moisture wicking
Specifications
Aero claim:
6w at 50kph over best rival
Safety:
In moulding EPS Foam
Retention:
Octo fit, rubberised micro dial
Sizes:
50cm to 62cm in S / M / L
Pro teams:
Ineos Grenadiers
Reasons to buy
+
Low weight
+
Comfortable fit
Reasons to avoid
-
High price
-
No rotational impact protection
The Kask Utopia is the Italian brand's aero-specific helmet. At the expense of a few grams and the frontal vents, the Utopia is claimed to save 'up to six watts than the most efficient rival helmet at 50km/h' which is 31mph. Bear in mind, the majority of other manufacturers make claims at 40km/h (25mph).
Kask hasn't ignored ventilation though; the Utopia is said to be equally at home on climbs and in time trials. Using the Venturi effect, the way air is channelled through the internals of the helmet is claimed to improve both ventilation and aerodynamics.
The helmet is also designed to reduce wind noise around the ears, for a 'quiet ride experience', and features 5mm of moisture-wicking material called Resistex, which is claimed to take moisture away from the rider's head, moving it to the helmet's outer shell in order to improve comfort.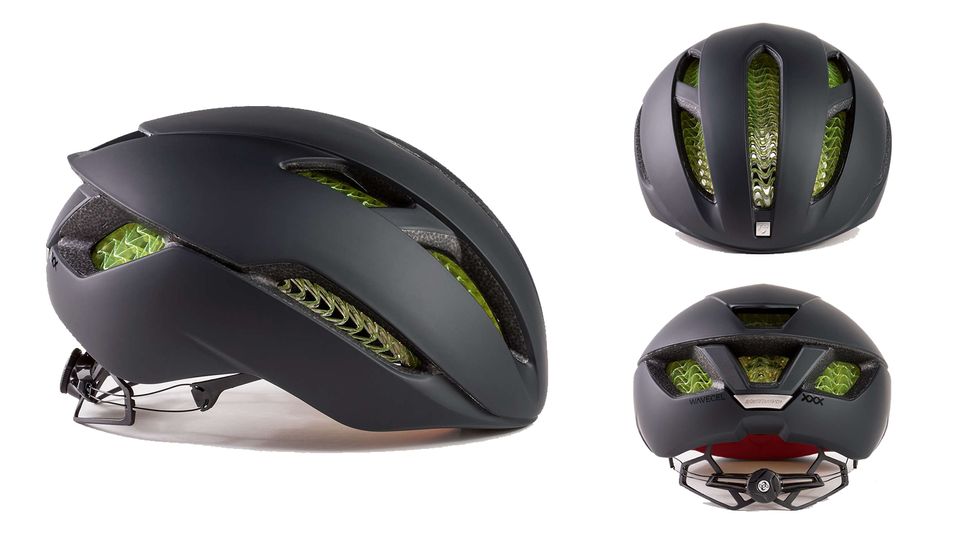 Bontrager XXX Wavecel
Best aero helmet for safety
Specifications
Retention:
Boa dial adjustment
Sizes:
51cm to 63cm in S / M / L
Pro teams:
Trek-Segafredo men and women
Reasons to buy
+
WaveCel crash protection crumple zone
+
Crash replacement guarantee
Reasons to avoid
-
Not the most comfortable
-
Quite high weight
The main talking point about the Bontrager XXX WaveCel helmet is the technology that Bontrager claimed to be 'cycling's most important change for 30 years'. This WaveCel technology is a honeycomb-like collapsible cellular structure that lines the inside of the helmet. It is claimed to be 48 times more effective than traditional helmets in protecting against head injuries during an accident.
While comfort and looks are completely subjective, the XXX WaveCel uses a Boa dial for adjustment, which in itself is rather large for a helmet dial. The fact that we found this an uncomfortable helmet wouldn't be worth a mention but similar feedback isn't hard to find online. It does have the option for vertical adjustment, but it can be difficult to find a comfortable spot. As for the looks, the green honeycomb-styled liner is somewhat polarising.
In terms of aerodynamics, there are no specific claims made by Bontrager. However, if it's anything to go by, their original Ballista helmet did top our aero helmets wind tunnel test back in 2015, so it's safe to say Bontrager knows a thing or two about making fast helmets.
The final worthy mention is Bontrager's Crash Replacement Guarantee. If you have an accident in the first 12 months of ownership, Bontrager will replace your helmet free of charge.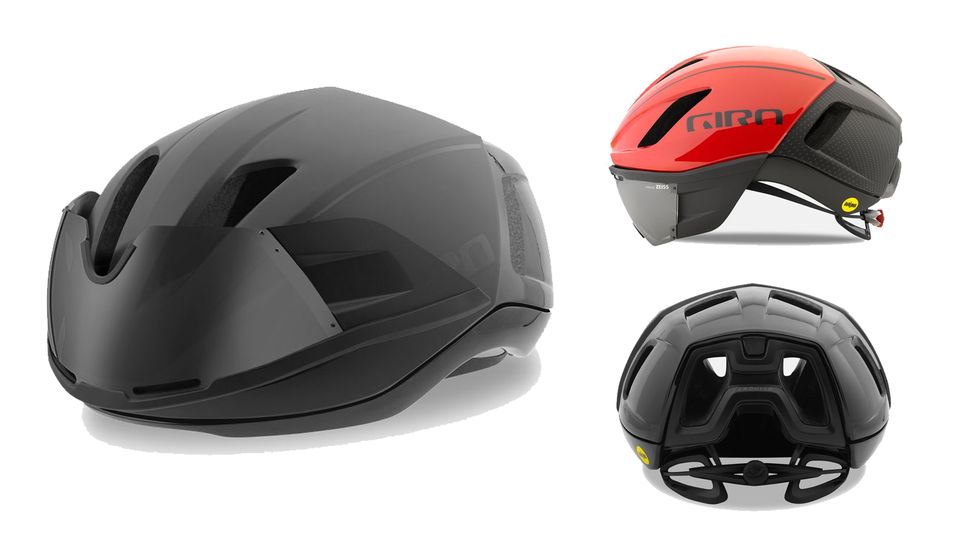 Giro Vanquish MIPS
Best aero helmet for occasional time-triallers
Specifications
Aero claim:
12 seconds faster than Ballista in a 40km TT at 400 watts
Retention:
Roc Loc micro-dial adjustment
Sizes:
51cm to 63cm in S / M / L
Weight:
300g (medium) 52g visor.
Pro teams:
Groupama-FDJ, Canyon SRAM
The Giro Vanquish MIPS is the one helmet in this list that would look equally at home in a time trial as it will on the road. Designed using CFD and wind tunnel testing, Giro makes some rather tough-to-compare aerodynamic claims about the Vanquish. When compared to a Bontrager Ballista, the Vanquish MIPS (with visor) will supposedly save 12 seconds in a 40km TT at 400 watts, and removing the visor will cost you two watts. Giro also claims a saving of 62 seconds in a 180km TT at 250 watts.
A stand-out feature is undoubtedly the removable Vivid Shield visor. It easily snaps into place thanks to three strong magnets and can also be flipped and affixed upside down when not in use. It's worth mentioning that finding the exact position one-handed can often take a bit of adjustment, although removing and reattaching the shield mid-ride isn't a common occurrence. It uses optics by Zeiss, and is suitable for all but the most overcast of conditions. The helmet also plays well with standard sunglasses, even utilising the outer two of the four frontal vents as an eyewear dock.
The helmet takes advantage of the Venturi effect to channel air across the head and exhaust warm stale air, and the four-piece polycarbonate hardbody shell interlocks in such a way that it creates a step-down. Giro claim this tricks the air into behaving as it would with a traditional teardrop TT-shaped helmet.
How to choose the best aero helmet for you
Here's our buyer's guide for what to look for when choosing the best aero helmet for the riding that you usually do. Also check out our guide to the best road bike helmets for further buying advice and more options.
Is a MIPS helmet important?
Safety ought to be the first consideration for anyone buying a new helmet. After all, the whole purpose of the cycle helmet is to protect your head in the event of an accident. All helmets in this test will have passed the relevant regional industry-required standards, however, others go beyond the call of duty by utilising technological innovations such as MIPS (Multi-directional Impact Protection System), which is a 'slip-liner' that enables the helmet to rotate independently of the head during impact. This means that during angular impacts, more energy is absorbed by the helmet, rather than being transferred to the rider's head.
We've a lot more on MIPS, how it works and its advantages and disadvantages in our piece on what is a MIPS helmet?
Is an aero helmet worth it?
The majority of helmet manufacturers will make aerodynamic claims about their helmets, usually a saving of power or an increase in speed, based on their own in-house testing. There's no fixed protocol for measuring this, so it's not possible to compare like with like. Different brands may use different wind speeds and some may take into account yaw angles at which the wind flows over the helmet - after all the wind rarely comes at you straight on when you're riding.
Whether the helmet is aero at multiple head angles is also significant, as no two riders will be quite the same and how the air flows over the helmet will change depending on whether a rider is hunkered down over the bars or sitting up.
It's also worth considering how well the straps fit. A flapping strap equals lost watts, so in the best aero helmets manufacturers usually make sure that they lay flat and close to your head. The straps on an aero helmet will usually be thin and some are designed with a "leading edge" that's claimed to make them more aerodynamic.
As to whether it's worth it, that depends how much you value wattage savings.
Are aero helmets comfortable?
A helmet may make you ride faster but if you're stopping mid-ride to adjust the fit, then all of those precious seconds you've saved will be wasted. Of course, fit is very personal and, as such, we won't focus too greatly on this.
The best advice is to try before you buy - and select the size which will fit your head. Most helmets are available in three sizes, sometimes more and occasionally less, so you should be able to find a helmet that fits. There's usually a bit of overlap between sizes too.
Aero helmets are, generally, no less comfy than a standard helmet, except for the fact they offer less airflow over the head so if you run hot you may overheat more easily in one.
Are aero helmets ventilated?
While ventilation might not be the primary focus when searching for an aero road helmet, it's a worthy consideration – especially for those riding in hot climates. Aerodynamics and ventilation in cycling helmets tend to have a degree of mutual exclusivity, however, some manufacturers claim to take advantage of the Venturi effect, which in short, states that air will accelerate when pushed through a small hole. This means that air can be guided into small air vents and out of the back dragging the warm air out to aid cooling. Our reviews above will outline whether the manufacturer has considered this, along with the number of frontal vents, however, vent size is also worth noting.
Look for channelling within the helmet shell that will help to promote airflow over the top of your head. Deeper channelling front to back should help keep your head that bit cooler.
Are aero helmets heavy?
There's quite a range of helmet weight, from helmets that weigh close to 200g to those which head up over 400g and larger sizes will weigh significantly more than smaller ones. Because they're more enclosed, aero helmets often weigh a little bit more than more vented designs.
In general, you're not going to notice a few extra grams here or there, but a weighty helmet might feel less comfortable than a lighter weight one, particularly if the fit isn't quite right for your head. Extra weight is something that tends to be more noticeable off the bike than on and you should quickly get used to it though. Nevertheless, for optimum comfort we'd look for a helmet that weighs under 400g.
Do aero helmets look silly?
Looks may be completely irrelevant to the performance of an aero helmet but it's still likely to be considered when it comes to making a purchase. On the whole, you're probably going to want to try to avoid the "mushroom head" look and, particularly with an aero helmet, a bulgy profile is likely to mean more wind resistance than with a helmet that sits closer to your head.
Of course, looks are completely subjective, so while this won't be a major consideration in our reviews, we may make the occasional reference to our opinion, and we will include as much detailed imagery as possible to ensure you can make an informed judgment.
Get The Leadout Newsletter
The latest race content, interviews, features, reviews and expert buying guides, direct to your inbox!
As the Tech Editor here at Cyclingnews, Josh leads on content relating to all-things tech, including bikes, kit and components in order to cover product launches and curate our world-class buying guides, reviews and deals. Alongside this, his love for WorldTour racing and eagle eyes mean he's often breaking tech stories from the pro peloton too.
On the bike, 30-year-old Josh has been riding and racing since his early teens. He started out racing cross country when 26-inch wheels and triple chainsets were still mainstream, but he found favour in road racing in his early 20s and has never looked back. He's always training for the next big event and is keen to get his hands on the newest tech to help. He enjoys a good long ride on road or gravel, but he's most alive when he's elbow-to-elbow in a local criterium.
Get The Leadout Newsletter
The latest race content, interviews, features, reviews and expert buying guides, direct to your inbox!
Thank you for signing up to The Pick. You will receive a verification email shortly.
There was a problem. Please refresh the page and try again.