Garmin deals: Save on smartwatches, bike computers, lights and more
By Cyclingnews
Up to 33% off Edge computers, 42% off smartwatches and more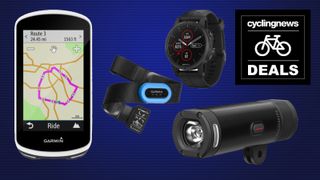 (Image credit: Courtesy)
With summer almost upon us here in the Northern Hemisphere, many of us are ditching the pain cave in favour of getting outside for a real-world bike ride. Not only does that provide a great opportunity to soak up some much-needed vitamin D, it's also giving us the perfect excuse to splash out on some tech that will complement our riding regimes.
Whether you just discovered cycling during the pandemic, or you're a seasoned cyclist taking to the roads in your local area, there are plenty of products that can help you get more out of your ride.
In Cyclingnews' eternal aim to help our readers find the best cycling deals, we're outlining all things Garmin, from computers to power meters and everything in between, here in our Garmin deals round-up. And if you're looking for more than just Garmin, head to the bottom of this page for a roundup of our various deals guides.
Garmin cycling computers are considered by many to be the best cycling computers on the market, while the American brand also offers a range of the best smartwatches for cycling. Add to that some of the best bike lights, best power meters, and best heart rate monitors, it becomes clear that Garmin could very well power your entire training regime if you wanted it to.
Fortunately, even in the midst of a pandemic-induced bike boom where stocks are vastly depleted, it's still possible to find great Garmin deals on all of the above. Usually, this would require hours of trawling through the sale pages of various websites, but we've done the hard work so you don't have to. Below, we've listed the best Garmin deals we've been able to find, ordered via category and territory.
As ever, we'll update this page regularly with the latest deals, and with the Amazon Prime Day cycling deals expected to return to their June timeslot, it's likely only weeks away, so if you can't find what you're looking for today, check back often for even more great Garmin deals.
Garmin deals on cycling computers
Hand-picked Garmin computer deals: USA
Hand-picked Garmin computer deals: UK
Garmin deals on smartwatches
Garmin smartwatch deals: USA
Garmin smartwatch deals: UK
Garmin deals on power meters
Garmin power meter deals: USA
Garmin power meter deals: UK
Garmin deals on accessories
Garmin accessory deals: USA
Garmin accessory deals: UK
Check out our other deals roundups
Sign up to the Cyclingnews Newsletter. You can unsubscribe at any time. For more information about how to do this, and how we hold your data, please see our privacy policy
Thank you for signing up to Cycling News. You will receive a verification email shortly.
There was a problem. Please refresh the page and try again.