Rapha deals: Big savings on Rapha clothing, shoes, accessories and more
By Cyclingnews
We take a look at the Rapha deals available in the brand's Archive Sale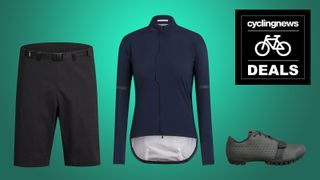 (Image credit: Rapha)
Rapha is one of the most sought-after and forward-thinking brands in cycling. Since being established in 2004, the brand has grown to amass a dedicated following the world over. However, as a side effect of the brand's premium product offering, Rapha has earned a reputation for its premium price. Given the brand typically sells directly from its own online store and clubhouses, it's not known for being heavily discounted, however, there are still a few places you can find Rapha deals.
The first place we'd look is Archive Sale at Rapha.cc, where there are over 150 products discounted for both men and women, meaning Rapha's quality products are available at a considerably more pocket-friendly price. Often, the deals are on last season's colours, so you'll get the same product, just not in the latest shades.
While Rapha does offer a number of deals on its kit in that Archive Sale, it still holds a premium on its brand and isn't one for slashing prices of 'current-season' products all too often. However, if you're desperate to get the latest and greatest, you can still find small discounts by bundling items together.
Rapha deals
Below, you'll find a hand-picked selection of over 25 of our top-picks of deals on Rapha clothing and accessories, organised by price with options for our UK, USA, Australian and European audiences.
But who is Rapha?
Rapha has been changing cycling fashion since 2004 and continues to produce some of the most sought-after cycling clothing available. Founded in London by Simon Mottram as a response to the lack of fashionable cycling clothing at the time, Rapha combines simplistic bold styling with high-quality designs and fabrics. Sponsors of the EF Pro Cycling team in the WorldTour, Rapha's roots lie firmly in road cycling, as proven by the brand's representation in our guides to the best cycling shorts, best cycling jerseys, best cycling shoes and more, but as the landscape has become ever-more rugged, Rapha's range has diversified accordingly, now offering a complete range of gravel bike clothing, too.
Rapha's well-thought-out kit caters for every level of rider, whether you're starting out with their more-affordable Core line or leading the pack in the WorldTeam kit worn by EF Education-Nippo and Canyon SRAM. Rapha doesn't just make cycling clothing and accessories but casual clothing suited to commuting, relaxed rides and wearing off the bike.
The brand's loyal following is well deserved, not only is Rapha clothing consistently well-reviewed but it stands by the quality of its products. All Rapha's riding collections are covered by a 30-day free-return period, free crash repair service and even a 50% discount off as part of its jersey downsize offer.
Beyond the clothing, Rapha works hard to build cycling communities by sponsoring unique events and through their RCC (Rapha Cycling Club) global community. Should you drink the RCC kool-aid, you will join more than 12,000 members with access to a wealth of perks and benefits from special group rides, members-only kit and 50% off coffee at the Rapha clubhouses.
Rapha not for you?
Worry not, there is a load of great clothing on sale from many of the biggest brands. Check out our cheap cycling clothing guide for some fantastic deals on Castelli, Endura and more.
Check out our other deals roundups
Sign up to the Cyclingnews Newsletter. You can unsubscribe at any time. For more information about how to do this, and how we hold your data, please see our privacy policy
Thank you for signing up to Cycling News. You will receive a verification email shortly.
There was a problem. Please refresh the page and try again.