Best road bike deals
By Cyclingnews
A roundup of the best road bike and gravel bike deals available online today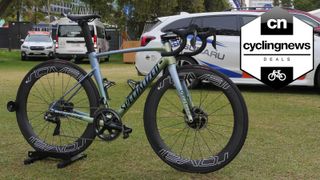 (Image credit: Cyclingnews)
Hunting down the best road bike deals can be a long and laborious internet-trawling grind. New deals appear all the time and the availability of the most common sizes is often limited, meaning if you don't act fast, you can often miss the best deals.
Luckily for you, the Cyclingnews team have searched for the best deals on the best road bikes so you don't have to, so avoid the hassle by checking out our roundup of the best road bike deals below.
And don't worry if you're not looking for road bikes, our guide to the best bike deals has a break down of all types of two-wheeled bargains including mountain bikes, gravel bikes, electric bikes and more.
Below, we have broken down our road bike deals by type: race, endurance, aero and gravel, and we've split by gender to make things easier.
We'll be keeping this regularly updated to remove sold-out deals and add new ones as they come online. The majority of 2019 model-year bikes have now seen discounts, some are offering up to 40% off, and a select few retailers are even offering discounts on 2020 bikes.
Road bike deals quick links
Road race bike deals
Race bikes are designed to go fast. Occasionally, this comes at the expense of comfort, but more often than not, a race bike is a lightweight combination of low weight, comfort, handling and aerodynamics. A racing bike's geometry will be aggressive enough to race, with a long reach and low stack to achieve an aerodynamic position, without being harsh or uncomfortable over long distances.
Endurance road bike deals
An endurance bike's geometry facilitates a more upright riding position, with slacker angles and plenty of built-in comfort-enhancing technology. You'll often see pro riders aboard endurance bikes at the cobbled classics in spring, not only for the additional comfort but for the slower handling, which enhances stability and control over bumpy ground.
Aero road bike deals
Aero road bikes are designed to cheat the wind. Hundreds of hours of wind-tunnel-testing and computer-fluid-dynamics testing go into making these bikes as slippery as possible. An aero road bike will be stiff for maximum power transfer, with an aggressive geometry that provides maximum efficiency and nimble handling.
The best road bike sales from around the web:
While we've carefully curated what we feel are the best deals available at the moment, there are plenty more to choose from! New deals are being added every day, so here are a few retailers that currently have huge road bike deals on offer.
Head over to any or all of these retailers and let us know if there are any more great road bike deals that we've missed.
Still unsure on the best road bike for you?
Our best carbon road bikes guide will help you decide which carbon road bike is right for you, and our guide on the best aero road bikes will provide you with the right bike if you're looking to cheat the wind. We have an overview of the best aluminium road bikes for budget-friendly speed, and also a guide on the best road e-bikes if you're looking for a bit of extra pedalling assistance.
Sign up to the Cyclingnews Newsletter. You can unsubscribe at any time. For more information about how to do this, and how we hold your data, please see our privacy policy
Thank you for signing up to Cycling News. You will receive a verification email shortly.
There was a problem. Please refresh the page and try again.