Back to work cycling deals: Everything you need to start commuting to the office
With workplaces starting to open again, here are the best back to work cycling deals to make it easier than ever to commute by bike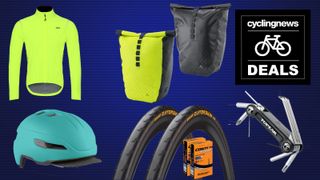 (Image credit: Courtesy)
With government-backed furloughs ending and the nationwide roll-out of the COVID-19 vaccines, more of us are heading back to work. Cycling is by far the most cost-effective, environmentally-friendly and healthy way to commute, and it's never too late to start. If you're one of the many people who rediscovered a love of cycling during lockdown, there's every reason to continue your two-wheeled journey as you return to the office.
To make it even easier for you to start cycle commuting, we here at Cyclingnews have scoured the major retailers in search of the best cycling deals for commuters. Whether you need a great waterproof cycling jacket, some mudguards for your road bike, or a robust cycling backpack, these deals will have you covered. All you have to do is get ready to spend a lot of time on your best commuter bike.
If you're completely new to cycle commuting and aren't even sure what you need yet, have no fear. We've already put together a full commuter bike accessories checklist to make things as easy as possible for you.
Scroll on for all the best back to work cycling deals we can find, and get yourself fully kitted up for year-round commuting by bike.
Back to work cycling deals
Commuter bikes
Commuter helmets
Waterproof jackets
Commuter cycling clothing
Shoes & pedals
Bike lights
Bike locks
Panniers, backpacks & racks
Commuter tyres
Pumps, tubes & repair kits
Multi-tools
Mudguards
Where can I find the best cycling deals?
Nearly every cycling retailer has a sale section on their website, so the list of where to shop can be long, however, if all of those deals above didn't supply you with a deal worth pulling the trigger on, here's a list of every retailer that we know of with a cycling sale of sorts.
Kudos for getting this far, want to start again? Head back to the top.
Mildred is a Reviews Writer for Cyclingnews who enjoys everything from road cycling to mountain biking, but is a utilitarian cyclist at heart. Determined to do everything on two wheels, she's even moved house by bike, and can regularly be found pedalling around Bristol and its surrounding areas. She's spent over four years volunteering as a mechanic and workshop coordinator at the Bristol Bike Project, and now sits on its board of directors. Her expertise comes from previously working in a bike shop and learning the ins and outs of the industry, and she's previously written for a variety of cycling publications, including Bikeradar, Cycling Plus, Singletrack, Red Bull, Cycling UK and Total Women's Cycling. At home on slicks and knobblies alike, her ideal ride covers long distances through remote countryside, on mixed terrain that offers a bit of crunch, followed by a gourmet campfire meal and an overnight bivvy beneath the stars.
Height: 156cm (5'2")
Weight: 75kg
Rides: Liv Devote, Genesis Equilibrium Disc 20, Triban RC520 Women's Disc, Genesis Flyer, Whyte Victoria, Cotic BFe 26, Clandestine custom bike
Sign up to the Cyclingnews Newsletter. You can unsubscribe at any time. For more information about how to do this, and how we hold your data, please see our privacy policy
Thank you for signing up to Cycling News. You will receive a verification email shortly.
There was a problem. Please refresh the page and try again.