Moosejaw deals: Save on backpacks, gravel bikes and more
By Cyclingnews
From gravel bikes to carbon wheels, here are the best deals at US-based outdoor retailer Moosejaw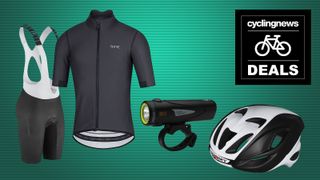 (Image credit: Courtesy)
Here in our Moosejaw deals round-up, we've rounded up all of the best cycling-related deals available in the sales. Moosejaw, if you're unaware, is a North-American retailer that specialises in outdoor sports equipment, including snowboarding, rock climbing and, of course, cycling. Founded in 1992 and now owned by Walmart, Moosejaw is slowly expanding across the country, with 11 brick and mortar stores, as well as a very active web store that stocks brands including Castelli, Gore, Mavic, Zipp, Norco and Silca.
We've been keeping tabs on Moosejaw's sale all year and there are always deals worth checking out, with gear from the likes of Zipp, Niner, Raleigh, Diamondback, Castelli, Gore and Louis Garneau marked down.
To save you hours of trawling through the Moosejaw madness, we've rounded up our favourite deals from the current sale. Read on for the best Moosejaw deals.
Moosejaw deals
We've done the best we can to round up the best Moosejaw deals, but if you're still looking for something specific, browse the Moosejaw sale for yourself, just to be sure.
Plus, don't forget to share anything we've missed in the comments section below.
Check out other deals round-ups
If you're after something specific and didn't find it here, or just want to continue browsing, don't worry. Cyclingnews has loads of great cycling buying advice, as well as a number of deals round-ups.
Sign up to the Cyclingnews Newsletter. You can unsubscribe at any time. For more information about how to do this, and how we hold your data, please see our privacy policy
Thank you for signing up to Cycling News. You will receive a verification email shortly.
There was a problem. Please refresh the page and try again.