Cyber Monday bike deals - the best Cyber Monday cycling deals available today
Whether it's Walmart and Amazon for a GoPro or Wiggle for a new road bike, the Cyber Monday bike deals are everywhere - here's our roundup of the best!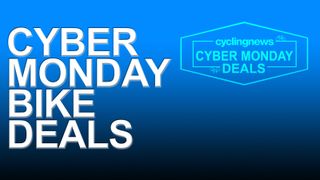 (Image credit: Future)
If you're looking for a bike, a Garmin computer, or a GoPro, the Cyber Monday bike deals are bound to help you save some money! Of course, Black Friday came and delivered some huge deals, but with Cyber Monday upon us, there are even more fantastic savings. So check out our round-up below, and act now to avoid missing out.
USA top deals picks
UK top deals picks
Cyber Monday bike deals from around the web:
Here at Cyclingnews, we are dedicated to finding the best Cyber Monday bike deals for our readers. No longer are cyclists around the world wondering if there will be any good Cyber Monday bike deals. Instead, we're all holding fire on that big-ticket purchase, expecting to save ourselves a bit of cash. Thankfully, we don't need to wait any longer, as Cyber Monday is in full swing and hundreds of cut-price cycling products are available today.
Road Bike deals
Helmet deals
USA
UK
GoPro deals
Turbo trainer deals
E-bike deals
Cycling lights deals
Power meter deals
Wheels deals
GPS cycling computer deals
Smartwatch deals
Cycling clothing deals
USA
UK
Cycling shoes deals
Components deals
Accessories deals
Other deals for cyclists
Who will have the best Cyber Monday cycling deals?
When is Black Friday?
Black Friday takes place the day after Thanksgiving. For 2019, this means Black Friday will be held on November 29th, with Cyber Monday following on December 1st. Both will undoubtedly deliver the best cycling deals you're likely to see all year.
How long do Black Friday deals last?
We can't say for certain but in previous years, retailers' deals have lasted until the end of Cyber Monday - which this year is on December 2nd. However, each individual deal will be subject to available stock - once it's gone, it's gone!
What products are discounted on Cyber Monday?
Cyber Monday cycling deals aren't limited to any product, in particular. Judging by what's already available this year, and by our memory of previous years' Cyber Monday sales, you'll undoubtedly see deals on brands such as Specialized, Wahoo, Trek and Rapha, along with discounts across all products.
The whole of Black Friday weekend is always awash with huge road bike deals, cheap helmet deals, GoPro deals and more, so unless you fancy some serious multi-tabbing - keeping an eye on every sale on the 'net - just bookmark this page and we'll handpick the biggest cycling deals. For those in the northern hemisphere, this is the perfect time of year to pick up a turbo trainer deal, and it's an equally good time to save some money on lights.
Thankfully, if you can't wait, the Cyber Monday cycling deals have arrived, so have a scroll to see what we've found.
Cyber Monday road bike deals
There are always fantastic road bike deals available on Cyber Monday, but this year seems to be even better than ever.
Retailers tend to use Cyber Monday cycling deals to clear out their warehouses ahead of an influx of new bikes for the following season. Below, you'll find a few of this week's best deals, but if you're looking for more, check out our roundup of the best Cyber Monday road bike deals, where we have the best available prices for some of the most popular road bikes. We've also put together a guide to the best Trek bikes Cyber Monday deals, and what you can find in the Cyber Monday Specialized bike sale.
Helmet deals
If you're trying to save some money on a cycling helmet, you should never do so at the expense of quality, and Cyclingnews would advise against buying second hand or from an untested brand. Therefore, buying a discounted brand-name helmet on Cyber Monday is a good way to ensure safety while saving money.

If you're looking specifically for a helmet deal, we have a dedicated Cyber Monday helmet deals page where we've collated today's Cyber Monday deals.
GoPro
Whether you fancy yourself as the next YouTube vlogging sensation or you simply want evidence in the event of driver-aggravation, a GoPro is likely to be your first choice action camera brand. Our GoPro needs will be different to other sports - battery life, low-light quality and mounting options are likely to be more important than dive depth, for example - so we've considered that when finding deals for you.
Our roundup of the best Cyber Monday GoPro deals will provide you with the tools to decide which GoPro you need, along with the best deals available today.
Turbo Trainers
While a turbo trainer sees a popularity increase during winter months, that's not to say they are exclusive to colder, rainy days. The training structure achievable with a turbo trainer eliminates junk miles and ensures every moment in the saddle is tailored to achieving performance benefits.
That's not all, with the ever-present danger of riding on the roads, more people are looking for alternatives, and getting your cycling fix indoors has recently become a more enjoyable process with the advent of interactive apps such as Zwift.
If you're looking to save money, check out our full roundup of the best Cyber Monday turbo trainer deals available, from which we've highlighted a few below.
E-bikes
E-bikes, love them or loathe them, are here to stay. For as long as they increase the number of time that people spend on bikes, the Cyclingnews team think e-bikes are a positive addition to the world of cycling. That said, not all e-bikes are made equal, a cheap e-bike is unlikely to stand the test of time and ultimately cost more in the long run. Getting an e-bike on Cyber Monday is a good way to get a quality product without paying the full asking price. Below we've highlighted our favourite deals of the moment, but head over to our roundup of the best Cyber Monday e-bike deals for more.
Lights
Brighten up your Cyber Monday with some great deals on bike lights. No matter the time of year, or even time of day, if you ride on the roads, it's recommended that you ride with a bike light. It will never be a detriment to your ride, and a flashing LED has been proven to increase your visibility among traffic - which will undoubtedly increase safety. Here's our roundup of the latest Cyber Monday deals on bike lights.
Power meters
You don't need to be chasing that Cat 1 license to warrant buying a power meter. We've all heard the claims that a power meter is one of the most beneficial training tools, but they can be equally useful for finding imbalances between legs, prevent overworking in physiotherapy and rehabilitation, and can even be used when comparing the difference between the aerodynamic efficiency of two positions.
This Cyber Monday, there are a number of heavy discounts on PowerTap, Stages and other power meters. Here are the best deals we've found today.
Wheels
A new pair of road bike wheels can be a pretty hefty investment, so it makes sense to save yourself some cash and take advantage of retailers' Cyber Monday cycling deals, here's our roundup of the best.
Garmin
If you're on the hunt for a new cycling computer, power meter, light or a smartwatch, Garmin will likely have a product that's perfect for you. We recently concluded in our Garmin Edge 530 review that it is everything you're ever likely to need from a cycling computer, although the touchscreen of the Edge 830 does improve user-friendliness.
Cycling computers are a great addition to any ride. They will help you navigate from A to B, they can count your kilometres, calculate your average speed and, when paired with a heart rate monitor or power meter, can provide insightful performance metrics to improve performance no-end. We think the big electronics retailers such as Walmart (USA), John Lewis (UK) and Amazon will have the best Garmin deals on Cyber Monday.
Shoes
Need a new pair of cycling shoes this Cyber Monday? Well, you're in luck! With new innovations being added to cycling shoes every year, there are some great discounts on a huge range of cycling shoes this Cyber Monday.
Sign up to the Cyclingnews Newsletter. You can unsubscribe at any time. For more information about how to do this, and how we hold your data, please see our privacy policy