Wiggle Black Friday 2019: The best deals available right now
The Wiggle Black Friday sale has officially begun, here's what's on offer and our pick of the best deals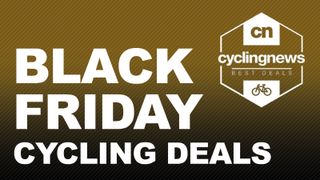 (Image credit: Cyclingnews)
The Wiggle Black Friday 2019 sale has officially begun and here's our roundup of what's on offer, along with our pick of the best deals available today.
The Wiggle Black Friday sale launched a little before 8 AM on Thursday the 7th November. That's more than three weeks ahead of the official Black Friday date, but an early launch of Black Friday deals nothing new to the international cycling retailer. Like last year, Wiggle will be launching new deals each week throughout November, in a bid to bring you the 'Wiggle Black Friday feeling'.
Scroll down for a look at our pick of the best deals, or for a full round-up of the best Black Friday deals available across the entire cycling industry, take a look at our overview of the best Black Friday cycling deals.
Browse the Wiggle Black Friday Sale
The best Wiggle Black Friday deals today
While this is a short round-up of our favourite deals currently available at Wiggle, there is a lot more where that came from, so browse the Wiggle sale for yourself, but be sure to come back and share your favourite deals from the Wiggle Black Friday sale!
Who can shop at Wiggle?
Wiggle delivers to over 70 countries worldwide. Along with its partner company Chain Reaction Cycles, Wiggle is an international retailer based out of the UK. As one of the largest online retailers in cycling, it's perhaps unsurprising that such a wide audience are able to shop at Wiggle. Of course, with added delivery fees come different rules, and each country will have its own minimum spend amount to qualify for free delivery, but rejoice in that you are saving money with the Black Friday deals!
Wiggle's usual Black Friday tact
Casting our minds back to the last few years' Black Friday sales, Wiggle have repeatedly taken a similar approach in launching deals early in the month, adding a new wave of deals each week throughout November, before launching hundreds of huge Black Friday deals on the official day, which this year will be the 29th November. Black Friday effectively becomes Black November, and there are deals aplenty, but what sort of products do they discount?
From memory, no product is safe from the Black Friday price war, and Wiggle reduces a whole host of items. This year, that includes turbo trainers, helmets, shoes and bikes.
Cyclingnews Newsletter
Sign up to the Cyclingnews Newsletter. You can unsubscribe at any time. For more information about how to do this, and how we hold your data, please see our privacy policy