Evans Cycles Black Friday
The Evans Cycles Black Friday sale is live, here's our roundup of the best deals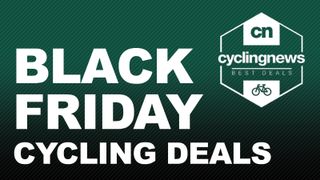 (Image credit: Cyclingnews)
There are still more than two weeks to go until Black Friday, and Evans Cycles has officially launched its Black Friday cycling sale. Affectionately titled Black Rideday, the Evans Cycles sale is awash with discounts ranging across products such as bikes, clothing, helmets and shoes. Not even micro-scooters are safe from reductions on Black Friday! Below we have compiled a roundup of the best deals available today, but there are 53 pages worth of cycling deals so be sure check out the sale for yourself to find even more deals.
Browse the Evans Cycles Black Friday sale
There's still a bit of time to go until Black Friday proper, so although the Evans Cycles Black Friday sale is already in full swing, we expect more deals to be launched between now and then - be sure to keep checking back for updates on the best deals.
Of course, Evans Cycles isn't the only retailer to have launched its sale, as a number of other major retailers launched Black Friday sales early in November.
Today's best Black Friday deals at Evans Cycles
If our short round-up of the latest deals hasn't taken your fancy, there's plenty more over at Evans Cycles, so check it out, but be sure to come back and share your favourite deals.
Browse the Evans Cycles Black Friday sale
Evans Cycles' usual Black Friday tact
For 2019, Evans Cycles has followed what we've dubbed the Wiggle Black Friday method of turning the majority of November black, by launching its Black Friday sale well in advance of the big day, but is that how they usually approach things?
Looking back to last Black Friday, Evans Cycles waited almost until Black Friday proper before launching its Black Friday cycling sale, but it couldn't resist a few early teaser deals. When the clock struck midnight, however, Black Friday deals were everywhere to be found on the Evans Cycles homepage.
From memory, there were no restrictions as to what Black Friday cycling deals were available, with bike deals, computers, clothing and accessories all having prices slashed over the Black Friday weekend. Cyclingnews recalls a rather large Black Friday Specialized bike sale, deals on turbo trainer deals, a heavily discounted Gore Shakedry jacket and a considerable range of Black Friday bike helmet deals.
Cyclingnews Newsletter
Sign up to the Cyclingnews Newsletter. You can unsubscribe at any time. For more information about how to do this, and how we hold your data, please see our privacy policy