Best commuter bike deals: The best back-to-work offers for avoiding public transport
Commuter bikes allow you to quickly and conveniently travel around the city while avoiding public transport and traffic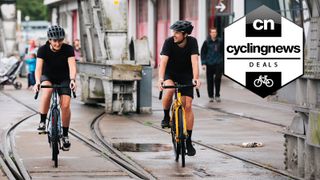 (Image credit: Genesis)
Like many other countries, the UK government has begun easing lockdown restrictions. While physical-distancing measures and other restrictions on everyday life are still in place, prime minister Boris Johnson has encouraged people unable to work from home to return to the office. 
The nation's return to work comes with caveats: employers are having to reconsider how places of work are managed, and employees are being advised to avoid public transport and other areas of congestion as much as possible.
With the capacity of Britain's transport network reduced by 90 per cent on top of the requirement to maintain a safe distance from other members of the public, alternative methods of transport are being encouraged. Walking is a viable option for those that live close to work. However, commuting by bike will likely be the most popular and time-efficient method.
With the right commuter bike, cycling to work can be a refreshing, efficient and fast method of travel. Choosing the right bike for riding to work will very much depend on your preferences, with the options ranging from fast road bikes to a comfortable e-cargo bike – and everything in between. For most, the choice of bike will likely hinge around striking a balance between comfort and speed, while covering utilitarian needs for accessories like luggage and mudguards. For a detailed look at bikes for riding to work, and what you should be looking for, check out our guide of the best commuter bikes.
Cost is another huge consideration. Cycling to work can save you a lot of money, but the initial outlay to purchase a bike and accessories can leave a hole in your wallet. Most employers offer a cycle-to-work scheme to reduce costs and spread payments but, to save you even more money, the Cyclingnews team has scoured the internet to find you the best deals on commuter bikes so that you can travel to work and back home safely and comfortably.
Best hybrid bikes
Best fold-up bikes
Best road bike
Best mountain bike
Best touring bike
Best gravel bike
The best commuter bikes retailers from around the web:
While we've carefully curated what we feel are the best deals available at the moment, there are plenty more to choose from! New deals are being added every day, so here are a few retailers that currently have huge road-bike deals on offer.
Head over to any or all of these retailers and let us know if there are any more great commuter-bike deals that we've missed. 
Sign up to the Cyclingnews Newsletter. You can unsubscribe at any time. For more information about how to do this, and how we hold your data, please see our privacy policy
Thank you for signing up to Cycling News. You will receive a verification email shortly.
There was a problem. Please refresh the page and try again.