New Year bike sales USA: Today's best deals and where to find January sales
By Cyclingnews
The New Year bike sales have begun and here's our roundup of the best deals available today in the USA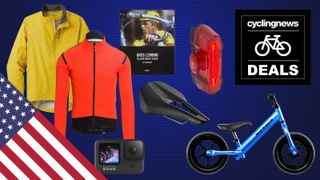 (Image credit: Courtesy)
The New Year bike sales are a great time to grab a deal on your next cycling purchase, so whether you've been waiting for your next bike to drop in price, or you're just looking to spend your gift cards, now really is the most wonderful time of the year to get the most bang for your buck.
Cyclingnews has hand-picked some of the best deals from the holiday sales and outlined them below so that you can spend more time with your family or - perhaps more likely this year - tackling the Festive 500 or practising social distancing on the turbo trainer.
However, while the deals below represent our pick of the highlights in the USA, if you get to the end and you've not found the deal of your dreams, fear not. Our cycling deals guide is full of even more bike-based bargains and we've also checked out the retailers that are running New Year bike sales and put together a small roundup of who they are and what they're doing; call it our gift to you this Christmas.
At this time of year, your wallet might be feeling a little lighter than usual, so our advice: don't overstretch yourself for the sake of a discount if you don't need the product on offer. However, if you've been counting on the New Year bike sales for a new bike, the latest GoPro, or a posh new pair of cycling shoes anyway, then why not save some bucks while you're at it?
Scroll down and enjoy a browse of our pick of the best deals in the New Year bike sales, but be sure to come back and let us know if we've missed any.
Best deals from the New Year bike sales in the USA
Check out our other deals roundups
Where can I find the New Year bike sales?
If you didn't see what you were looking for, and you're wondering where to spend your Christmas pocket money, a host of cycling deals can be found at the list of stores below.
Sign up to the Cyclingnews Newsletter. You can unsubscribe at any time. For more information about how to do this, and how we hold your data, please see our privacy policy
Thank you for signing up to Cycling News. You will receive a verification email shortly.
There was a problem. Please refresh the page and try again.