Where else can I find great cycling deals this Amazon Prime Day?
By Cyclingnews
Did Amazon Prime Day not live up to expectation? Worry not - here's a roundup of the best places to shop for even more cycling deals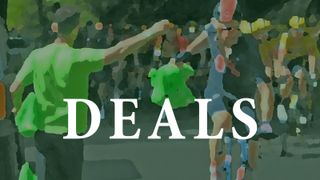 (Image credit: Getty Images)
It's Amazon Prime Day. Well, it's actually day one of Amazon Prime two-days, and if you wanted to check out what genuinely decent cycling-related products we've found, we've put together a full roundup of Amazon Prime Day cycling deals, as well as a roundup of the best Garmin deals.
However, the cycling industry and Amazon have never quite seen eye to eye. Amazon made its money selling books, it branched out into tech, and nowadays it sells pretty much everything from A to Z (hence the arrow in the logo). You can get laptops, groceries, car parts and gym equipment, but strangely, good cycling products are a bit of a rarity.
Sure, you'll get the full suite of Garmin computers and plenty of Oakley sunglasses, but when it comes to cycling, you may just be better off shopping with retailers that know that a fork isn't just something you eat your dinner with.
Therefore, given cycling, as an industry, is never immune to a bit of a discount, we've got you covered. We've already put together a roundup of the best cycling deals available - some of which are actually from Amazon - but below, we're going to run down a selection of cycling retailers that are currently holding a sale.
So whether you're a long-time cyclist who's looking to deck out the garage with tools, or a new-to-the-sport commuter who is just looking for a helmet to keep you safe on the roads, the range of various cycling sales below will present an opportunity to save money in the process.
Cycling deals roundups
Best Amazon Prime Day deals
Sign up to the Cyclingnews Newsletter. You can unsubscribe at any time. For more information about how to do this, and how we hold your data, please see our privacy policy
Thank you for signing up to Cycling News. You will receive a verification email shortly.
There was a problem. Please refresh the page and try again.