Treat yourself after payday with these leftover weekend deals
By Mildred Locke published
You can still save money on Apple AirPods, Zipp 303 S Carbon wheels, a Tacx Neo 2T turbo trainer, and much more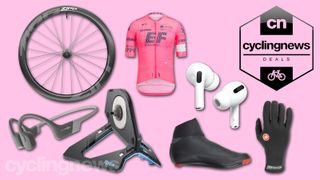 (Image credit: Courtesy)
The Black Friday and Cyber Monday sales may have been and gone, but for those of us who missed out due to the timing - many of us wouldn't have been paid until either yesterday or today - there are still plenty of deals still available.
Whether you're looking to invest in one of the best turbo trainers for your winter cycling plans, some Rapha pro team kit, a pair of Apple AirPods to deliver your favourite cycling music, or a bundle deal that gets you some of the best lightweight wheels with a pair of Continental GP5000 tyres and inner tubes, we've got you covered.
These are just some of the best cycling deals you can still get your hands on now that payday has arrived, though there are plenty more that are still in effect.
EF pro team kit | Up to 60% off at Rapha
The so-called 'rules' say you shouldn't wear pro team kit, but rules are made to be broken and EF's kit is the coolest thing to have touched the WorldTour since Mitch Docker's mullet. There are options for men and women so wear it loud and proud, and do it with 40% off.
Sennheiser HD 250BT Wireless Headphones | 37% off at Amazon
Was £59.99 | Now £38.95
These budget wireless headphones still pack at a punch. Already really good value at under £60, now that they have been reduced even more they are a must-buy if you are in the market for a pair of cans that won't break the bank. They're back ordered at the moment but will be in stock on December 14, so while you may need a wait a little to get them, they'll be with you in time for Christmas.
Castelli Perfetto Ros gloves | 13% off at Sigma Sports
Was £75.00 | Now £65.00
While not the most eyecatching discount in terms of percentage off, the sheer popularity of the Perfetto Ros glove means that we're surprised to see it discounted at all. We gave them 5 stars in our Castelli Perfetto Ros review, so to get them at an even cheaper price makes the value for money even better than ever. 
Sony WH-CH710N Wireless Headphones | Up to 56% off
US: $179.99 $78.00 at BestBuy | UK: £100.00 £69.00 at John Lewis
These mid-level Sony WH-CH710Ns are great headphones at an excellent price. For your money, you get a comfortable pair of over-ear headphones with a few trick features. For example, simply tap your NFC-enabled phone against them and you'll instantly pair and play your music. They'll pair with your Siri / Google, they swivel to fold away, and they'll last for 35 hours between charges. 
JBL LIVE 300 earbuds | 50% off at Amazon
Was $149.95 | Now $74.95
These reasonably affordable in-ear wireless buds are half-price at Amazon. They come with a 20-hour battery life, noise-cancellation technology as well as 'ambient aware' and 'talk-thru' which allow you to let the outside world in at the touch of a button. 
AfterShokz Aeropex bone conduction headphones | 19% off at Amazon
Was $159.95 | Now $129.95
If you're riding outside, it's not always a good idea to shut out the environment around you, especially if you're on the road with traffic around. The Aftershokz present a solution, sending the music to your ears via bone conduction technology which leaves your ears free to listen to the world around you. 
Powerbeats Pro true wireless earbuds | up to 40% off at Amazon
Was $249.95 | Now from $149.95
If you have trouble with (or are worried about) wireless earbuds falling out of your ears whilst exercising, then the Powerbeats Pro True Wireless earbuds are just the ticket. You don't get the noise cancellation feature with these, but you get some of the most secure earbuds out there, so you can go and ride that rocky trail without a worry. 
New AirPods Pro with MagSafe charging case | Up to 21 - 23% off at Amazon
US: $249.00 $197.00 | UK: £239.00 £185.00
The AirPods Pro are always bestsellers on Black Friday and Cyber Monday, and this year was no different. Thankfully they're still reduced, and you can save a decent price with this AirPods Pro charging case deal from Amazon. They are extremely comfortable and have exceptional sound quality, so good for all kinds of riding.
Check out our other deals for cyclists
Mildred joined as Reviews Writer for Cyclingnews and BikePerfect in December 2020. She loves all forms of cycling from long-distance audax to daily errand-running by bike, and does almost everything on two wheels, including moving house, and started out her cycling career working in a bike shop. For the past five years she's volunteered at The Bristol Bike Project as a mechanic and session coordinator, and now sits on its board of directors.
Since then she's gone on to write for a multitude of cycling publications, including Bikeradar, Cycling Plus, Singletrack, Red Bull, Cycling UK and Total Women's Cycling. She's dedicated to providing more coverage of women's specific cycling tech, elevating under-represented voices in the sport, and making cycling more accessible overall.
Height: 156cm (5'2")
Weight: 75kg
Rides: Liv Devote, Genesis Equilibrium Disc 20, Triban RC520 Women's Disc, Genesis Flyer, Whyte Victoria, Cotic BFe 26, Clandestine custom bike
Sign up to the Cyclingnews Newsletter. You can unsubscribe at any time. For more information about how to do this, and how we hold your data, please see our privacy policy
Thank you for signing up to Cycling News. You will receive a verification email shortly.
There was a problem. Please refresh the page and try again.