Presidents Day deals for cyclists: where to find the best savings
By Cyclingnews
Celebrate Presidents Day by saving big on your next bike, cycling kit or components upgrade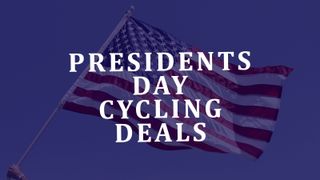 (Image credit: Getty Images)
This week on Cyclingnews, it's 'North America week', a week in which we will be celebrating all-things cycling across the continent, covering everything from the history to the future of the sport, from the grassroots right to top of the WorldTour. 
Coincidentally, today is Presidents Day in the USA, an annual holiday that honours the Presidents past and present, which falls on the third Monday in February. As with any public holiday in the States, this marks a huge shopping event, with retailers discounting products and slashing prices. 
Of course, with the COVID-19 pandemic, things are a little different this time around with many brick-and-mortar stores temporarily closed. But that doesn't mean deals can't be found this year. Thanks to the world of online retail, there are plenty of Presidents day cycling deals on offer. 
As we're all aware, sales are a great time to grab a deal on your cycling purchases, so whether you've been waiting for your dream bike to drop in price, or you're just looking to spend your gift cards leftover from Christmas, Presidents Day presents an opportunity to get the most bang for your buck. 
With so many retailers out there, it can often be a minefield to know where to look in order to find great deals, so to help you out, Cyclingnews has hand-picked some of the best deals we've been able to find and outlined them below. Then beneath, rather than telling you what to buy, we've provided a roundup of our favourite retailers - the places we find generally offer the best discounts, and the places we look before anywhere else when hunting down cycling deals.  
However, while the deals below represent our picks of the best, if you get to the end and you've not found the deal of your dreams, fear not. Our cycling deals guide is full of even more bike-based bargains, with options for our UK readers, too. 
Best Presidents Day deals for cyclists
Check out our other deals roundups
Where are the best bike sales?
If you didn't see what you were looking for, and you're wondering where to spend your Christmas pocket money, a host of deals can be found at the list of stores below.
Sign up to the Cyclingnews Newsletter. You can unsubscribe at any time. For more information about how to do this, and how we hold your data, please see our privacy policy
Thank you for signing up to Cycling News. You will receive a verification email shortly.
There was a problem. Please refresh the page and try again.