Best indoor cycling apps: Which is right for you?
The best indoor cycling apps cover training, group rides, racing and more, so which is best for you?
Best indoor cycling apps
1. Quick List
2. Best all-around
3. Best for intervals
4. Best for workouts beyond the bike
5. Best for realism
6. Best for real-world locations
7. Best for a velodrome simulation
8. Best for winning real money
9. Best for at-home spin classes
10. How to choose
While there was once a time when indoor training was drudgery only for the most committed racers, that time is long past. There are options out there that will help you get stronger through training, take part in competition at whatever level works for you, or even just ride. Many of the apps available will even combine different options depending on what you want on any particular day. You also have the option of riding alone or joining vast communities. Bottom line, whatever you need to help keep riding fun, there's an option.
Before you get too far though, you'll need to consider hardware. If you are looking to keep costs low, most indoor cycling apps will allow you to ride with a basic trainer plus a speed and cadence sensor. If you've got a bit more cash to spend, the sweet spot today is something from our list of the best smart trainers. These are options that will allow you to connect to a computer, tablet, phone or even a TV and have the resistance change right along with what's happening on the screen. Alternatively, if you know you want the best, a smart bike will free you from the constraints of a bike designed to ride outdoors.
With hardware handled, it's time to add a software experience to keep it interesting. Choosing the best indoor cycling app for you will vastly affect your experience, your enjoyment, and likely your commitment to indoor cycling and that's what this list is all about. Keep reading to get a good idea of what you can expect from the different options and keep this winter's riding as fun as the summer season. Towards the bottom of the page, we've got more guidance on what to consider when choosing an app for indoor cycling.
Quick List
Best indoor cycling apps
You can trust Cyclingnews Our experts spend countless hours testing cycling tech and will always share honest, unbiased advice to help you choose. Find out more about how we test.
Best all-around
1. Zwift
The best all-round indoor cycling app
Specifications
Platform:
Mac, Windows, iOS, Apple TV, Android
Monthly price:
$14.99 / £12.99
Reasons to buy
+
The most social training platform
+
Plenty of races and group ride opportunities
+
Workouts are visual
Reasons to avoid
-
Training plans offer little guidance
-
Training plans don't adjust
When it comes to indoor cycling, Zwift has the largest market share. That matters because, like a social network, market share brings people. No matter the time of day, or day of the week, if you want to jump online and find people to ride with, Zwift has options. You can follow a robotic training partner along with other people, join a group workout, or even just ride through the virtual world that Zwift offers and grab onto other wheels around you. Once you find yourself among other people, grab your phone and fire up the companion app. You can chat away and hardly notice the time tick away.
Of course, another aspect of social riding is competition. Just like all the other social riding that Zwift offers, there's always an opportunity to race. If competition is what motivates you then, again, Zwift is an excellent choice if for no other reason than because of the high number of users at any given time.
On the other hand, if you prefer training alone, Zwift might not be the best answer. The training plans that Zwift offers work well but require a high level of understanding in terms of what you need. There's little guidance for picking a plan and they don't adjust based on performance. Using Zwift to complete intervals is amazing because of the visual nature, and ability to ride towards the next interval, but you will need to learn how to train yourself elsewhere.
Check out our full guide to Zwift.
Best for intervals
2. TrainerRoad
The best indoor cycling app for interval based training
Specifications
Platform:
Mac, Windows, iOS, Android
Reasons to buy
+
Clean user interface
+
Machine learning adapts to your progress
+
Tailored training plans targeting your goals
TrainerRoad is essentially the opposite of Zwift. You will ride alone and you will have nothing to look at while doing it. TrainerRoad is all about taking a scientific approach to making you faster. To do that the brand leverages a combination of machine learning and data analysis to guide you through exactly the right workout plans to meet your goals.
With TrainerRoad, you'll begin by telling it what your goals are, and when you need to achieve them - usually in the form of a target event. The app's plan builder will then ask you a few questions about how often you'd like to train, and what type of event you're training for. In the end, it will spit out a base training plan for you to follow. However, this is only the beginning.
As with any modern cycling training plan, the system uses power to set correct intensities. Unlike other systems though, you don't have to do any testing. TrainerRoad will pull in all of your riding no matter if it's outdoor, indoor on TrainerRoad or even indoor on another platform. With all that data, the system will use the power of AI to detect your FTP automatically and then offer perfectly tailored workouts based on the riding you've done, your goals, and your FTP. Each time you log in, there will be a selection of workouts based on what you need on that day. If you fail a workout, the system will adjust. If you find a workout too easy, the system will adjust. It's like having a coach constantly at your disposal.
The only downside to the system is that it lacks any distractions. Sometimes it's enough to watch the seconds tick away and as you progress across a line showing the intervals but most of the time you need more. You can minimise the display and put a movie on top but you'll often wish you could do the workouts inside of Zwift. Quite honestly, a combination of Zwift and TrainerRoad is ideal if you can afford it.
Check out our full guide to TrainerRoad.
Best for workouts beyond the bike
3. Wahoo SYSTM
The best indoor training app for workouts beyond the bike
Specifications
Platform:
Mac, Windows, iOS, Android, Apple TV
Reasons to buy
+
High-quality workouts and training plans designed by top-level coaches
+
Provisions for multisport athletes
+
Lots of high-intensity motivation
Reasons to avoid
-
Videos can get a bit tired once you have watched them once
-
Not as responsive to progress as TrainerRoad
Wahoo SYSTM covers not only high-intensity cycling-specific content formerly known as The Sufferfest but also a variety of workouts. Look around the app and you will find options covering mental training, Running, Strength & mobility, Swimming, and Yoga.
Wahoo SYSTM and TrainerRoad share a number of similarities, such as a plan builder and workout calendar. TrainerRoad excels in the size of its workout catalogue and in how it adapts to your progress. Meanwhile, SYSTM's video footage makes it more immersive, while the included yoga, strength and mental training help it to appeal to those who want guidance off the bike as well as on the bike.
For those whose focus is mainly on the bike, the star of the show is definitely the content pulled from what used to be Sufferfest. During one of these workouts, you get a video to watch paired with immersive graphics, audio, and often a specific storyline. Many of the workouts use real race footage to put you in race situations and then ask you to perform intervals that match the storyline as presented.
Although it's incredibly motivating and intense, that also leads to some downsides. Your body can only handle so much intensity and it can be difficult to find workouts at lower zones when you need them. There's also no automatic adjustment like TrainerRoad and, of course, the video is only motivating so many times. This combination means that Wahoo SYSTM ends up being the best choice when you want a more well-rounded training that involves more than just on-bike workouts.
For more details, check out our full guide to Wahoo SYSTM and our comparison covering Zwift vs Wahoo SYSTM.
Best for realism
4. FulGaz
The best indoor training app for realism
Specifications
Platform:
Mac, Windows, iOS, Apple TV, Android
Reasons to buy
+
Huge catalogue of real-world footage
+
Reactive video
+
Workout integration
Reasons to avoid
-
Lacking in workout and training plan features
-
The multiplayer function is small
FulGaz's motto is less virtual, more reality and that's precisely what this app offers. Using real ride footage and some pretty advanced physics modelling, FulGaz not only tailors resistance based on what's happening on screen, but the footage itself will react to your effort. With 4K footage filmed from the handlebars of riders around the world, the app uses real elevation data to control the smart trainer to match what you see on the screen, also taking into account your weight and power to adjust the speed of the footage.
This is where it has its USP: the catalogue of real-world footage is broad, from the infamous Alpe D'Huez to Sunshine Canyon outside Boulder Colorado. It offers the immersive nature of something like Zwift or Wahoo RGT, but with a focus on real-world locations, rather than creating virtual worlds and maps.
FulGaz also has a workout library and the ability to import custom sessions from TrainingPeaks or Today's Plan, and you can create group rides to tackle routes with friends.
Best for real world locations
5. Rouvy
The best indoor training app for real world locations
Specifications
Platform:
Windows, iOS, Apple TV, Android
Monthly price:
$15.00 / €15.00
Reasons to buy
+
Huge feature set
+
Route editor
+
Real world elevation profiles add realism
Reasons to avoid
-
Augmented reality is a bit clunky
If you like the multiplayer online gaming function of Zwift but want real-world footage of FulGaz, then you'll want to check out Rouvy. Rouvy has a sizable catalogue of outdoor routes from around the world and now you can ride them in your house. The advantage here is that even though Zwift has incredibly talented designers making great routes, there's a certain synthetic quality to them. No matter how good a designer is, they are still creating something that lacks a bit of randomness you find in the real world. By using real-world elevation profiles, Rouvy feels more like real life.
On top of those real-life routes, Rouvy uses augmented reality superimposed avatars. As you ride, you will see other people in the world with you. You can't interact with them like you can with Zwift but you can pace them or try to drop them and that's motivating. Along the same lines, Rovy has also recently introduced Strava live segments. Some routes will now allow you to race yourself, or other riders, using Strava live just like an outdoor route. Keep in mind that you will need a paid Strava account for that functionality though.
Even though Rouvy is primarily about free rides in real-world locations, there is also an impressive workout library. Like Zwift it lacks the kind of adjustment and responsiveness of TrainerRoad but it does offer intervals when you want them and that adds value to the whole system.
Although Rouvy ends up being a great overall package for riding real routes, the AR graphics do sometimes feel kind of clunky. There is a bit of an uncanny valley situation and you can understand why Zwift chose to create a cartoony world. It's improving all the time but it's something to consider.
Check out our full guide to Rouvy, and our comparison of Zwift vs Rouvy for more.
Best for riding in a virtual velodrome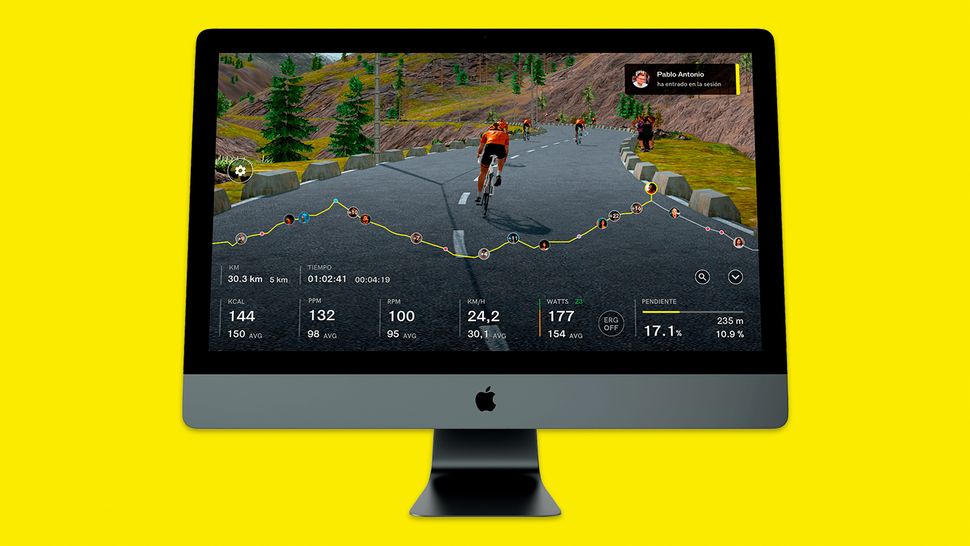 6. BKool
The best indoor training app for riding in a virtual velodrome
Specifications
Platform:
Mac, Windows, iOS, Apple TV, Android
Reasons to buy
+
Multiple views are available as you ride
+
Make your own routes
+
First person view available
Reasons to avoid
-
Hit or miss video quality
For quite some time, BKool made some pretty unique indoor trainers while also pushing hard into software. With the smart trainer market becoming ever more competitive, the Spanish outfit decided to shift its focus entirely towards creating the best indoor cycling apps.
The BKool Cycling app offers four types of sessions: Route, Workout, Velodrome and of course, FTP test. Similar to the other apps which offer 'real rides', the resistance matches what you see on the screen and the faster you pedal, the faster the footage plays, emulating a real-life ride. In many ways, much of this is very similar to Rouvy.
The main difference between Rouvy and Bkool is both the platform's biggest strength and its weakness. What I'm talking about is the ability to upload user-generated videos and ride them as if it were still the days of riding rollers with a VHS cycling video on your TV. Although Bkool has added different views, including a 3D avatar like Rouvy, its greatest strength is that you can ride in a first-person view and it feels like you are on location wherever you might be riding.
The downside to that freedom of uploads is that the quality isn't always the same. Sometimes the videos are quite low quality and they feel blurry. It doesn't help that many of the videos take place during winter rides and generally look rather dark and dreary. Still, you do get a very real-world feel, like Rouvy, and if you like Velodrome riding you can do it in Bkool.
Along with the newer options to ride with an avatar, BKool has also added a social aspect. There are now leagues and challenges that run throughout the year and there's a different workout featured every day.
Check out our full guide to Bkool.
Best for winning real money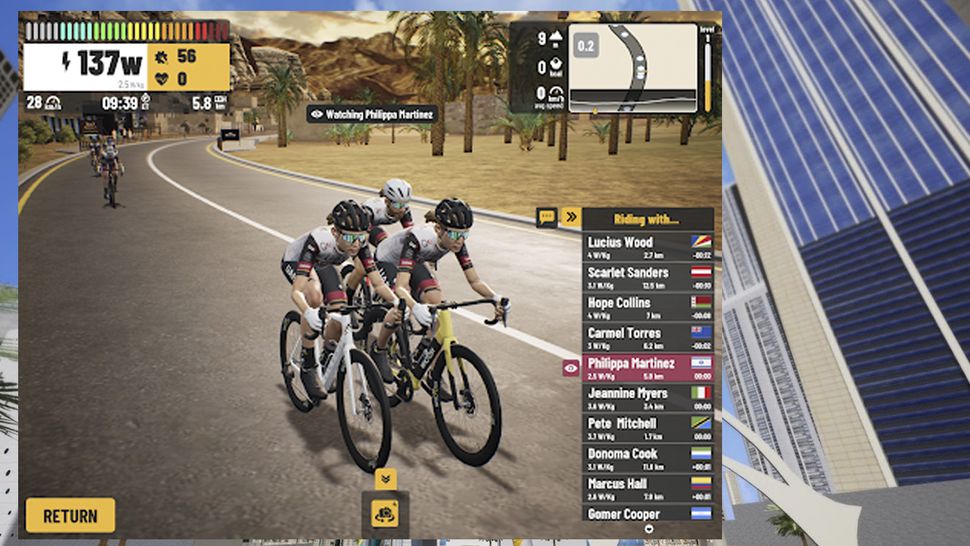 7. MyWhoosh
The best indoor cycling app for winning real money
Specifications
Platform:
iOS, Android, Windows
Reasons to buy
+
Free to use
+
Focus on racing, with prize pots
+
Algorithm matches competitors by ability
Reasons to avoid
-
Terrain not as varied as some alternatives
-
Lower spec graphics
-
Limited user base means few races
MyWhoosh offers indoor cycling for free if you like desert landscapes. Based in the UAE it's one of the sponsors of the UAE Team Emirates pro team of Tadej Pogačar and is focused on e-sports racing, but also offers group activities and structured workouts. You can kit your avatar out with a range of Colnago bikes and UAE team kit.
MyWhoosh's offering is based around its Sunday Race Club, which offers US dollar cash prizes for winners and attracts top competitors from around the world. Prize pots for event series are as large as $1 million. Its algorithms attempt to verify that performances logged in competition are genuine.
If you're not a top-rung competitor, MyWhoosh looks to group you with riders of a similar ability. Outside the Sunday Race Club, there are limited events though thanks to the current small user base.
Read our guide to MyWhoosh for more info.
Best for at home spin classes
Peloton
The best indoor cycling app for stay at home spin classes
Specifications
Monthly price:
$1,445 / £1,345 for the bike plus $24 / £39 per month
Reasons to buy
+
Vast catalogue of engaging workouts, both pre-recorded and live
+
Running, strength and yoga included too
Reasons to avoid
-
High buy-in price
-
High monthly cost
While it's a little different to the apps above because the bike itself is a prerequisite, Peloton has brought indoor training to the masses. When you get set up with the bike, the Peloton app has 4,000 pre-recorded spin classes ranging from 20 to 90 minutes in length and run by professional spin instructors.
There are live classes where you can follow and chat with other people who are suffering alongside you, and there are scenic rides too if you just want to spin your legs out.
As part of the monthly cost, you also get access to a library of running workouts with equally motivational audio coaching, strength workouts and yoga.
Check out our full guide to Peloton and our review of Peloton Bike+.
How to choose
If you're looking to set up for indoor riding, there are some hardware and tech issues to consider alongside choosing the best indoor cycling app for your needs.
What do you want to get out of your indoor cycling?
Are you looking to ride, race, socialise and explore roads around the world or are you prepping for an event and looking for highly specific intervals?
There are plenty of apps that do all of the above. However, in the same way that tools in a multi-tool aren't the same quality as dedicated workshop tools, the apps that are explicitly designed for interval workouts offer a better experience than those where it's not the main focus. This works in the other direction too, the apps that are designed around a social experience do this better than apps that added the feature later.
But no matter which app you use, you will only get faster and stronger provided you actually use it, so most importantly of all: find one that you enjoy and the rest will follow.
Where do you want to ride?
Indoor cycling apps take different approaches to their simulations. Zwift only offers imaginary worlds and simulations of a small number of real-world locations.
Other indoor cycling apps including Rouvy provide video footage of real locations, so you can experience riding the Stelvio, for example, more realistically.
Still others, such as Bkool, allow you to upload your own route files and create a simulation based on these. This is a great option if you want to prepare for a real event, understand how specific parts of the course might feel to ride and develop a pacing strategy.
Do you need a smart trainer for indoor cycling apps?
All training apps use power to determine how fast you're moving through a virtual world or to dictate intervals. There are three ways these apps can determine power; a smart trainer, a power meter, or virtual power. The first two are relatively self-explanatory; 'smart' turbo trainers and power meters will connect to your device with a Bluetooth or ANT+ connection (you may need an ANT+ dongle for the latter) and the app will be able to glean how many watts you're pushing.
If the centrepiece of your pain cave is a 'dumb' trainer, you don't have to go out and drop a week's pay on a power meter or a turbo with electronics inside to use a training app, but you will need a speed and cadence sensor.
Every trainer has a unique power curve, and using this resistance curve, apps know how to generate a power estimate based on speed and cadence. There are some caveats to virtual power, namely, the accuracy hinges on whether your prospective app has tested a specific trainer. Virtual power numbers also won't be as accurate as the highly tuned strain gauges in a power meter or smart trainer, but are within the ballpark to get you started with a training app.
Which operating system do you use?
Before you fork over your credit card details for an app subscription, it's essential to double-check that it's compatible with the OS you plan to run it on. For the most part, every app works on your Apple or Windows computer and iOS or Android devices, but a few are still lagging on Android or iOS versions while others are adding Apple TV to their repertoire.
Get The Leadout Newsletter
The latest race content, interviews, features, reviews and expert buying guides, direct to your inbox!
Josh hails from the Pacific Northwest of the United States but would prefer riding through the desert than the rain. He will happily talk for hours about the minutiae of cycling tech but also has an understanding that most people just want things to work. He is a road cyclist at heart and doesn't care much if those roads are paved, dirt, or digital. Although he rarely races, if you ask him to ride from sunrise to sunset the answer will be yes.
Height: 5'9"
Weight: 140 lb.
Rides: Salsa Warbird, Cannondale CAAD9, Enve Melee, Look 795 Blade RS, Priority Continuum Onyx