Best indoor cycling apps: Which is right for you?
There are indoor cycling apps for training, group rides, racing and more, so which is best for you?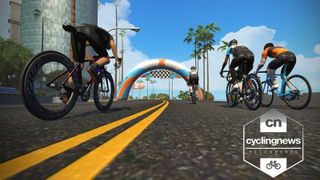 (Image credit: Courtesy)
In years gone by, indoor cycling was a discipline reserved for the hardiest and most committed of athletes. It consisted of a basic turbo trainer, a bike mounted on top, and a stopwatch for intervals. Music was the only distraction, and resistance came courtesy of a handlebar-mounted lever combined with your bike's gears. Pedalling was often likened to pedalling through mud or treacle, and there was no such thing as indoor cycling apps.
However, over recent years, technology has come on leaps and bounds, and today's best turbo trainers are 'smart', meaning they can connect to smartphone, tablets and computers via Bluetooth or ANT+, so instead of a lever controlling resistance, this can be done using software commands from whatever indoor cycling app your device is running. The result is that nowadays, there is a great collection of indoor cycling apps that offer an immersive experience that is, dare we say it, fun.
Some are focused on virtual worlds and gamification, others on helping you to train and get fitter as quickly as possible, and there are plenty in between. Choosing the best indoor cycling app for you will vastly affect your experience, your enjoyment, and likely your commitment to indoor cycling as a result, so check out our list below to work out which suits your needs the best.
Best indoor cycling apps
Why you can trust Cyclingnews Our expert reviewers spend hours testing and comparing products and services so you can choose the best for you. Find out more about how we test.
Zwift
The best all-round indoor cycling app
Specifications
Platform:
Mac, Windows, iOS, Apple TV, Android
Monthly price:
$14.99 / £12.99
Reasons to buy
+
Adding routes and features pretty regularly
+
Group rides and races at all times of day
+
Preset training plans available
+
Erg-mode workouts available
Reasons to avoid
-
Structured workouts can be lacking
-
No bespoke training plans
Leading the charge in gamifying indoor training, Zwift has wholly changed the landscape, allowing riders to explore virtual worlds, participate in group rides, race, complete structured workouts and follow training plans. Zwift's gamification is plentiful, with Zwift PowerUps, experience points and unlockable accessories for your avatar. The more you ride, the more you unlock, and the faster your bike and kit can be as you ride through its various worlds, many of which are based on replicas of real-world roads such as Central Park and London.
If you want to forget about the real world and immerse yourself in a virtual landscape, then Zwift is worth a try. It doesn't offer the highly scientific approach to training that TrainerRoad and Systm offer, but it does still supply a large catalogue of workouts and training plans for those looking to train consistently. However, Zwift comes into its own in peer motivation: with such a huge user base around the world, there is almost always tens of thousands of other people to ride with, and this means there are races and group rides available at all times of day, every day.
It's become the go-to indoor cycling app and, as a result, the official platform to host the UCI Cycling eSports World Championships 2022.
Check out our full guide to Zwift.
TrainerRoad
No-fluff app with a massive catalogue of workouts with machine learning to steer you toward your goals
Specifications
Platform:
Mac, Windows, iOS, Android
Reasons to buy
+
Clean user interface
+
Machine learning adapts to your progress
+
Tailored training plans targeting your goals
Reasons to avoid
-
Above average cost per month
-
No immersive video or gameplay means many find it dull
TrainerRoad is almost at the other end of the spectrum to Zwift in that there is no gameplay element at all. The only levelling up you'll do will be with your own real-world fitness. The app is one dimensional in its goal: making you faster, but it leans on a huge amount of science, data and innovation, as well as an enormous database of workouts to achieve it.
With TrainerRoad, you'll begin by telling it what your goals are, and when you need to achieve them - usually in the form of a target event. The app's plan builder will then ask you a few questions about how often you'd like to train, and what type of event you're training for. At the end, it will spit out a base training plan for you to follow. However, this is only the beginning. If you fail a workout, the app's machine learning algorithm will adjust future sessions to make them a little easier. If you find a workout easy, it will make future workouts harder so you progress faster and don't waste time having an easy ride. Its levels feature also allows you to track your progress of specific energy systems, rather than relying on the unreliable metric of FTP.
Its expertise and history are in cycling, but it has a database of workouts for both runners and triathletes too, which are taken into account when building triathlon training plans. There is also a 'minimal' window mode that shrinks the interfaces down into a strip on the lower portion of your desktop so you can watch Netflix on the same screen. It's wholly functional from the smartphone app, and the same hide-and-watch-Netflix approach works here too.
TrainerRoad also offers just about all of its workouts with a 'Do Outside' option, which can be synced automatically to your head unit.
Check out our full guide to TrainerRoad.
Wahoo Systm
An all-in-one training suite for both body and mind
Specifications
Platform:
Mac, Windows, iOS, Android
Reasons to buy
+
High-quality workouts and training plans designed by top-level coaches
+
Provisions for multisport athletes
+
Strength training, yoga and mental training all-in-one
Reasons to avoid
-
Videos can get a bit tired once you have watched them once
-
Not as responsive to progress as TrainerRoad
Wahoo Systm is an all-in-one training platform that caters to cyclists and triathletes with an approach that uses its own 4DP-testing protocol to map your physiological abilities beyond just your threshold power.
It incorporates a number of different attention-grabbing processes. In easier sessions, you might get a motivational documentary, while in harder sessions you'll likely get a Sufferfest video that overlays footage from inside the pro peloton and audio cues from the team car.
Systm and TrainerRoad share a number of similarities, such as a plan builder and workout calendar. TrainerRoad excels in the size of its workout catalogue and with how it adapts to your progress. Meanwhile, Systm's video footage makes it more immersive, while the inbuilt yoga, strength and mental training help it to appeal to those who want guidance off the bike as well as on the bike.
FulGaz
Physics-modelled, immersive, real rides
Specifications
Platform:
Mac, Windows, iOS, Apple TV, Android
Reasons to buy
+
Huge catalogue of real-world footage
+
Reactive video
+
Workout integration
Reasons to avoid
-
Lacking in workout and training plan features
-
Multiplayer function is small
FulGaz's motto is less virtual, more reality and that's precisely what this app offers. Using real ride footage and some pretty advanced physics modelling, FulGaz not only tailors resistance based on what's happening on screen, but the footage itself will react to your effort. With 4K footage filmed from the handlebars of riders around the world, the app uses real elevation data to control the smart trainer to match what you see on the screen, also taking into account your weight and power to adjust the speed of the footage.
This is where it has its USP, the catalogue of real-world footage is broad, from the infamous Alpe D'Huez to Sunshine Canyon outside Boulder Colorado. It offers the immersive nature of something like Zwift or RGT, but with a focus on real-world locations, rather than creating virtual worlds and maps.
FulGaz has also recently added a workout library and the ability to import custom sessions from TrainingPeaks or Today's Plan, and you can create group rides to tackle routes with friends.
Rouvy
The app with a bit of everything to offer, without the price tag
Specifications
Platform:
Windows, iOS, Apple TV (Beta), Android
Monthly price:
$12.00 / €12.00
Reasons to buy
+
Huge feature set
+
Route editor
Reasons to avoid
-
Augmented reality is a bit clunky
If you like the multiplayer online gaming function of Zwift, but want the real-world footage of FulGaz, then you'll want to check out Rouvy, which has a sizeable catalogue of outdoor routes from around the world, all of which control the trainer to imitate the gradients you see on the screen.
Rouvy uses augmented reality which effectively superimposes avatars - both yours and other riders - on top of the real footage, allowing you to ride with virtual partners as well as join group rides and races with real riders from around the world, similar to Zwift, but without the virtual landscape.
Also included with the subscription is a catalogue of over 4,000 workouts featuring interactive video guides along with a custom workout builder too. Rouvy also offers one of the cheapest subscriptions at US$12 per month.
Check out our full guide to Rouvy, and our comparison of Zwift vs Rouvy for more.
RGT Cycling
A virtual platform with an alternative focus on group dynamics
Specifications
Platform:
iOS, Apple TV, Android
Monthly price:
Free (Premium: $9.99 / £6.99 / €8.99 per month)
Reasons to buy
+
Virtual landscape is unrefined
+
Drafting is more realistic than Zwift
+
Strong racing scene
+
Magic roads function
Reasons to avoid
-
Limited routes
-
Smaller user base means group events are less frequent and well-attended than Zwift
RGT (Road Grand Tours) is most like Zwift than others in this list in that it offers a virtual world and multiplayer online community that will let you ride with people from around the world. However, while Zwift is arguably cleaner in its refinement, the RGT physics model is more like the real world with regards to cornering and drafting. For example, you can rail hairpins at 80km/h on Zwift, while RGT will force you to hit the brakes and let you save energy - just like you can in real life.
Inside the app, RGT takes riders to 3D representations of real places like Mont Ventoux and the Paterberg. The total number of 'real road' kilometres is much lower than Zwift, but with a premium membership, a user can create 'Magic Roads' based on any GPX file in the world, allowing them to create and pre-ride race routes as a way to prepare for real-world events.
An online game wouldn't be an online game without competitors and you can join rides and races, chase in-game Strava Segments and interact with riders around you on the road. What's more, many of the features are available for free, forever. With a premium membership to unlock the full feature set still being cheaper than most.
Check out our full guide to RGT Cycling, and our comparison of RGT vs Zwift for more.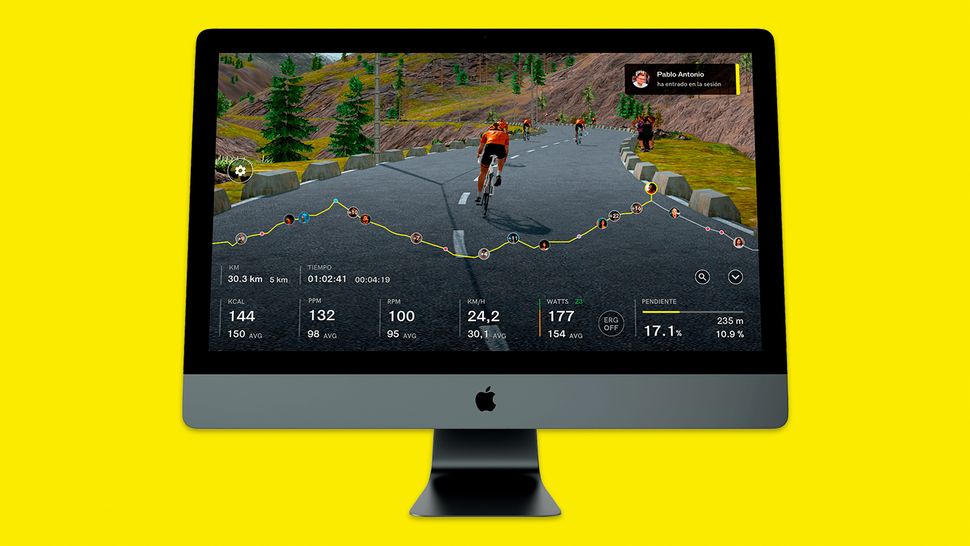 BKool
A mix of virtual and real-world gameplay and a good mix of features
Specifications
Platform:
Mac, Windows, iOS, Apple TV, Android
Reasons to buy
+
Multiple views are available as you ride
+
Make your own routes
Reasons to avoid
-
Smaller user base means less uptake in group events compared to Zwift
For quite some time, BKool made some pretty unique indoor trainers while also pushing hard into software. With the smart trainer market becoming ever more competitive, the Spanish outfit has decided to shift its focus entirely towards creating the best indoor cycling apps.
The BKool Cycling app offers four types of sessions; Route, Workout, Velodrome and of course, FTP test. Similar to the other apps which offer 'real rides', the resistance is tailored to match what you see on the screen and the faster you pedal, the faster the footage plays, emulating a real-life ride. You can choose to either ride in the first-person view, with a 3D avatar or even a map view if that tips your fancy. With a camera and a GPX file, you can make your own smart enabled routes, with the app replicating real-world riding conditions in the digital version.
With the option to ride with an avatar, BKool is also adding the social aspect, introducing leagues and challenges that run throughout the year.
Check out our full guide to Bkool.
Peloton
Stay-at-home spin classes that are taking the world by storm
Specifications
Monthly price:
US$39 per month + $2,245 for the bike
Reasons to buy
+
Vast catalogue of engaging workouts, both pre-recorded or live
+
Running, strength and yoga included too
Reasons to avoid
-
High buy-in price
-
High monthly cost
While it's a little different to the apps above because the bike itself is a prerequisite, Peloton has brought indoor training to the masses. When you get set up with the bike, the Peloton app has 4,000 pre-recorded spin classes raining from 20-90min in length and run by professional spin instructors.
There are live classes where you can follow and chat with other people who are suffering alongside you, and there are scenic rides too if you just want to spin your legs out.
As part of the monthly cost, you also get access to a library of running workouts with equally motivational audio coaching, strength workouts and yoga too.
Check out our full guide to Peloton.
How to choose an indoor cycling app
Do you need a smart trainer for indoor cycling apps?
All training apps use power to determine how fast you're moving through a virtual world or to dictate intervals. There are three ways these apps can determine power; a smart trainer, a power meter, or virtual power. The first two are relatively self-explanatory; 'smart' turbo trainers and power meters will connect to your device with a Bluetooth or ANT+ connection (you may need an ANT+ dongle for the latter) and the app will be able to glean how many watts you're pushing.
If the centrepiece of your pain cave is a 'dumb' trainer, you don't have to go out and drop a week's pay on a power meter or a turbo with electronics inside to use a training app, but you will need a speed and cadence sensor.
Every trainer has a unique power curve, and using this resistance curve, we know how to generate a power estimate based on speed and cadence. There are some caveats to virtual power, namely, the accuracy hinges on whether your prospective app has tested a specific trainer. Virtual power also won't be as accurate as the highly tuned strain gauges in a power meter or smart trainer, but are within the ballpark to get you started with a training app.
Which operating system do you use?
Before you fork over your credit card details for an app subscription, it's essential to double-check that it's compatible with the OS you plan to run it on. For the most part, every app works on your computer and iOS, but a few are still lagging on Android versions while others are adding Apple TV to their repertoire.
What do you want to get out of your indoor cycling?
Are you looking to ride, race, socialise and explore roads around the world or are you prepping for an event and looking for highly specific intervals?
There are plenty of apps that do all of the above, however, in the same way that tools in a multi-tool aren't the same quality as dedicated workshop tools, the apps that are explicitly designed for interval workouts offer a better experience than those where it's not the main focus. This works in the other direction too, the apps that are designed around a social experience do this better than apps that added the feature later.
But no matter which app you use, you will only get faster and stronger provided you actually use it, so most importantly of all: find one that you enjoy and the rest will follow.
As the Tech Editor here at Cyclingnews, Josh leads on content relating to all-things tech, including bikes, kit and components in order to cover product launches and curate our world-class buying guides, reviews and deals. Alongside this, his love for WorldTour racing and eagle eyes mean he's often breaking tech stories from the pro peloton too.
On the bike, 30-year-old Josh has been riding and racing since his early teens. He started out racing cross country when 26-inch wheels and triple chainsets were still mainstream, but he found favour in road racing in his early 20s and has never looked back. He's always training for the next big event and is keen to get his hands on the newest tech to help. He enjoys a good long ride on road or gravel, but he's most alive when he's elbow-to-elbow in a local criterium.
The latest race content, interviews, features, reviews and expert buying guides, direct to your inbox!
Thank you for signing up to The Pick. You will receive a verification email shortly.
There was a problem. Please refresh the page and try again.