Supported
Best Zwift setups: Indoor cycling setups to give you the competitive edge
Whether you're looking to get faster on Zwift or in the real world, these are the best Zwift setups to help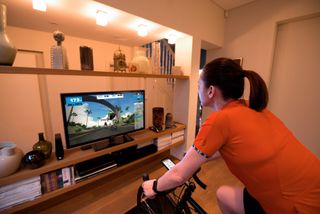 (Image credit: Zwift)
There's undeniable truth in the idea that any tool that facilitates cycling to a wider audience is a good thing. Therefore, by extension, any Zwift setup should be considered good. However, for the committed indoor cycling enthusiast, the best Zwift setups can make indoor training time a considerably more enjoyable experience.
Once something becomes enjoyable, it's likely to be used more, so pimping your pain cave to include things such as smart connectivity, a legible display and sizeable amount of airflow is likely to repay that investment with hours of entertainment and, if you do it right, an increase in fitness.
Zwift was only launched in 2015 but, in the short time since, it has revolutionised indoor training for cyclists. Indoor cycling was once a necessary evil for committed training cyclists escaping the otherwise wet, cold and potentially dangerous winter cycling experience, but the virtual worlds on Zwift offer an engaging and addictive experience, helping more riders get fitter than ever before. The platform uses standard connectivity technologies, so all of the best Zwift setups will be compatible with other indoor cycling apps such as TrainerRoad, The Sufferfest and more.
You likely know all about it by now, but if you'd like more information on the platform, here is our ultimate guide to Zwift.
By connecting your turbo trainer or smart bike with the Zwift app on your smartphone, tablet or computer, you can immerse yourself in a virtual world of software-based interaction.
Zwift's own fantasy island, Watopia, is complemented by virtual replicas of real-life courses through London, New York, Paris, as well as routes modelled on Mont Ventoux, as well as the 2015, 2018 and 2019 UCI Road World Championships routes.
The app is extremely popular with enthusiasts, sportive riders and amateur racers, but don't for a moment think of Zwift as a game or amateur's simulation. The algorithms and technical expertise used to create this virtual cycling experience are highly regarded by professional teams and organisations. Various replicas of real-world pro races were held on the platform during the COVID-19 season hiatus, including the Virtual Tour de France. Canyon SRAM and NTT Pro Cycling have been using the platform for talent identification for years, and there's even an inaugural UCI sanctioned e-sport World Championships happening right now at the time of writing. There's no doubt that Zwift is readily accepted as an authentic digital training system.
You can ride solo, follow single workouts or complete training plans, free-ride with friends, or join pre-organised group events which range from easy social spins all the way through to full-gas races against pro riders. In simple terms, the harder you ride, the faster your virtual avatar will go. If you're using a smart turbo trainer or smart bike, it will tell the app how hard you're pushing on the pedals, and the app will automatically adjust the resistance in response to gradient changes, workout intervals and even road surfaces.
Whatever your budget and level of expertise, there'll be a Zwift setup for you, but the more you spend, the more premium a solution you'll get. This will show itself by way of a more realistic, engaging and enjoyable experience, as well as considerably quieter operation. If you're looking for a budget option, our guide to the cheapest Zwift setup will help you find the most affordable solution.
In this guide, we'll run through how the app can give you the competitive edge on the bike, before recommending the best Zwift setups to help you make the most of Zwift, as well as the new wave of other indoor cycling apps.
Can Zwift give you the competitive edge?
Zwift alone - even with the best Zwift setups - won't make you faster, only you can do that. What Zwift can do is provide an engaging gameplay experience that motivates you to keep coming back for more.
There's nothing more tedious than staring at the brick wall in your basement, and staring at the power or heart rate number on your cycling computer is only slightly more engaging. Having interactive gameplay whereby you can ride with friends, race against strangers and compete in events provides the mental stimulation to ensure training becomes... dare we say it, fun.
On top of that, Zwift also offers training plans and workouts - ideal if you're training for an event - all set against the ever-changing backdrop of climbs, descents and vast vistas found in the app's virtual worlds.
While not specific to the Zwift app, any session on the indoor trainer can focus purely on structure, removing external variables that you might find when riding out on the road (traffic, stop signs, road furniture, etc).
All of the best turbo trainers of today are 'smart', and they come into their own here, automatically controlling the resistance for each interval, ensuring you get the maximum training benefit from every pedal stroke.
"Riding on the turbo is so controlled," says Dean Downing, a former professional cyclist turned coach. "You can stick to a predefined power, with no variables like the wind or traffic to contend with. You can easily plan a session and see your progress every week and month."
The best Zwift setups
To ride on Zwift, you'll need more than just a turbo trainer. You'll need something on which to run the app, as well as a place for everything to live. Your living arrangements will dictate your priorities. Do your housemates mind having a turbo trainer set up in the living room or do you need to put everything away afterwards? Is noise going to upset your neighbours? Do you even own a laptop that can run Zwift, or will you run it on your phone, tablet, TV? All are considerations worth making before you decide, but here are three of the best Zwift setups, that can, of course, be mixed and matched to find your perfect solution.
For all setups below, we recommend a fan. Things get hot and sweaty without the airflow that comes from movement. The saying 'the bigger the better' has never been truer. We found great success in our Wahoo Kickr Headwind review, but similar performance can be had for less money with a Lasko fan (opens in new tab) or traditional box fan (opens in new tab) - or three.
We also recommend Bluetooth headphones. This way, if you decide to lose yourself in some music to keep motivation high, you won't have to play it over your turbo trainer at a volume that your whole street can hear.
Best Zwift setup on a budget
Dumb trainer, power meter and a smartphone
The humble smartphone is 32,600 times more powerful than the Apollo moon-landing guidance computers. Let's make the most of that insane technological feat by using it to ride aimlessly on virtual bikes on the internet in order to increase our FTP.
Most smartphones today can run the Zwift app, and depending on the session at hand, can be balanced atop a towel draped over the handlebars, however, a QuadLock or one of these (opens in new tab) will keep it sturdily in place.
A dumb turbo trainer will not send any data to Zwift without a speed sensor or a power meter, so you'll either of those. For a more accurate Zwift setup, we recommend a power meter, and a Bluetooth enabled one will forego the cost of an ANT+ adaptor. Our guide to the best power meters will help you to choose the right one for you. Additionally, the dumb turbo trainer won't be controllable by Zwift, so you won't have the erg mode capabilities of a smart trainer. We recommend you choose a fluid turbo trainer that has a progressive resistance curve, (the harder you pedal, the greater the resistance), and you won't need to worry about manually adjusting the resistance via an often-plastic, hard-to-use 'remote'.
This is one of the more affordable solutions, assuming you already have a bike and a smartphone. The other benefit of using this method is the power meter can then be used to capture your data when riding outdoors.
If the value option is where your interest lies, you should read our guide to the cheapest Zwift setup, which explains the best way to get onto Zwift without breaking the bank.
Best Zwift setup for a mid-level budget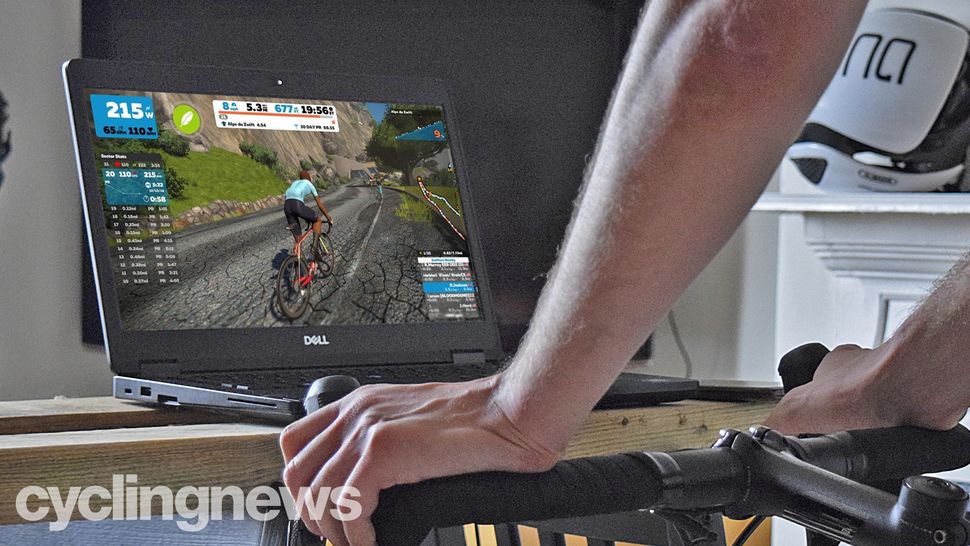 Smart trainer, laptop and a desk
A smart turbo trainer essentially foregoes the need for a power meter, as it can capture the power you are outputting. It won't enable you to train outdoors with power, but it will offer a more complete setup for indoor cycling on apps like Zwift and TrainerRoad.
Smart turbo trainers come in two forms, wheel-on and direct drive. Our guide to the best turbo trainers will explain all, but generally, a direct drive option will cost a little more, but be quieter and offer a more realistic road feel.
A laptop is a slightly better way to run Zwift as it will have a bigger screen than a smartphone. However, you'll need to double-check your laptop is Bluetooth enabled, otherwise you'll need a Bluetooth or ANT+ adaptor in order for your turbo trainer and laptop to be able to communicate.
An iPad or tablet can be the perfect compromise between smartphone and laptop, as it will have a larger screen than your phone, yet will most likely come Bluetooth-enabled, unlike some laptops.
Whether you choose a laptop or a tablet, you'll need somewhere to put it. We recommend a dedicated desk, such as the Kickr Desk from Wahoo.
Best Zwift setup for those with a big budget
Smart bike, wall-mounted TV and Apple TV
A smart bike, such as the Atom from Wattbike, is a dedicated indoor bike that does everything a smart turbo trainer does, but better. Usually belt-driven, a smart bike is generally quieter than a bike affixed to a turbo trainer, and usually feature easily adjustable touchpoints like saddle height and handlebar height.
Smart bikes won't fold away to be hidden in the cupboard under the stairs, and they aren't a cheap solution, but they are a worthy consideration to anyone with a dedicated pain cave.
Given they're likely to remain in situ, they're well paired with a TV on the wall, and anything from a fourth-gen Apple TV can run Zwift (although older models can still use screen mirroring).
You can also add to the setup by using indoor cycling clothing and shoes, which are generally designed to be more breathable. Our guide to the best indoor cycling shoes will help you choose.
As the Tech Editor here at Cyclingnews, Josh leads on content relating to all-things tech, including bikes, kit and components in order to cover product launches and curate our world-class buying guides, reviews and deals. Alongside this, his love for WorldTour racing and eagle eyes mean he's often breaking tech stories from the pro peloton too.
On the bike, 30-year-old Josh has been riding and racing since his early teens. He started out racing cross country when 26-inch wheels and triple chainsets were still mainstream, but he found favour in road racing in his early 20s and has never looked back. He's always training for the next big event and is keen to get his hands on the newest tech to help. He enjoys a good long ride on road or gravel, but he's most alive when he's elbow-to-elbow in a local criterium.
The latest race content, interviews, features, reviews and expert buying guides, direct to your inbox!
Thank you for signing up to The Pick. You will receive a verification email shortly.
There was a problem. Please refresh the page and try again.