Best indoor cycling shoes to keep your feet cool during indoor efforts
The best indoor cycling shoes offer increased comfort and breathability for maximum indoor cycling performance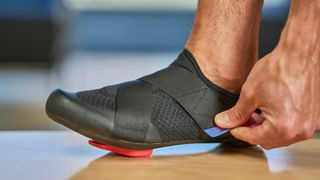 (Image credit: Shimano)
The best indoor cycling shoes can enhance any indoor riding experience, though they may not spring to mind immediately when considering your kit list. In the Northern Hemisphere where winter is about to take its grip, the dry, warm convenient prospect of indoor cycling remains especially inviting.
There are various forms of indoor cycling, ranging from opting for one of the best turbo trainers or exercise bikes to investigating the cheapest Zwift setups. One thing that every cyclist will need to use any of these things is a pair of cycling shoes.
Indoor cycling presents a whole new set of challenges this is also true for your feet. The best cycling shoes will cope with the task admirably, of course, but indoor-specific cycling shoes are designed with a few added features that allow them to perform really well indoors.
As you get into the peak of any indoor workout, it's going to get warm and it's going to get sweaty, an additional set of indoor-specific shoes should help keep your feet cooler and more comfortable, in addition to this using the second set of shoes indoors over the winter time may also keep your best road shoes in tip-top condition ready for the spring and summer.
We test countless products in detail here at Cyclingngews and we all use indoor trainers regularly. We've put in the hours wearing a range of indoor cycling shoes to see what works best, so have a look at our pick of the best indoor cycling shoes and if you still need some help head to our how-to choose advice at the bottom of the page.
Best indoor cycling shoes available today
Why you can trust Cyclingnews Our expert reviewers spend hours testing and comparing products and services so you can choose the best for you. Find out more about how we test.
Best money-no-object indoor cycling shoes
Reasons to buy
+
Immediately comfortable
+
Highly breathable
+
Lightweight at 281g (EU46)
+
Boa S3 dials are still the best around
Reasons to avoid
-
Tongue 'falls' outwards
-
Premium price
They may be a significant investment, but if you're taking your indoor training seriously, then a pair of S-Works Vent shoes are an excellent choice. Designed for hot summer riding, they're abundant with ventilation points (hence the name) and offer extremely high breathability. What's more, they're incredibly lightweight and immediately comfortable, so there's no breaking-in period to worry about, and you'll barely know you're wearing them.
The carbon outsole has a stiffness index rating of 13/15, putting them only behind Specialized's Ares and S-Works 7 shoes. It also features four cut-outs for ventilation, and following our Specialized S-Works Vent review last year, we came to the (albeit anecdotal) conclusion that they're most likely the best-ventilated shoes on the market. What's more, despite the slight difference in stiffness index, we found them to be plenty stiff to rival the S-Works 7 shoes in terms of power transfer.
Best indoor cycling shoes for spin class goers and Peloton users
Specifications
Cleat mount:
2-bolt, 3-bolt
Reasons to buy
+
Comfort
+
Compatible with 2- and 3-bolt cleat systems
+
Intriguing design
+
Ventilation and fit
+
Decent pricing considering brand cachet
Reasons to avoid
-
Sole lacks stiffness
-
Fabric upper prone to folding
Nike, known around the world for its sports footwear, saw an opportunity with the rising popularity of indoor cycling and responded with the SuperRep Cycle, an indoor-specific cycling shoe. This has now been superceded by the SuperRep cycle 2 model which improves breathability.
While it appears Nike has targeted these shoes more towards spinning and Peloton class aficionados rather than the turbo trainer branch of indoor cycling, the shoes will accept two and three-bolt cleats and use what Nike calls "translucid mesh on the upper, coupled with a perforated sock liner and vents through the bottom of the plate to enable better airflow around the toes". There is also a triple heel stop for grip and to aid in walking off the bike which visually seems to take some style cues from Nike's football or soccer offerings.
The trump card of the shoes, however, hinges more on its superlative levels of ventilation rather than outright performance. The shoes naturally feature a highly breathable, fabric mesh upper complete with venting channels in the sole. As far as performance goes there's no carbon-fibre outsole - instead, the SuperRep 2 uses a heat-moulded nylon plastic half-sole around the forefoot area to take care of power transfer. Torsional stiffness - as expected - is lacking somewhat and the heel area flexes from side to side when manipulated by hand.
We wouldn't necessarily recommend them for serious indoor racing, but for recreational indoor cyclists who want something comfortable and airy that will make the indoor cycling experience a bit more bearable, then Nike's SuperRep 2 Cycle shoes are a promising option.
Read more about our experience with them in our Nike's SuperRep Cycle indoor cycling shoes review.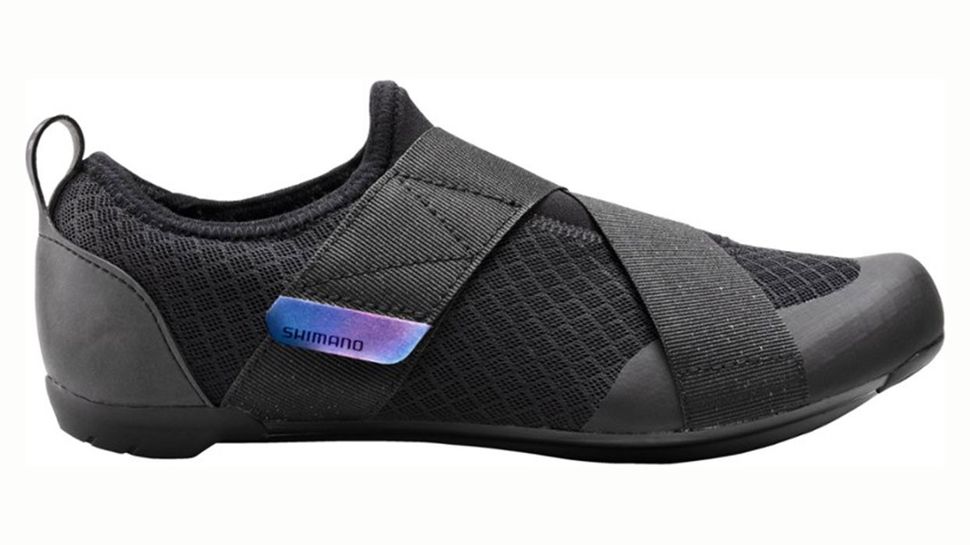 Shimano IC1 cycling shoes
Best budget indoor cycling shoes
Specifications
Cleat mount:
2-bolt / 3-bolt
Reasons to buy
+
Full mesh upper
+
Lightweight reinforced nylon sole
+
Compatible with 2-bolt and 3-bolt
+
Good value for money
There aren't all that many shoes out there designed specifically for riding inside. However, Shimano's IC1 model is a notable exception. Shimano says it created the IC (indoor cycling) shoes to provide maximum ventilation, and just about the entire shoe is made from mesh. The minimal upper is closed using a cross-over Velcro strap, keeping closure simple and easy. The shoes are available in one colour which is black, though it does feature a snazzy metallic purple tab on the velcro strap for a flash of colour.
The sole is constructed from nylon and reinforced by lightweight glass fibre, offering decent power transfer to help you get the most out of your workout. The sole features five bolt entry points, making the IC1 shoes compatible with both two-bolt SPD cleats and three-bolt SPD-SLs. Making them compatible with a wide variety of pedal systems. Shimano makes them in sizes from 36-50, and they maintain the brand's hallmark features like the Dynalast shape.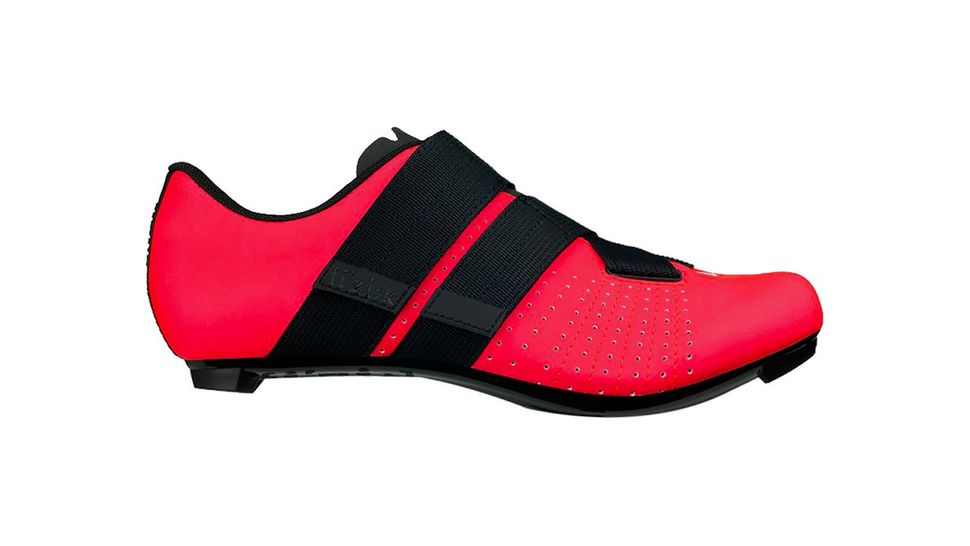 Fizik Tempo Powerstrap R5
Best indoor cycling shoe for fit and adjustment
Reasons to buy
+
Velcro makes for comfortable support and foot retention
Reasons to avoid
-
Micro adjustment isn't all that straightforward
While these aren't necessarily indoor-specific, the two fat and stretchy velcro retention straps make the Fizik Tempo Powerstrap R5 one of the most comfortable you can buy. Fizik calls this closure technology the Powerstrap, and it allows the shoe to be tightened evenly around your foot, using dual straps tailor-fit around the instep and midfoot.
The outsole is made from carbon-reinforced nylon and, inside the heel cup, silicone dots keep your foot from slipping without the need for dramatic shaping, and so eliminating any kind of pinching. They are also available in several colour options.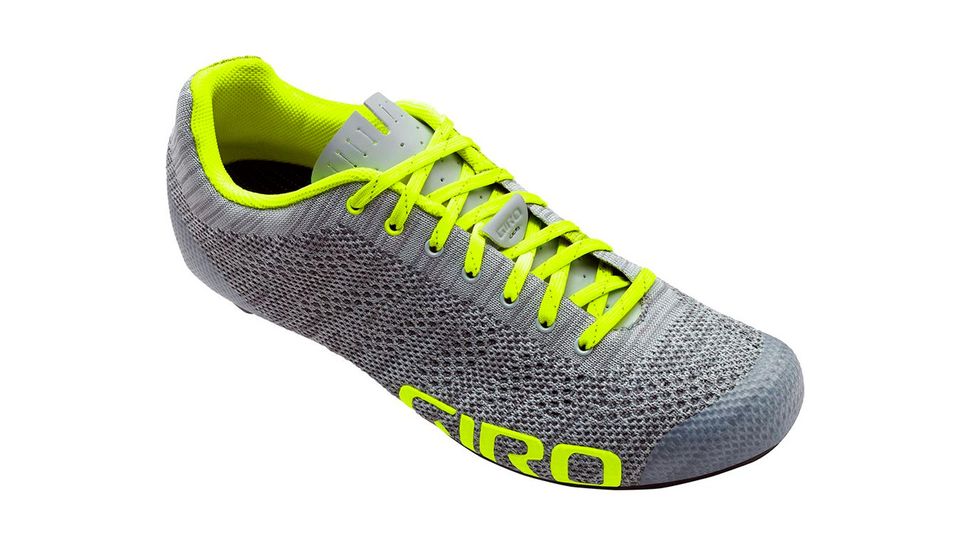 Giro Empire E70 Knit shoes
Best indoor cycling shoes for hot feet
Reasons to buy
+
Knit upper's breathability and comfort
+
EC70 carbon sole
Reasons to avoid
-
Upper end of what you may want to pay for a shoe you plan to use inside
When we talk about breathability, the latest crop of knit shoes outperforms the rest when it comes to airflow and cooling – ideal considering the heat generated by indoor riding. While the Empire E70 Knit shoes are probably on the upper end of how much you may want to spend on a pair of dedicated indoor shoes, the laced closure combines with the supple Xnetic knit fabric conforms to your foot like a warm hug – or maybe a cold hug. To prevent the shoes from being about as supportive as an old sock, Giro added an internal TPU skeleton.
The sole is Giro's second-tier EC70 carbon sole, which is plenty stiff enough to stand up to even the most vicious sprint intervals but still maintains a degree of comfort for those long-haul rides. Giro also makes them in men's and women's versions and in four colourways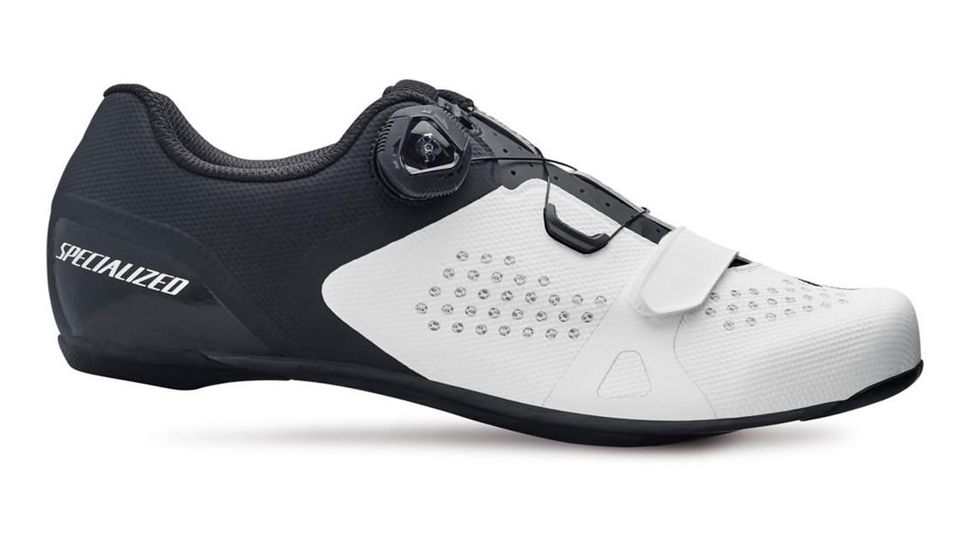 Specialized Torch 2.0
The best value indoor cycling shoes for e-racing
Reasons to buy
+
Boa closure
+
Mesh construction
+
Bright colours
Reasons to avoid
-
Body Geometry fit doesn't suit everyone
Specialized's top-end race shoes are some of the most sought-after kicks on the market for their ultra-stiff FACT carbon sole, clever use of non-stretch materials and the Body Geometry design ethos. Luckily for us, lower-end shoes have greatly benefited from trickle-down tech, and the Torch 2.0 is one such benefactor.
The entire shoe is made from mesh, with TPU panels providing structure while a single IP1 Boa dial and velcro strap under the toe box make for a perfect fit. Specialized has opted for a carbon sole which rates 7.0 on its own stiffness scale with a three-bolt cleat mounting plate. The sole also uses the Body Geometry construction, and so do the footbeds.
How to choose the best indoor cycling shoes for you
It may not seem like rocket science, but if you already recognise the need for indoor-specific shoes, then it only stands to reason that there are certain factors you need to consider when making your choice.
If you're doing a lot of e-racing you probably still want a performance-orientated shoe that still has a reasonably stiff sole to maintain efficient power transfer. If you are riding indoors, especially without a fan where it's pretty warm, a well-ventilated pair of indoor-specific shoes might make a world of difference to your on-bike comfort.
Besides ventilation, the other considerations are comfort, cleat compatibility, and affordability, but here's a more detailed breakdown of all the things you should take into consideration while making your choice.
Which type of cleat do I need?
For the most part, road shoes use a three-bolt mounting system, and mountain bike shoes will use a two-bolt setup. If you're looking to get shoes for a spin class or something like a Peloton bike, all spin bikes have pedals that work with two-hole SPD cleats, while some will also have a Look Delta pedal on the underside.
Your road bike will already have pedals fitted to the cranks, but if you're putting together a dedicated indoor setup, it might be worth looking at a pair of MTB shoes. With lugs designed for scampering up steep inclines, and over rocks and roots, MTB shoes have considerably more traction than road shoes; something you're likely to appreciate if you've ever tried to run to the bathroom mid-workout and hit the tiles with a bit too much speed.
However, if you're not setting up from scratch, you'll simply need to ensure your shoes can accept the cleats that are compatible with your pedals. If you're unsure, go for shoes that accept both styles, like the Nike Super Rep.
Which sole material is best?
It's well established that carbon-soled shoes are stiffer and lighter than their nylon or carbon-reinforced cousins. However, when you're spinning on the trainer, weight is hardly a consideration, but comfort should be.
The vast majority of us can't flex the board-stiff carbon plate on a top-end race shoe, and shoes that are too stiff can cause undue stress on knees and ankles – especially when the bike is essentially bolted to the floor as is the case on most turbo trainers. A small degree of flex vastly improves comfort and helps alleviate overuse injuries without sacrificing much, if any, power transfer or efficiency.
Nylon soles on offer today are plenty rigid enough to make for efficient power transfer, but, with a bit more flex than their carbon compatriots, they can offer improved comfort and don't leave quite as big a dent in your wallet. During long indoor sessions, you're not moving around on the bike the way you do riding outside, and so some areas that otherwise wouldn't bother you can get a bit irritated – which is something less-rigid shoes can sometimes help with.
For the more performance-orientated cyclist or riders who are regularly racing on Zwift, a carbon sole may be preferable to help transfer every last watt. If you tend to be completing a hard workout every time you swing a leg over a bike indoors, a stiffer performance shoe may be the correct option.
How do I stop my feet from overheating when cycling indoors?
Riding inside is a sweaty proposition at the best of times, and the airflow that keeps your feet cool as you spin down the road is, of course, gone. A shoe that relies on pin-prick perforations, therefore, is going to become a sauna.
To keep your little piggies from getting really hot, look for shoes that have lots of mesh and an open design, and then use a good strong fan to keep your body cool. Thinner socks will obviously also help too. The less heat your body needs to expel, the less heat it will send to your extremities.
The latest race content, interviews, features, reviews and expert buying guides, direct to your inbox!
Mildred joined as Reviews Writer for Cyclingnews and BikePerfect in December 2020. She loves all forms of cycling from long-distance audax to daily errand-running by bike, and does almost everything on two wheels, including moving house, and started out her cycling career working in a bike shop. For the past five years she's volunteered at The Bristol Bike Project as a mechanic and session coordinator, and now sits on its board of directors.
Since then she's gone on to write for a multitude of cycling publications, including Bikeradar, Cycling Plus, Singletrack, Red Bull, Cycling UK and Total Women's Cycling. She's dedicated to providing more coverage of women's specific cycling tech, elevating under-represented voices in the sport, and making cycling more accessible overall.
Height: 156cm (5'2")
Weight: 75kg
Rides: Stayer Groadinger UG, Triban RC520 Women's Disc, Genesis Flyer, Marin Larkspur, Cotic BFe 26, Clandestine custom bike
The latest race content, interviews, features, reviews and expert buying guides, direct to your inbox!
Thank you for signing up to The Pick. You will receive a verification email shortly.
There was a problem. Please refresh the page and try again.