Best road bike tyres 2023 - Speed and grip combine to provide the best ride possible
The best road bike tyres should be fast, light, supple and resilient. Your chosen tyres can make or break your ride, so here's our pick of the best.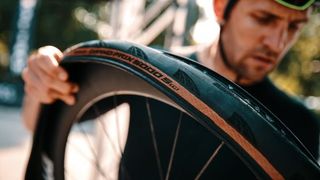 (Image credit: Future)
Nothing has quite the same transformative power as upgrading to a set of the best road bike tyres. They can completely transform the way your bike feels, from a noticeable decrease in rolling resistance making you feel faster, to better grip giving you more confidence in the bends. More supple casings too can have the effect of making your bike more comfortable as they are better able to deform over the small imperfections in the road surface.
As with any high-performance cycling tech, there has been a trickle-down effect from the professional ranks. With more and more teams switching away from the old-school world of tubular tyres and swapping to tubeless more and more of the best road bike tyres are tubeless compatible. Not all, however, and we do have a guide to the best tubeless road tyres if you're only interested in those compatible with sealant.
Here you can find the cream of the crop to cover you from anything from general thrashing about to crazy light tubulars for your hill climb machine.
The Cyclingnews team have years of combined experience across the whole spectrum of cycling disciplines. We have put all of the tyres in this guide to the test in order to choose the best tyres for 2023. Best doesn't necessarily mean fastest for every rider and we have included a range of options.
The best road bike tyres you can buy today
You can trust Cyclingnews Our experts spend countless hours testing cycling tech and will always share honest, unbiased advice to help you choose. Find out more about how we test.
All season speed, but at the cost of tubeless compatibility
Specifications
Protection:
Aramid fibre belt, breaker
Reasons to buy
+
All-weather grip
+
Fast-rolling
+
Decent weight
Reasons to avoid
-
No tubeless compatibility
The Pirelli road tyre lineup is a little difficult to navigate at times. The P Zero line is its race family of tyres, but this includes the 4S model here, a TT model, a non-4S 'Race' in both tubeless and non-tubeless varieties, and superlight 'SL' varieties in tubular and tubeless.
The P Zero Race 4S occupies a space offering race-like performance, but with improvements in grip in the wet and durability over the outgoing 'Race,' that likely make it a better bet for the consumer than the older, non-4S versions. Unfortunately for some the Race 4S isn't tubeless compatible, but that isn't necessarily the end of the world.
We reviewed the P Zero Race and found it to be fast, and pretty capable in the wet too. While they aren't the same tyre it should give you a pretty good idea of how the 4S performs.
A fantastic combination of speed and cornering grip
Reasons to buy
+
Blisteringly fast
+
User-friendly
+
High volume
+
Low weight
Reasons to avoid
-
Not as cushy as some other tyres
While the tread has essentially remained unchanged from the outgoing version, the S-Works Turbo Rapidair, Specialized has updated the rubber compounds used. The central belt, utilising new 'T2' rubber is faster in a straight line, offering up a full six-watt saving, keeping the T5 on the shoulders for better grip.
There are also improvements in puncture protection (by 8%), and they're compatible with hookless rims too. For out-and-out speed, you're probably going to want to look to the S-Works Turbo Cotton, but we suggest you save those for race days and opt for these for day-to-day riding.
The most common choice for pros
Reasons to buy
+
Performance
+
Low Weight
+
Brilliant Grip
Reasons to avoid
-
High Price
-
Can be hard to fit
Upon the release of the GP5000, the successor to the much-loved GP4000, there were still a few things lacking. Hookless and tubeless compatibility were the main things, but these have been addressed with the launch of the Continental GP5000 S TR. It's essentially the same tyre as the first iteration of the.
Recently, too, Continental has launched two new versions of the GP5000, a TT model aimed at all-out speed, and an AS (all-season) model with better grip and durability. Pick your poison and you're unlikely to come away disappointed. Just be prepared to fork out; none of them are cheap!
Have a look at our in-depth review of the Continental Grand Prix 5000 S TR
A fast tyre even at lower pressures
Reasons to buy
+
Fast-rolling
+
Low weight
+
Grippy ride
Reasons to avoid
-
Higher retail price
-
Not as much puncture protection - sealant helps
In our experience, even at the minimum tyre pressure of 70psi, the Pro One delivers great rolling speed, feedback, and pliancy levels. Schwalbe claims the Pro One tyre is 25 per cent lighter than its predecessor — it certainly feels this way, even with sealant mixed into the equation.
In terms of puncture protection, these tyres mightn't be the sturdiest out there, but when run tubeless any holes caused by thorns, glass, and flint are quickly sorted by latex sealant. So bar the premium sticker price, the Pro One is hard to trump.
We have reviewed the Schwalbe Pro One in more detail.
5. Vittoria Corsa Graphene 2.0
Pro level cotton tyre casing aids comfort and grip
Specifications
Protection:
Corespun casing, graphene
Format:
Clincher, tubular
Reasons to buy
+
High Performance
+
Lovely aesthetics
+
Strong Grip
Reasons to avoid
-
High retail Price
-
Tan side walls may get dirty
-
Less durable than some other tyres here
The Vittoria Corsa falls under the company's 'Performance Race' range of tyres and is available in clincher and tubular guises. Using an updated four-layer Graphene 2.0 compound, Vittoria claims to have improved rolling resistance, grip, durability, braking performance and puncture protection considerably over previous models.
The Corsa Graphene is part of a three-tier range, which also includes the Corsa Speed and Corsa Control. The Speed has continually been a high performer in rolling resistance tests and is the go-to model for time triallists looking for maximum performance. The Control is a durable model designed for fast winter riding. The Corsa sits in the middle as a balance between the two. All of these are available in a choice of tubed or tubeless construction.
We think the Corsa Graphene is a real contender for the best road bike tyre for all-around use, thanks to superb puncture protection, easy speed and a supple ride feel.
6. Specialized Turbo Cotton
The best road bike tyres when you want blend of straight-line speed and cornering grip
Specifications
Width:
24, 26mm / 28mm (Hell of the North)
Reasons to buy
+
Fast-rolling
+
Low weight
+
Unparalleled grip
The Turbo Cotton is an out-and-out race tyre designed for maximum grip and even more speed. It was launched as far back as 2016 and immediately gained plaudits among criterium racers on tight, technical criteriums due to its unrelenting grip which simply invites you to push the boundaries to the limit. In our experience, they are the best tyre for cornering traction, but we have seen the edges of the rubber peel away from the cotton casing, so keep an eye on yours if you ride on the ragged edge.
That's not all though, the Turbo Cotton is still the tyre that Specialized will spec on any of its range-topping race bikes due to its outright speed. It might have been around for a number of years, but the only thing Specialized has done to keep it current is introduce a wider 28mm version, as well as a limited run of Hell Of The North edition, which adds a little more grip.
7. Challenge Strada
The best road bike tyre for rough roads
Specifications
Format:
Clincher, tubular
Reasons to buy
+
Good Compliance
+
Good all-round performance
Soft in feel but hardy in nature, the Challenge Strada Pro is available in both clincher and tubular format. They have an elegant yet retro look about them thanks to the use of tan sidewalls and bold graphics.
At 240g, they're on the lighter end of the weight scale but still manage to provide a compliant and controlled ride quality, something that's noticeable on bumpier terrain. Combined with an all-over file tread these are probably the best of the cotton bunch if you regularly encounter less-than-ideal road surfaces.
While these were previously only available in 25mm widths, things have moved on in the pro ranks and as such, you can now get them in 28mm and 30mm versions too.
8. Vittoria Rubino Pro Graphene 2.0
The best road bike tyre for training
Specifications
Protection:
Breaker, graphene
Format:
Clincher, tubular
Weight:
250g (700x25, Rubino Pro)
Reasons to buy
+
Weight
+
Performance
+
Variety
Reasons to avoid
-
Prone to puncturing despite protection measures
In cycling, 'Best' is very often conflated with 'Fastest'. For some of you, the best road bike tyre will have more of a balance of grip, durability, and value. Enter the Vittoria Rubino Pro Graphene 2.0. It's not a race tyre, as the others on this list are, but a high-performance general-purpose offering.
With more textured shoulders, graphene in the rubber to improve durability, and just generally a bit more long-lived than the others in this list the Rubino Pros offer great performance for those not wanting to fork out the really big money for the top-end tyres. They won't hold you back, but you also won't get that very top-end speed or performance either.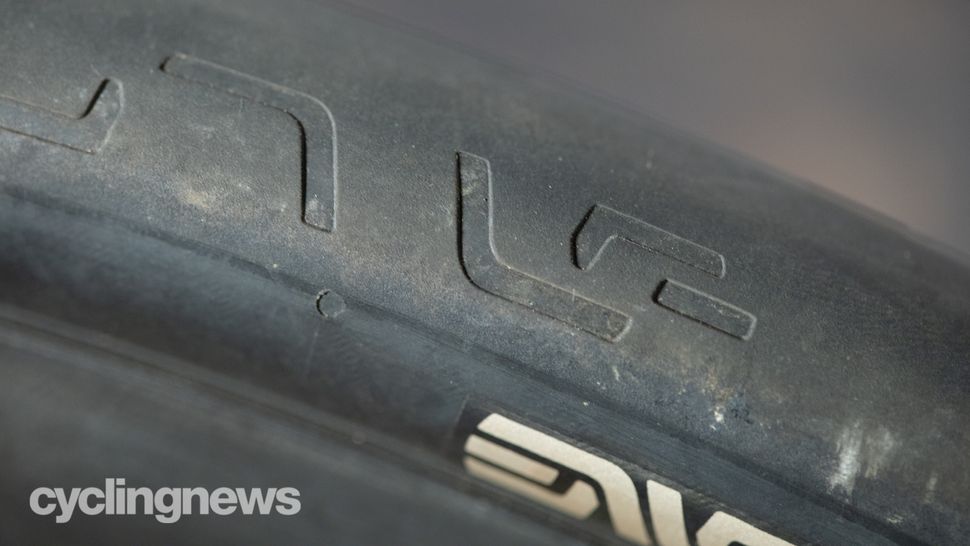 The best road bike tyre when you want every aero advantage
Specifications
Protection:
Vectran Protection Barrier
Width:
25c, 27c, 29c, 31c
Reasons to buy
+
Aero optimised
+
Weight
+
Hookless compatible
+
Wide options available
There are marginal gains then there is making sure even your tyres are aero-optimised. Enve claims that the SES tyre will add roughly a one-watt aero advantage over competing tyres. The concept is truly for those looking for every bit of optimization possible but that's not the only advantage. In the same way, it makes sense to grab one of the best aero helmets because these are great helmets that happen to be aero, the Enve SES tyres are great tyres first.
Enve understands that a fast tyre has to be an all-around tyre and it's that useability that the design team narrowed in on. The tyres are light for their size but not the lightest out there. Instead, they've included a Vectran Protection Barrier because no tire is fast when it's flat. There are also wide sizes available that allow you to tailor the ride feel in a way that makes sense to you. These tyres are fast but not to the point that they become a race day-only option. For more info, you can pore over our full Enve SES Road Tyre review.
10. Veloflex Corsa Race TLR
Hyperlight, crazy supple tyres
Specifications
Protection:
SPS sidewall protection, Kevlar
Reasons to buy
+
Very low weight
+
Aesthetics
+
Now carbon-rim compatible
Veloflex tubulars have always been a staple of the lightest, most purposeful climbing bikes. Now, though, you can get them in clincher format and they are tubeless-ready. The 350 threads per inch casing is extraordinarily supple, and these are also perhaps some of the best-looking tyres out there (if aesthetics are important for you), but with low weight and supple cotton comes a corresponding drop in durability. Don't be daft, don't slap these on for the winter.
How to choose the best road bike tyres
What type of bike tyres are best for the road?
Generally speaking, the best road bike tyres are either tubular (glued onto the rim), or clincher (hooked onto the rim sidewalls). In days gone by, tubulars (or 'tubs') were the reserve of pros, while everyone else used clinchers and inner tubes.
Now, however, the pros are primarily using clinchers setup tubeless, where a big glug of latex sealant replaces the inner tube and aims to self-seal any small holes in the tyre that would otherwise flat a tub or an inner tube.
Whether you go tubeless or not is a key decision, but the majority of the best road bike tyres nowadays are tubeless compatible so you have the option to change your mind down the line.
Road bike tyres are, generally, mostly slick in terms of the tread. There's a common misconception that the textured shoulders are to provide grip directly, but it's more so that the rubber can move more and heat up, making it tackier and providing more grip as a secondary consequence. The slicker the tyre the faster it is, generally speaking, so look for a slick centre at least if you want a fast setup. If grip is more important look to file treads like the Challenge Strada.
Does TPI count matter?
TPI count refers to 'threads per inch' and you may often find it talking about where tyres are concerned or in tyres' specs. TPI refers to how many threads are in the tyre's casing per inch. Generally as mentioned in our TPI guide a higher TPI count will result in a lighter casing as it can be made thinner. It should also in theory result in higher quality, more comfortable ride feel.
High TPI is most of the time seen as a plus point but in reality, it isn't essential. Use it to inform your buying decision but it isn't critical in a tyre.
Should I go tubeless on my road bike?
Tubeless is the norm now for the best gravel bikes and the best gravel tyres. The jury is still out for widths under around 30mm, however. The narrower the tyre the higher the pressure it tends to require, and so the harder the sealant has to work to plug any holes. Road tubeless setups are more prone to spraying goo everywhere, but the benefits are that you can run lower pressures for more grip, and avoid the risks of pinch flats.
If you're unsure there really isn't anything wrong with running inner tubes. If you want a very cheap upgrade though you can swap to latex inner tubes, which could save you around ten watts.
How often do you change your tyres?
Many tyres have some kind of wear indicator. These usually take the form of a pair of dimples that disappear when the tyre is worn beyond its safe limit. For those that don't have this just keep an eye on things; if you can see canvas it's too late.
If the rubber starts to perish, or the tread begins to peel away from the casing in the case of cotton tyres it's probably approaching the end, or if it's worn particularly flat. If you find yourself getting regular punctures it could also be an indication that a new set is required, as sharps have less rubber to penetrate before impacting the air reservoir within.
Should I ride 25mm or 28mm?
As with tubeless vs tubes there is also a heated debate about which tyres are faster. If you value comfort then go wider, and likewise cornering grip too; bigger tyres naturally have a larger footprint, but can also be run at lower pressures which further improves things in this regard.
On the flip side, they are heavier and less aerodynamic. It's not a cheap experiment but if you're curious then it's worth trying a larger size. Not long ago we all used 19mm tyres pumped up to 15,000psi, and now you see pros using tyres as wide as 32mm in races, so 28mm tyres likely won't slow you down a great deal if that's your main concern.
What tyres to Tour de France riders use?
This is naturally dependent on sponsor commitments, but Continental seems to be the drug of choice for most teams, using one of the three GP5000 models (TT, S, or AS). Vittoria makes a regular appearance too, but primarily with the currently unavailable new Corsa Pro.