Best power meters: Precise, accurate, and reliable data
By Aaron Borrill Contributions from Will Jones published
The best power meters provide repeatable data you can trust, week in week out, in a compact package sealed from the elements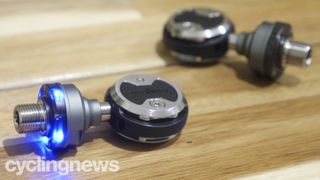 (Image credit: Josh Croxton)
While many of the best road bikes nowadays come with power meters pre-installed, for those of us looking to take our training to the next level, access Zwift with a power meter and a dumb trainer, or just replace an older model this guide will take you through the pros and cons of the best aftermarket power meters available today.
If you're unsure of how to train with a power meter, we've got a guide for that to get you started if you're new to the world of watts, along with one on understanding FTP, just to make sure all the bases are covered in your relentless quest for performance.
At the heart of every power meter, regardless of the system, are a series of strain gauges. These measure extremely small deformations in materials (crank arm, spider, hub, pedal spindle - wherever the power meter happens to be), and through some calibration and internal maths, the power meter calculates how much work you're doing in watts.
There's more to it than that, with variations from system to system, but that's enough to get you going.
It's not just power though, the best power meters accurately keep track of your cadence and kilojoule output too, so you can hone in on the minutiae of your training in never before seen details. Analysis of the pedal stroke itself to assess dead spots is also possible, so there's no excuse for not having perfect souplesse if you have any of these mounted on your Sunday best.
As with most tech, advances have made what was previously an unaffordable luxury to most riders a much more accessible training aid for many. Some are still stratospheric in terms of cost (here's looking at you, Inforcrank 3D Ti), but on the whole, they're much cheaper than they used to be. As with any cycling purchase, it'll come down to the usual suspects: Cost, compatibility, accuracy, and weight.
If this is all a little daunting, worry not; we've put together a guide on how to choose a power meter for you at the bottom of the page to take you through any burning questions you might have.
Best Power Meters
The complete power meter pedal system
Specifications
Battery type:
LR44/SR44 (x4) or CR1/3N (x2)
Reasons to buy
+
Upgradeable
+
Durable
+
Replaceable battery
Reasons to avoid
-
More expensive than the competition
The Garmin Rally pedals are a system of three pedal bodies with either single or dual power measurement. The range's naming structure is made up of two letters, RK, RS, or XC, followed by the number 100 or 200.
An RK box means you've got a road pedal with a Look Keo compatible cleat. An RS designation means a road pedal using an SPD-SL cleat. The last option is XC and that gets you a dual-sided, two-bolt, SPD-compatible pedal. Next to the letters, you will find either 100 or 200 meaning either single-sided power or double-sided power, respectively.
The big talking point here is the parts that make the Rally pedals work as a power meter live in the spindle. The pedal bodies are interchangeable with an upgrade kit. Whatever you start with is irrelevant other than as a place to start. With that in mind, look at the pedal bodies and you can see the aesthetic design follows the function and the bulk is in the spindle.
With a claimed accuracy of +/- 1 per cent, they're one of the most reliable power meter systems on the market.
Garmin Rally SPD and SPD SL pedal power meter review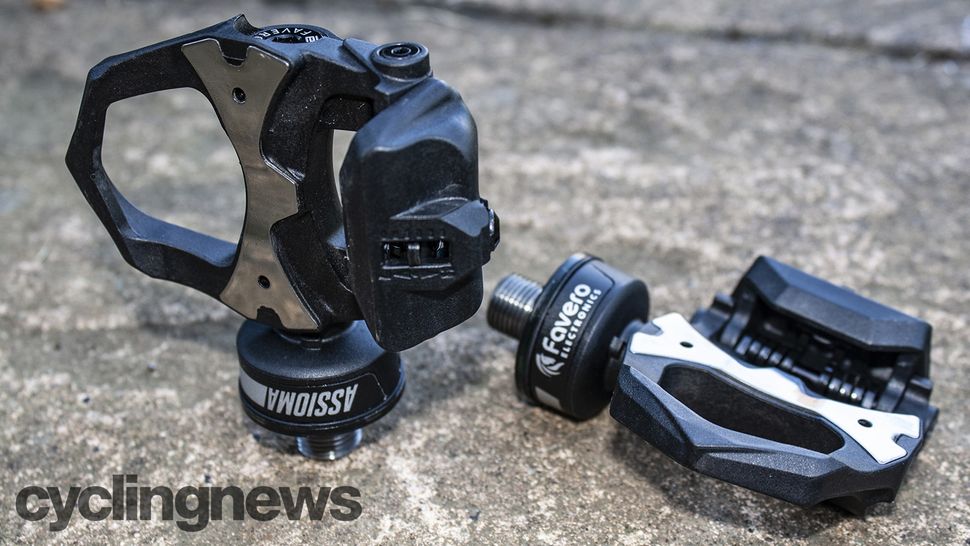 Accurate and affordable for multiple bike owners
Specifications
Battery type:
Rechargeable
Reasons to buy
+
Super lightweight
+
Great value price
Reasons to avoid
-
Not as well known as rivals
Favero Electronics may be a newcomer to the power-meter realm but the Italian manufacturer has taken the fight to PowerTap and Garmin by offering a lighter, cheaper and more accurate power pedal - the Assioma. In fact, they weigh just 148g per pedal, which is significantly less than the Garmin Vectors and PowerTap P2s (216g per pedal).
It's a tidy-looking package - all the sensors and strain gauges are located in a housing next to the pedal body, which measures directly at each axle. Not only does this neat little design cue ensure the Assiomas look like an ordinary pedal and not as chunky and bulky as their rivals, but it also keeps the electronics from getting damaged by falls or impacts, meaning it's easier to maintain down the line. They're also IP67 certified.
Unlike other power meters that harvest data based on the angular velocity of the crank arm through each rotation, the Assioma uses an instantaneous angular velocity (IAV) measuring technique thanks to an on-board gyroscopic sensor. According to Favero, the IAV way of harvesting data is class-leading, with accuracy to a maximum deviation of only one per cent.
Favero Assioma Duo full review
Power data finally comes to the Speedplay platform
Specifications
Battery type:
Rechargeable
Reasons to buy
+
Dual sided entry
+
Easily swapped
+
Setup is a breeze
Reasons to avoid
-
Clip-in feel not to everyone's taste
-
Not the most competitively priced
Wahoo has built a reputation for itself by offering users a very smooth experience when it comes to setting up and pairing their tech, and the Powrlink Zero pedals are no different in this regard.
While the cleats take a little more time to set up than the equivalents from Shimano and Look, it's certainly a good thing for all concerned to have those who use the Speedplay pedal system also offered a pedal-based power meter.
While not the cheapest, and maybe not ideal if you're heading off on gravel flavoured adventures, they do offer a great user experience and support along with accurate power data.
Wahoo Powrlink Zero first ride review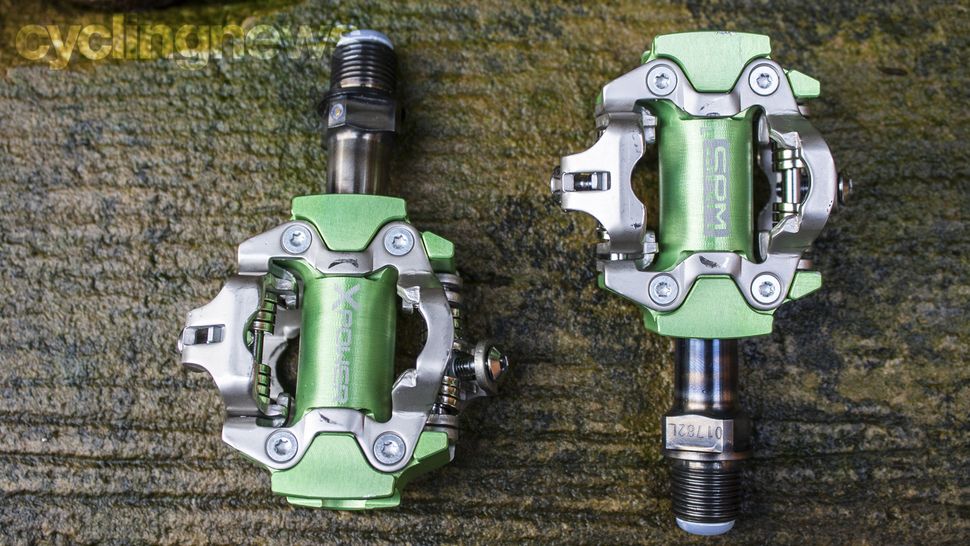 Proven reliability clad in a smartly designed, robust package
Specifications
Weight:
170g (340g per pair, actual)
Battery type:
Rechargeable (lithium-ion)
Reasons to buy
+
Pedigree product
+
Lightweight considering application
+
Set-and-forget installation
+
Power meter accuracy
+
Zwift compatibility
+
Smartphone app
+
Dual-sided power
These might not be road bike power meter pedals but they can double up for use on gravel and cyclo-cross bikes, so they're a worthy inclusion on this list. The SRM X-Power pedals represent a ground-up in-house development - the world's first off-road-specific power pedal offering if you will. As such SRM is looking to garner market share in what has become a highly competitive space with rivals such as Stages, Rotor, Power2Max and Quarq dominating the landscape.
The pedals use the tried-and-tested SPD design made popular by Shimano - but with an SRM twist. The colour spread - comprising anodised-lime-green, black or red - will also help those who obsess over colour matching bike equipment. Battery power comes in the form of a lithium-ion supply, with a run time of approximately 30 hours (standby power draw is 2-5 per cent per day). The pedals are charged by way of a single-pin magnetic connector located on the wrench flats - the LED battery charge indicators will flash green once fully charged.
The set-and-forget nature and ease of the installation are truly impressive, and the splash of colour provides a striking alternative to the bland offerings currently on the market.
For more details, check out our SRM X-Power pedals review.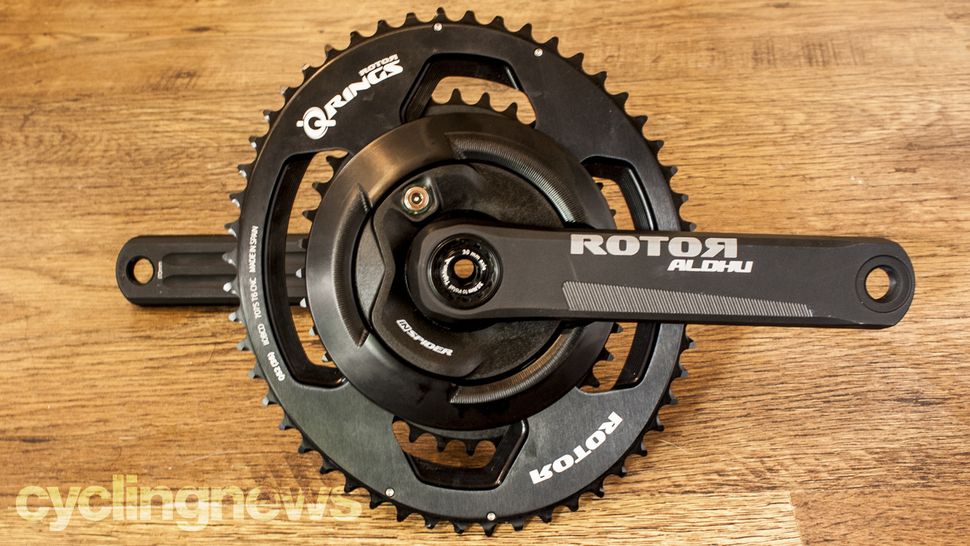 The modular design of Rotor's INspider power meter makes it a sensible investment for the serious cyclist
Specifications
Battery life:
250-300 hours
Battery type:
Rechargeable
Reasons to buy
+
Can be swapped between multiple bikes
+
Comparatively light at 148g
+
Accurate to 1-1.5%
+
Reliable data harvesting
+
Impressive battery life
Reasons to avoid
-
A little on the costly side
The Rotor INspider power meter offers multi-discipline compatibility, and can be seamlessly switched between bikes, granted they all use a Rotor OCP-splined (Optimum Chainring Position) crankset. In terms of compatibility the INspider will play nicely with all crank arm lengths (150-175mm), axle standards (24 and 30mm) and carbon crank arms, not to mention both 1x and 2x chainring configurations.
The INspider uses two paired sets of opposing radial strain gauges which independently measure power at the left and right leg. The upshot of a power meter of this nature is the way in which it harvests data. It can capture up to 200 data points per second, trumping the crank-based alternatives that measure power at one side - no multiplying by two here.
In terms of accuracy, Rotor says there's no real benchmark for comparisons but claims a maximum deviation of only 1-1.5 per cent.
For extra information, read our review of the Rotor INspider.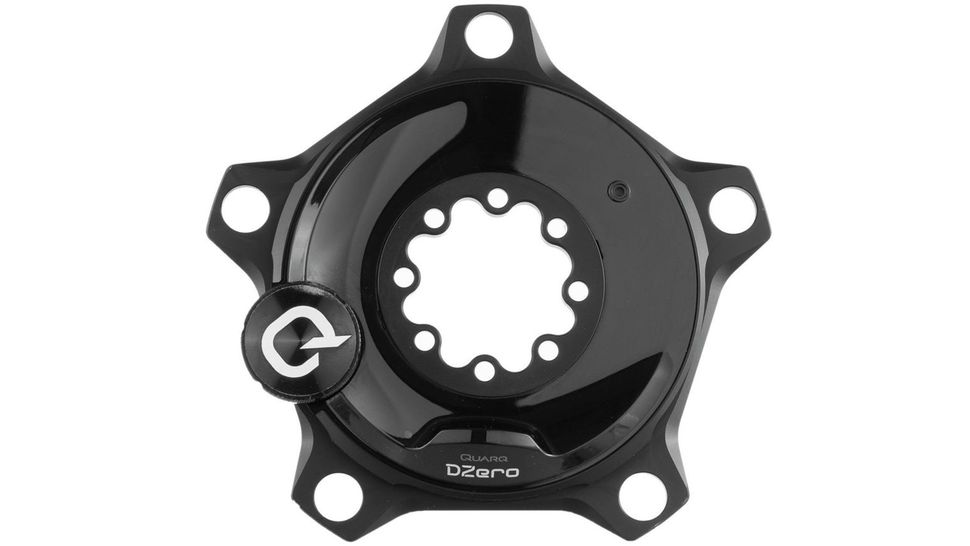 Quarq DZero
Aesthetically, and mechanically, one of the best units on the market
Specifications
Weight:
142g, 130BCD (spider only)
Reasons to buy
+
High accuracy
+
Great aesthetics
Reasons to avoid
-
Installation requires tools and know-how
-
High price
Quarq's latest spider-based masterpiece, the DZero, can be ordered as an individual spider or as a complete crankset in either aluminium or carbon. Not only are the strain gauges located within the spider but it also benefits from a built-in accelerometer to simplify function and boost accuracy — with a variance of only 1.5 per cent. The DZero power meter is compatible with all bottom bracket types and BCD configurations and there's even a version for Shimano-specific chainrings called DFour. The DZero's biggest selling point is its ability to measure power from both the left and right leg which helps improve pedal efficiency and power balance.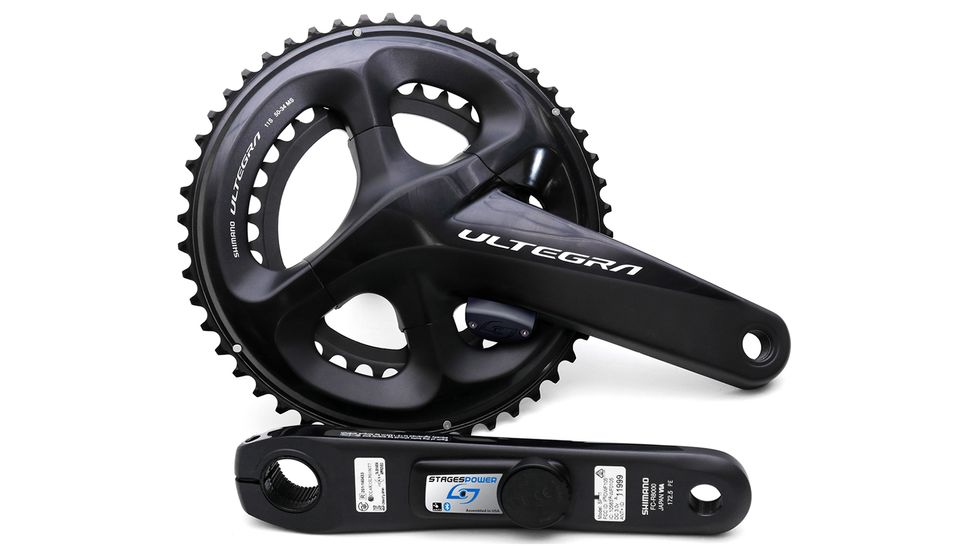 Stages Power LR Ultegra R8000
Big data for those with a Shimano groupset
Specifications
Type:
Crank, 165mm, 170mm, 172.5mm, 175mm
Reasons to buy
+
Lightweight
+
Improved radio signal
Reasons to avoid
-
Shimano-only for now (single-sided Stages power meters available for Campagnolo, SRAM, Cannondale and others)
Stages Cycling made a name for itself when it dropped the single-leg power meter concept at an amazingly affordable price just a few years ago. Known for continually pushing the boundaries in terms of weight and performance, the Colorado-based firm has taken things up a notch with the introduction of the Stages LR, a dual-sided power meter with Generation-Three internals, a boosted ANT+ and Bluetooth signal (six times stronger than before) and accuracy to a maximum deviation of only 1.5 per cent. Available in three Shimano-only options, Dura-Ace 9100, Ultegra R8000 and 105 R7000, it adds just 35g to the crankset. Even better, Stages introduced a restructuring of its product pricing in early 2020, to the benefit of global customers.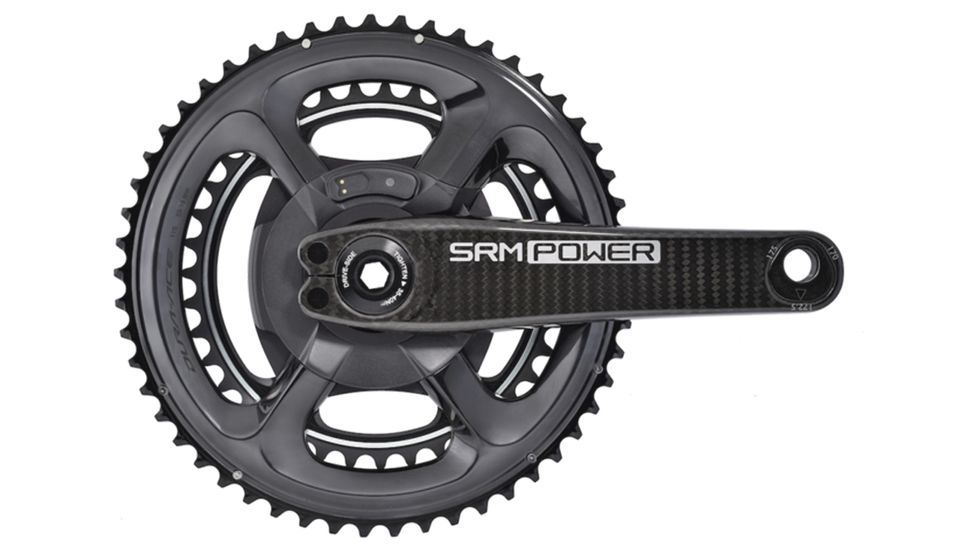 SRM Origin
The holy grail of power meters
Specifications
Battery life:
1400 hours (standard), 100 hours (rechargeable)
Battery type:
Rechargeable or Standard
Type:
Spider, 110BCD asymmetric
Reasons to buy
+
99% accuracy level
+
Rechargeable battery
+
3-year warranty
+
Rich lineage
Reasons to avoid
-
High price
-
Certain models come up heavy
SRM has always been considered the benchmark when it comes to power-meter accuracy - it revolutionised the industry and brought number-crunching to the pro peloton. After producing primarily spider-based power meters for the last three decades, SRM recently launched a more compatible three-piece power meter crank system called the Origin which can accommodate a host of frame/bottom bracket setups.
The SRM Origin power meter comprises crank arms, a spider (110 or 104BCD) and spindle (BB30 and 24mm), and is available in both carbon or aluminium, the latter of which has crank length options of 160-175mm. The carbon version was developed alongside French frame and pedal brand, Look, with a Trilobe pedal insert allowing for adjustable crank lengths of 170, 172.5, and 175mm. SRM claims reliable accuracy levels of 99 per cent.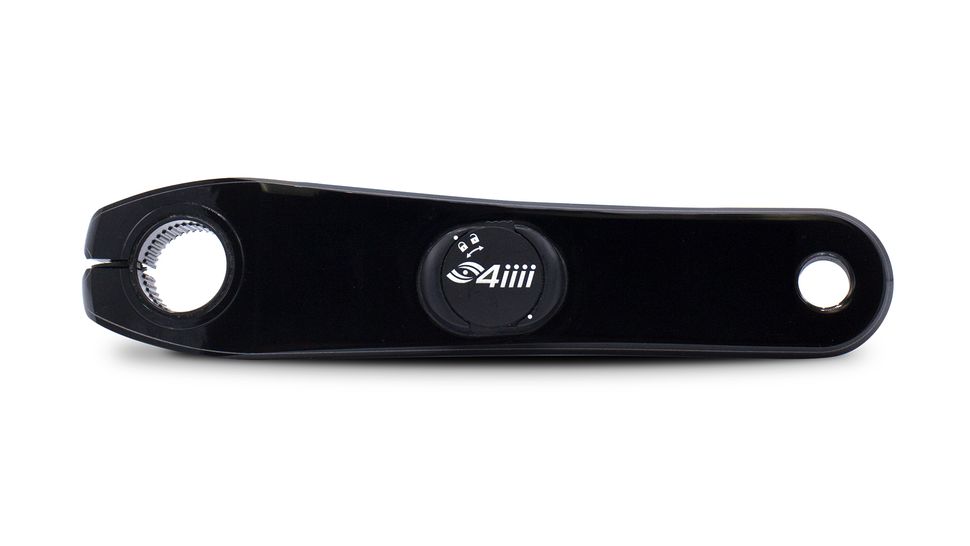 4iiii Precision
The budget-friendly winner
Specifications
Measurement:
Single-sided, dual-sided
Type:
Crank, 165mm, 170mm, 172.5mm, 175mm
Reasons to buy
+
99% accuracy
+
Affordable pricing
+
Light weight
+
Easy to install
Reasons to avoid
-
Clearance issues on certain frames
Weighing in at a scant 9g, the 4iiii Precision power meter represents the pinnacle of lightweight options on the market. Available as a crank-based left-side-only, or dual-sided unit the company claims it is 99 per cent accurate. The product portfolio comprises just three off-the-shelf options in the form of Shimano Dura-Ace, Ultegra and 105, but you can send your own crank directly to 4iiii Innovations to have a power pod retrofitted, something the company calls a 'Factory Install'. Prospective buyers should be aware of compatibility issues pertaining to crank clearance at the chain-stays; 4iiii Innovations recommends checking this before ordering.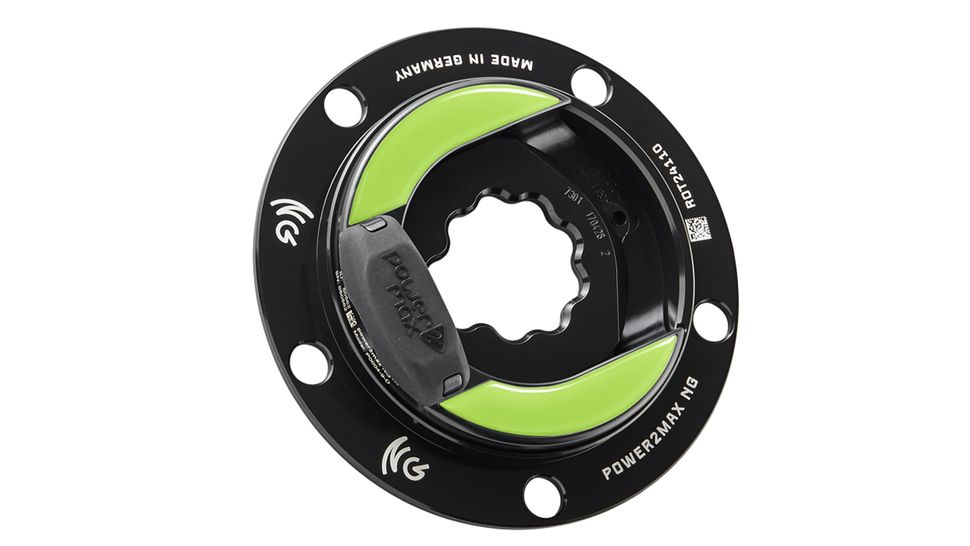 Power2Max NGeco
If you're looking for a durable and reliable spider-based power meter, look no further
Specifications
Weight:
172g 130BCD (spider only)
Reasons to buy
+
Great price
+
Long battery life
+
Very durable
Reasons to avoid
-
Isn't much of a looker
-
Quite heavy
Like Stages Cycling, Power2Max disrupted the industry by bringing power to the people at an affordable price. Owing to its spider-based anatomy, riders are able to choose from myriad crank options depending on budget, something that's enabled the German company to gain immense traction and market share in a highly competitive space. Power2Max claims its NGeco unit is a dual-sided power meter although it calculates power at the spider and apportions the left/right ratio based on crank position.
However, it does measure both pedal strokes independently, making it superior to those of the single-sided variety that collect data from the left side only.
How to choose the best power meter
How to choose the best power meter
Do I need a power meter
Your bike will work perfectly fine without a power meter, and some pros like Dan Martin opt to ride purely on feel even at the highest level of competition. However, for most of us interested in tracking and improving our performances a power meter is the best way to go. Heart rate is a good way to gauge effort, but your heart rate can also vary depending on other factors like general fatigue and caffeine intake.
Power on the other hand isn't affected by there things, it's more of an absolute measure of the effort you're putting out.
How do power meters work?
As we touched on in the into, the basis of any power meter is a series of strain gauges. These measure flex within the components in which they're housed, giving a torque reading. From an equation point of view, to Watts are a measure of work done over time, and so to satisfy the other half of the equation cadence is also measured.
Some complex algorithms take place to give you a final wattage reading on your cycling computer, taking into account things like ambient temperature. As such most power meters need calibration and zeroing on a regular basis; this is usually a simple process taken before each ride that you can do while your cycling computer finds some satellite reception.
What are the types of power meter?
Any part of the drivetrain that will deform could technically house strain gauges and therefore be used as a power meter. For ease of use they tend to focus in and around the crankset, be it a crank arm, pedal, or spider based system.
Each has its advantages and disadvantages in price and performance. Pedal-based systems give transferability between bikes and the option of two-sided measurements (to see if one leg is doing the lion's share of the work), but they can be relatively expensive.
Single-sided crank arm systems such as Stages offer power measurement at a more reasonable price point, but at the cost of two-sided data. They are often the lightest systems out there too, if excess grams bring you out in a cold sweat. Beware of clearance issues on older frames though.
Hub-based systems were common too for a time but could read lower due to efficiency losses in the drivetrain. They also required building into a custom wheelset, which was an obvious drawback, and so seem to have fallen by the wayside with newer systems taking their place.
Spider based systems offer neat integration and broad compatibility, once you get your head around bolt circle diameter (BCD). This is basically the diameter between your crank bolts if they sat on a circle. With this, it's usually a case of four- or five-arm systems. Manufacturers help by generally offering models for specific cranksets.
Crank arm power meters
Stages Cycling brought affordability and reliability to the market with its left-side crank concept in 2012. Weighing just 20 grams it redefined the segment with a catalogue comprising a range of crank arms in both aluminium and carbon fibre guise. Since then, 4iiii Precision has jumped on the power bandwagon with its off-the-shelf, left-side Shimano crank arms (Power pods for other models can be retrofitted as a 'factory installation'). Crank-based power meters are extremely light and affordable but be wary of frame clearance issues on older bikes.
If choosing a left-sided option, the only compatibility consideration you need is to ensure the crank will fit the spindle from the right side, and that the crank length matches the right.
If choosing a dual-sided option, you'll just need to ensure the crankset fits your bottom bracket standard.
Bottom bracket power meters
The bottom bracket power meter is not as popular as other designs as it is more difficult to install and isn't compatible with all bottom bracket systems. But the results don't lie: Rotor claims its INpower units are 99-per cent accurate (variance of 1 per cent). Another benefit is that the power meter's innards, battery and electronics are housed within the bottom bracket for added protection and weight balance.
Pedal power meters
Not only are power pedals easy to swap between bikes but the plug-and-play nature nullifies the need for complex fitting procedures. Available in two distinct guises: single- or dual-sided, it's the latter which can independently measure left-right balance as well as calculate pedal smoothness and efficiency. The only pitfall stems from the extra weight of the electronics, strain gauge and battery pack located within the pedal assembly. PowerTap, Look, Garmin and Favero are the chief players in this segment with little between them in terms of performance and reliability.
They can even be swapped onto an indoor or gym bike for some Zwift action should you be away from home without a bike.
Crank spider power meters
Spider-based power meters rose to prominence in the late 1980s with SRM who pioneered the concept. Available in various shapes and sizes these power meters are compatible with most bottom bracket and chainring BCD patterns and can be purchased individually as a spider or complete chainset. Leading products here come from brands such as SRM, Quarq and Power2Max, each of which offers varying price points, weights and power-measuring functionality.
The compatibility here can be somewhat daunting, but manufacturers simplify things by offering spider-based power meters based upon the make-model of the crank you're using. The only thing to then consider is chainring BCD; you'll generally have 4- or 5- bolt configuration, and the bolt-circle-diameter will generally be written on your current chainrings.
How accurate are single sided power meters?
The gold standard for a power meter nowadays sits around +/- 1 per cent accuracy. A single sided power meter can still be this accurate, but naturally one for whichever leg it is measuring.
If you have a large leg-dominance issue then this may be a cause for concern, or if you need accurate data on pedal stroke for both legs, but for those simply looking to track more general trends then in our opinion a single sided system is more than enough.
Your body is a whole system, not single legs in isolation. Broadly speaking if you get 15 watts stronger your power meter will pick this up, even if it's started 0.5W lower because you have a weaker left leg; consistency is more useful than absolute accuracy for most users.
Can I use Zwift without a power meter?
Technically, yes. You can use Zwift with just a speed and cadence sensor, but it does mean your in-game speeds and training zones will be approximations. The experience is definitely improved by having at least one way of measuring your power output, and if you plan on racing at a high level you'll need to set yourself up for dual recording for reasons of transparency.
Aaron was the Tech Editor Cyclingnews between July 2019 and June 2022. He was born and raised in South Africa, where he completed his BA honours at the University of Cape Town before embarking on a career in journalism. Throughout this career, Aaron has spent almost two decades writing about bikes, cars, and anything else with wheels. Prior to joining the Cyclingnews team, his experience spanned a stint as Gear & Digital editor of Bicycling magazine, as well as a time at TopCar as Associate Editor.
Now based in the UK's Surrey Hills, Aaron's life revolves around bikes. He's a competitive racer, Stravaholic, and Zwift enthusiast. He's twice ridden the Cape Epic, completed the Haute Route Alps, and represented South Africa in the 2022 Zwift eSports World Championships.

Height: 175cm
Weight: 61.5kg
Rides: Cannondale SuperSlice Disc Di2 TT, Cannondale Supersix Evo Dura-Ace Rim, Cannondale Supersix Evo Ultegra Di2 Disc, Trek Procaliber 9.9 MTB