TrainerRoad: Your ultimate guide
A workout and performance-focused training app, with group workouts, a comprehensive plan builder and machine learning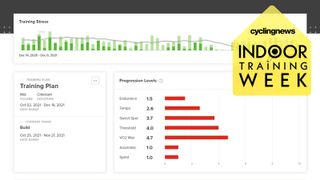 (Image credit: TrainerRoad)
TrainerRoad is an app and online training tool focussed on workouts, results and performance. It differs from the likes of Zwift in that it's purely focussed on those fitness gains rather than having a big social or racing component.
TrainerRoad as a brand provides an ecosystem of training tools focussed on the idea that training without structure isn't training at all, and that indoor training helps provide that structure without distraction - although, with its Outside Workouts feature, workouts can also be pushed to your cycling computer.
There is an app for smartphones, tablets and desktops, as well as a website-based account that provides the planning and analysis features. On the free side of the paywall, there is a highly active forum and a weekly 'Ask a Cycling Coach' podcast in which the TrainerRoad coaches take a deep dive into scientific research to answer the cycling community's training questions. There's also the 'Successful Athletes' podcast which provides an inspiring insight into athletes who have succeeded at their goals, be that training for an event, overcoming a traumatic injury or simply successfully juggling training alongside busy everyday life.
Behind the paywall, there's a library of thousands of workouts, in-depth analysis features, year-over-year comparison of your performance, and machine learning algorithms that analyse your performances in order to help you progress towards your goals as quickly, but optimally as possible.
Key features of TrainerRoad
Why you can trust Cyclingnews Our expert reviewers spend hours testing and comparing products and services so you can choose the best for you. Find out more about how we test.
Adaptive Training
This machine-learning algorithm is known as Adaptive Training, and it takes advantage of the millions of workouts undertaken by the athletes in its database in order to first learn, and then analyse whether or not a workout has been completed. Taking this analysis and coupling it with a short post-ride survey, it is then able to assess how tough you found a workout, and potentially alter subsequent workouts in order to help you progress at an optimal rate.
Engineers have then categorised the workouts in its library based on the training zone targeted, and given each a progression score to quantify its difficulty. This score ranges from 0 to 10, and theoretically, if you can do an aerobic workout with progression level 5, an aerobic workout with progression level 3 should be easy. However, you might be able to do a tempo workout that has a progression level 8, but you might still struggle through a level 5 VO2 Max workout.
TrainNow
Building on the Adaptive Training principles, TrainerRoad has added TrainNow, which enables users to drop into TrainerRoad on a whim, pick a duration, choose between Endurance, Climbing, or Attacking, and TrainNow will serve up a workout that meets your progression levels.
So whether you're following a plan and want to add a workout to a rest day, or you're not following a plan and want to add interval training to tune up a certain skillset, TrainNow is a quick and easy way to drop in, find a workout that's suitable for your fitness, and ride.
Plan Builder
A custom Plan Builder allows you to plan your season as a whole, taking into account the time you have until your 'A' event and the type of event you're training for. It can incorporate pre-planned time off the bike such as work trips or holidays and is adaptive to interruptions such as illnesses. The aforementioned machine learning algorithm is built into the training plan that Plan Builder will supply, and should you have any time off the bike (planned or otherwise), when you eventually return to the bike, you will begin at a lower progression level that should remain achievable.
Analysis
The workout analysis features offer a compare tool, to see how your latest workout's numbers stack up against your personal records (from a chosen season or all-time), and there's also an interval search function, which allows you to easily analyse your ride even if you forgot to lap your intervals correctly (or for fun, see how many times you hit 700 watts in your latest criterium).
A neat feature when comparing your personal records against previous seasons is the 'Season Match' function, which enables you to compare progress versus a previous season to date. For example, if your seasons usually run from October to September, and you want to compare your progress in January, you don't want to compare your January self to last year's height of summer. Compare year-on-year to gain a better understanding of how you're tracking against previous winters.
Group Workouts
To enable riders to ride together in the height of the pandemic, TrainerRoad launched a Group Workout feature, which allows groups of riders to take on the same workout concurrently (relative to their own fitness), with a group video chat added to the mix. It not only helps to take your mind off the pain when talking to friends, it yields peer-based motivation and competition.
How much is TrainerRoad?
TrainerRoad is currently $189.00 for a 12-month subscription, or $19.95 if you want to go month-by-month.
There is a certain amount you can do before you hit the paywall - such as create your training plan - and a 100 per cent satisfaction guarantee means that you can claim your money back in the first 30 days if the app isn't for you, although if you want to try before you buy, there is a seven-day free trial where you needn't enter any of your payment details.
How to get started
TrainerRoad probably isn't the indoor cycling app for you if you want to quickly plug and play on intermittent occasions, as it has a strong focus on planning and building for the long term with consistency being the key. The TrainerRoad desktop app is easy to get to grips with, though.
Once you've created your plan in Plan Builder, you'll get a calendar with all of your workout days mapped out right up until your chosen end date. After linking up with your turbo trainer or power meter for the first time, you'll undergo a ramp test, and after that, you can get stuck into your training.
What equipment do I need?
As with most other indoor cycling apps, you'll need a Mac, Windows, iOS, Android or Apple TV device for use as a screen.
You can use TrainerRoad with any of the best turbo trainers, best power meters or even just a simple trainer with any of the best heart rate monitors. With the first two, you'll obviously be able to use the integrated power meters, but with a non-smart trainer, you'll be using estimations instead. You can even follow a session based on RPE (Rate of Perceived Exertion), which allows you the structure of a specified training plan without the expense of the hardware.
TrainerRoad uses a choice of Bluetooth or ANT+ to connect everything together. The app supports more than 200 devices, so there's certain to be something for you. You can also link TrainerRoad with your Strava, Garmin Connect or TrainingPeaks accounts, so you can pool all of your rides and workouts in one place, keeping track of all your sessions and data.
All the courses and rides
This is where TrainerRoad differs from various other training apps, such as Rouvy or Zwift. There are no virtual worlds or videos of real-life mountain passes to work your way through.
Instead, the app is more analytical and goal-based. When you factor in the possibility to customise your own training plans, then there's pretty much an unlimited range of kilometres to put in.
That's not to say that you're just stuck looking at graphs and numbers though – you can minimise all the data to the periphery while you watch your own movie or switch on Netflix instead. Whereas many competitors cease to operate once the app is minimised, TrainerRoad will continue to control your trainer (when in ERG mode) while you lose yourself in your favourite TV show or watch Paris Roubaix repeats.
And finally, there's also the option to convert your TrainerRoad session to an outside workout and sync it with your head unit when you get out in the great outdoors. If you have a Garmin or Wahoo cycling computer then you can follow your pre-planned workout as you ride.
The latest race content, interviews, features, reviews and expert buying guides, direct to your inbox!
As the Tech Editor here at Cyclingnews, Josh leads on content relating to all-things tech, including bikes, kit and components in order to cover product launches and curate our world-class buying guides, reviews and deals. Alongside this, his love for WorldTour racing and eagle eyes mean he's often breaking tech stories from the pro peloton too.
On the bike, 30-year-old Josh has been riding and racing since his early teens. He started out racing cross country when 26-inch wheels and triple chainsets were still mainstream, but he found favour in road racing in his early 20s and has never looked back. He's always training for the next big event and is keen to get his hands on the newest tech to help. He enjoys a good long ride on road or gravel, but he's most alive when he's elbow-to-elbow in a local criterium.
The latest race content, interviews, features, reviews and expert buying guides, direct to your inbox!
Thank you for signing up to The Pick. You will receive a verification email shortly.
There was a problem. Please refresh the page and try again.