Olympics: Dutch beat Great Britain to win men's Team Sprint gold
Great Britain break up in fast final as France beat Australia for bronze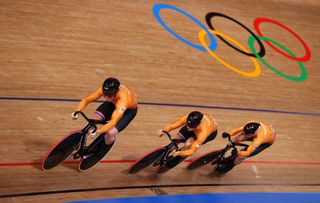 (Image credit: Getty Images Sport)
The Netherlands delivered on their favourite status in the men's team sprint at the Tokyo Olympics Games taking the gold medal ahead of Great Britain with a new Olympic record of 41.369.
Jeffrey Hoogland bought it home for his Dutch teammates Roy van den Berg and Harrie Lavreysen while Great Britain's Jack Carlin, Jason Kenny and Ryan Owens had to settle for silver with a time of 44.589. Great Britain were initially in contention but then Kenny lost contact, ending Great Britain's hopes.
France trio of Florian Grengbo, Rayan Helal and Sebastien Vigier took bronze, with Australia's Matthew Glaetzer quickly charging off alone making it a tough task for his teammates to maintain the pace till the end.
Germany came fifth with Russia Olympic disqualified after two false starts. It was New Zealand and Poland who then decided seventh and eighth place, with New Zealand coming out on top.
Netherlands confirm role as favourites in qualifying
The Netherlands confirmed their role as favourites in the men's Team Sprint at the Tokyo Olympic Games, setting the fastest time of 42.371 in the qualifying round. Australia produced a superb ride to set a new Olympic record of 42.371 but minutes later the team who have won the event at the last three Track World Championships, the Netherlands, did even better to show their ambitions for later in the day.
Great Britain were last off and faster than the Netherlands for two laps only for Kenny to lose the advantage and drop to second place, just 0.097 of a second slower than the Netherlands.
Australia finished third, with France fourth in 42.722. The eight teams are seeded for the First Round based on their qualifying times and so the Netherlands will be last to start.
Swipe to scroll horizontally
Men's Team Sprint Qualifying

| Pos. | Rider Name (Country) Team | Result |
| --- | --- | --- |
| 1 | Netherlands | 0:00:42.134 |
| Row 1 - Cell 0 | Roy van den Berg | |
| Row 2 - Cell 0 | Harrie Lavreysen | |
| Row 3 - Cell 0 | Matthijs Buchli | |
| 2 | Great Britain | 0:00:42.231 |
| Row 5 - Cell 0 | Ryan Owens | |
| Row 6 - Cell 0 | Jack Carlin | |
| Row 7 - Cell 0 | Jason Kenny | |
| 3 | Australia | 0:00:42.371 |
| Row 9 - Cell 0 | Matthew Richardson | |
| Row 10 - Cell 0 | Nathan Hart | |
| Row 11 - Cell 0 | Matthew Glaetzer | |
| 4 | France | 0:00:42.722 |
| Row 13 - Cell 0 | Florian Grengbo | |
| Row 14 - Cell 0 | Sebastien Vigier | |
| Row 15 - Cell 0 | Rayan Helal | |
| 5 | New Zealand | 0:00:43.066 |
| Row 17 - Cell 0 | Sam Dakin | |
| Row 18 - Cell 0 | Ethan Mitchell | |
| Row 19 - Cell 0 | Sam Webster | |
| 6 | Russian Olympic | 0:00:43.097 |
| Row 21 - Cell 0 | Ivan Gladyshev | |
| Row 22 - Cell 0 | Denis Dmitriev | |
| Row 23 - Cell 0 | Pavel Yakushevskiy | |
| 7 | Germany | 0:00:43.140 |
| Row 25 - Cell 0 | Timo Bichler | |
| Row 26 - Cell 0 | Stefan Boetticher | |
| Row 27 - Cell 0 | Maximilian Levy | |
| 8 | Poland | 0:00:43.516 |
| Row 29 - Cell 0 | Mateusz Rudyk | |
| Row 30 - Cell 0 | Patryk Rajkowski | |
| Row 31 - Cell 0 | Krzysztof Maksel | |
Swipe to scroll horizontally
Men's Team Sprint First Round Heat 1

| Pos. | Rider Name (Country) Team | Result |
| --- | --- | --- |
| 1 | France | 0:00:42.294 |
| Row 1 - Cell 0 | Florian Grengbo | |
| Row 2 - Cell 0 | Rayan Helal | |
| Row 3 - Cell 0 | Sebastien Vigier | |
| 2 | New Zealand | 0:00:42.978 |
| Row 5 - Cell 0 | Sam Dakin | |
| Row 6 - Cell 0 | Ethan Mitchell | |
| Row 7 - Cell 0 | Sam Webster | |
Swipe to scroll horizontally
Men's Team Sprint First Round Heat 2

| Pos. | Rider Name (Country) Team | Result |
| --- | --- | --- |
| 1 | Australia | 0:00:42.103 |
| Row 1 - Cell 0 | Matthew Glaetzer | |
| Row 2 - Cell 0 | Nathan Hart | |
| Row 3 - Cell 0 | Matthew Richardson | |
| 2 | Russian Olympic | 0:00:42.915 |
| Row 5 - Cell 0 | Denis Dmitriev | |
| Row 6 - Cell 0 | Ivan Gladyshev | |
| Row 7 - Cell 0 | Pavel Yakushevskiy | |
Swipe to scroll horizontally
Men's Team Sprint First Round Heat 3

| Pos. | Rider Name (Country) Team | Result |
| --- | --- | --- |
| 1 | Great Britain | 0:00:41.829 |
| Row 1 - Cell 0 | Jack Carlin | |
| Row 2 - Cell 0 | Jason Kenny | |
| Row 3 - Cell 0 | Ryan Owens | |
| 2 | Germany | 0:00:42.733 |
| Row 5 - Cell 0 | Timo Bichler | |
| Row 6 - Cell 0 | Stefan Boetticher | |
| Row 7 - Cell 0 | Maximilian Levy | |
Swipe to scroll horizontally
Men's Team Sprint First Round Heat 4

| Pos. | Rider Name (Country) Team | Result |
| --- | --- | --- |
| 1 | Netherlands | 0:00:41.431 |
| Row 1 - Cell 0 | Jeffrey Hoogland | |
| Row 2 - Cell 0 | Harrie Lavreysen | |
| Row 3 - Cell 0 | Roy van den Berg | |
| Row 4 - Cell 0 | Matthijs Buchli | |
| 2 | Poland | 0:00:43.307 |
| Row 6 - Cell 0 | Krzysztof Maksel | |
| Row 7 - Cell 0 | Patryk Rajkowski | |
| Row 8 - Cell 0 | Mateusz Rudyk | |
Swipe to scroll horizontally
Men's Team Sprint Final

| Pos. | Rider Name (Country) Team | Result |
| --- | --- | --- |
| 1 | Netherlands | 0:00:41.369 |
| Row 1 - Cell 0 | Jeffrey Hoogland | |
| Row 2 - Cell 0 | Harrie Lavreysen | |
| Row 3 - Cell 0 | Roy van den Berg | |
| Row 4 - Cell 0 | Matthijs Buchli | |
| 2 | Great Britain | 0:00:44.589 |
| Row 6 - Cell 0 | Jack Carlin | |
| Row 7 - Cell 0 | Jason Kenny | |
| Row 8 - Cell 0 | Ryan Owens | |
| 3 | France | 0:00:42.331 |
| Row 10 - Cell 0 | Florian Grengbo | |
| Row 11 - Cell 0 | Rayan Helal | |
| Row 12 - Cell 0 | Sebastien Vigier | |
| 4 | Australia | 0:00:44.013 |
| Row 14 - Cell 0 | Matthew Glaetzer | |
| Row 15 - Cell 0 | Nathan Hart | |
| Row 16 - Cell 0 | Matthew Richardson | |
| 5 | Germany | |
| Row 18 - Cell 0 | Timo Bichler | |
| Row 19 - Cell 0 | Stefan Boetticher | |
| Row 20 - Cell 0 | Maximilian Levy | |
| 6 | Russian Olympic | |
| Row 22 - Cell 0 | Denis Dmitriev | |
| Row 23 - Cell 0 | Ivan Gladyshev | |
| Row 24 - Cell 0 | Pavel Yakushevskiy | |
| 7 | New Zealand | 0:00:43.703 |
| Row 26 - Cell 0 | Ethan Mitchell | |
| Row 27 - Cell 0 | Callum Saunders | |
| Row 28 - Cell 0 | Sam Webster | |
| Row 29 - Cell 0 | Sam Dakin | |
| 8 | Poland | 0:00:46.431 |
| Row 31 - Cell 0 | Krzysztof Maksel | |
| Row 32 - Cell 0 | Patryk Rajkowski | |
| Row 33 - Cell 0 | Mateusz Rudyk | |

Thank you for reading 5 articles in the past 30 days*
Join now for unlimited access
Enjoy your first month for just £1 / $1 / €1
*Read any 5 articles for free in each 30-day period, this automatically resets
After your trial you will be billed £4.99 $7.99 €5.99 per month, cancel anytime. Or sign up for one year for just £49 $79 €59

Join now for unlimited access
Try your first month for just £1 / $1 / €1