2020 Tour de France stage 13 preview
By Cyclingnews
September 11, 2020: Châtel-Guyon > Puy Mary Cantal, 191.5km
Image 1 of 2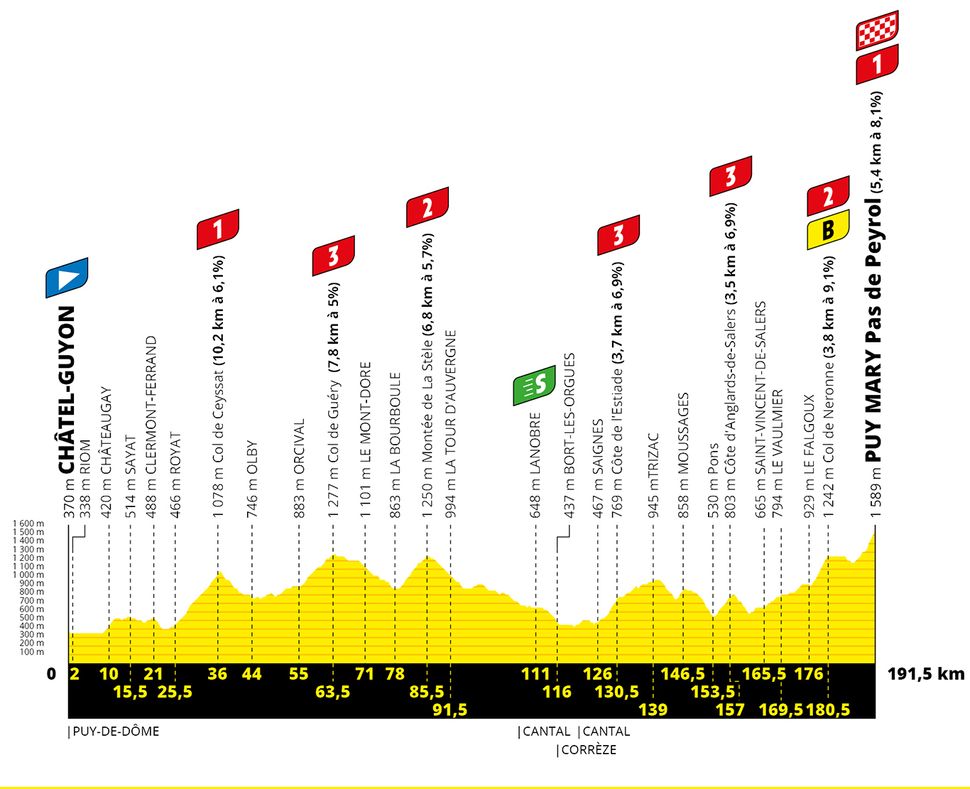 Image 2 of 2
Stage 13: Châtel-Guyon - Puy Mary Cantal
Date: September 11, 2020
Distance: 191km
Stage start: 11:50 a.m. CEST
Stage type: Mountain
On paper this is one of the hardest stages of the Tour this year. What it lacks in altitude, it makes up for in number of the climbs, seven categorised mountain ascents and the biggest elevation gain of the 2020 Tour with a total of 4,400 metres.
The Association of Auvergne Cheeses describes mature Cantal, the kind that has been aged for at least eight months, as "strongly flavoured" and "quite hard" in texture. 'Quite hard' doesn't at all go far enough in describing stage 13 of the 2020 Tour. The Auvergne is well known for producing so many different varieties of cheese that there is an official tourist route called the 'Route de Fromages', complete with brown road signs, arrows and a helpful graphic of a large cheeseboard. However, stage 13 has eschewed the stopping points for coagulated milk proteins with bacterial enzymes, and instead incorporated along its route almost as many climbs as there are varieties of cheese in the Auvergne.
While the stage lacks the single haymaker punch of an Alpine or Pyrenean stage, it instead wears the riders down with a series of jabs and crosses, which begin 36km from the start on the category 1 Col de Ceyssat. There are a series of unrelenting category 2 and 3 peaks that lead to the knockout uppercut on the summit finish on the Pas de Peyrol. This category 1 climb follows the highest road pass in the Massif Central, finishing on the 1,589-metre high Pas de Peyrol (Puy Mary) in the heart of the extinct volcanoes of the Auvergne.
The Puy Mary is a Tour stalwart, having appeared on the race route 10 times in total. Recently, two French riders, Richard Virenque and Thomas Voeckler, have crossed the summit first, in 2004 and 2011 respectively, Virenque en route to the mountain jersey and Voeckler about to take the yellow.
This is a perfect stage for some foundation building in the mountains classification but it's also perfect ambush territory for riders hoping to win the yellow jersey.

Thank you for reading 5 articles this month* Join now for unlimited access
Enjoy your first month for just £1 / $1 / €1
*Read 5 free articles per month without a subscription

Join now for unlimited access
Try your first month for just £1 / $1 / €1
Sign up to the Cyclingnews Newsletter. You can unsubscribe at any time. For more information about how to do this, and how we hold your data, please see our privacy policy
Thank you for signing up to Cycling News. You will receive a verification email shortly.
There was a problem. Please refresh the page and try again.