Best cycling overshoes: full coverage shoe covers to see you through winter
By Colin Levitch published
The best cycling overshoes will leave your feet drier, warmer and more comfortable during the winter months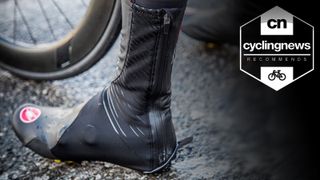 (Image credit: Castelli)
The best cycling overshoes are designed to keep out the winter weather to ensure your feet stay dry, warm and, most importantly, comfortable during your winter cycling endeavours.
Your best cycling shoes probably aren't designed specifically for riding in the cold, and contrary to common assumption, wearing two pairs of the best winter cycling socks won't necessarily keep your feet warm on a big day out in awful conditions, especially once the water creeps in. With this roundup of the best cycling overshoes and winter toe covers, your toes should remain toasty throughout the darkest and coldest months of the year.
An alternative method of keeping your feet comfortable is to invest in a pair of winter-specific shoes. The best winter cycling shoes are highly insulated, sealed and explicitly designed to keep the cold and wet from permeating. If you prefer riding outdoors over Zwift and are committed to tackling the freezing conditions for half of the year, then these might be a worthwhile purchase. You don't need to invest in dedicated winter footwear to keep your toes toasty during the colder months either - depending on where you live, winter boots might be overkill, and a pair of toe or shoe covers may be just enough to keep your feet warm. With a pair of great neoprene overshoes, you'll be pleasantly surprised at how cold you can go, and if you go a step further and equip your bike with a set of the best road bike mudguards, you'll be well on the way to cosy toes all winter.
Keep scrolling for a roundup of our favourite overshoes, or jump to the bottom to find out how to choose the best cycling overshoes for you.
The best cycling overshoes you can buy today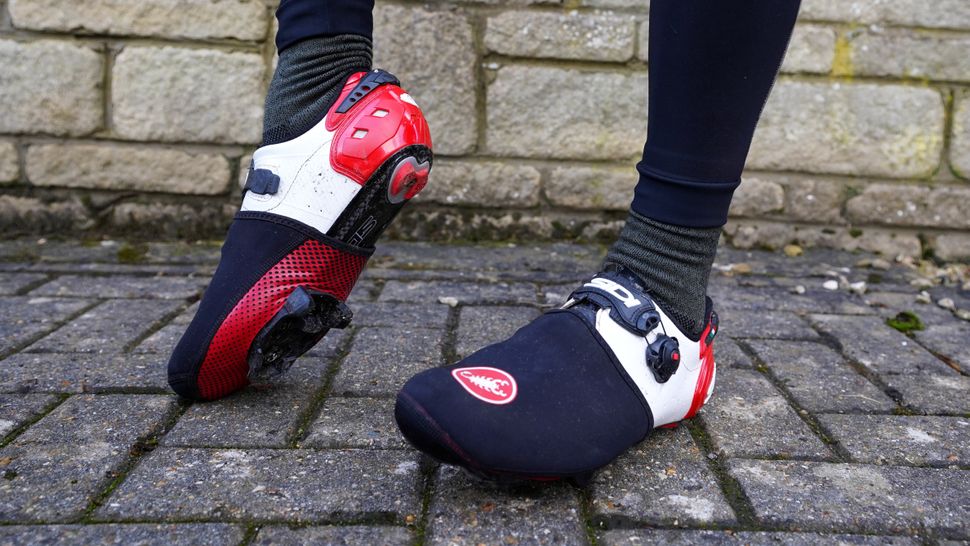 Best for warm, wet weather
Specifications
Temperature range:
10-18C / 50-64F
RRP:
£18.00 / $24.99 / €16.95 / AU$35.00
Reasons to buy
+
Breeze to fit
+
Durable
+
Keep road spray at bay
Made from Neoprene fabric, Castelli's Toe Thingy blocks wind and water to provide warmth over the most sensitive part of your feet. Looping over the back of your cleat to stay on, the bottom features a rubberised outsole for added grip and durability.
They are low profile, lightweight and provide the bit of extra warmth needed for riding in moderate weather.
Check out our review for a detailed look at the Castelli Toe Thingy 2 overshoes.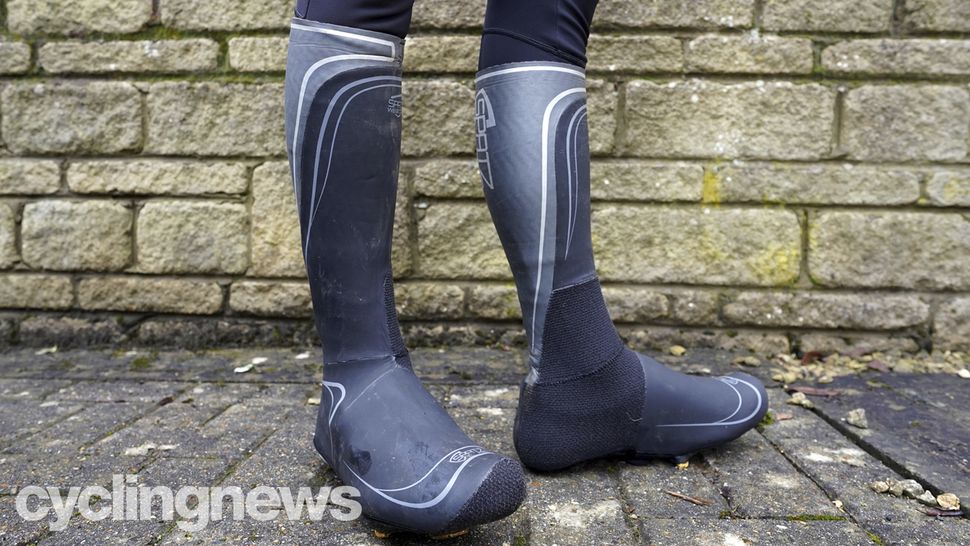 Best overshoes for keeping you warm in winter
Specifications
Material:
Neoprene, kevlar
RRP:
£99.99 / $111.00 / €123.00 / AU$189.00
Reasons to buy
+
Zipless design
+
4.5mm thick neoprene
+
Full-calf coverage
Reasons to avoid
-
Open bottom
-
Expensive
-
Tricky to fit
The major negative that befalls even the best cycling overshoes is the gaping hole through which you place your foot when putting them on. When rainwater hits your legs, it often seeps down the gap between your calf and your overshoes, and down into your socks. Many brands offer a sealed edge, but British brand Spatz tackles this issue by raising the length of the leg portion further than no other, resulting in an overshoe that extends to just below the knee. That's not all though, the Pro 2 overshoes are made using 'aero-armour' neoprene, which retains a non-baggy fit and abrasion resistance.
Kevlar-topped neoprene is used for the ankle area and toe box to offer flexibility and durability, whilst on the inside, there's a thermo fabric that is designed to breathe, whilst keeping your feet nice and cosy.
For anyone looking to make cold feet a thing of the past, these are the best cycling overshoes available. To read more about why they are worthy of the coveted five-star rating, check out our Spatz Pro 2 overshoes review.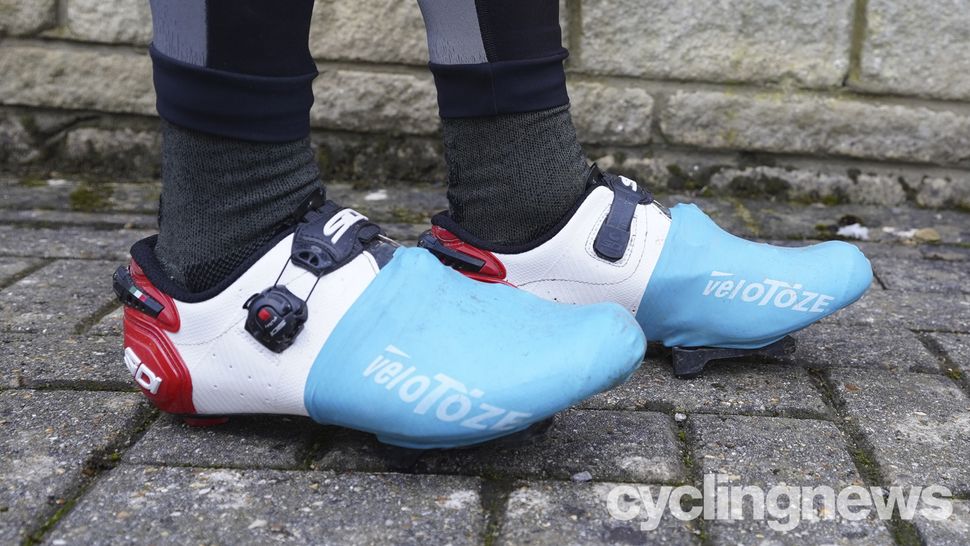 Best overshoes for keeping road spray off your toes
Specifications
Temperature range:
10-18C / 50-64F
RRP:
£9.99 / $13.00 / €11.99 / AU$22.00
Reasons to buy
+
Easy to fit
+
Bright colours
+
Super low cost
+
Lightweight
Reasons to avoid
-
Not so effective against cold temperatures and heavy rain
-
Not very durable
VeloToze uses natural Latex rubber in the majority of its shoe covers because it's entirely wind and waterproof. The toe covers still allow your feet to breathe a bit, but encase the front of your shoe in a weatherproof barrier. They conform around any shoe and leave the cleat clear.
For true rain-battling winter warriors, a neoprene overshoe paired with a VeloToze Toe Cover is a worthy pairing to increase ingress protection against road spray.
Read our Velotoze Toe Cover review to find out how they fared during our testing.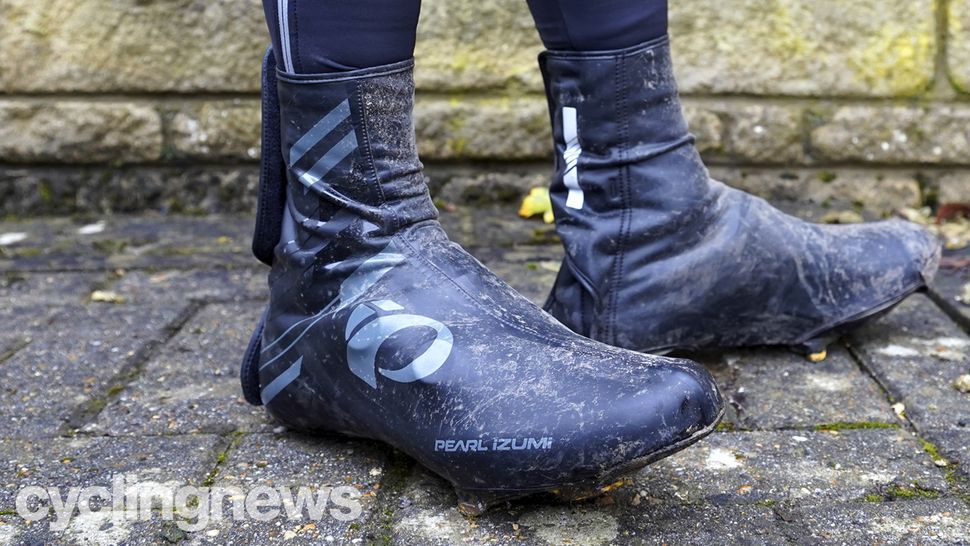 Best for those leaving in a hurry
Specifications
Material:
Polyester, Nylon, Kevlar, Polyurethane
RRP:
£100.00 / $100.00 / €99,99 / AU$TBC
Reasons to buy
+
Easy to fit
+
Secure once fitted
+
Reflective details
+
Reinforced toe box
Reasons to avoid
-
Velcro may not last
-
Might have to size up
Combining an Outdry waterproof membrane and Primaloft Gold insulation, the Pearl Izumi Pro AmFib WxB shoe covers are designed to keep the elements out and trap as much heat as possible. When water does eventually overcome the membrane or sneak in through the cuff, the Prima Loft insulation maintains its warmth.
The base of the shoe is made with Kevlar face fabric, and the toes are rubber reinforced to prevent abrasions. At the back, the overshoes feature a two-stage hook and loop closure for a tight fit and to seal the booties closed. This also makes getting them on a breeze, perfect if you're one to be rushing out of the door in the morning.
Do bear in mind that while the retail price is high, the Pearl Izumi Pro Barrier WxBs are regularly available for much less, which makes them a better value proposition than they might first appear.
Learn how we tested them in our Pearl Izumi Pro Barrier WxB review.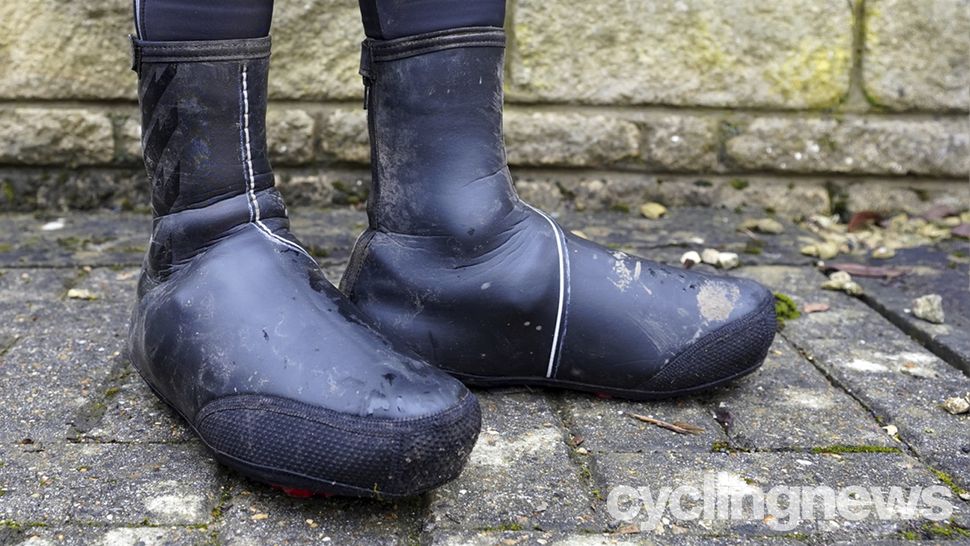 Best for gravel and off-road riding
Specifications
RRP:
£49.99 / $55.00 / €TBC / AU$TBC
Reasons to buy
+
Easy to fit SPD shoes
+
Insulation
+
Durable
+
Waterproof
Reasons to avoid
-
The front has a tendency to pop up
-
Quite bulky
These overshoes use a hook-and-loop sole that is easy to fit over mountain bike and gravel shoes while still keeping the tread available for walking. Despite the thickness of the neoprene they are smartly shaped around the shoe and fit flush, with a snug fit around the toe box where there's a larger durable reinforcement material, which is replicated around the sides and at the heel. A wide Velcro strap secures the bottom of the overshoe opening across the sole of the shoe and a tall vertical zipper secures the overshoe around your ankle with a small Velcro tab for good measure. They're also available in a road-specific version which uses a similar design.
For riding off-road or commuting, these are an easy-to-fit overshoe with adequate reinforcement and impressive warmth and ability to keep you dry in everything but flooded roads. The durability is good, though you need to keep the zipper clean from mud for best performance, pay particular attention to the fit around the toe box and ensure the bottom Velcro strap is sufficiently tight to prevent the tendency for the front of the overshoe to pop up.
Read our Shimano S3100X NPU+ review for an in-depth look.
Best full coverage overshoes for light showers and mild weather
Specifications
Temperature range:
-5C+ / 23C+
RRP:
£65.00 / $60.00 / €54.90 / AU$90.00
Reasons to buy
+
Very easy to fit
+
Reflective details
+
Different colours available
+
Good durability
+
Reinforced neoprene areas
Reasons to avoid
-
Low-cut ankle
-
Not the warmest in very low temperatures
-
Not waterproof in torrential rain
Borrowing a bit of tech from Gore-Tex, the bulk of Sportful's Reflex booties are made from Windstopper fabric which cuts through frigid winds and will keep most of the rain out. Don't expect dry feet in a downpour, although even fully waterproof booties can't achieve this feat.
The Neoprene side and rear panels add a bit of stretch to these booties to help you get them over your shoes, while also offering some water resistance. A zip at the rear packages everything up nicely and is lined with reflective material for added low-light visibility.
Find out more in our Sportful WS Reflex 2 review.
Castelli RoS 2 Shoecovers
The best for cold-weather riding and racing
Specifications
Waterproof:
Splash resistant
Temperature range:
0-14C / 32-57F
Material:
Polyurethane, Polyester, Polartec
RRP:
£90.00 / $99.99 / €89.95 / AU$169.00
Reasons to buy
+
Extra height keeps your tights dry and offers additional spray protection
+
Full-length zipper
+
Fleecy interior
RoS stands for 'Rain or Shine', and Castelli designed the RoS Shoecovers to provide warmth, no matter the weather. The exterior fabric is windproof and water-resistant, while the interior is lined with Polartec fleece to keep your toes warm and cosy.
There is an extra tall cuff with a silicone gripper to keep water from sneaking in through the top, and a full-length zipper and pull tab on the heel for easy entry and exit.
Since most of the spray that your feet encounter is splashed from your wheels, the seams on the RoS cover have been moved to the outside of the foot and the inside splash zone sees extra moisture protection. Of course, the moisture protection is dependent on the length of your ride because water/rain will eventually seep in (especially through the cleat hole).
The RoS 2 overshoes see an upgraded aesthetic after the leather-look on the original RoS overshoe divided opinions. If you're looking for mild winter protection with a high cuff, whilst retaining aerodynamic performance - such as those early-season wet-weather races - the RoS 2 is a great choice.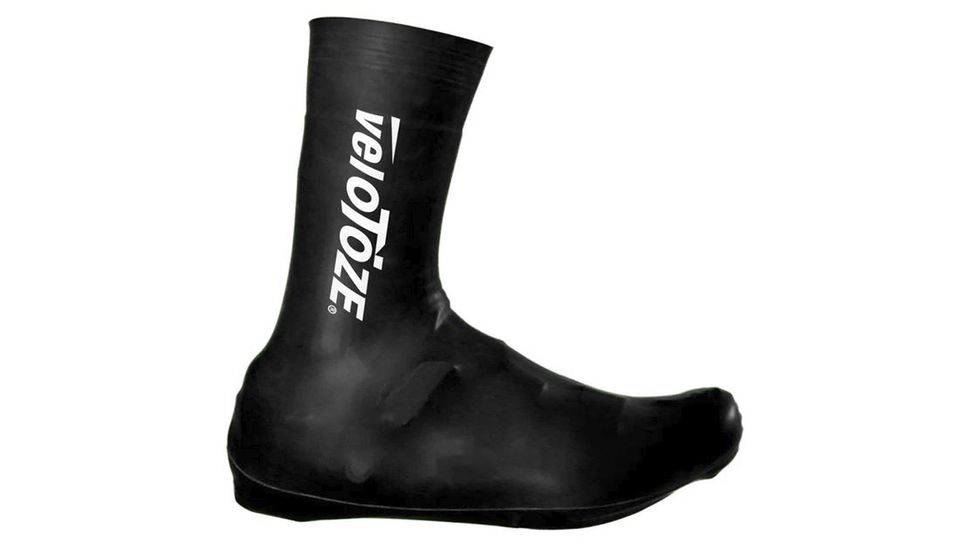 VeloToze Road 2.0
Best for keeping every drop of water out
Specifications
Temperature range:
5-16C / 40-60F
RRP:
£18.99 / $20.00 / € 22.99 / AU$30.00
Reasons to buy
+
Aerodynamic
+
Fully waterproof material
Velotoze offers a simple-yet-very-effective solution to waterproofing. By creating a fully-latex membrane that encases the shoe like a swim cap, its original Road overshoes were able to offer complete waterproofing, but the downside was a lack of durability, meaning they very easily tore, and were regularly damaged if ever walked in. The solution to this was the Velotoze Road 2.0, which offers reinforcement at the bottom and around the toe to add durability.
We say 'complete waterproofing', but it's worth remembering that there are still holes at the top, cleat, and heel, so like any of the options here, water can find its way in during the worst of the downpours, and be aware that breathability is reduced, so you might find your feet damp from sweat too.
Those concerns aside, if you're looking for great aerodynamics and/or incredible water resistance, then the Velotoze Tall overshoes are a superb solution.
Gore C5 Windstopper Thermo
Best for cold and windy rides
Specifications
Temperature range:
5-15C / 41-59F
RRP:
£59.99 / $79.99 / €69.95 / AU$105.00
Reasons to buy
+
Windstopper fabric works as advertised
+
Decent water resistance
Reasons to avoid
-
The base is a bit fragile
-
Ankle could be higher
The membrane master, Gore Bike Wear, has used its own Windstopper fabric over the front panel of the C5 overshoes to keep the frigid winds on the outside, without sacrificing breathability. The rear is made from a lighter weight fabric, and the entire cover is stretchy for a close-to-form fit.
There is a zippered closure up the side to help you get them on, but be warned they run small, so consider sizing up. Available in black and neon yellow, we'd recommend the black version as cycling overshoes don't stay clean for long.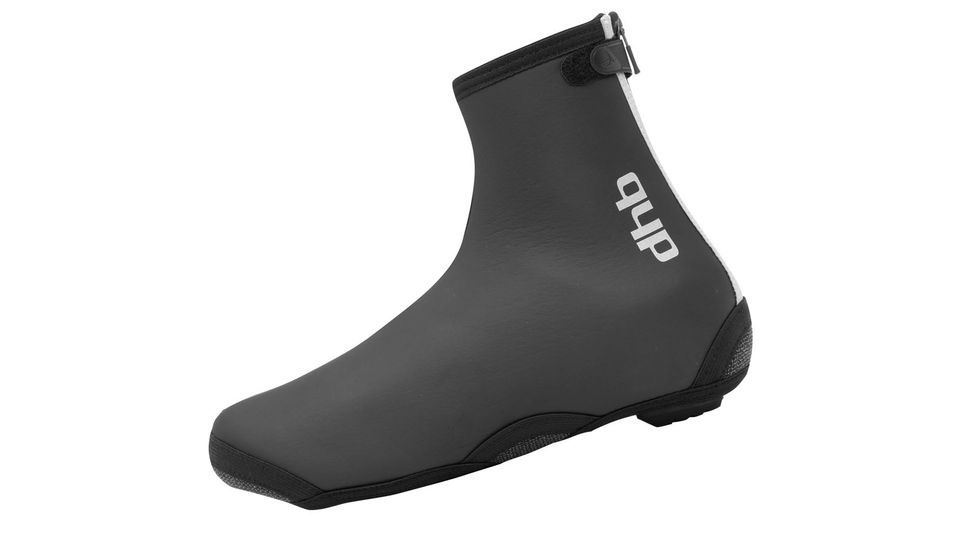 dhb Extreme Weather Neoprene
Best value in brutal weather conditions
Specifications
RRP:
£35.00 / $45.00 / €37.00 / AU$60.00
Reasons to buy
+
Dry and warm
+
Durable
+
Price at RRP
Made from 3.5mm neoprene rubber, the dhb Extreme Weather overshoes are designed to keep the nastiest elements on the outside. There is only one seam on the front which gives water little opportunity to sneak in, and it's flat stitched and taped on the inside to maximise ingress protection.
The toe and heel are reinforced with Kevlar fabric, so these dhb overshoes should last you a few winters. With so much rubber wrapped around your feet, it should come as no surprise that they are a bit bulky, and may touch your crank as your feet go round.
If you're looking for extreme weather protection on a bit of a budget, the dhb Extreme Neoprene are the best cycling overshoes for you.
GripGrab Arctic
Best for Baltic temperatures
Specifications
Temperature range:
-10-5C / 14-41F
RRP:
£62.95 / $79.99 / €69.95 / AU$110
Reasons to buy
+
Zipless design
+
Thick and warm neoprene
+
Ideal for use with MTB / Gravel shoes
Made with hollow fibre lined 4mm waterproof neoprene, the GripGrab Arctic is one of the warmest shoe covers you can buy. The bottom of the cover is completely open and only secured by a velcro strap. This not only removes the need for a zipper up the back, which can be the source of irritation over the course of a ride, but it also makes peeling them off your feet post-ride a breeze.
Around the heel and toe, GripGrab has used what it calls IntelliSeal, which creates a seal around the opening, to prevent moisture from sneaking in - it's also said to enhance durability. The rear of the shoe also has provision to clip on a light and a reflective patch. They can also be used with the best gravel bike shoes.
How to choose the best cycling overshoes
Should I get overshoes or toe covers?
Just as you may not need full winter boots, full shoe covers might be too warm. Toe covers, as the name suggests, only cover the toe box of your shoe, ceasing just past the cleat to hold itself in place.
Cycling overshoes, on the other hand, engulf your whole shoe and see a cuff that will continue up the calf - the length of which varies by brand and model. Of course, the further up the leg, the greater the protection against the elements, and with the additional coverage, it should come as no surprise that full overshoes are considerably warmer.
Read more in our overshoes vs winter boots feature.
Do I need windproof or waterproof overshoes?
Are you riding in the UK where there is a constant threat of rain? Or Colorado, where if the road isn't covered in snow there probably isn't much precipitation to worry about, but the temperature is likely to regularly dip below freezing?
If the threat of wet weather is a constant, look for something made of neoprene. It does well to keep water out for a while, and when moisture inevitably finds its way in, acts like a wetsuit and keeps your feet warm.
Windproof shoe covers will have an internal membrane and are ideal for taking the bite out of cold winds. Booties with waterproof membranes are available too, but water has a habit of getting in anyway, and their neoprene cousins are usually a bit warmer.
It's important to note that waterproof isn't totally waterproof. Even if you have the best cycling overshoes on the market, your feet are still going to get wet in heavy rain. Water is a sneaky devil and will make its way in through the upper cuff and the cleat and heel openings in the bottom.
How do you wear cycling overshoes?
While most will argue wearing your overshoes should go over your tights, there's an argument for wearing them underneath. Water will usually land on your tights, then run down your leg. Wearing the tights on the outside of your overshoes will mean that this water doesn't run down inside and straight into your socks.
Talking of socks, if you're ever wearing your overshoes with shorts rather than tights (think rainy but warm weather), then you should avoid wearing socks that extend beyond the height of your overshoes. Many overshoes are designed to seal against the smooth skin of your leg to keep out the rain. Introducing a fabric sock ruins this seal and offers an open door for water to seep into your socks.
The other place that water tends to sneak in is through the cleat hole. Pairing your overshoes with a waterproof toe cover can help that water to run straight off your toes and onto the floor, rather than being soaked into the front of your overshoes.
What are the warmest cycling overshoes?
The thicker the shoe cover, the warmer it's going to be, but one thing to keep in mind is how much of the bottom of your shoe it covers.
Carbon is a terrible insulator which, combined with the metal cleat screws, can radiate cold into your feet and lead to discomfort. Unfortunately, there needs to be holes in the bottom of your cycling overshoes to accommodate the cleat and heel pad, but in most cases, the more of the sole that is covered, the warmer you will be.
How should cycling overshoes fit?
Cycling overshoes should have a snug fit, so as to keep the water and cold air out. If they're too loose, you could find them slipping and letting in all the elements. However if they're too tight, that could spell other troubles. Check your shoe size against the size guide for overshoes, and that should give you a good starting point.
Another thing to consider is whether to opt for overshoes with zips or velcro straps. Wrestling shoe covers onto your feet can be a workout all on its own, but well-placed zippers can make the process considerably more manageable.
Look for a pair of cycling overshoes that feature a pull tab built into the heel to simplify the process. Velcro straps at the top cuff can allow you to tighten up the opening and help to prolong water ingress, but its effectiveness will eventually deteriorate.
The latest race content, interviews, features, reviews and expert buying guides, direct to your inbox!
Thank you for signing up to Cyclingnews. You will receive a verification email shortly.
There was a problem. Please refresh the page and try again.