Best winter cycling socks 2023: Keep your toes toasty through the cold and the rain
Our pick of the very best winter cycling socks to stave off numb toes and soggy feet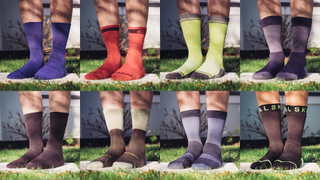 (Image credit: Will Jones)
Enjoying riding through the winter is partially a state of mind, but it's a whole lot easier to enjoy yourself when you have kit appropriate for the conditions. Winter cycling socks are often overlooked in favour of more flashy, big-ticket items, and even among the extremities, they seem to come beneath the best winter cycling gloves in terms of priority for many riders. Yes, the best winter cycling socks are going to cost more than a normal pair of socks, cycling or otherwise, but in terms of bang for your buck they are an inexpensive way to really improve your winter comfort.
If you're regularly cursed with cold feet then be sure to check out our top tips for keeping your feet warm, and our guide to both the best cycling overshoes and the best winter cycling shoes, but just as your winter layering starts with the best cycling base layers, you should think of a decent set of winter socks as the basis for everything.
The best winter cycling socks you can buy today
In a bid to work out which are the best, I've spent the past few months wearing winter cycling socks from dozens of different brands, and I've narrowed the list down to the following products.
While I am more than happy to use any of the recommendations below, providing they're appropriate for the conditions, it's always telling which products I gravitate towards once testing is complete. For general use, I tend to pick the dhb Merino Trail Sock over the competitors. I value how sturdy they feel, as my winter gravel riding tends to take in a fair bit of hike-a-bike, and given they're also the cheapest, I'm less afraid of trashing them.
It's also worth noting that in my experience, the differences between the waterproof socks were relatively minimal, and for wet rides when not explicitly testing a single model, I'd just grab the first one that came to hand.
1. dhb Trail Winter Merino Sock
Gravel and general use
+ High merino content
+ Durable
- Not as soft as others
The dhb Trail Winter Merino Socks are the cheapest of the bunch, but punch above their weight. Technically a mountain biking sock, but I think they make sense for gravel riding too. The sole is thicker than the upper, as you'd expect, but the front of the ankle cuff is also thickened too, which adds durability against the tongue of your shoes for hike-a-bike as well as a bit more wind protection. A 60% merino content is decent too.
2. Endura BaaBaa Merino Winter Sock
Great road option
+ Road-oriented fit
+ Super soft feel
- Wool content could be higher
A lighter and softer option than the offering from dhb. In this case only the sole is thickened, with the upper and the entire ankle cuff being thinner. They are noticeably softer than the dhb Trail Winter socks, which translates into a better on-foot feeling. The pile of the inside of the sole is slightly more lofted too, though it's impossible to say how much of this remains under one's bodyweight. The softness is primarily down to a lower wool content, 37%, and a higher proportion of synthetics. More comfortable, but slightly less warm too.
3. GripGrab Merino Winter Socks
Best inside winter shoes
+ Great for inside winter shoes
+ Classic euro styling
- Only 28% wool
- Lower cuff not the fashion
A sock with classic euro stylings. In this case only the toe box and heel are thickened, as well as a doubly thick ankle gripper. The rest of the material is still thicker than a summer weight sock, but these aren't quite so wintery as others on this list, also indicated by a wool content of 28%. The shorter cuff means they won't protrude above winter shoes or overshoes. They do also say "FOOT LOVE" on the toes, which is amusing if nothing else.
4. Velocio Signature Wool Sock
The cooler luxury option
+ 57% merino
+ Luxurious feel
- Too thin for deep winter
These are the lightest, thinnest socks of the bunch. They're very close to a summer sock in thickness, with no thicker areas at all. Why include them in a guide to the best winter socks then? Because some riders like to preserve the fit of their race shoes, and these will be the best way to not bulk them out. A 57% merino content, and an extremely soft feeling makes these a comfortable option that will add a noticeable warmth to your close fitting shoes, perhaps for a frosty race or intense training session.
5. Rapha Deep Winter Socks
The very warmest option
+ Extremely warm
+ Whole lower leg insulated
- Overkill for most situations
These socks have more in common with those designed for skiing than cycling, and are really only appropriate for the absolute coldest days out. Designed to go under bib tights or your leg warmers, they sit just below the knee and add insulation to the whole lower leg. These are the warmest cycling socks you're going to find, especially considering the 52% merino content. Just make sure your shoes can accommodate them as they're quite thick.
6. Showers Pass Lightweight Crosspoint
Visible and waterproof
+ Soft interior
+ Visible colour option
- Thick and bulky
These Lightweight Crosspoint socks from Showers Pass are on a par with the Rapha Deep Winter socks for thickness, but these will keep your feet dry too. The cuff is good and tall, and while they feel stiff (as all waterproof socks do), they're comfy enough considering the waterproof benefits they add. The heel is reinforced too, and if visibility is your thing they come in an extremely bright neon yellow.
7. Endura Humvee Waterproof Socks
A slimmer waterproof option
+ Slimmer profile for closer fitting shoes
+ Good arch fit
- Not very soft inside
Similar to the offering from Showers Pass, but thinner in construction. The Endura Humvee socks use a less lofted internal fabric to cut some bulk out of the equation. The consequence is that they feel less bulky, especially in your shoes, but the next-to-skin feeling isn't so pleasant. The ankle cuff is lower than the Showers Pass too, and a ribbed section around the midfoot keeps the fit around the arches better.
8. Sealskinz All Weather Mid Length with Hydrostop
Waterproof, plus
+ Hydrostop stops water seeping in
+ Good fit, tall cuff
- Expensive
While the standard Sealskinz waterproof socks don't necessarily offer anything over those from Showers Pass or Endura, the models with Hydrostop do take things up a notch. This takes the form of a silicone strip at the upper hem, providing a far better seal against water ingress from above. It works best with shaved legs, though. A very tall cuff too, but in other aspects its very similar to the Humvee.
9. Sealskinz Cold Weather Mid Length with Hydrostop
The extreme option
+ Hydrostop stops water seeping in
+ Thick and warm
- Expensive
- Bulky
As per the Sealskinz all weather option the Hydrostop band helps stop water ingress. The cold weather model is thicker, though, the thickes of all the waterproof options. It's expensive, and like the Rapha Deep Winter Socks it's probably overkill for most people, but if you do need it you'll be glad to have them on your feet. Just make sure your shoes have room.
How to choose the best winter cycling socks for you
While this list encompasses my favourite options, there are myriad others out there, and forewarned is forearmed. With that in mind I'm going to attempt to answer some common winter sock FAQ's so that, if none of these options take your fancy, you can still make informed purchasing decisions, and ultimately have a better riding experience.
What are the warmest winter cycling socks?
If absolute warmth is what you're after then the Rapha Deep Winter Socks take the crown, but they're an extreme example best suited to those who ride in very cold conditions, or who suffer from chronically chilly toes.
As with all gear, there is a trade-off. Warmer socks are also more sweaty if the mercury rises, so be sure to pick something that's right for your needs and not just an absolutist option.
How do you keep your feet warm cycling?
Luckily for you we have a whole guide on how to keep your feet warm while cycling. The trick is keeping your feet warm and dry, as well as uncompressed. This means a decent set of winter cycling socks, paired with some winter cycling shoes or overshoes, and not doubling up on socks.
Dryness is key, and while overshoes or winter cycling shoes do an admirable job, as do waterproof cycling socks, nothing beats a full set of mudguards.
What is the best material for cycling socks?
Wool does a marvellous job of insulating, far better for the same weight than synthetic options. It's also sturdy, and breathable. Merino wool even more so, and it has the added benefit of being slightly antibacterial, cutting down on the stink a little bit; you'll still have to wash them, though!
If you want a more insulating sock then look for a higher wool content, but there needs to be some elastane and other fibres to provide stretch and the next-to-skin fit that we all want in a sock. Also, a thicker wool sock with a lower wool content may well be warmer than a thinner one with higher wool content.
It's also, in a lighter weave, perfect for hotter days too, but for the summer, synthetic weaves seem to take over with some very open mesh options.
Does wearing two pairs of socks keep your feet warmer?
No. If you wear two pairs of socks you're going to compress your feet. This leads to a reduction in circulation, meaning nice warm blood is cut off from reaching your feet and ultimately you'll probably end up with colder feet than if you just wore one pair of socks.
Do I need waterproof cycling socks?
Waterproof socks do a remarkable job of keeping your feet dry. They have two layers of fabric, with a waterproof membrane sandwiched between them. They do feel quite stiff and thick, and they're not going to be as breathable as a normal sock, but particularly for gravel riding through puddles where you can't really wear overshoes for fear of shredding the bases, they're an excellent option.
For really cold days they can also act as a warmer option, if you don't mind getting a bit sweaty. The membrane, though nominally breathable, is akin to wrapping your feet in a plastic bag. This seals the heat in and creates a little microclimate.
If you want the ultimate in dry feet then remember to add mudguards. They may not be fashionable, but they are hugely effective.
Do socks go under or over leg warmers?
The biggest debate in cycling, and we're not going to alienate half our readership by coming down on one side or the other. The fence is actually very comfortable to sit on.
Personally I mix it up. If it's cold and dry then I go over to show off my socks, if it's wet I keep them under so they don't get filthy.
How do we test winter cycling socks?
This winter I've been testing all the bad weather gear, so while I've been out in the rain and the cold testing the best waterproof cycling jackets, waterproof trousers, leg warmers, thermal shorts etc, I've also been throwing on a load of winter cycling socks to see which ones cut it.
They've been frozen, sprayed with mud, and regularly totally submerged thanks to some flooded trails. They've been washed multiple times to see how they hold their shape too. Lots of use in bad conditions is (unfortunately for me) the only way to sort the wheat from the chaff.
The latest race content, interviews, features, reviews and expert buying guides, direct to your inbox!
Reviews Writer, Cyclingnews
Will joined the Cyclingnews team as a reviews writer in 2022, having previously written for Cyclist, BikeRadar and Advntr. There are very few types of cycling he's not dabbled in, and he has a particular affection for older bikes and long lasting components. Road riding was his first love, before graduating to racing CX in Yorkshire. He's been touring on a vintage tandem all the way through to fixed gear gravel riding and MTB too. When he's not out riding one of his many bikes he can usually be found in the garage making his own frames and components as a part time framebuilder, restoring old mountain bikes, or walking his collie in the Lake District.
Height: 182cm
Weight: 72Kg
Rides: Custom Zetland Audax, Bowman Palace:R, Peugeot Grand Tourisme Tandem, 1988 Specialized Rockhopper, Stooge Mk4, Falcon Explorer Tracklocross
The latest race content, interviews, features, reviews and expert buying guides, direct to your inbox!
Thank you for signing up to The Pick. You will receive a verification email shortly.
There was a problem. Please refresh the page and try again.