Best leg warmers for cycling 2023: Extra coverage for the winter and shoulder seasons
Extend the use of your bib shorts with the best cycling leg warmers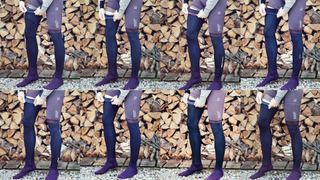 (Image credit: Will Jones)
You don't necessarily need to have the best bib tights to get through the winter. In fact, my preference has always been a set of thermal bib shorts and a pair of the best cycling leg warmers. With the right pairing, you can get the same warmth as a set of bib tights, and a lot more versatility too as you can take them off if the mercury rises. For this reason, they're also perfect for bikepacking trips where versatility is paramount for a light setup. I've spent the winter months trying out the best of the bunch in cold, rain, and wind in order to bring you my favourites. There are some classic options and a few newcomers, each with strengths and weaknesses; as ever, there is no silver bullet.
Best legwarmers for cycling
1. dhb Regulate Thermal Leg Warmers
A basic option, but a great starting point for the price
Reasons to buy
+
Low price
+
Very fleecy inside
Reasons to avoid
-
Short length
-
Not as wind resistant as others
The dhb Regulate Thermal Leg Warmers are the most basic option in this list, but that doesn't mean they should be discounted (though, they regularly are, price wise). A basic, non-articulated tube construction made from the same roubaix fabric as the brand's thermal bib shorts and bib tights. As a jumping-off point, they're hard to beat, and I've owned a pair for years.
They do come in a little short, much like the dhb Aeron option, sitting mid-thigh, but don't be tempted to size up or you'll lose the fit and it'll end up bunching. They're as fleecy in terms of loft as the luxurious Velocio, but the pile is less dense so the wind resistance isn't as good as others. For dipping your feet into colder riding, they're a fine starting point, or as I often used them, a perfect cheap pair you're willing to trash warming up or racing cyclocross in.
At the time of writing these are currently heavily discounted down to £12 / $14, making them an even better bargain.
2. dhb Aeron Rain Defence Leg Warmers
The best budget leg warmers for high tempo riding
Reasons to buy
+
Cheapest option with a DWR
+
Well thought out construction
Reasons to avoid
-
Short length
-
Seam back of knee
Considering the price, especially if discounted, you get a lot of bang for your buck with the dhb Aeron Rain Defense leg warmers. For starters, they're the cheapest option to feature a DWR (durable water repellent) coating to stave off showers. Not only that, but they have an articulated cut to avoid bunching, and a more windproof front face material, with a softer more fleecy-backed area for your hamstrings. All things you tend to find on more premium offerings.
That being said, they aren't perfect. They're the shortest of the bunch, so don't offer quite the coverage you'd want for really cold days out, and the seam on the back of the knee is something I'm not a huge fan of. The grippers are better than the dhb Regulate, but are still rather narrow. If you're looking for a budget offering for higher tempo riding though, you could do an awful lot worse
As per the dhb Regulate, at the time of writing these are also currently heavily discounted down to £14.40 / $18, making them a bargain, and likely a better purchase than the dhb Regulate of you can stretch the budget a touch.
3. Rapha Thermal Leg Warmers
The best 'classic style' leg warmers
Reasons to buy
+
Good long length
+
Secure Grippers
Reasons to avoid
-
Grippers can be a little aggressive
If you want a classic style leg warmer, by which I mean a non-articulated tube of fleece-backed lycra, then your best bet beyond the budget-friendly dhb Regulate is a set of these if you want grippers, or the Velocio option if you don't.
The material Rapha uses is slightly thinner than the Velocio leg warmers, and the fit is a little more compressive. The length here is good, even in a size small, giving good coverage, and the leg grippers at the top are tenacious, bordering on aggressive; they'll not fall down, that's for sure.
Comfy, stylish, and well-executed.
4. Endura Pro SL Leg Warmers II
The best all round leg warmers for cycling
Reasons to buy
+
Compressive fit
+
Comfortable grippers
+
Proper reflective details
It's always telling when doing a grouptest which products I reach for when I'm not actually testing. In the case of leg warmers the Endura Pro SL Leg Warmers are the best of the bunch, and they're what I tend to wear if they're not in the wash.
The length provides good coverage, and the grippers are comfortable. The fit is compressive, especially on the lower leg, though this does make them harder to get on and off. On the back of each calf is a properly reflective patch, rather than a token strip of material sewn into a seam.
The fit is also articulated, with a more windproof front and a more fleecy hamstring area. Finally, the lower hem is raw edge, so you don't have any pressure points around your ankles if you're also layering up with socks, and a pair of the best cycling overshoes.
5. Velocio Leg Warmers
The most luxurious feeling cycling leg warmers
Reasons to buy
+
Lack of gripper is comfortable
+
Most comfortable fleece fabric
Reasons to avoid
-
No gripper relies on tight shorts
These are very similar in feeling to the Rapha Thermal Leg Warmers. The material is a little more luxurious in feeling though; the inner fleece is a higher pile and a little denser. Where they differ, making it their USP in reality, is the lack of any gripper, with the end of the fabric simply rolled over and stitched down at each end.
This makes for a very comfortable, irritation-free fit, but it does rely on your shorts being tight enough to hold them in place. If you find grippers irritating then these are the ones to go for, unless you want to drop twice the price on a set from Assos.
6. Le Col Leg Warmers
The cycling leg warmers with the most comfy grippers
Reasons to buy
+
Semi-articulated
+
Great grippers
+
Softest fleece of the bunch
Reasons to avoid
-
Quite basic for the price
The Le Col Leg Warmers sit as something of a halfway house between the classic, tube style leg warmers, and more technical, panelled options. The material is the same throughout, but darts have been put around the knee and a seam across the back of the knee to take in material where it tends to bunch. Personally I'm not a fan of having a seam in the back of the knee, but it does elevate them above more basic options.
They're a good length, and the fleece is super soft. Where they really shine for me though is in the grippers, which are effectively the inverse of that you find at the end of the brand's bib shorts; a nice, wide, silicon backed gripper that's low profile and doesn't cause any undue pressure. They're the best grippers of the bunch.
7. GripGrab AquaRepel Leg Warmers
The best cycling leg warmers for those with bigger thighs
Reasons to buy
+
Water repellent
+
Suitable for bigger legs
These are very similar to the Le Col Leg Warmers in many ways. Both are semi-articulated but lack any complex panelling arrangements. Here, though, you get a water-repellent coating, which is certainly beneficial for days out in the wet, but on the flip side, the grippers aren't so good. They're similar to that which you'd find on the dhb offerings.
For me, they were a little loose. I was technically a medium according to the brand's sizing, but I suggest you size down. That being said, the length was perfect for me in a medium, leading me to the conclusion that if you are blessed with large, powerful thighs then these might be an option worth considering (I am built like a twig, so have my own fit issues).
8. Rapha Explore Leg Warmers
The best cycling leg warmers for gravel and bikepacking
Reasons to buy
+
Lightweight and packable
+
Tougher materials
+
Tenacious grippers
Another gravel specific product to consider? I'm afraid so, and I do really like the Rapha Explore Leg Warmers, in the right context. They are made from a thinner, more windproof ripstop material, with a more insulated rear hamstring as you'd find on the Endura Pro SL, but they lack the bulky fleece backing of every other option here. There is a slight softness, but they aim to keep you warm by keeping the wind and rain off, rather than through insulation.
This has the effect of making them extremely light and much more packable than the other options, ideal if you're tight on cargo space. The fabric is also noticeably more sturdy and abrasion resistant than the rest, perfect if you're spending time off the bike, or scrambling about in the undergrowth.
The grippers, as per the Rapha Thermal Leg Warmers, are tenacious, meaning even if you're wearing baggies you could slip these on to insulate your lower legs without needing the grip of a pair of bib shorts to hold them in place.
10. Assos RS Leg Warmers Targa
A super-premium option offering unmatched comfort and coverage
Reasons to buy
+
Best coverage
+
Unmatched comfort
+
Very breathable
The Assos RS Leg Warmers Targa do things a little differently. The material for a start is a more open fabric with a light compression. It's less fleecy and more breathable, and definitely better suited to higher output riding. There are zippers at the base for easy on/off, bucking the trend of the rest of the bunch. I'm indifferent to zippers, and rarely have I ever been annoyed by their presence.
The main selling point of these is the coverage; they extend far higher up the outer thigh and hug the crotch. What's more, the upper ends are raw-edges, so there's no additional pressure at all. Gripping is taken care of by an array of silicone dots on the outer thigh, but you'll need tight shorts to have the best time with them.
The lower hem is also low profile but reinforced for longevity. All in all, these are a very premium offering, but not one for the coldest days. Absolute comfort though, if you've the shorts to hold them steady.
How to choose the best leg warmers for you
When should you wear leg warmers?
Leg warmers are usually considered to be something for early spring and late autumn, rather than an option for deep winter. However, with the right pair of thermal bib shorts they can definitely get you through the coldest days; the warmest leg warmers are just as thick as many of the best bib tights.
They offer a versatility that bib tights can't though, in that they can be taken off if it gets warm enough and thrown in a back pocket. They're usually a cheaper investment than a pair of bib tights, too.
Do socks go under or over leg warmers?
This one splits opinion, and not wanting to alienate half of our audience I think I'll stay nice and comfortable here, sitting on the fence. Personally if it's dry I'll wear my socks over the top, and if it's wet they'll go underneath so they don't get trashed. It's all a matter of personal preference, so you do you!
Should cycling leg warmers be waterproof?
No cycling leg warmers are waterproof, but many offer a durable water-repellent coating that causes light rain to bead up and run off. This is certainly helpful if you're riding in showery weather, but they'll never stand up to a protracted deluge.
It's worth noting that you can wash a DWR treatment into any pair of leg warmers using something like NikWax TX-Direct, or even some spray-on treatments, so if you find a pair that takes you fancy and you want to upgrade them then go right ahead.
Should leg warmers have a zipper?
Most of the options on this list don't have one. The only time a zipper is handy is if you plan to take them off while your shoes are still on - think racing scenarios, or after warming up for a cyclocross race.
That being said, most of them are also stretchy enough to go over shoes, but you just might damage them on the way if you snag them on cleats or studs.
What size leg warmers do I need?
This is going to be down to the manufacturer, and the first port of call should always be their sizing charts. That being said we've tried to advise where relevant of any sizing issues, as some options are longer than others, and some too are wider in the thigh for a given size, so you should be able to find your glass-slipper fit one way or another.
How do we test legwarmers for cycling?
The leg warmers in this list have been part of my winter testing regime, so they come out with me when I'm also testing winter tyres, waterproof jackets, thermal bib shorts and everything in between. They've seen rain, high winds, and often been soaked, as well as those cold frosty days. Longer rides test the retention, as does getting them wet; a wet leg warmer weighs more and is more likely to slip down with water acting as a lubricant.
The latest race content, interviews, features, reviews and expert buying guides, direct to your inbox!
Reviews Writer, Cyclingnews
Will joined the Cyclingnews team as a reviews writer in 2022, having previously written for Cyclist, BikeRadar and Advntr. There are very few types of cycling he's not dabbled in, and he has a particular affection for older bikes and long lasting components. Road riding was his first love, before graduating to racing CX in Yorkshire. He's been touring on a vintage tandem all the way through to fixed gear gravel riding and MTB too. When he's not out riding one of his many bikes he can usually be found in the garage making his own frames and components as a part time framebuilder, restoring old mountain bikes, or walking his collie in the Lake District.
Height: 182cm
Weight: 72Kg
Rides: Custom Zetland Audax, Bowman Palace:R, Peugeot Grand Tourisme Tandem, 1988 Specialized Rockhopper, Stooge Mk4, Falcon Explorer Tracklocross
The latest race content, interviews, features, reviews and expert buying guides, direct to your inbox!
Thank you for signing up to The Pick. You will receive a verification email shortly.
There was a problem. Please refresh the page and try again.