Best gravel bikes 2022 for speed, practicality and adventure
Our pick of the best gravel bikes from racing rigs to bikepacking steeds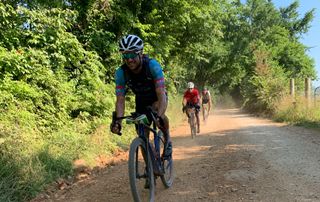 (Image credit: Highlands Gravel Classic)
The best gravel bikes combine off-road capability with a turn of speed that will see you cover ground efficiently both on unmade trails and on tarmac, upping the variety in where you can ride.
We've got a full guide to what is a gravel bike if you want more details, but the field has both expanded and diverged in the last few years. So whereas the first generation of gravel bikes tried to cater for all uses, the best gravel bikes now span everything from fast gravel race bikes through to bikes designed for bikepacking with loads of mounting points for bikepacking bags and often with 650b wheels.
There's also a lot more choice of gravel bike components and kit, like the best gravel wheels, best gravel tyres, best gravel bike pedals and gravel bike clothing. There's a whole range of gravel groupsets too, from Shimano, SRAM and Campagnolo.
We've covered the bikes that we rate as the best gravel bikes here, but we've also got guides to the best women's gravel bikes ad the best budget gravel bikes. The best electric gravel bikes also highlight a growing gravel category.
Read on for our pick of the best gravel bikes, or scroll down to the bottom of the page for our guide to how to choose the best gravel bike for you.
Best Gravel Bikes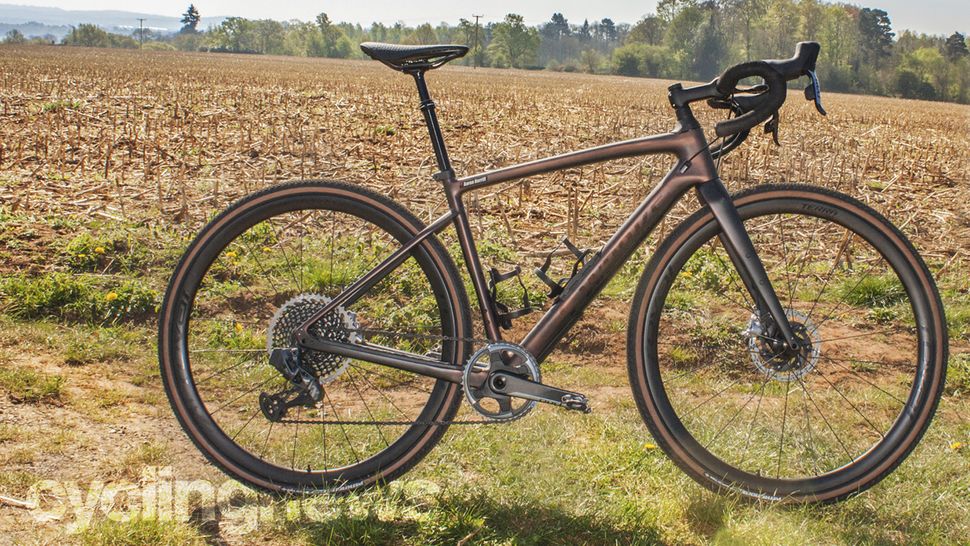 We've always been fervent admirers of the Specialized Diverge and its ever-evolving skillset. Having sampled all three versions since its inception in 2014, the newest edition has taken an already winning formula and tempered it into yet another stellar offering - it's the best gravel bike Specialized has made to date.
The new model's geometry is more progressive than before featuring a slacker headtube angle, a longer reach and a shorter stem. The fork has also received some adjustments and now boasts a longer offset while the trail number ensures greater steering response and front-end agility. The bottom bracket drop has been raised by 5mm for all frame sizes while the chainstays have marginally grown to 425mm.
The range-topping S-Works Diverge comes dressed in a combination of SRAM's road and mountain bike electronic components. Often referred to as a mullet build, it combines eTap AXS road levers with an Eagle AXS rear derailleur and 10-50T cassette - an arrangement which fully complements the Diverge's multi-faceted skillset and left-field demeanour. Other noteworthy components include an X-Fusion Manic dropper post which offers just 50mm of travel, Roval Terra CLX gravel wheels, an Easton EC70 AX Carbon bar with 16-degree flare, a Specialized S-Works Future Stem with integrated Bar Fly computer mount and an S-Works Power saddle.
The Specialized Diverge is the quintessential adventure bike. It can dismiss anything from fast-paced road rides and long-haul gravel adventures to CX-style lap racing with consummate ease. Furthermore, the Diverge range - as a whole - caters for every kind of rider and budget imaginable, making it one of the most accessible bikes of its kind on the market.
Read our Specialized S-Works Diverge review for even more details as to why we love it.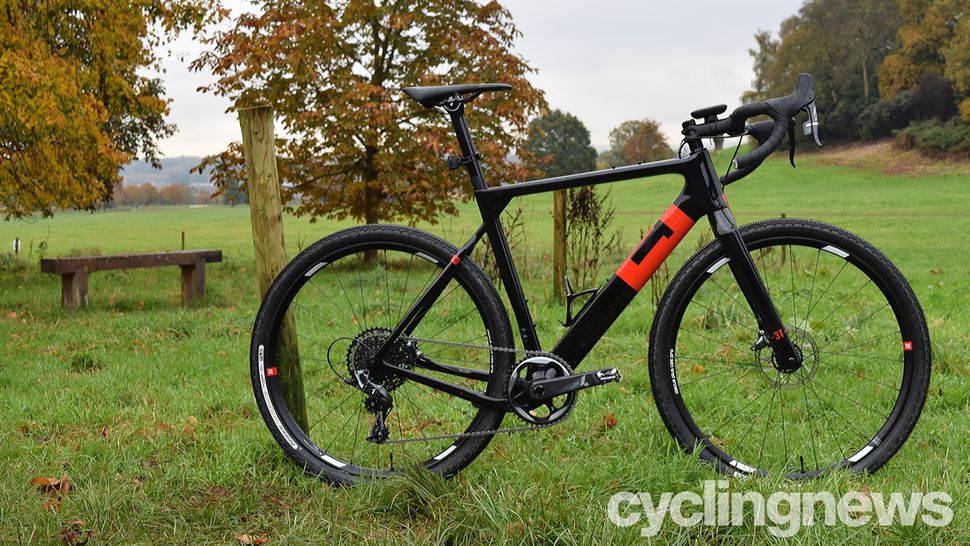 When 3T launched the Exploro, the bike industry didn't really get it — I mean an aero gravel bike? Come on, aerodynamics are only useful at 40kph if we are to believe the figures the bike industry regularly feeds us, right?
3T respectfully disagrees, citing testing it conducted in the wind tunnel at 20mph/32kph showing the Exploro saves 7-watts over a bike with round tubes and 24 watts at 30mph/48kph against the same bike.
With a dropped drive-side chainstay, the Exploro has room for 700x40c tyre or a 650bx2.1in tyre, and the 71.1-degree head angle, 546mm stack and 378mm reach in a size medium, puts the Exploro on the racier end of the spectrum. In our experience, it's a flickable, confidence-inspiring ride no matter the terrain.
From our 3T Exploro review: "The 3T Exploro is an aero optimised gravel bike that is entirely capable on-road, yet it comes alive on flowing singletrack and off-road climbs. If we were designing a do-it-all gravel bike, there's little we'd do differently than 3T has done with the Exploro. That four-hour Sunday ride is becoming rarer and rarer, instead, we're opting for a half-the-time, double-the-fun approach on the local trails."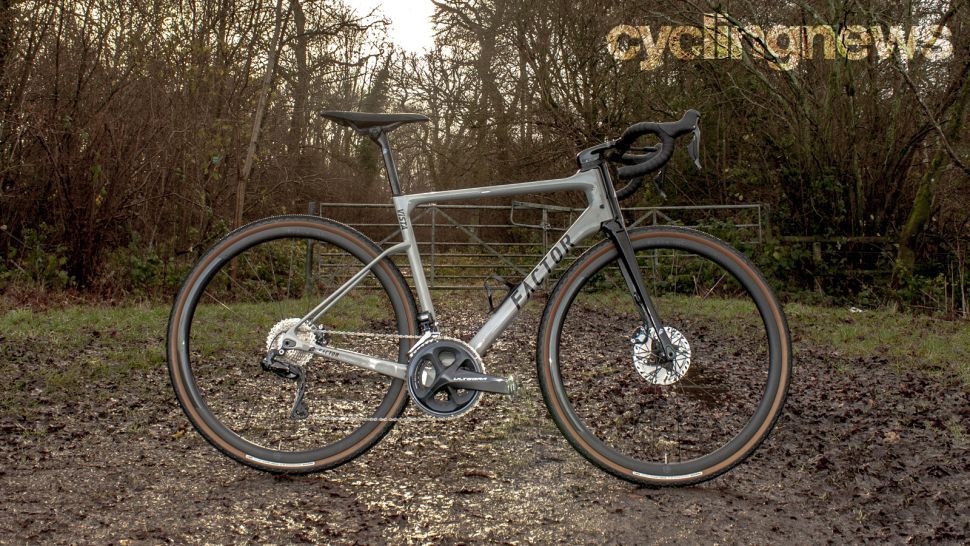 Factor's Vista is an 'all-road' bike that we struggle to classify. The geometry falls more on the side of an endurance road bike, but there is room for 35mm tyres in the frame. It features the brands OTIS AR external fork also found on its One aero bike and Slick TT bike. The seat stays are aggressively dropped, and Factor says they have been tuned to absorb trail buzz.
While on paper it might appear to be almost a franken-bike of sorts, what it does offer is an agile ride, translating plenty of feedback as to what's going on underneath the tyres.
With steep angles and a short (for a gravel bike) wheelbase, the low bottom bracket keeps things from getting overly nervous, but the Vista makes for an exciting and energetic ride. That said, it is most definitely tipped more towards straight-line speed instead of twisty tight singletrack.
Check out our Factor Vista review for more juicy details.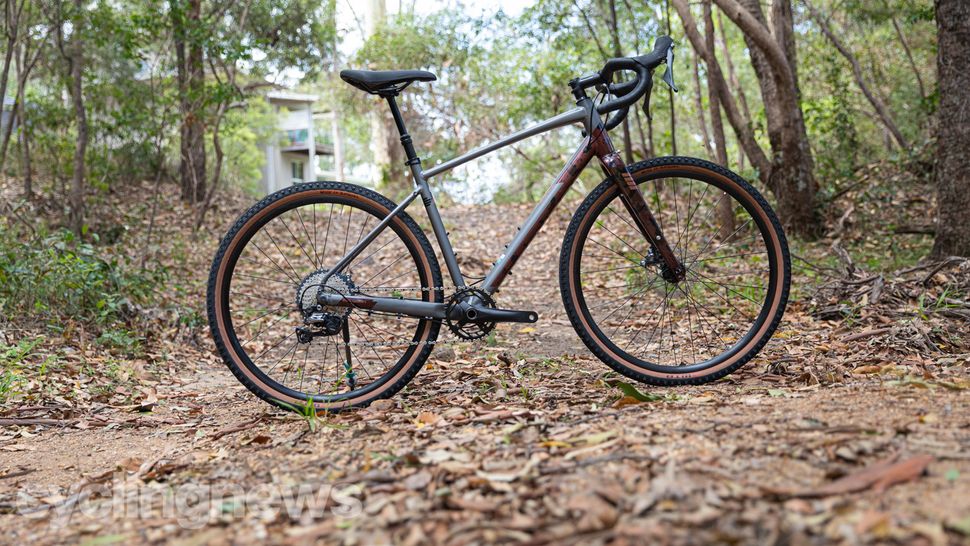 If you're planning some rambunctious off-road adventures that will involve tackling rough terrain, the Polygon Bend R5 is a good value-for-money choice. The ALX alloy frame is mated with a carbon fork, and the angular tubes are hydroformed to produce a blend of stiffness and compliance that work well together.
The Polygon Bend R5 comes stock with 650b wheels and 41mm WTB Venture tyres, though there's definitely more space if you want to size up slightly. We reckon that with 80mm between the fork legs, you could easily squeeze in something over 2-inches and still have room for mud.
The Bend R5 is a versatile steed that could serve as a commuter during the week and a gravel adventure mule at the weekend. It comes with two build options: 2x or 1x Shimano GRX drivetrain, with the latter also including a Tranz-X dropper post. All the finishing kit is supplied by Entity, Polygon's in-house components brand.
Our Polygon Bend R5 review will cover all these points in more detail and more besides.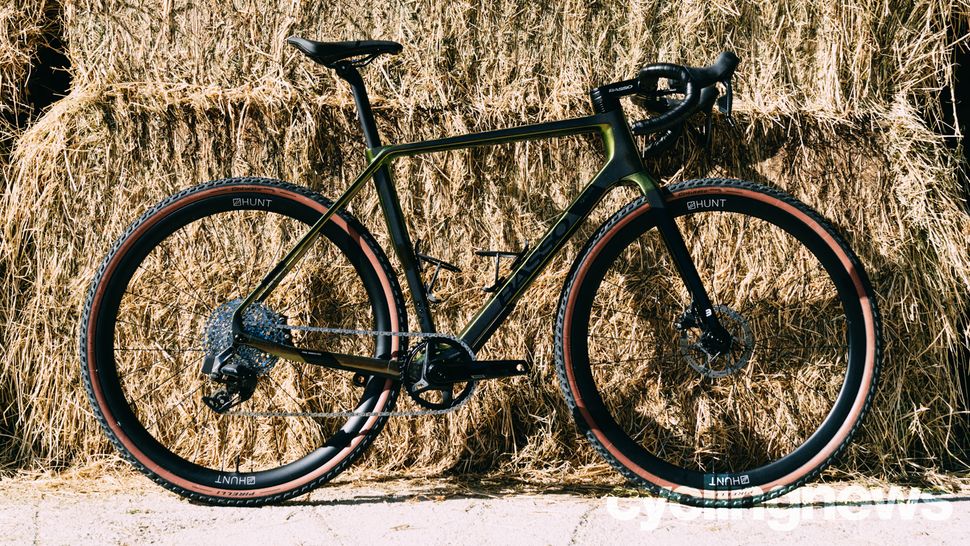 The Palta II from Basso builds on what was already a formidable package from its predecessor. Speed is very much the order of the day, as well as extremely nimble handling. The short wheelbase and high bottom bracket keep things snappy, but can come unstuck at times at top speed over rough ground; with geometry like this it won't be as planted over the rough stuff as some other options.
Where the Palta II has noticeably improved over its forebear is in the compliance department. The original could feel somewhat unforgiving at the tail end of longer rides, the latest version is much smoother, making it an enticing prospect for longer gravel races where a blend of speed and comfort are both key.
While 45mm tyres are a touch below the 50mm we'd like to see, on a bike so speed oriented as this it's not as much as a drawback as it seems. Given how the bike performs it'd likely be just as at home on a set of 30mm slicks on a road ride.
If you're curious to know more head to our Basso Palta II review.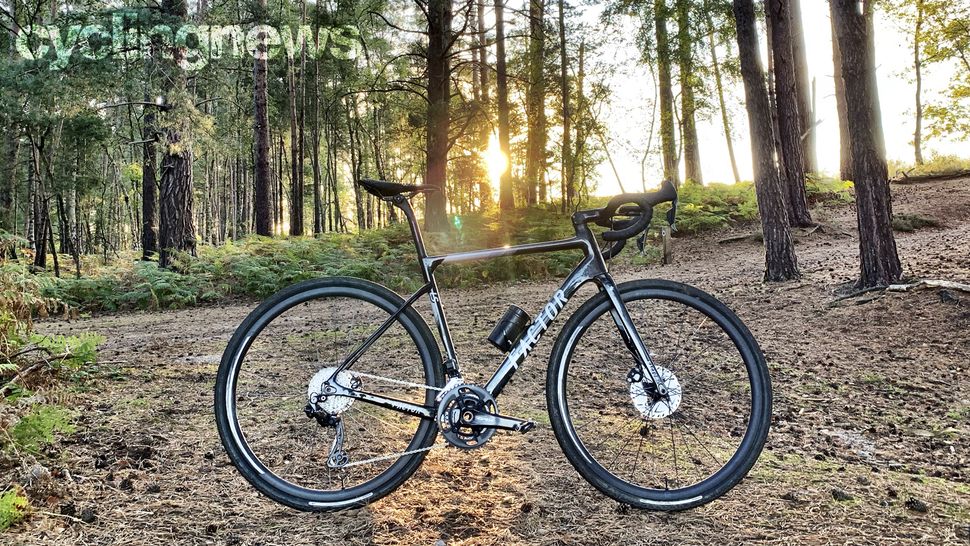 The Factor LS boasts an incredibly lightweight frame, weighing just 950g, and is billed as an all-out race machine. We'd certainly agree with that statement, too. When we tested it out we found it to be truly impressive. It's without a doubt, a no-holds-barred gravel racer that feels rich and offers all the speed and feedback you'd need when racing between the tape.
It's available both as a frameset or a complete build, and the latter comes kitted out with a SRAM Force eTap AXS Disc groupset, alongside the brand's fabled Black Inc Thirty wheels and finishing kit.
Of course, speed and race pedigree come at a price to some extent, and the LS does deliver a slightly jarring ride. With its direct-ride feel and communicative underpinnings, it's sure to find favour with riders looking to outpace their rivals at their chosen gravel event.
Check out our Factor LS review to see how it compares to the Factor Vista.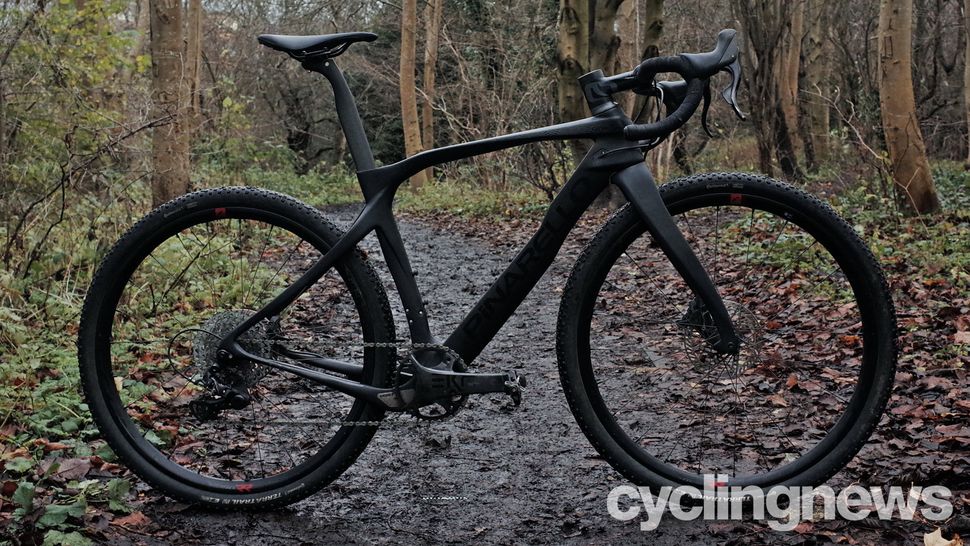 While the aesthetics are widely accepted as polarising, Pinarello's kinks and curves are irresistible to many cyclists, and the Grevil (and Grevil+) gravel bikes are not immune to the Italian brand's trademark form factor. The new Grevil F continues the trend.
One of a few that come out-the-box fitted with 650b wheels, the Grevil is certainly ready to hit the trails. It comes fitted with 650b x 42mm tyres, but the dropped drive-side chainstay allows room for chunky 2.1-inch mountain bike tyres on 650b rims, or 42mm on 700c.
The asymmetric frame shape takes cues from Pinarello's Tour de France-winning Dogma F12 road bike, adding stiffness to account for the extra forces applied on the drive side.
The aero tubing is, like the 3T Exploro, designed to speed up proceedings, although Pinarello doesn't claim any specific savings, instead just stating 'even a small aerodynamic gain multiplied by several hundred kilometres can be a great overall gain'.
Our Pinarello Grevil review should answer any detailed questions you've got.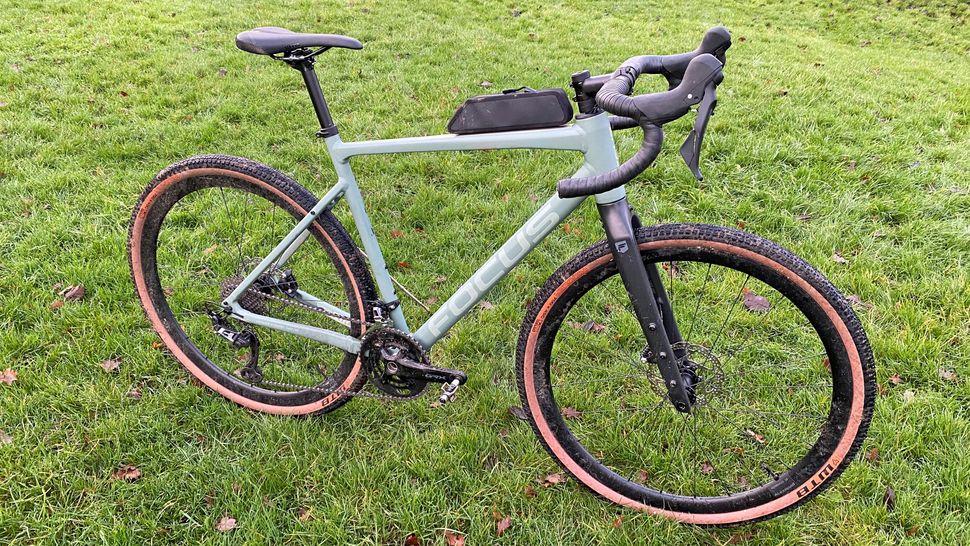 Released in January of '21, Focus was rather late to the gravel party when it launched its Atlas gravel bike, but being late can be fashionable, right?
We were one of the first to test the Focus Atlas 6.8 gravel bike prior to its release, and we found it to be tough, versatile and adaptable. These are all great qualities if you want to load up and escape the everyday for a while. The Atlas is definitely on the smooth-ride easy-cruiser end of the gravel spectrum, which means it's not as light as some of its competitors, but it's robust enough to load up on luggage and take out for a long and exploratory ramble.
The alloy frame has a large, rectangular downtube with triple-mounts for adjustable bottle cage positioning, while the seat tube features a plugged entry point for a dropper post, should you wish to install one.
The Atlas 6.8 comes equipped with 700c wheels, but is also 650b compatible, and has clearance for up to 45mm tyres. One of the nice additional features is the top tube bag that comes with every bike as standard, mountable to the top tube.
As the range's second-highest model, the 6.8 is kitted out with a mixture of Shimano GRX 600 and 800 drivetrain components, as well as Novatec tubeless-ready wheels and WTB Riddler tyres.
Have a read of our Focus Atlas 6.8 review if you're curious to know more.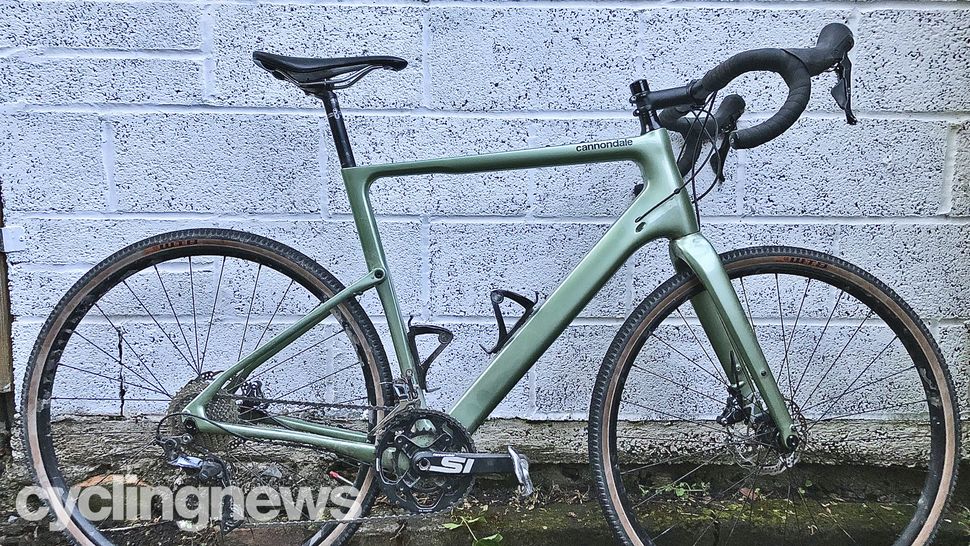 The Topstone was by far the best gravel bike at GBDuro in 2019, although that might have had something to do with its rider, Lachlan Morton, who pedalled it to emphatic success. Out of the box, the Topstone Carbon has 700c gravel bike wheels, 37C WTB tyres, internal cable routing, and mounts for mudguards as well as all the bikepacking bags you're ever likely to need.
In our experience, the frame sizes up quite big, with a medium coming with a 579mm stack and 385mm reach - which is actually about the same as the Wilier Jena.
If you feel like getting a bit rowdier, you can swap the 700c Hollowgram carbon wheels out for 650b hoops, and then wrap them in up to 47c gravel tyres, although you cannot do this at purchase, so you'll have to factor this into the cost.
On the whole, the spec of the Topstone Ultegra RX 2 is great, although we expect Ultegra RX availability to fade as the GRX Shimano gravel groupset becomes the choice option - not that that's an issue, as the parts are cross-compatible.
Hit up our Topstone Ultegra RX 2 review to find out more.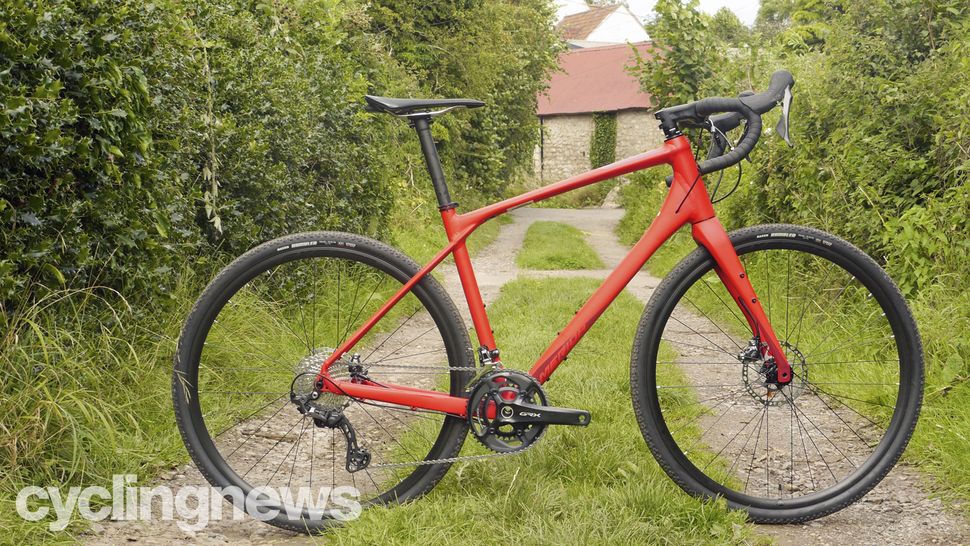 With the Silex+ 8000-E, Merida has taken its proven model bearing the same name and swapped out the 700c wheels for 650b, which affords chunkier tyre options and makes it even more suitable for rough riding.
The Silex+ is definitely the type of gravel bike that tries to disassociate itself from any tarmac relatives. With its 45mm Kenda Flintridge Pro tyres, tall stack and slack geometry, it's definitely an off-road ready machine. It's hugely capable as well, with a relaxed fit and handling that leaves you feeling composed and in control at all times.
It really comes into its own when you descend off-road, thanks to its high stack, long reach and short step. It has plenty of space for you to shift position, while the compliant frame helps to absorb some of the chatter while you roll over rough sections at speed.
If you want to know more about how it rides then be sure to read our Merida Silex+ 8000-E review.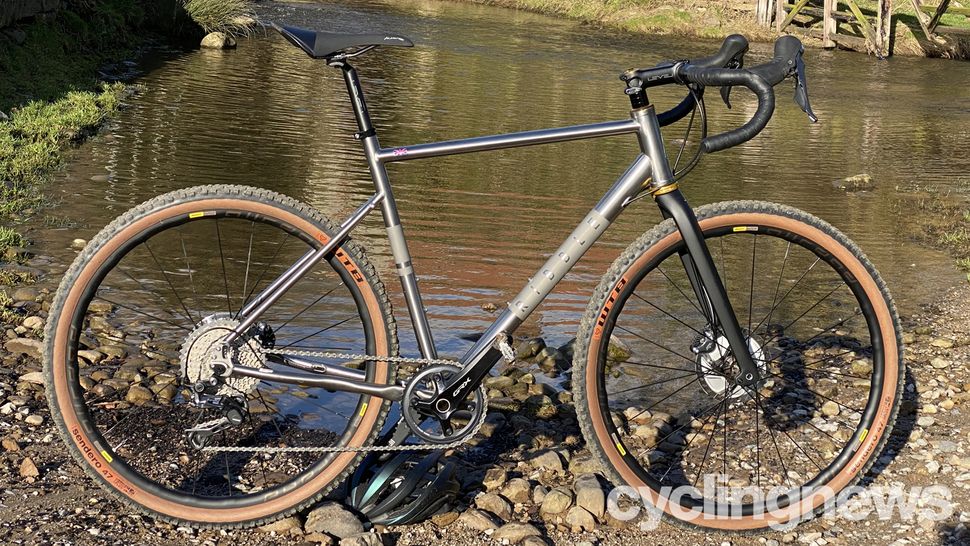 A titanium frame makes this gravel adventure bike feel like absolute luxury, with a gliding ride feel that makes it well suited for road and off-road alike. The Ribble CGR Ti is a great bike for exploring dirt options without becoming a barge pilot on back roads.
Ribble offers several build options for the CGR Ti, ranging from its 700 x 40mm Schwalbe G-One tyre 'SUV' versions in Shimano 105, Ultegra and Ultegra Di2, to its 'hero' SRAM Red eTap AXS spec, plus this chunky 650b x 47mm rubber gravel option with Shimano's GRX RX810 mechanical group.
While cheaper titanium frames make use of the same materials, Ribble's consists of expensive triple-butted, multi-shaped pipework that provides the kind of sprung resilience that is the whole point of titanium in the first place. What results is a strong, compliant frame that glides over the rough stuff.
Check out our Ribble CGR Ti gravel bike review to hear more about how the titanium frame rides.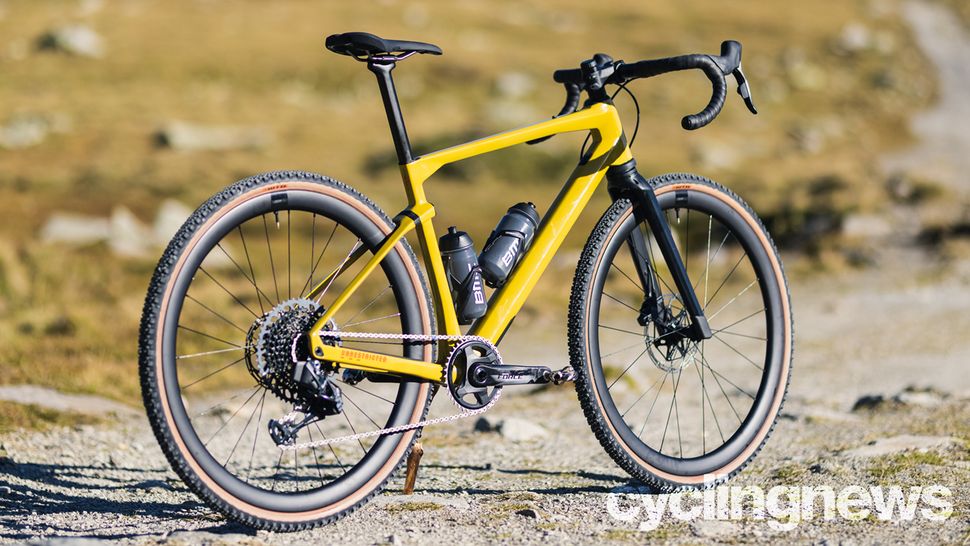 While gravel suspension may be relatively new, it does seem to be taking hold, with different interpretations on the theme from different manufacturers. Eschewing traditional telescopic suspension forks the BMC URS One has a fork vaguely reminiscent of an original Cannondale Headshok. It's not the easiest suspension fork to dial in, requiring replacement of preload spacers and stiffer/softer springs, but it is super reactive across rough ground.
The tyre clearance, at 45mm, could be larger, particularly given the 'Gravel Plus' moniker, but despite this our first impressions of the URS One are that it's extremely capable.
In addition to the suspension, the geometry of the frame makes for an extremely stable ride. In contrast to the Basso Palta II, the BMC URS One, with its long wheelbase and slack head angle, positively encourages you to bite off more that you'd otherwise be able to chew.
Are you into the more rowdy end of the gravel spectrum? Then the BMC URS One gravel bike review should be on your reading list.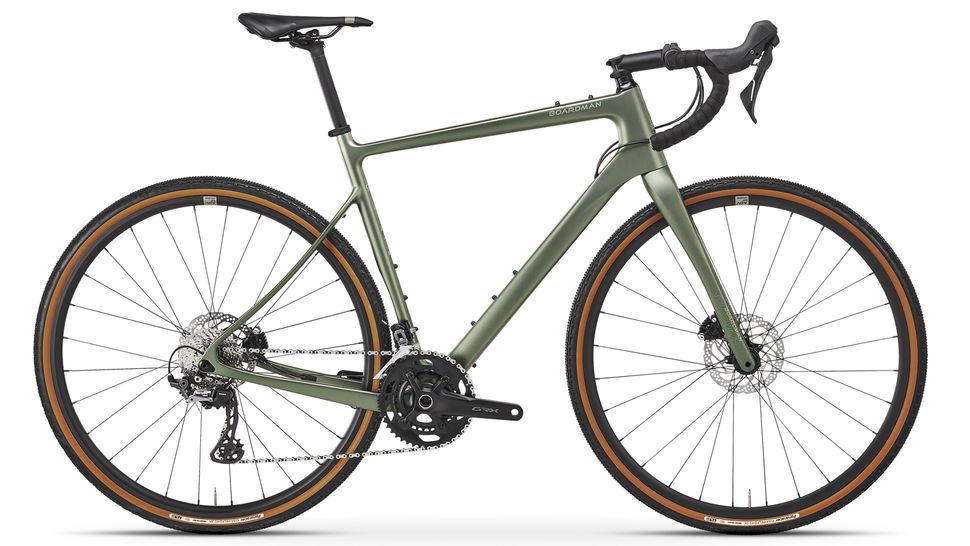 Boardman's carbon ADV 9.0 gravel bike offers excellent value for money and delivers a fun and responsive ride in return. While many of the options on this list will exceed £2,000 at least, the Boardman comes in at £1,850 retail and comes equipped with a 2x11 Shimano GRX groupset with a wide range of gears for on- and off-road riding. GRX hydraulic disc brakes provide the stopping power, while the 6-degree flare handlebar offers better control while descending in the drops.
The bike is finished off with a lot of Boardman's own proprietary kit, including the ADV wheelset that comes pre-taped and supplied with valves, ready for an easy tubeless setup, and 700 x 38mm Panaracer Gravel King SK tyres.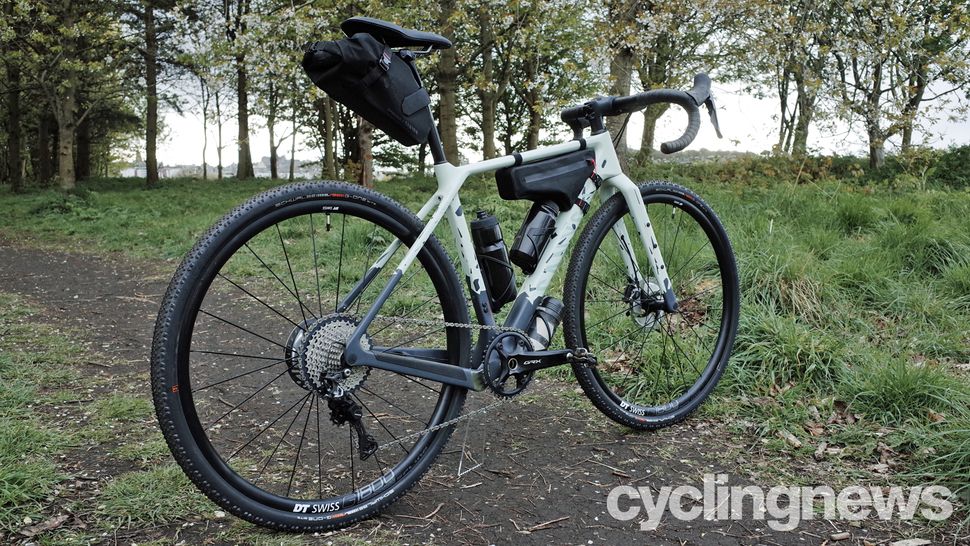 Canyon's Grizl is the direct-to-consumer brand's idea of a do-everything-go-anywhere gravel bike that's designed to take on everything from epic gravel rides to laden exploration, covering a broad spectrum of terrain.
If you're already familiar with the Canyon Grail, you may wonder why the brand has added another gravel bike to its line-up, and the answer is to create something that's more of a rugged explorer than a lightweight race machine. If you're after the latter, the Grail could be more up your street, whereas the Grizl comes with a longer wheelbase that provides a more stable and comfortable ride feel over long periods of time.
There are plenty of mounts on the frame for accessories, including anything cage mounts of the fork that can carry up to 3kg on each side, however be warned that the mudguard mounts are only compatible with Canyon's mudguards.
Canyon Grizl CF SL 8 1BY - First look gallery
Trek is also on the pointy end of the pack when it comes to comfort technology, and it shouldn't come as a surprise to find the brand's IsoSpeed decoupler integrated into the seat cluster — though we are surprised not to have it at the front too.
The frame sees Trek's high-end OCLV carbon fibre and the back features the brand's Stranglehold sliding dropout; allowing the Checkpoint to be run as a single speed and the wheelbase to be adjusted by 15mm for slight changes in wheelbase and handling characteristics.
The Checkpoint also features mounts galore and bash guards on the down tube and chainstays. The drive-side chainstay has also been dropped to allow for additional tyre clearance as well as room for a wider variety of front chainrings.
We've got a Trek Checkpoint SL 6 review for you if you need some more information.
Canyon's Grail is a bit of an odd bird. The frame itself is clean with all the lines making for a relatively futuristic look until you get to the cockpit, where you are met with a tiered drop bar.
Now called the Grail Cockpit, we think the name it was launched under is a more apt description — the Hover bar. The idea behind this double layer handlebar is two-fold; the top layer provides a degree of suspension and shock absorption using flex built into the floating section, while the crossbar that connects to the drops gives you something to hook your thumbs around for improved grip and control — similar to what you get with Road Togs — not to mention increased stiffness.
Canyon says there is only room for a 40mm tyre, and geometry is pretty close to the brand's Endurace, so it's better suited to big days on fire roads than spicy singletrack.
Curious to find out more? Then read our Canyon Grail CF SL 7 review.
How to choose the best gravel bike for you
Gravel is the hot genre in cycling at the moment, with most brands offering up something in the space. It's hard to know what the ideal gravel bike for you will be when there are such a dizzying array of options on the market, so we've got some answers to the key questions, as well as a few questions you need to answer yourself honestly to get the most out of your new purchase.
Where do I want to ride?
Are you collecting QOMs over buttery smooth gravel roads, or are you dodging rocks and roots while taking some lovely photos?
Being honest with yourself about the type of riding you intend to do is paramount. Buying a race bike when you really want to go for an expedition could be a costly and uncomfortable mistake.
If speed matters, and you're targeting gravel races and events then a pure gravel race bike is likely what you're after. Eschewing all unnecessary add-ons, these will prioritise speed and will have geometry more suited to less technical riding. They'll also likely have some aero flourishes, but you can't necessarily expect to be able to fit mudguards or luggage.
If you want to go far, over several days, or want to explore some more technical trails at your own pace then look for something slacker to inspire confidence when the going gets steep, and with the capacity to carry luggage.
Gravel specific suspension systems and dropper posts appear to be here to stay, and aren't limited to either end of the extended gravel bike universe, so it's your choice if you want some spring in your step.
Can I use my road bike on gravel?
Trend towards wider rubber for road bikes has opened up a new debate
We think most people would be in agreement that once the trail starts to feature rocks then a road bike really isn't a sensible choice, from both an enjoyment and a safety standpoint.
However, there has been a trend towards wider tyres in almost all cycling disciplines in recent years, and road bikes can now regularly be seen sporting rubber with widths greater than 30mm. Given cyclocross bikes are limited to a maximum of 33mm for racing you can be forgiven for wondering if you can use your road bike off the tarmac on occasion.
If you're only venturing off the blacktop on occasion, and not going over anything more than nicely graded trails it is entirely possible that your road bike will be absolutely fine. That being said, even the best road bike tyres aren't designed to be ridden over dirt, gravel, or through mud, so remember to use a bit of common sense.
Conversely, many of the gravel bikes on this list from the racy end of the spectrum will perform admirably on tarmac with a set of slick tyres or even a set of road wheels swapped in.
What wheel size do I need?
700c, 650b or even 26"?
Beyond the initial debate over what constitutes a gravel bike, the most appropriate wheel size is perhaps the most hotly debated topic. 700c was initially all that was on offer but now a resurgence in 650b, an old touring standard, has upset the apple cart somewhat.
650b rims have a smaller diameter than 700c, and can therefore fit a higher volume tyre within the same diameter (so the theory goes). In simple terms a 650b rim and a larger tyre has essentially the same diameter as a 700c rim with a smaller tyre. As a rule of thumb you're more likely to find 700c on those bikes designed for racing, while 650b tends to feature on bikes aimed at tackling the really rough stuff. There is significant crossover however, with some framesets able to take either.
Some manufacturers are thankfully also taking into account the needs of smaller riders. Constraints in frame geometry mean extra small frames can sometimes come with 650b wheels or even 26" in contrast to the rest of the size range to keep handling characteristics consistent between bike sizes.
What extras do I need?
Beyond the set menu of frame, wheels and groupset there are a host of bonus features to look for.
Are you a thirsty person? Maybe an extra set of bottle bosses on the downtube will suit you. Do you want to carry absolutely everything? Rack mounts for panniers, or triple bosses for high capacity cargo cages on your fork legs will probably fit the bill.
Gravel is a relatively new genre, and as such there has been a great proliferation of new tech, new innovations and differing design philosophies in a relatively short space of time. Whether you're after suspension, internally geared hubs, enormous tyres or something that can double up as a commuter then there will likely be a bike for you out there.
Is a gravel bike the same as a cyclo-cross bike?
They sometimes look similar, but what makes them different?
A staple of any decent comments section is someone angrily insisting that a gravel bike is exactly the same as a cyclo-cross bike. Sure, they share some similarities, but now, especially following recent evolution in gravel bikes, they are definitely different beasts.
While the cyclo-cross vs gravel bike conundrum certainly coaxes strong opinions from some, it simply boils down to differences in use case. A CX bike is designed to be raced for a maximum of one hour around extremely technical courses. Comfort isn't as high on the priority list, and a super wide gear range isn't overly necessary as, beyond a certain gradient, riders shoulder their bikes and run instead.
Gravel bikes, in contrast, are designed with longer days in the saddle in mind. Multi-day epics aren't out of the ordinary, and so frame design and componentry choices are tailored to account for tired legs, protracted climbs and moderate loads.
While a CX bike can certainly be used for gravel riding, in the same way a trail bike can be ridden on an enduro course, it's not the best tool for the job. If you do need something for a filthy hour in ankle deep mud on a freezing Sunday though, our roundup of the best cyclo-cross bikes will help you cut through the slop with ease.
Based on the Gold Coast of Australia, Colin has written tech content for cycling publication for a decade. With hundreds of buyer's guides, reviews and how-tos published in Bike Radar, Cyclingnews, Bike Perfect and Cycling Weekly, as well as in numerous publications dedicated to his other passion, skiing.
Colin was a key contributor to Cyclingnews between 2019 and 2021, during which time he helped build the site's tech coverage from the ground up. Nowadays he works full-time as the news and content editor of Flow MTB magazine.
The latest race content, interviews, features, reviews and expert buying guides, direct to your inbox!
Thank you for signing up to The Pick. You will receive a verification email shortly.
There was a problem. Please refresh the page and try again.