Best lightweight bikes 2023: Our pick of the lightest climbing bikes
The best lightweight bikes offer speed on the flat plus faster climbing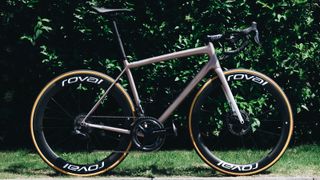 (Image credit: Etienne Schoeman)
The best lightweight bikes now give you a great mix of low weight and aerodynamic performance.
Gone are the days when you had to sacrifice efficiency and on-the-flat speed for an easier ride in the hills, with many lightweight bikes featuring among the best road bikes. These bikes and the components with which they're fitted give you aero benefits while still often coming close to or below the 6.8kg weight limit that the UCI imposes on its sanctioned competitions.
That's despite the general shift to disc brakes, which still weigh more than their rim brake counterparts. Bike brands have learned how to use the properties of disc brakes, and the thru-axles with which they almost always come, to build a lighter frame that's still as stiff as one using rim brakes. There are fewer physical constraints on disc brake wheel rims, with the best lightweight wheels saving even more weight.
Below, we run through our pick of the best lightweight bikes available today, followed by a short buyer's guide on what to look for when choosing.
Best lightweight bikes
You can trust Cyclingnews Our experts spend countless hours testing cycling tech and will always share honest, unbiased advice to help you choose. Find out more about how we test.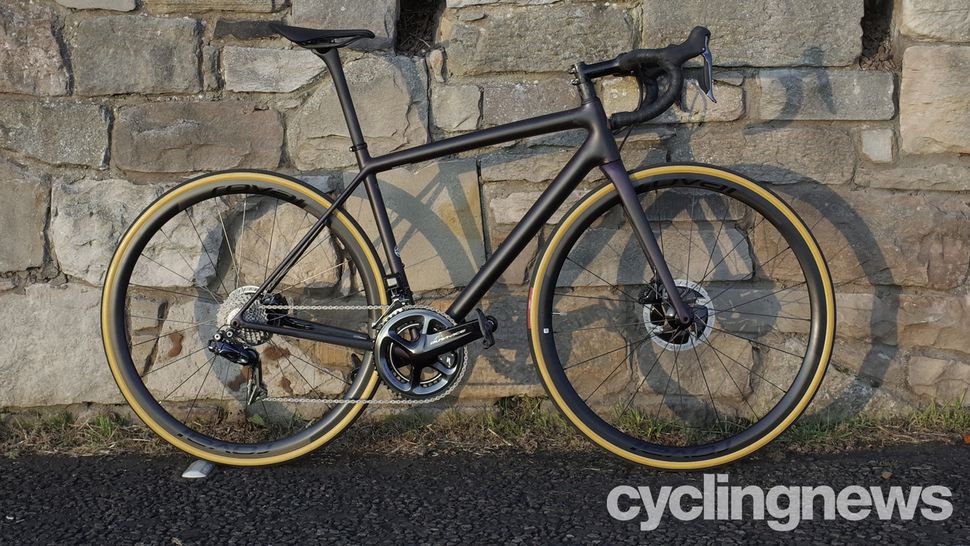 1. Specialized S-Works Aethos
Ultra-lightweight frame for a bike that shatters the UCI's rulebook
Rather than aiming for a bike that fitted conveniently with the UCI's rulebook, Specialized went all-in for a lightweight machine with the Aethos, resulting in a frame weighing just 585g +/- 5g for a 56cm, and a full build, here with Shimano Dura-Ace, that weighs just 6.1kg.
Specialized has also majored on building a frame that's stiff in all the right places, but shunned the lightweight/aero idiom with round tube profiles to keep the frame's weight to a minimum, resulting in what's claimed to be the lightest disc brake frameset available.
It's bolted as many lightweight components as it can muster onto the S-Works model, with a set of 1,265g Roval Alpiniste CLX II wheels, a 9g 4iiii power meter and titanium bolts everywhere. It has retained a threaded bottom bracket though.
Geometry is lifted from the Tarmac SL7 (see below), resulting in a ride that's as fast downhill and through corners as it is when the road tilts upwards.
Specialized Aethos early review
Fourth generation of one of the most acclaimed lightweight bikes
Reasons to buy
+
Ride characteristics and handling
+
Aerodynamics
+
New threaded BB
A happy conjunction has seen Cannondale update its SuperSix Evo and release its premium LAB71 series bikes together at the start of 2023. The result is a fourth generation of Cannondale's lightweight/aero machine that's, well, more lightweight and more aero.
The LAB71 SuperSix Evo hits the UCI 6.8kg limit, with a painted size 56 frame weighing 770g. Although the geometry hasn't changed - no bad thing - aero tweaks have saved 12 watts. Cannondale incorporates a battery slot ahead of the bottom bracket, allowing it to fit a skinnier seatpost, for example. Like the Aethos, the SuperSix Evo also now sports a threaded bottom bracket.
Our first ride on the SuperSix Evo 4 around Girona displayed the bike's all-round characteristics: light on the climbs, fast on the flat and great-handling on descents, lively when you want it to be but mellow when you ride easy.
Cannondale SuperSix Evo 4 first ride review
The Giant TCR Advanced SL 0 is incredibly light, stunningly stiff, and it holds flatland speed well, it's an out and out super bike
Reasons to buy
+
Weight (sub 7kg, size large)
+
Holds speed well over flat and rolling ground
+
Power transfer is similar to a dedicated aero bike
Reasons to avoid
-
Handling confidence takes time to build
-
The integrated seatpost makes flying with the TCR difficult, but not impossible
-
No Shimano builds available at Advanced SL level
The TCR Advanced SL 0 is a world-class road race bike. All the metrics and the riding experience suggest it has managed to bring itself back in line with - if not ahead of - the competition. Price-wise, the TCR Advanced SL 0 is in the same ballpark as the S-Works Tarmac, Cannondale SuperSix EVO and Trek Emonda.
The TCR Advanced SL 0 misses out on a perfect score due to a couple of things. The negatives of the ISP outweigh the positives and the lack of a Dura-Ace build is something that will put many riders off.
All told, if you're forever chasing the final watt of energy, there will always be a new bike that claims to be faster, lighter, better. If you're looking for a world-class bike that brilliantly blends weight, aerodynamics and efficiency, the Giant TCR is a bike you should consider every single time.
Giant TCR Advanced SL 0 review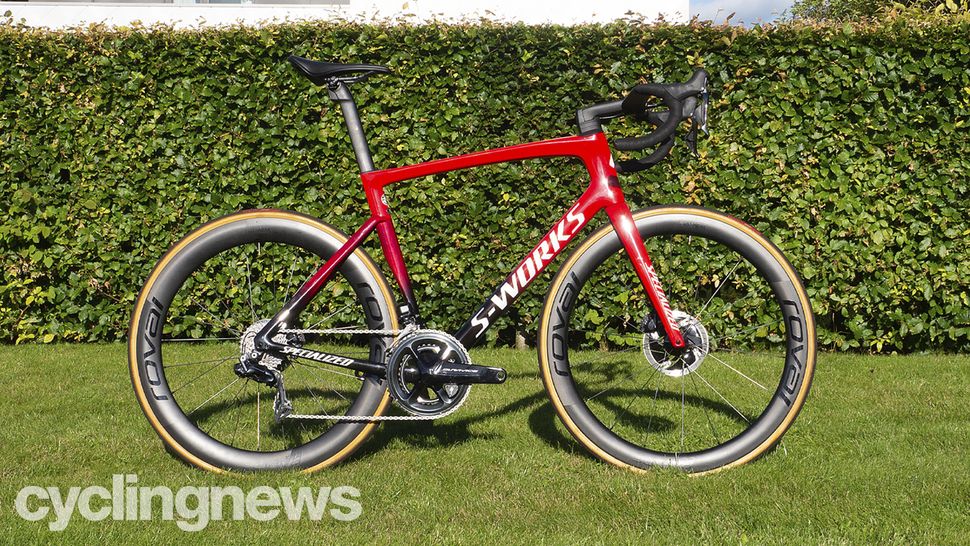 Hugely popular, World Tour race winning lightweight bike, now aerodynamically optimised
Reasons to buy
+
Grand Tour winning pedigree
+
Looks
+
Aerodynamics and power transfer
+
Same weight as outgoing SL6
Reasons to avoid
-
Harsher ride than SL6
-
Huge price
The latest version of Specialized's hugely popular Tarmac retains the fantastic efficiency and handling of the SL6 but now has enough aerodynamic clout that it's killed off Specialized's Venge aero bike.
It's pricey, but you do arguably get a lot for your money. Specialized specs its own components and wheels, but in every case these arguably rival or surpass offerings from dedicated component brands. You get a carbon-railed S-Works Power saddle, Roval Rapide handlebars and Roval Rapide CLX carbon wheels (Roval being a Specialized subsidiary brand) with DT Swiss ceramic bearings and Specialized S-Works tyres.
Specialized makes a big deal about the fact that each frame and fork size in the range is built with their Rider-First Engineering design, which means each size gets specific carbon layups and fork tapers, so that ride quality is maintained across the size range.
Specialized S-Works Tarmac SL7 review
5. Scott Addict RC Ultimate
Addicted to the climbs and the sprints
Reasons to buy
+
Fully integrated cockpit
+
Aero tube shapes
The Addict RC Ultimate unsurprisingly sits at the top of Scott's lineup. The frameset, which has been ridden by Roman Bardet and the rest of the DSM team, is built from Scott's HMX SL Carbon and forms aerofoil tube shapes for improved aerodynamics. Following the aero trend, Scott has also completely hidden all cables within a Syncros Combo Creston iC cockpit.
The Ulitmate spec model comes with a pick of the best road bike components and features a SRAM RED eTap AXS groupset (including power meter), Zipp 353 NSW wheels and Syncros carbon finishing kit. If the heavy price tag of the Ultimate is off-putting, Scott offers the same frame in a range of build specs down to mechanical Shimano Ultegra 11-speed to cater for more reasonable budgets too.
6. Bianchi Specialissima Super Record EPS
Bianchi's range-topping lightweight/aero bike
Reasons to avoid
-
Wheels are slightly sub=par
The latest iteration of the Specialissima sports truncated aerofoil tube profiles and still manages to be feathery lightweight, with a 750g frame. If you want to save another 80g, go for the black colourway over the classic celeste.
It's also stiff and responsive while still including Countervail vibration damping. This adds a dose of compliance, while the aero gains make for fast progress on the flat and when climbing. Handling is superb as well, with snappy direction changes and cornering, while we reckoned that the Campagnolo brakes are among the best out there.
We were slightly disappointed with the Fulcrum Wind 40 DB wheelset on such a premium build. Wheel choice is a bit sub par right down the Specialissima range.
Forward thinking bike design that seemed to inspire almost every other brand
Reasons to buy
+
Sharp looks
+
Stiffness and handling prowess
+
Aero gains
Reasons to avoid
-
No power meter
-
Restricted handlebar compatibility
Dropping the seat stays for improved comfort and aerodynamics is now a bike-design must-have, but the BMC commitment to progressive bicycle design is such that it debuted this feature back in 2010 on the Teammachine.
The latest generation Teammachine inherits that bike's DNA, but with an integrated cockpit and the usual lighter, faster, stiffer, more compliant combination. It's more aero thanks in part to the bottle cage design, but also the ICS carbon cockpit, although this only comes in two widths and six length options, limiting adjustability.
BMC's D-shaped seatpost adds comfort - you can fit 30mm tyres if you want more. The frame design offers impressive power transfer thanks to its chunky down tube and bottom bracket, while the stack and reach are in the middle of the pack, making for a not-too-racy ride.
BMC Teammachine SLR 01 Two review
A bike that's just as quick going down hills as it is at going up them
Reasons to buy
+
Light
+
Stiff
+
Customisation options
Reasons to avoid
-
Design not as evolutionary as rivals
It should come as no surprise that Trek focused on improving the aerodynamics of the new Emonda. Trek is not alone in this with most brands also adding aero to their lightweight bikes, addressing the fact that aerodynamics are at the fore even when you're not travelling 40kph on flat ground.
The frame sees truncated aerofoil sections to the fork legs, downtube, seat tube and seat stays which the brand says saves 183g of drag over the previous model. Interestingly the no-cut integrated seat mast is round, and so is the cap, which Trek says helps to retain compliance.
While 183g of drag is probably an abstract figure to anyone that doesn't have an aerodynamicist within arm's reach, Trek has modelled how much time a rider would save up various famous climbs around the world riding at 350-watts on the 2018 Emonda vs the 2021 Emonda. The newer bike saves 15-seconds on Alpe D'Huez, 11-seconds on the Angliru, 21-seconds up the Stelvio, 80-seconds up the Taiwan KOM Challenge and 4-seconds up Willunga Hill.
For the latest edition of the Emonda, Trek has added a few new colour schemes to its Project One program: ICON, KOM and Ultimate. Our test sample is the latter, which allows you full creative licence over Trek's colour palettes as well as tailoring every component. The yellow to pink fade is definitely Trek flexing its proverbial painting muscles, and the bike is anything but subtle.
Trek Emonda Project One gallery
An out-the-box hill climb machine
Reasons to buy
+
Exquisite aesthetics
+
Stiff and light chassis
+
Super-fast and reactive on the climbs
+
Predictable handling
+
Superb value for money at this spec-level
Reasons to avoid
-
Ride quality can be quite hard at times
The Factor O2 VAM Disc can easily hold its own against the segment's best road bikes. It's unquestionably light, superbly efficient on the flats and descends with predictability, sure-footedness and poise. Sure, there are faster bikes out there but unless you're riding at the highest level of the sport or testing it back-to-back against its rivals in a controlled environment those nuances are imperceptible to us mere mortals.
The O2 VAM doesn't profess to be a jack of all trades. It's a master of situations where the road angle tilts upwards and gravity comes into the equation. This is the place where it's at its happiest.
As far as lightweight climbing bikes go, the Factor O2 VAM represents the zenith of the genre and doesn't pretend to be anything other than what it says on the tin. If it's pliancy and outright speed you're after then you're in the wrong place - go find an aero road bike instead.
Great value, super-efficient lightweight bike with top-of-the-line spec
Specifications
Weight:
7.43kg (with pedals)
Reasons to buy
+
Stiffness
+
Aerodynamic cockpit
+
Value
+
Wide range of sizes
Reasons to avoid
-
Can only be purchased online
The fifth generation of the Canyon Ultimate is available in three guises. We tested the SLX with Canyon's mid-spec carbon, but head up to the CFR frame and you can expect a weight of around 6.3kg - and it's still not as expensive as most of the bikes here.
Our test bike came with Ultegra 12-speed (with a 4iiii power meter) and DT Swiss ARC 1400 Dicut db wheels, but still weighed in at a featherweight 7.4kg with pedals. All specs get the same adjustable-width bar/stem as used on the Canyon Aeroad, there's a D-shaped seatpost and 32mm tyre clearance. There is also a wide range of sizes available, with smaller frames coming with 650b wheels for similar handling to the larger sizes which run on 700c wheels.
We found that the Ultimate shone uphill, particularly when things got steep, with a stiff frame and weight distribution that gets you more over the pedals than some other options. With aero flourishes, it ticks along happily on the flat too, although the handling is on the edgier side.
Canyon Ultimate CF SLX 8.0 review
11. Cervelo R5
A no-compromise lightweight bike that hides its performance credentials behind classic looks
Reasons to buy
+
Classic looks
+
Aerodynamics
+
Stiffness
+
Handling
+
User friendliness
Reasons to avoid
-
Design arguably getting dated
The Cervelo R5's latest makeover has resulted in a 16 per cent reduction in frame weight to a claimed 703g. It is also perhaps the only bike to have got less stiff in its latest iteration, Jumbo-Visma riders demanding more comfort. Although pedalling efficiency hasn't decreased, the new headtube and fork design are claimed to increase compliance.
Otherwise, the R5 has the classic looks of a road bike, even as other bike makers have moved on to dropped stays. The pros' results prove that despite the slightly retro looks, this is still a high performance bike though.
The frame is electronic groupset compatible only and tyre clearance is now 34mm. Carbon wheels come from sister brand Reserve, with a claimed weight of 1,300g a set.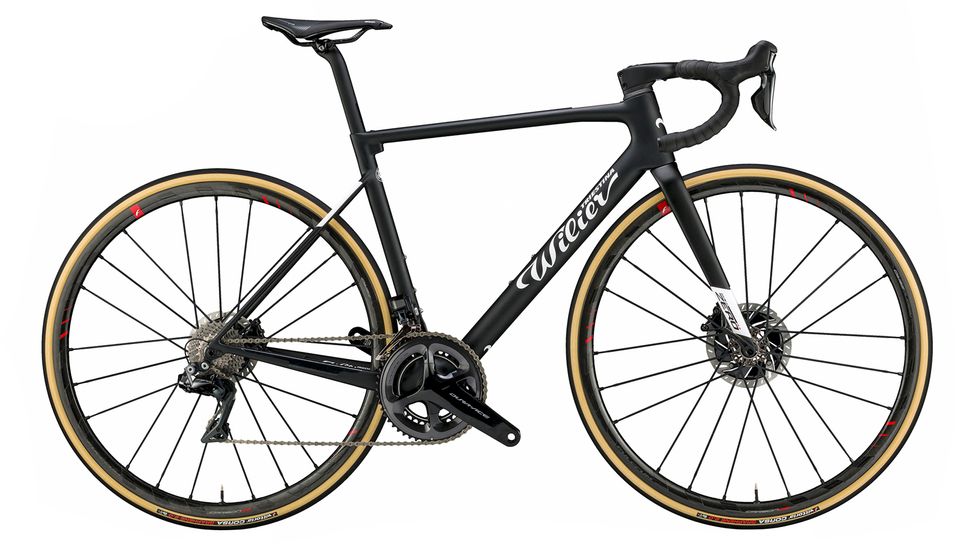 12. Wilier 0 SLR Disc Dura-Ace Di2
Thoroughly modern lightweight bike from one of the oldest racing bike manufacturers in the world
Reasons to buy
+
Stiffness
+
Aerodynamics
+
Looks
+
Brand heritage
Reasons to avoid
-
No women's builds available
-
Price
Despite their illustrious histories, Italian manufacturers are generally not renowned for being on the cutting edge of bicycle design. We tend to think of Italian racing bikes as beautiful, classic, perhaps even old fashioned (Tom Boonen certainly thinks so) – but the reality is that, with Wilier at least, this couldn't be further from the truth.
The 0 SLR Disc is the lightweight bike from Wilier. Borrowing design cues from the Cento10 Pro aero bike, it's a thoroughly modern lightweight bike. It ticks all the boxes; a super lightweight carbon frame with truncated aerofoil tube shapes, integrated handlebars with fully hidden cables, hydraulic disc brakes, carbon wheels and clearance for 28mm tyres.
Its tried and tested geometry, and stiff frame and fork mean handling is great, and its clean lines and complete cable integration make it a real looker. Wilier is kind enough to offer some very nice paint jobs as well – matte black with white detailing, matte velvet red and a glossy admiral blue. The matte black frameset is slightly lighter, but go for the red or blue for that essential touch of Italian flair.
There's no denying that this is a pretty expensive bike – Wilier retains that classic Italian bike characteristic – but you're buying into a European brand with over 100 years of experience in making bikes, and all of the racing heritage that comes with that.
Best lightweight bikes: a buyer's guide
If you're looking for the best lightweight bike, here are the things that mark out a lightweight bike from alternatives among the best road bikes.
What's the significance of the 6.8kg UCI weight limit?
With the UCI weight limit seemingly stuck at 6.8kg, 'lightweight' has been largely defined at that point, and brands have been able to focus their attention on improving other areas of the bike, instead of simply chasing grams in a race to the bottom (although, naturally, that is still a thing).
Where aero bikes often have to make compromises on things like ride quality, fit and user-friendliness in pursuit of all-out speed, lightweight road bikes have tended to become the all-rounders of road cycling, with development focused more on these important, but often undervalued characteristics.
Such are the improvements in these areas that many WorldTour pros still choose to ride lightweight bikes over their sponsors' aero-bike offerings, despite the apparent penalty in aerodynamic efficiency.
When does a lightweight bike make the difference?
The data tells us that aerodynamic bikes are faster on flat and rolling courses, but let's be honest – the hills are still where it really counts. The important Strava segments are, generally, not boring sections of flat or rolling road, they're hills, and, on the proper hills (once you dip below about 15kmh), lower weight still beats aerodynamics.
Most of the best lightweight bikes now sport disc brakes. Rim brakes have long been favoured because of the difference in weight, but the gap has narrowed considerably, to the point where disc brake equipped bikes are regularly skimming or bettering the 6.8kg limit.
It's worth considering that what goes up must also come down. You might appreciate the improved power, consistency and modulation of hydraulic disc brakes when you're coming back down that 20 per cent hill, with your heart rate pushing off the scale after a full-gas KOM attempt; it's largely accepted that disc brakes offer better braking performance, especially when the conditions take a turn for the worse.
Should I choose a lightweight bike over an aero bike?
The good news is that today you don't have to choose - many lightweight bikes are also aero. To keep their weight down, they may not have quite such developed aero features as the best aero road bikes, but many brands' lightweight bikes have aero tube profiles.
Couple that with aero seatposts, integrated one-piece cockpits and deep section lightweight wheels and you don't have to sacrifice watts on the flat to save watts on the climbs.
On the other hand, there are now plenty of aero bikes that are not that far off the UCI's magic 6.8kg, so you've got even more lightweight choices. A full-on aero bike will still be the more rapid option if you want to ride fast though.
Does a lower weight provide a tangible difference?
Perhaps more crucially, lightweight bikes still retain the power to impress your friends or family members, because weight is tangible. Show them an incredibly expensive aero bike and the first thing they'll do is pick it up and complain that, "It's quite heavy… How much did you say this cost?"
By the time you've started explaining that "over a typical 40km rolling course, performance modelling shows that this bike is 45 seconds faster at 50kph than an equivalent lightweight bike…" they'll likely have lost interest and wandered off, thinking that you got royally ripped off.
A lightweight bike provides an obvious tangible difference, and, sometimes, that provides a greater psychological benefit than the few intangible seconds offered by manufacturers.
Do I need to spend a fortune on a lightweight bike?
Unsurprisingly, carbon fibre dominates the scene for lightweight road bikes. Its unique, tunable characteristics make it the perfect material for making light and stiff bikes that excel when pointed uphill. The downside is that these lightweight frames and components tend to come at an exorbitant cost.
As the great Keith Bontrager once said: "Strong, light, cheap. Pick two." That said, if the UCI limit is what you're looking at, you don't necessarily need to buy the top-of-the-range model these days, which will often actually be lighter than the UCI's minimum weight limit. Some brands are even able to offer builds with Shimano Ultegra that can still hit the 6.8kg benchmark; just don't expect them to be particularly cheap.
Of course, bikes are readily discounted, so it's worth taking a look at our roundup of the best road bike deals to find the best bike-to-price ratio.
Get The Leadout Newsletter
The latest race content, interviews, features, reviews and expert buying guides, direct to your inbox!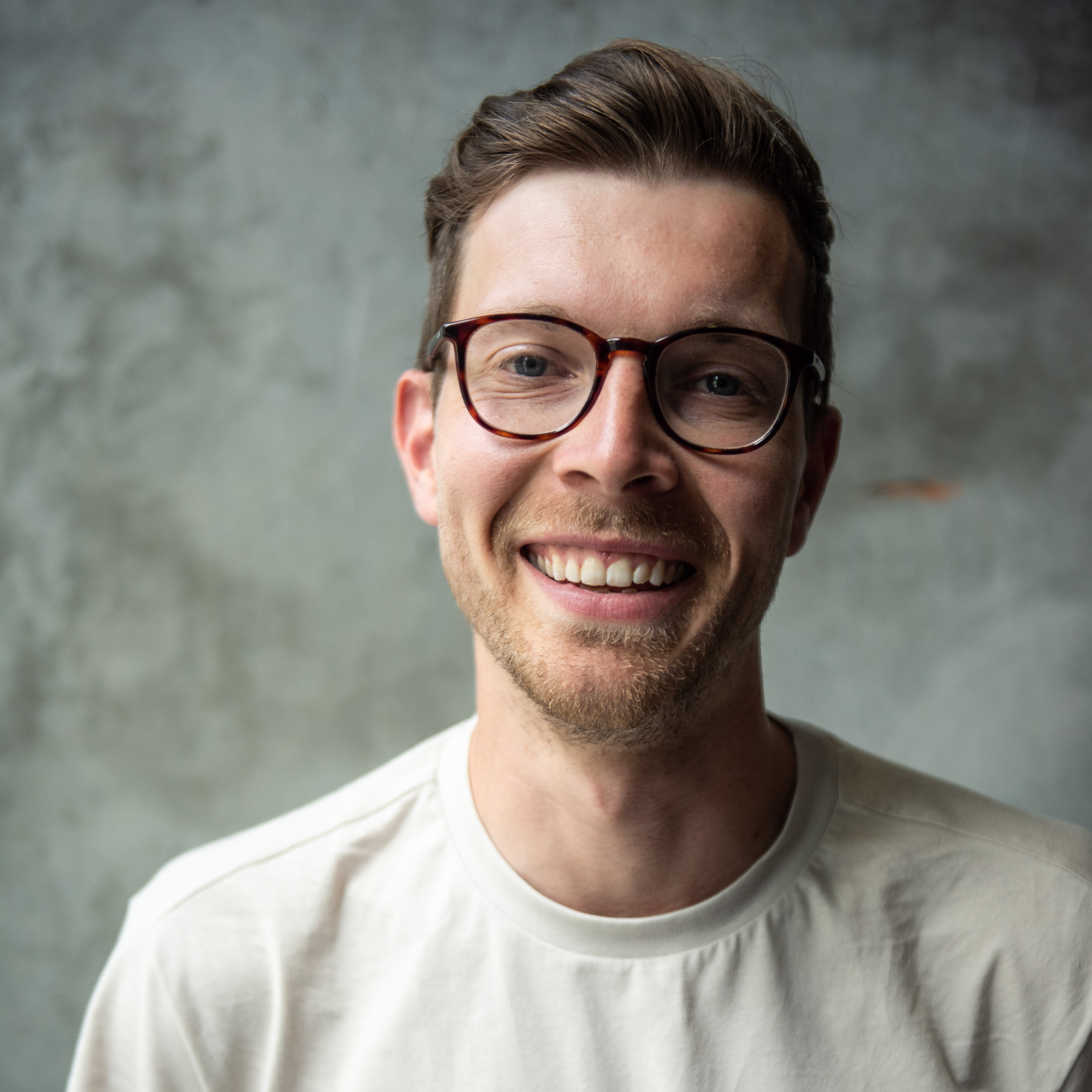 As the Tech Editor here at Cyclingnews, Josh leads on content relating to all-things tech, including bikes, kit and components in order to cover product launches and curate our world-class buying guides, reviews and deals. Alongside this, his love for WorldTour racing and eagle eyes mean he's often breaking tech stories from the pro peloton too.
On the bike, 30-year-old Josh has been riding and racing since his early teens. He started out racing cross country when 26-inch wheels and triple chainsets were still mainstream, but he found favour in road racing in his early 20s and has never looked back. He's always training for the next big event and is keen to get his hands on the newest tech to help. He enjoys a good long ride on road or gravel, but he's most alive when he's elbow-to-elbow in a local criterium.