Cyclingnews tech: How we test
Everything we test is put through the wringer in an effort to provide an objective and unbiased opinion to help you make the right decision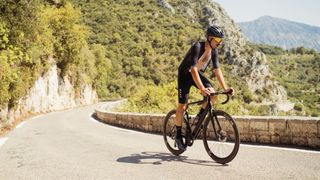 (Image credit: Future)
Here at Cyclingnews our work contracts say 'writer', but in reality we're all cyclists first and foremost. Collectively we've got expertise in almost every cycling discipline you can think of, as well as workshop experience, shop floor sales and even framebuilding. We pour this experience into our testing, leveraging our knowledge to really tease out the pros and cons of each product so that, ultimately, you can make the right decision as to where to spend your hard-earned cash.
Testing bike products isn't as simple as just going for a ride, so we've highlighted some of the key parts of the process down below to give you a clearer insight into how we test.
Isolated testing
First up we look to see if the product is good on its own merit. While comparative testing, as we'll go into shortly, is the cornerstone of what we do, there is still scope for viewing a product in isolation. Furthermore, it is paramount that we cut through the hype and marketing buzz and get to the core of what the product does well and what it doesn't, which is easier when trying to untangle a single product in isolation.
This also applies to new and innovative products, or variations thereof. Novel, or groundbreaking tech sometimes just needs testing on its own before being compared to its peers to take a view on whether it is an improvement on the market leader, or just new tech for the sake of new tech.
Comparative testing
This is the real bread and butter of tech testing; very few products exist in a vacuum, and as such need to be compared to their peers. We are fortunate, as a highly respected media outlet, that we have access to all of the best bike tech, and so any new product can be directly compared to the market leaders in that space, and others at the same price and performance level. This gives our readers valuable context regarding performance, but also regarding value. If a new product is cheaper but performs nearly as well as the market leader then it's clear it's a bargain.
While not always possible, we aim to test products back to back as soon as possible against their peers, to provide greater clarity on the differences between them. This is most easily achieved in the context of a group test, where a single reviewer has access to a whole range of products in a single category, and is able to cross-reference each against a wide range of alternatives. For some products, where there is a clear rival or rivals, we will write a separate 'versus' review, where we can dedicate more time and text to directly comparing a small number of products.
This comparative testing forms the backbone of each of our buyer's guides, with each product that features being one we can recommend for one or several reasons.
Pushing the limits
When you read a review, you want to be sure that the product has been thoroughly tested, right? Each new piece of tech, explicitly or unspoken, has a suggested use range which we really try our best to find the real limits of.
Are those summer gravel tyres actually surprisingly good when things get a little muddy? Is that light waterproof jacket actually pretty good in torrential rain? Are those bike lights going to last when the temperature drops below zero? There's only one way to find out. We push the limits so that you don't have to - unless you want to of course.
Expertise tailoring
All of our writers here at Cyclingnews have cycling experience that spans numerous disciplines, but naturally some of us have more expertise than others in certain areas. With this in mind we tailor our range of testing to those that have the appropriate expertise; gravel tyres go to those who have the best knowledge and experience in that area, aero wheels go to those with a habit of entering TT's and understand wind tunnel jargon enough to break it down, indoor trainers go to the one whose evenings are spent on Zwift, and waterproof gear goes to the poor sod who lives in the wettest place, all to make sure we can give you the best possible advice.
Knowledge sharing
To counteract the effects of expertise tailoring, nobody works in isolation. All of our testing insights are shared collectively to bring everyone up to speed with the latest tech, trends, what works, and what doesn't. That way we can have more people testing more things, and in turn bring you more industry-leading advice.
Our scoring system explained
At the bottom of each review, you'll see a testing scorecard, and notes. Within a category, each product will be rated on the same bases, so that comparisons can be made, and the total of those scores will be added up and calculated to a percentage of the total available score.
To convert this into a star rating, we round the percentage to the nearest 10, as explained below.
Swipe to scroll horizontally
| | | |
| --- | --- | --- |
| 5 Stars | 95% and above | Class leader, very close to flawless |
| 4.5 Stars | 85 - 94% | Exceptional |
| 4 Stars | 75 - 84% | One of the best you can buy, a leader in the segment |
| 3.5 Stars | 65 - 74% | Good but could be better |
| 3 Stars | 55 - 64% | It will do the job but with a few flaws |
| 2.5 Stars | 45 - 54% | Mediocre, could definitely improve |
| 2 Stars | 35 - 44% | Below average |
| 1.5 Stars | 25 - 34% | Poor |
| 1 Stars | 15 - 24% | Extremely poor |
| 0.5 Stars | 5 - 14% | Run for the hills |
The Cyclingnews pledge
Every product listed on Cyclingnews is tested by one of our expert writers - a real, dedicated cyclist with plenty of experience and good standing in the industry.
Our reviews are split into three categories:

First-look reviews: Usually in line with the launch of a new product, this is where we've had enough time to get a feel for the products, but not form a definitive judgement.
Full reviews: This is where we've put ample time into testing to tease out all the details and form a comprehensive review.
Long-term reviews: Here we have tested a product over a much longer time period, often approaching or exceeding a whole year, to give you an idea of how it is to live with, with additional details on longevity, serviceability, and compatibility with other products.

Our opinions can't and will not be bought. All of our reviews are objective and editorially led to ensure the best experience and advice for our readers.
Meet the Cyclingnews test team
Josh has been with Cyclingnews since summer 2019, after joining from a bike shop where he managed the business's eCommerce store, but his time on two wheels is instilled from a young age after first racing cross-country mountain biking aged 13.
Nearly two decades later, Josh's riding preferences are more geared towards road and gravel, and his keen eye for detail and analytical mindset help to form fast, yet fair opinions on product performance.
He seeks a data-driven approach to testing, and will regularly be found riding the same route back-to-back with different products in order to test for speed, comfort, any other comparable metric, or simply in order to try to put his finger on exactly what makes one product better - or worse - than another. He'll ride with three computers to compare the GPS drift, multiple heart rate monitors to compare connectivity, multiple power meters to test accuracy, and odd shoes, warmers and gloves to directly compare their performance.
However, in a bid to put products through their paces, he'll also regularly use them in a competitive setting, too. For Josh, racing has been integral to cycling from the very beginning. In those early days, it was the Soggy Bottom winter series at Newnham Park in Devon where, in his very first race, he wore a rash vest - as in, for surfing - and three jumpers to keep warm, before having to stop mid-race to remove a few (not before he'd covered them in mud, of course).
He quickly learned that equipment is an important part of performance and nowadays, he will happily spend way too much money on marginal gains in a bid to offset his lack of genetic capabilities.
Will has been riding only slightly less time than he's been able to walk, and has tried his hand at the majority of cycling disciplines over the years. Previously an industrial geologist, Will has been putting tech and gear through its paces for a number of years and has a discerning eye for what is a gimmick and what will stand the test of time.
When testing he aims to find the useable limit of products; frozen water bottles are not out of the ordinary while testing the battery life of lights in the winter, and emergency bags of ice have been needed on particularly hot summer rides. Having spent several seasons racing cross he has a particular affection for the benefits good tyres can bring to your riding, whether racing or otherwise.
Not content with off the shelf builds, Will has also learnt to design and build his own bikes. This gives him a deep appreciation for the subtle changes in geometry that can set one frame apart from its competitors, and for those elements of bike design that often fly under the radar.
Though he doesn't race bikes regularly his claim to fame is that he was lapped four times by Tom Pidcock while racing 'cross in Yorkshire, and also is the only ever recipient of a 'Missing In Action' in leu of a time in his local TT after getting lost (a marshalling error, he claims).
Tom joined the Cyclingews test team in September 2022. A qualified mechanic, Tom previously ran an independent workshop for several years. Tom joined his local cycling club at age 10 which kick-started his love affair with the bicycle, and he has raced and ridden across several disciplines from an early age.
Tom is passionate about all things mechanical and has a keen eye for technical details. He loves a perfectly working bike covered in trick components but never at the expense of longevity or performance.
When testing Tom likes to put the hard yards in, to really understand a product's strong and weak points in real-world conditions. Whether that be heading out into the rain to test overshoes or testing a new groupset over many hundreds of miles. Striving to service bikes to a high standard for years means he's not happy when something isn't quite right, and will happily strip a bike or hub to ensure everything is just so and to really understand the product he's tasked with talking about.

Thank you for reading 5 articles in the past 30 days*
Join now for unlimited access
Enjoy your first month for just £1 / $1 / €1
*Read any 5 articles for free in each 30-day period, this automatically resets
After your trial you will be billed £4.99 $7.99 €5.99 per month, cancel anytime. Or sign up for one year for just £49 $79 €59

Join now for unlimited access
Try your first month for just £1 / $1 / €1