Best road bike mudguards: Fantastic fenders to fight off winter
The best road bike mudguards - or fenders - can offer essential protection against spray from your wheels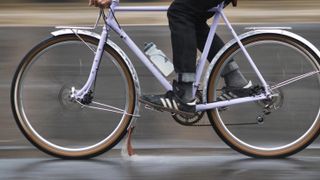 (Image credit: Velo Orange)
When the seasons change and the time for winter cycling arrives if you are in a part of the world that experiences wet, cold weather during winter then fitting a set of quality mudguards to your bike really is a great move. Mudguards will keep you dryer and as a result warmer on the bike in the depths of winter. They will also protect your bike and keep a large amount of road spray off its frame and components, which over the course of winter will prolong the life of your drivetrain.
In wet weather or deep in the winter when the roads never fully dry tyres pick up and spray a lot of water over riders and bikes. Mudguards bolt or clip onto a frame and protect riders from this spray. They come in a range of colours, materials and designs but the basic premise is the same; they will keep you and your bike a lot dryer and cleaner not to mention the riders behind you - but more on that in a second.
You can kit yourself out with the best cycling overshoes and winter cycling shoes but after a few hours, the water will seep in and keep coming. One of the best waterproof cycling jackets will also help but will have a lot more work to do when being constantly sprayed.
Traditionally many roadies had a winter bike; a road frame with proper mudguard eyelets and slightly bigger clearances and deeper drop brake callipers to allow clearance between tyres and mudguards. Nowadays a majority of riders use disc brakes, and a lot of road frames don't come with mudguard eyelets, which prevents the fitting of full-length guards. On the other hand disc brakes and larger frame clearances allow higher volume tyres and clip-on mudguards to be fitted easily and several brands offer discreet built-in mounts for their own mudguard systems to be fitted (the Trek Domane for example).
The mudguard versus no mudguard debate can divide opinions at times. Generally it's regarded as a courtesy to your club mates or training partners to at the very least fit a rear mudguard to prevent them from being soaked in the spray from your back wheel for hours on end.
If you are planning on investing in some mudguards for this winter this is the guide for you. We've taken a close-up look at the best road bike mudguards and divided them into categories depending on how they fit the bike. We've also created a useful guide on how to choose the best road bike mudguards for you at the bottom of the page.
Best clip-on road bike mudguards
You can trust Cyclingnews Our experts spend countless hours testing cycling tech and will always share honest, unbiased advice to help you choose. Find out more about how we test.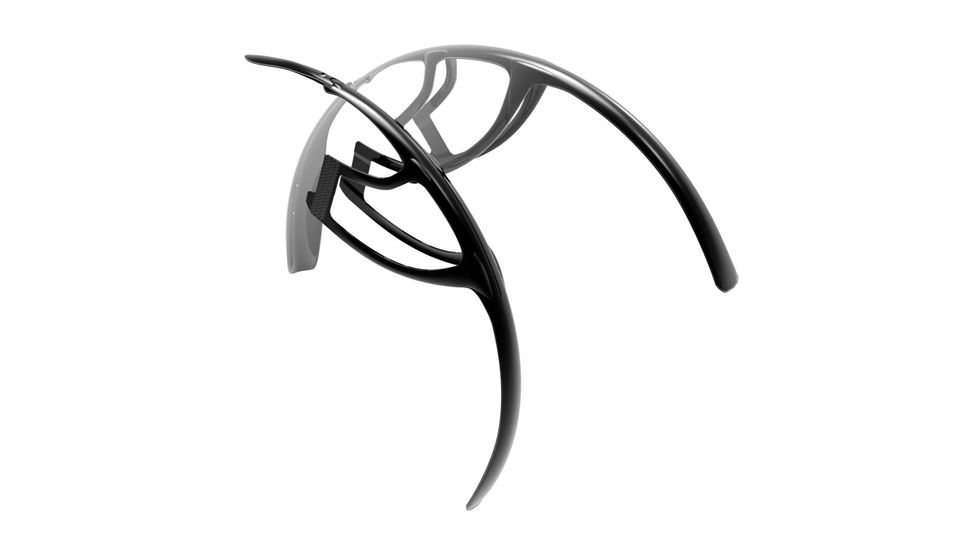 Crud RoadRacer MK3
The best clip on mudguard for weight weenies
Specifications
RRP:
£34.99 / $47.50 / €39.99 / AU$68.19
Reasons to buy
+
Painless install
+
Lightweight
Reasons to avoid
-
Adhesive strips will always be on your bike
-
Lack of coverage
The Crud Roadracer mudguard utilises a unique velcro system to connect the fender to your bike. The DuoTech strips are essentially velcro and require one side to be stuck on your bike with adhesive (which may turn some off), but the hold is robust — you can hardly notice them on the inside edge of your fork blades and chainstays when the fender stays at home.
Installing it is tool-free and super quick, and the Road Racer MK 3 is long enough to keep you and your bike dry - not so much the rider sitting on your wheel. There is clearance for up to a 38mm tyre, and there are no issues with disc or caliper brakes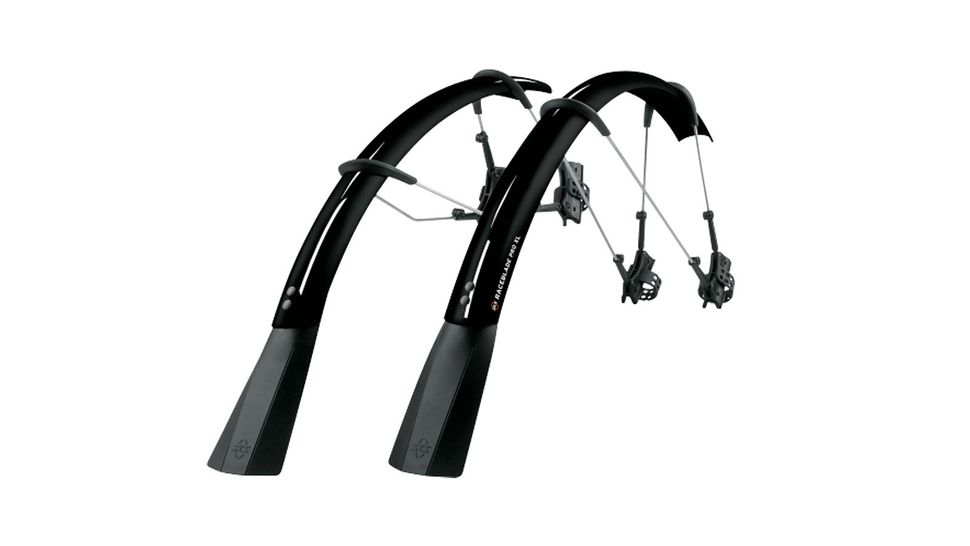 SKS Raceblade Pro XL
The best all round clip on fenders
Specifications
RRP:
£50.99 / $70.49 / €57.99 / AU$90.99
Reasons to buy
+
Adjustability problems solved
+
Frame protectors included
Reasons to avoid
-
Tyres above 28mm may require some stay bending
SKS makes a few versions of the Raceblade mudguards, but we like Pro XL because you can use them no matter what brakes or axles are on your bike, and they are the easiest of the bunch to install — even over the previous version of this very fender.
Notched rubber straps attach to the frame, and the support stays are height and angle adjustable with eight 2.5mm hex bolts. They don't cover quite as much of the wheel as the Race Blade Long, but it's more than enough to keep road spray at bay, especially with the extra-long mud flaps. They are however a lot more adjustable than the Crud road racers to fine tune fit around your particular frame.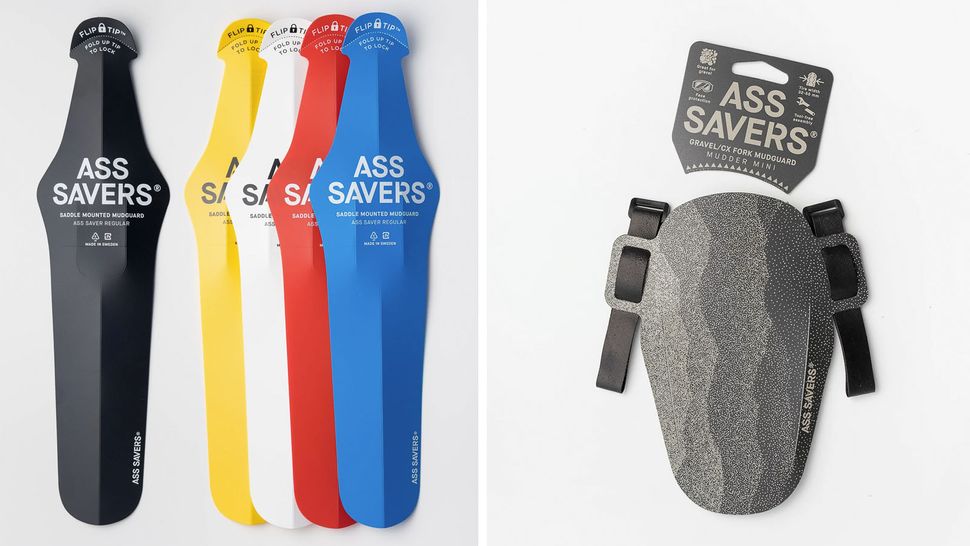 Ass Saver Regular and Mudder Mini
The best clip on mudguards for race days
Specifications
Max tyre size:
Unlimited (to an extent)
RRP:
Regular £9.99 / $13.00 / €9.00 / AU$18.70, Mudder Mini £11.00 / $15.00 / €12.50 / AU$23.88
Reasons to buy
+
Works with any bike
+
Any brakes and any tyre
Quite possibly the easiest fender to fit, the Ass Saver slots in under your saddle locking on the rails and does surprisingly well to keep your butt dry on a wet ride. Available in two sizes, it's a lightweight option, but the Ass Saver doesn't offer anywhere near as much protection as more substantial road bike mudguards.
It's not just your derriere that Ass Savers are looking to keep dry, the brand also offers a mini polypropylene front fender that borrows the design pioneered by the Mucky Nutz Fender Bender flexible front MTB mudguard. It fits in just under the fork crown and is secured to the fork legs by velcro, catching some of the road spray which would otherwise end up on your face.
And while we're on the subject, if you're also looking to kit out your mountain bike with fenders, then why not check out Bike Perfect's guide to the best MTB mudguards?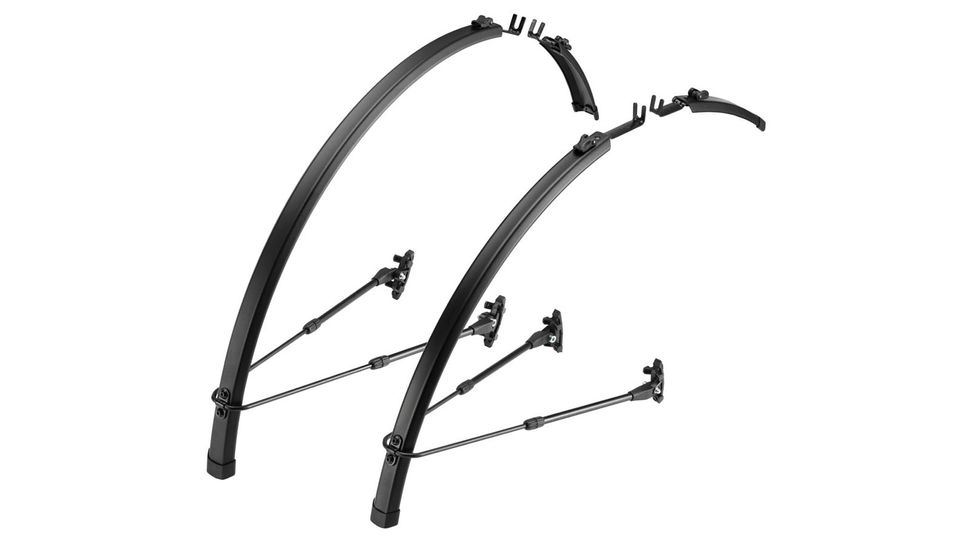 Flinger Race Pro
The best clip on mudguards for skinny tyres
Specifications
RRP:
£55.00 / $67.00 / €69.00 / AU$104.00
Reasons to buy
+
Simple install
+
Rattle-free
There are a lot of clip-on fenders that are slightly more involved to fit, especially when you have to start unbolting brake calipers. The genius in the Flinger guards is that the bracket which sneaks under the brake caliper doesn't require you to remove the caliper bolt fully — simply loosen it and slide in the hardware. From there secure the reach stays to your frame with the notched rubber straps, and you're golden — though we'd recommend cutting off some of the excess, so it doesn't get caught in your wheels.
The Flingers are made from polycarbonate; they are long enough to protect you and your bike from flying rain-soaked road debris, but the rider on your wheel is out of luck. The other trouble with these guards is the maximum tyre clearance is a 25mm tyre.
Best braze-on road bike mudguards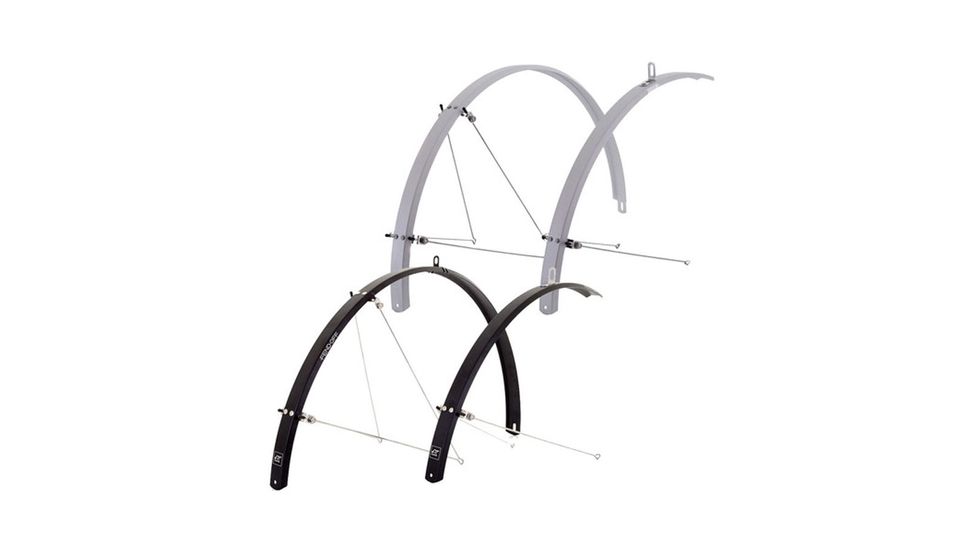 The best budget friendly permanent mudguards
Specifications
Max tyre size:
34mm / 45mm
RRP:
£55.00 / $78.00 / €55.00 / AU$83.00
Reasons to buy
+
Alloy construction
+
Weight competitive
+
Zero oscillation or flapping
Reasons to avoid
-
Slightly fiddly to fit stays
-
Riveted-on front bracket restricts compatibility unnecessarily
Made from anodised aluminium with laser-etched graphics, the Kinesis Fend Off provides full-wrap coverage and won't empty your wallet in the process. The standard Fend Off fenders are compatible with tyres up to 34mm wide, or there's a 'Wide' model that'll fit 45mm gravel tyres. They offer full coverage, and the packaging is designed to be converted into durable poly mudflaps for even more protection - a nifty little touch that certainly impressed us.
To prevent the aluminium from damaging your fork, the guard is given a pinched section that is narrow enough to slot between your fork legs, while remaining wide enough to not affect tyre clearance. This is great if your braze-on mount is on the front of your fork crown, but for anyone whose mounting point is hidden behind, the pinch is positioned incorrectly, so a bit of aluminium bending may be required.
Like SKS Longboards (and others), the rear guard is held in place with four stays in total. They can be a little fiddly to fit (no harder than the aforementioned SKS guards) but they offer an infinitely customisable fit, and because the body of the fender is aluminium, there's no chance they come out of the box warped - as can be the case with others. Also, while you might think Aluminium weighs more than plastic, these weigh just 637 grams, which is very competitive, and once they are on they remain rattle-free, good looking and work exactly as advertised.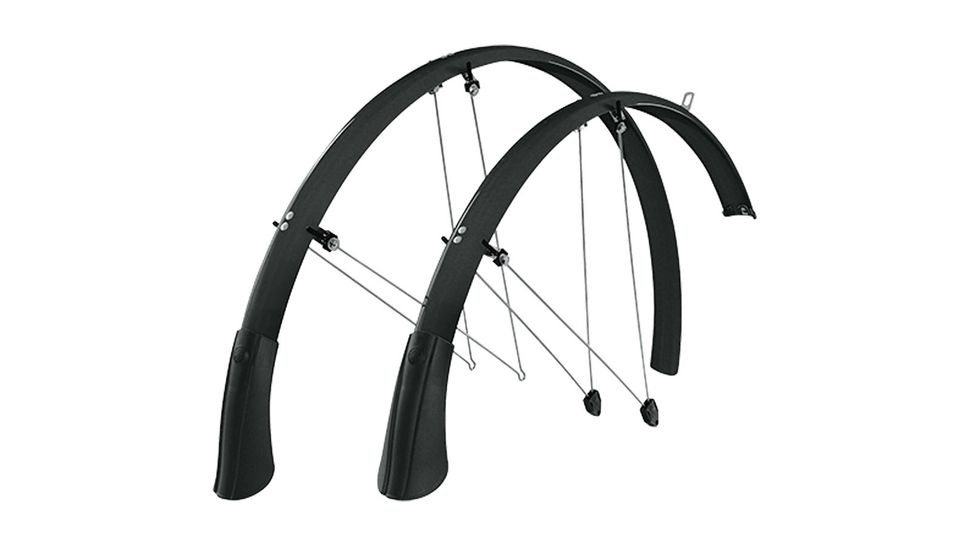 The best plastic fenders you can buy
Specifications
RRP:
£42.99 / $50.00 / €32.99 / AU$TBC
Reasons to buy
+
Unbeatable coverage
+
Improved design
+
Ease of fitting
Reasons to avoid
-
Longevity was a problem with older generations
The SKS Bluemels Longboard mudguards are made from plastic reinforced by 'superfine' aluminium strips for a sturdy rattle-free ride. The Longboard version features an extra-long flap at the end, which extends well beneath the axle to catch every bit of spray from the tyre.
As with all SKS guards, they feature the SECU safety release clips which prevent the wheel from locking should someone get jammed between the fender and the tyre, and all the mounting hardware is made from stainless steel to keep them going for years to come.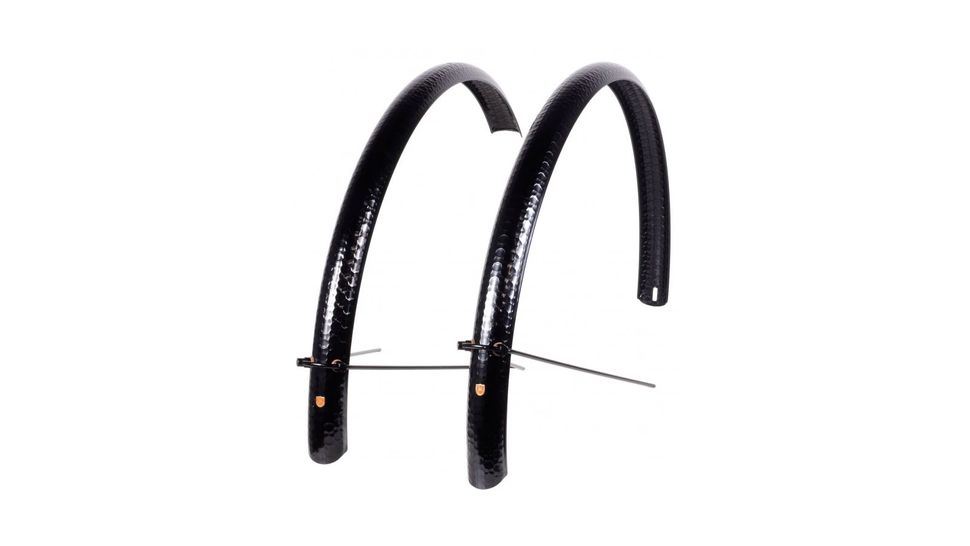 Velo Orange Steel
The best road bike mudguards for old school bikes
Specifications
Max tyre size:
29mm (37mm version)
RRP:
£65.00 / $76.00 / €TBC / AU$150.00
Reasons to buy
+
Aesthetic
+
Easy installation
Reasons to avoid
-
Steel subject to rust
-
Heavy
For those who abide by the fenders-are-ugly mantra, the fenders from Velo Orange may change your opinion with their premium look. Available in smooth, hammered, faceted and snakeskin finishes, the retro-steel road bike mudguards come in widths from 37mm up to 63mm in a 700c wheel size.
The full-coverage fenders come pre-drilled with a wide selection of mounting hardware to fit just about any frame. Velo orange recommends purchasing a mudguard that's at least 8mm wider than your tyre and also offers mudflaps for ultimate spray protection.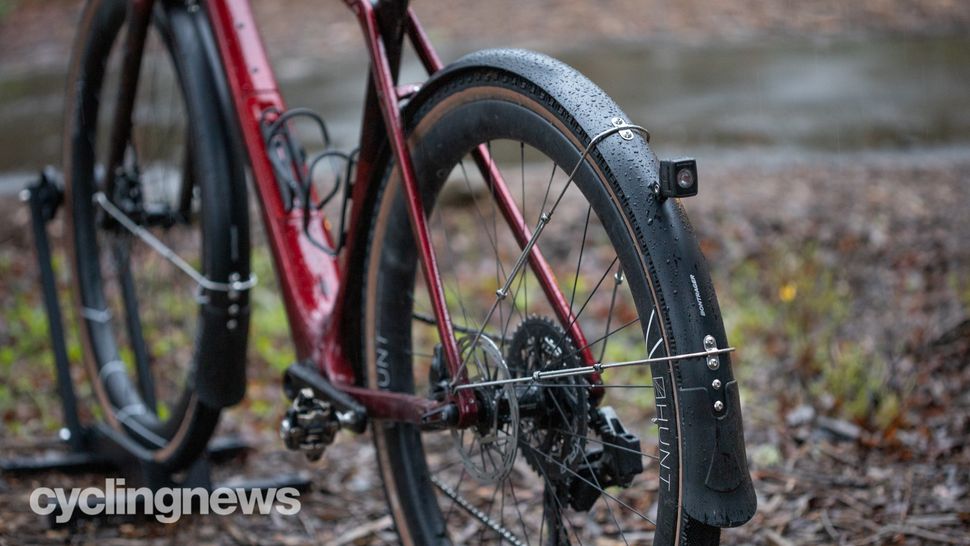 Bontrager NCS Alloy Fender Set
The best mudguards for added visibility
Specifications
Max tyre size:
45mm (large version)
Reasons to buy
+
Blendr light mount
+
Metal construction
+
Rolled inner edges
Reasons to avoid
-
Rear tail could be longer
-
Only available in the US
Unfortunately, this option from the Trek accessory brand Bontrager is a US only item. For the rest of the world there is a similar option with a polycarbonate construction but those in the US get the option of a full aluminum model. It's a solid design that uses a rolled inner edge to channel water down and away from the bike and rider. There's also a double alloy strut design that means easy installation, easy adjustment, and no need to cut anything. The most unique feature though is the integrated blendr light mount. It makes it easy to mount a light without ever needing to worry about a bag getting in the way.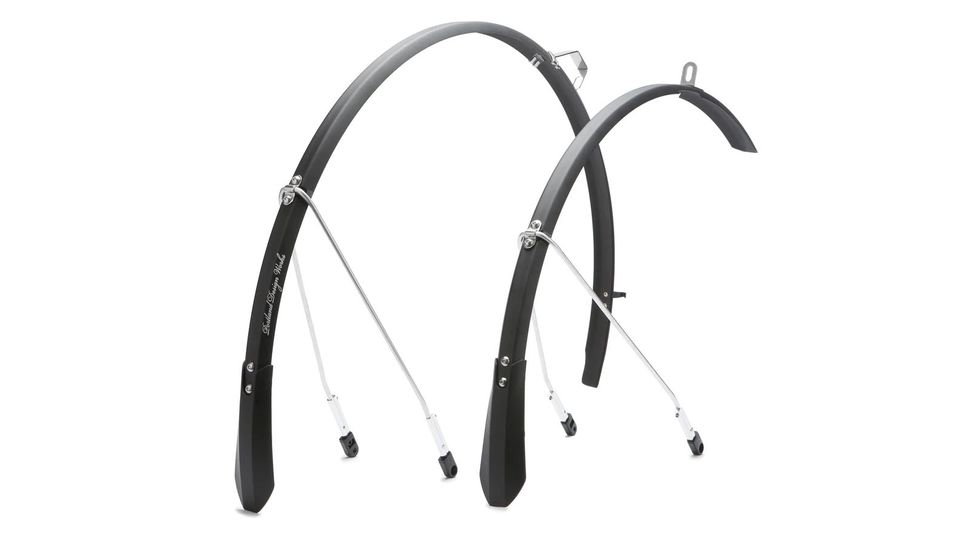 Portland Design Works Full Metal
Anodised aluminium full length road mudguards
Specifications
Max tyre size:
25mm (30mm version)
RRP:
£94.99 / $140.00 / €130.00 / AU$200.00
Reasons to buy
+
Anodised aluminium\mounting hardware galore
Reasons to avoid
-
No additional mud flap available
-
Expensive
The Pacific Northwest is famous for its wet weather, so it's no surprise that Portland Design Works makes some of the best fenders out there. Made from anodised aluminium, the PDW Full Metal fenders offer full wrap coverage and laser-etched graphics.
Available in widths from 30mm up to 45mm, the full metal mudguards feature safety release tabs to ensure your wheel doesn't lock up if something gets lodged between the fender and tyre. PDW also includes special hardware to fit around brake calipers, under forks and mounts for bikes that don't have eyelets.
How to choose the best road bike mudguards for you
What's the difference between braze-on and clip-on?
This is probably the easiest decision you can make surrounding fenders because your bike makes it for you; it will have eyelets for braze-on mudguards or it won't.
Clip-on fenders, on the other hand, are built with brackets and straps, which attach to the fork legs, seat stays, downtube or seat post.
However, there's a saying among mechanics that you can fit mudguards onto any bike, all you need is patience and P-clips. With that in mind, if your bike doesn't have provision for bolt-on mudguards, but you want a more secure fit, you can use P-clips fit onto your fork legs or seat stay to create an eyelet - however, be sure to protect the frame with either heat-shrink, insulation tape or rubber tabs (the sort that are used to shim bike light mounts) at the point of contact, otherwise the contact will damage your paintwork.
Threading your mudguard through a rim brake calliper isn't always a simple task, and must be considered when investing in a set. Some fenders are designed to split at this point to offer full-length coverage on race bikes.
Which length and shape mudguards do I need?
Mudguards come in all shapes and sizes, and the more wheel coverage they offer, the more spray they will prevent. A full-length fender will not only protect you and the rider sitting on your wheel from tyre gunk but also your frame and bottom bracket will be pelted by less salt-infused road grit.
Look for fenders that have some contouring or a rounded shape, if they are too flat they won't offer all that much protection.
Even full-length mudguard coverage doesn't necessarily prevent that arc of spray that comes from a fast-spinning wheel, fitting a flap (an Ass Saver performs well) to the end of your mudguards is a great way to offer absolute coverage, and it'll probably help you make friends on the winter club run.
How close should it sit against the tyre?
For a mudguard to work correctly, it needs to sit close enough to the tyre that water is captured, without being too close that it will consistently rub. Beyond keeping an eye on what the maximum tyre clearance of your fender of choice is, keep in mind that if a rock or something similar gets jammed between the tyre and the fender it may cause the wheel to come to an abrupt stop — a big problem if it's your front wheel.
Some fenders have safety release clips where the fender can pop out of the way and allow the tyre to keep spinning if something does get wedged.
Get The Leadout Newsletter
The latest race content, interviews, features, reviews and expert buying guides, direct to your inbox!
Mildred joined as Reviews Writer for Cyclingnews and BikePerfect in December 2020. She loves all forms of cycling from long-distance audax to daily errand-running by bike, and does almost everything on two wheels, including moving house, and started out her cycling career working in a bike shop. For the past five years she's volunteered at The Bristol Bike Project as a mechanic and session coordinator, and now sits on its board of directors.
Since then she's gone on to write for a multitude of cycling publications, including Bikeradar, Cycling Plus, Singletrack, Red Bull, Cycling UK and Total Women's Cycling. She's dedicated to providing more coverage of women's specific cycling tech, elevating under-represented voices in the sport, and making cycling more accessible overall.
Height: 156cm (5'2")
Weight: 75kg
Rides: Stayer Groadinger UG, Triban RC520 Women's Disc, Genesis Flyer, Marin Larkspur, Cotic BFe 26, Clandestine custom bike