Best bike lights: Front and rear lights to help you see and be seen
By Colin Levitch published
Whether you ride day or night, the best bike lights can increase your safety on the road
Included in this guide:
1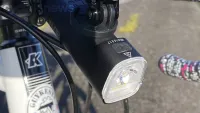 See.Sense
Beam
2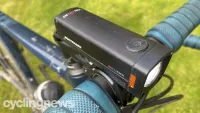 Bontrager
Ion Pro RT 1300
3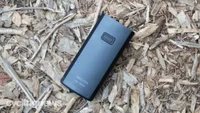 Giant
Recon HL1800
4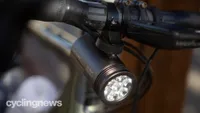 Lifeline
Pavo Motion 2400
5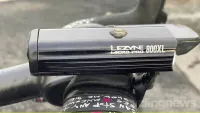 Lezyne
Micro Drive Pro 800XL
6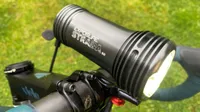 Exposure
Strada MK10 SB
7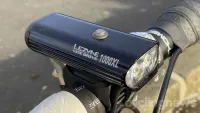 Lezyne
Lite Drive 1000XL
8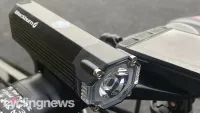 Blackburn
Dayblazer 800
9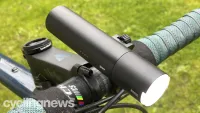 Knog
PWR Road 700L
10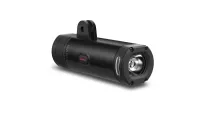 Garmin
Varia UT 800
11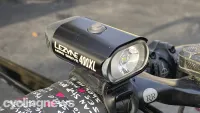 Lezyne
Mini Drive 400XL
12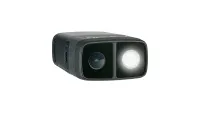 Cycliq
Fly12
13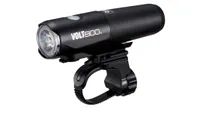 Cateye
Ampp 800
14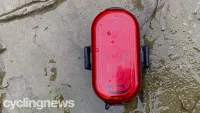 Topeak
Taillux 100
15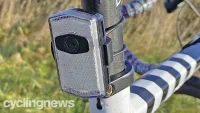 See.Sense
Ace
16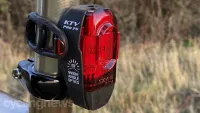 Lezyne
KTV Pro Drive 75
17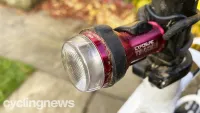 Exposure
TraceR
18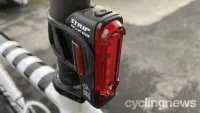 Lezyne
Strip Drive Pro
19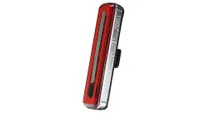 Moon
Nebula
20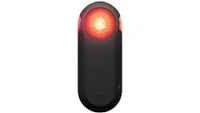 Garmin
Varia RTL510 radar rear light
21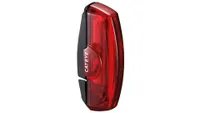 Cateye
Rapid X3
22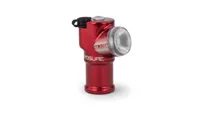 Exposure
Blaze MK2 DayBright
23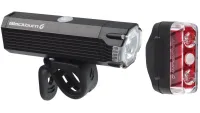 Blackburn
Dayblazer 800 Front & 65 Rear Light Set
24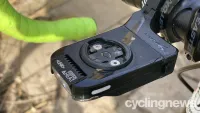 Moon
MX & Cerberus light set
25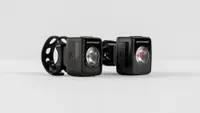 Bontrager
Ion 200 RT & Flare RT
26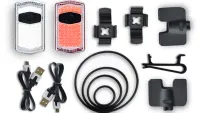 See.Sense
Icon2 Front and Rear Set
27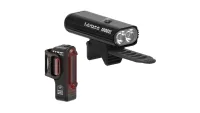 Lezyne
Lite Drive 1000XL & Strip Pro Light Pair
28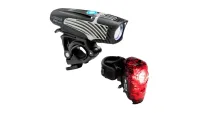 NiteRider
Lumina 1200 Boost & Solas 250 Combo Light Set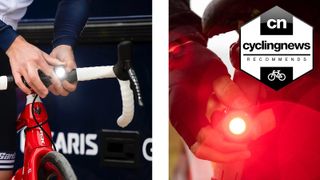 (Image credit: Bontrager)
The best bike lights will not only help you to see where you're going after dark, they also keep you visible to traffic at any time of day. In fact, many brands recommend using lights during the day as well as the night, particularly in fog, low light and rain, to promote safer cycling as well as to improve awareness among motorists.
If you consider that most cycling collisions occur during the day, it's probably worth investing in a daytime running light (DRL) with multiple modes that can also serve as a night light. Most contemporary bike lights offer varying degrees of brightness, battery life and flash patterns, and have a built-in DRL function — the output of which is measured in lumens.
Like everything else in the bike industry, the best bike lights are improving at a rate of knots with options available for all types of riders and terrain types. Whether you're a seasoned cyclist or currently running through our commuter bike accessories checklist to ready yourself for the return to the office, there are plenty of great options listed here.
To keep things as simple as possible, we've broken our list down into three sections: best front lights, best rear lights, and best light sets. We usually recommend buying your lights as a set because they tend to offer better value for money, however if you have very specific needs, or you just want to have full control over what you buy, you may want to mix and match from the other two lists.
Read on for our recommendations, or jump ahead to read about how to choose the best bike lights.
Jump to the lights you need:
Best front bike lights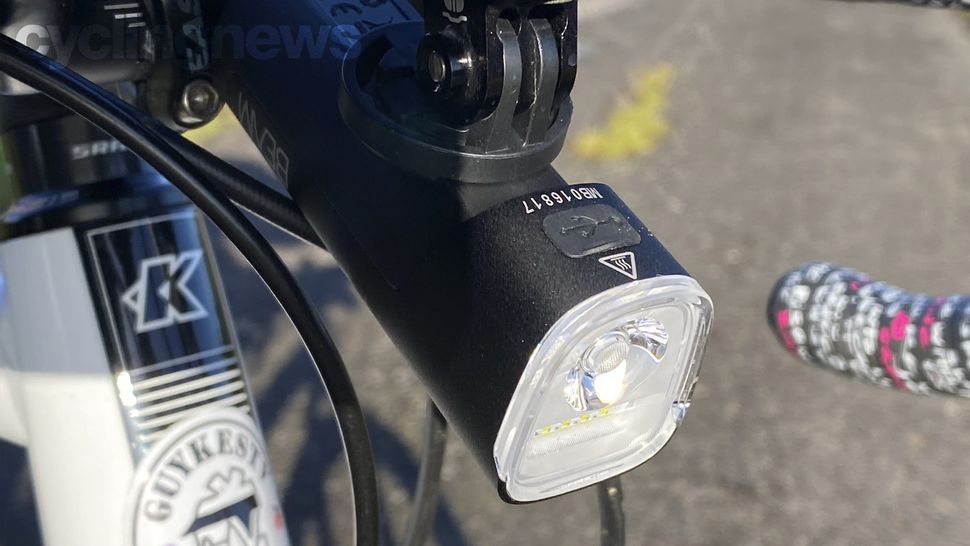 Best for tech-lovers who want added features
Specifications
Price:
£119.99 / $TBC / AU$TBC / €141.00
Reasons to buy
+

Tough and waterproof
+

Suite of smart urban-focused safety features
+

Excellent Garmin based mount options
+

Set-and-forget riding environment automation
+

Smartphone control
+

Adequate, well-balanced beam
+

Reasonable run times
Reasons to avoid
-

Low on power for price
-

Calorie/Co2 data is obviously a guesstimate
-

Theft alarm depends on Bluetooth range
-

Level of tech will be overkill for many
The See.Sense Beam front light took the existing Magicshine ALLTY1000 front light, packed in a host of added features, and the result is one of the best bike lights on the market.
It comes with its own app that you can sync via Bluetooth, and this allows you to not only see battery percentage and firmware information, but you can also control it remotely and adjust the constant power output using a percentage slider. However, our favourite feature was the ability to auto-adjust your light setting based on your speed, surrounding light levels and if the light detects stop-start riding. The same movement sensors can be used as a theft-detect alarm and a crash sensor to notify your loved ones.
There's also a 'get me home' mode that kicks in when you reach below 20 per cent battery life, which drops the power levels to give you at least an hour of run time remaining, and a crash alert function that notifies a designated emergency contact if it detects an impact followed by no movement.
To find out more, read our review of the See.Sense Beam.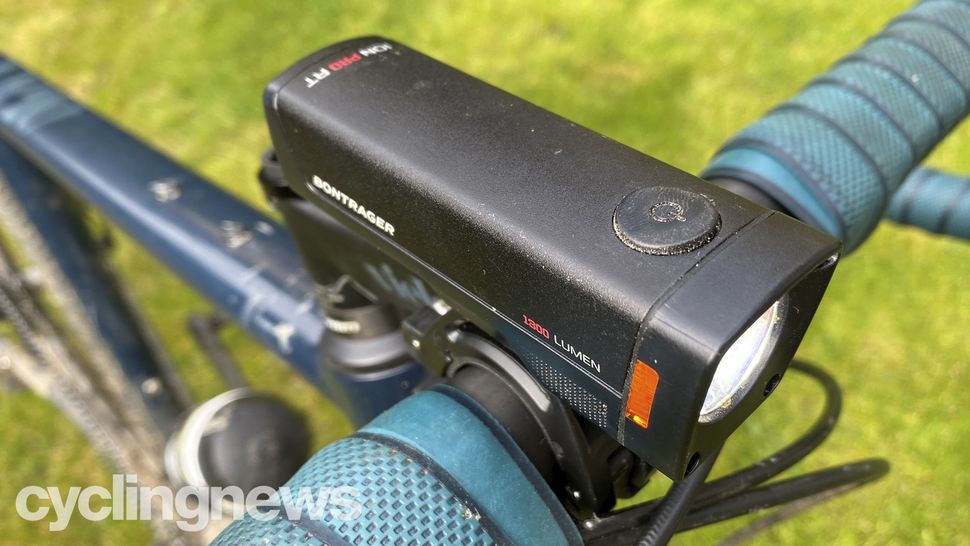 A versatile and powerful front light that performs exceptionally well
Specifications
Price:
£109.99 / $139.99 / AU$189.99 / €TBC
Reasons to buy
+

Impressive reach with reasonable spread
+

No sharp edges or beam oddities
+

Warm, eye-friendly beam colour
+

Mid and low power settings are still usable
+

Fits all round bars as standard
+

Multiple aftermarket mount options
+

Daylight flash and side visibility
+

Safety catch switch
+

Wireless remote, rear light and Garmin connectivity
+

Proven reliability
Reasons to avoid
-

No Bluetooth
-

Slow recharge
-

Not fully submersible in theory
When it comes to powerful brightness and a consistent beam pattern, the Bontrager Ion Pro RT is difficult to beat. It produces a warm, yellow beam with up to 1,300 lumens on offer, without any glare, and that feels easy on the eyes. The beam pattern it emits is also well-focused and soft at the edges, making for clear illumination when riding at night.
It comes with give light modes to choose from, ranging from the full 1,300 lumen output down to 400 when preserving battery life. At the sides it emits small amber beams for increased visibility at junctions, and thanks to its Bluetooth connectivity you can sync it with a Garmin to monitor its battery life.
Read our Bontrager Ion Pro RT 1300 review to find out why we awarded it 4.5 stars.
A smart mode that's genuinely useful, long runtime, and excellent mounting options
Specifications
Battery:
Li-Ion polymer battery (6400mAh) Up to 7 hours on low or 65 hours when flashing
Mounts:
Strap for handlebars, extension for oval shaped aero handlebars, GoPro mount
Price:
£119.99 / $175.00 / AU$179.95
Reasons to buy
+

Can be charged while in use, making it useful for long rides
+

Smart mode is useful
+

Mounting is system is solid, with GoPro mount included
+

Works with aero handlebars
Reasons to avoid
-

Easy to switch on accidentally
-

Still using the outdated micro-USB port
-

The charging port is inconvenient to reach when riding
Giant's Recon HL1800 is one of the best bike lights on the market, and the most powerful in the brand's HL range. Not only does it put out a whopping 1,800 lumens for dazzling brightness, it has a solid and reliable mount. In the box there are even options for GoPro compatible mounting as well as a solution for anyone with oval shaped aero bars. To keep the light running Giant uses a 6400mAh battery that is above average and makes for 65 hours of flashing or 7 hours on low. You can also select the smart mode and let the light automatically switch between flashing and medium power as the light changes. The older HL1600 used to be more of an outlier in the power/price race but the HL1800 continues to be an excellent choice for those looking for a powerful front light.
Read our full review of the Giant Recon HL1800 for more.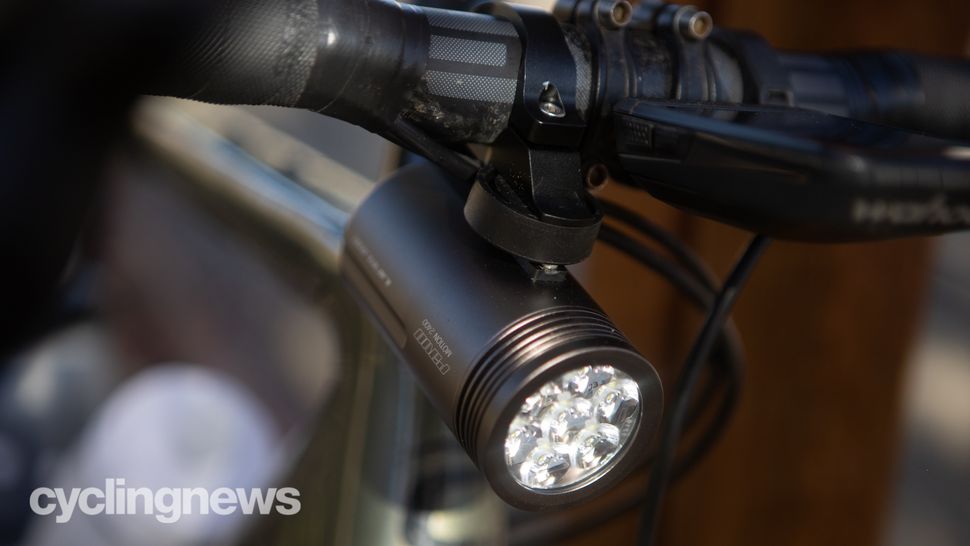 One of the brightest self-contained lights on the market, at a hard-to-beat price
Specifications
Price:
£149.99 / $169.99 / €179.39 / AU$264.99
Reasons to buy
+

Possible to charge while turned on
+

Motion control mode halves power when stopped
+

Inexpensive for the lumens
Reasons to avoid
-

Can be difficult to turn off the light if mounted upside down
-

Low quality mount
-

Micro-USB charging
With 2,400 lumens, the Lifeline Pavo Motion 2400 is an extremely bright front light, ideal for night riding in unlit country lanes. In terms of design it's a stripped down light that prioritises high power output, long battery life and low cost, at the expense of extra features. What it offers is plenty of illumination to see where you're headed.
It comes with Motion Control mode, which uses an onboard gyroscope to sense movement and this is when you can access the full 2,400 lumens of output. This mode can also be toggled off when you don't want to use it.
In terms of battery life, you'll get around 1h 50mins at 2,000 lumens, and more than 16 hours on flashing mode. It can be topped up on the go using a power bank as well, making it a really good option for ultra-distance riders soldiering through the night.
For more in-depth information, be sure to check out our Lifeline Pavo Motion 2400 front light review.
A solid and reliable light for daily use
Specifications
Price:
£60.00 / $69.99 / AU$71.46 / €TBC
Reasons to buy
+

Easy to mount
+

Great beam pattern
+

Long running time
+

Lots of modes
Reasons to avoid
-

Would benefit from better side visibility
The Lezyne Micro Drive Pro 800XL is a solid and reliable light that arguably provides one of the best power-to-price ratios available. With two LEDs sat side by side, the Micro Drive Pro 800XL emits a wide central beam with a large-coverage diffused light surrounding it. It throws out sufficient light to illuminate the road ahead while still maintaining a steady pace.
In terms of build quality, it feels bombproof and represents excellent value for money. It comes with eight light modes (great for some, while maybe too many for others), with a claimed run time ranging from 1 hour 45 minutes at full 800 lumen capacity, to 87 hours in its dimmest setting.
It comes with a non-removable rubber strap, making it easy to mount to all bars, and you can check the battery life by tapping the power button. Finally, the light it emits has a slight green cast to it, so if you find the bright white of other brands' lights, these might be for you.
Check out our review of the Lezyne Micro Drive Pro 800XL for more.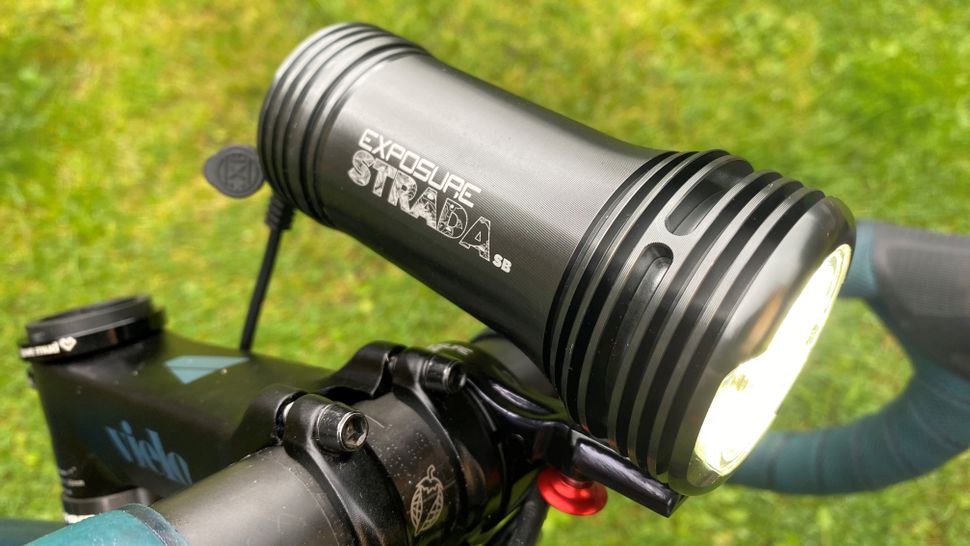 A dedicated road beam in a durable, well made unit
Specifications
Price:
£300.00 / $411.00 / AU$TBC / €360
Reasons to buy
+

Plenty of power and run time
+

Great road/gravel beam
+

Clear indication of remaining battery life
+

Practical preset modes
+

Multiple mount choices
+

Top build quality
+

Can be used as a power bank
+

Powerpack add ons
+

Remote switch
+

Excellent aftersale support
Reasons to avoid
-

Oversized bar mount can be a faff
-

Wired remote
-

No custom tuning options
With a 1,500-lumen output, the Strada MK10 SB is cable-free and features a road-specific beam which is optimised to light up the tarmac without blinding oncoming traffic. SB stands for 'super bright' and it's easy to see why.
The 7,800mAH lithium-ion battery will give you two hours at full brightness and up to 36 hours on lower modes. The seven-hour charge time isn't as fast as some of its contemporaries, but weighing in at 273g and at 106mm x 46mm in size, it's a compact front light that is built to last.
Compatible with bars from 31.8mm to 35mm, it can be used on both your road and mountain bikes, but it's certainly designed for pounding the pavement.
The light features Exposure's OMS (Optimised Mode Selector) with a choice of 10 programs, so you shouldn't have any trouble finding the right brightness for your ride. Like all Exposure products, it's anything but cheap; however, in our experience, it's an investment that is well worth the cash.
Check out our review of the Exposure Strada MK10 SB for more details.
Universal fit and a good power-to-price ratio
Specifications
Mounts:
Rubber strap, fixed
Price:
£75.00 / $79.99 / €TBC / AU$TBC
Reasons to buy
+

Universal bar/bike fit
+

More powerful than the numbers suggest
+

Great price
+

Simple operation
Reasons to avoid
-

Gappy battery feedback
-

Wobbles on rough rides
Lezyne's range of front bike lights spans options with far a greater lumen count than this, but in our opinion, the Lite Drive 1000XL offers a good sweetspot between price, brightness, battery life, fitment and construction.
In our testing, we found that the light makes the most of each of its 1000 Lumens to put a decent spread of light on the road, making it useful for seeing, as well as being seen.
This aside, the simplicity of operation, multiple modes and the option of a remote switch all make it an easy light to own. However, for an even better price-to-power ratio, we'd recommend buying it as a set with one of Lezyne's rear lights.
Read our Lezyne Lite Drive 1000XL for the lowdown.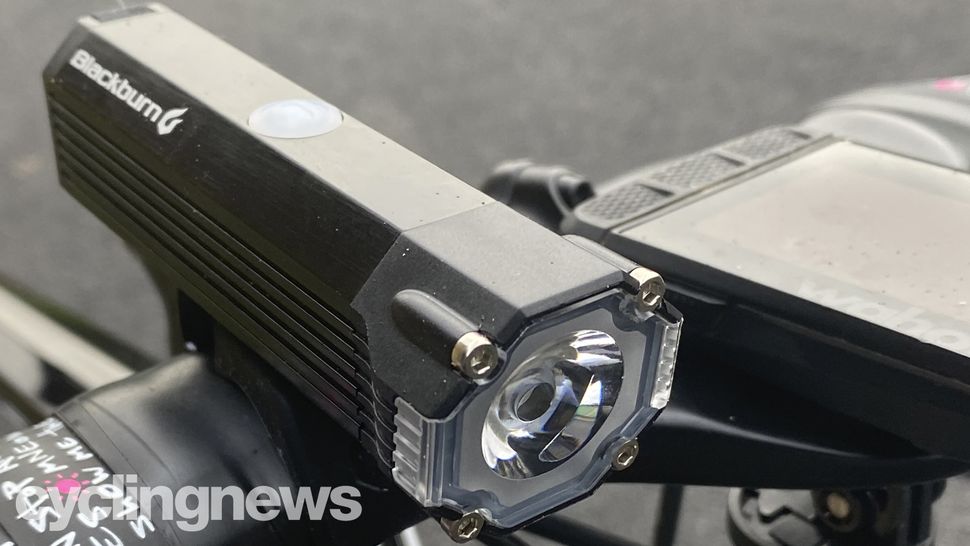 A super tough all-rounder that's brighter than the numbers suggest
Specifications
Price:
£59.99 / $65.00 / AU$TBC / €TBC
Reasons to buy
+

Bombproof and waterproof
+

Useful beam for the listed power
+

Great price
+

Some sideways awareness
+

Solid button press
+

Universal bar mount
+

GoPro shoe provided
+

Bundle options with rear lights
Reasons to avoid
-

Short run time
-

Bar mount is wobbly
Blackburn does a range of Dayblazer lights with different lumen outputs, depending on how much brightness you need. For urban commuting and short road rides, the Dayblazer 800 emits a very useful and bright beam, however, its run time isn't as good as some of the other lights listed here.
It is, however, 'AK47 tough' as our reviewer Guy Kesteven described it, and if you need something that can withstand a bit of rough handling then this could be the one for you. You can mount it to your bars or helmet, rotate it 360 degrees for precise adjustment, and quickly remove it and chuck it in a bag or pocket if you need to. It doesn't weigh a lot (hence the slightly smaller battery), which makes it a great urban light.
Read our full review of the Blackburn Dayblazer 800 for more.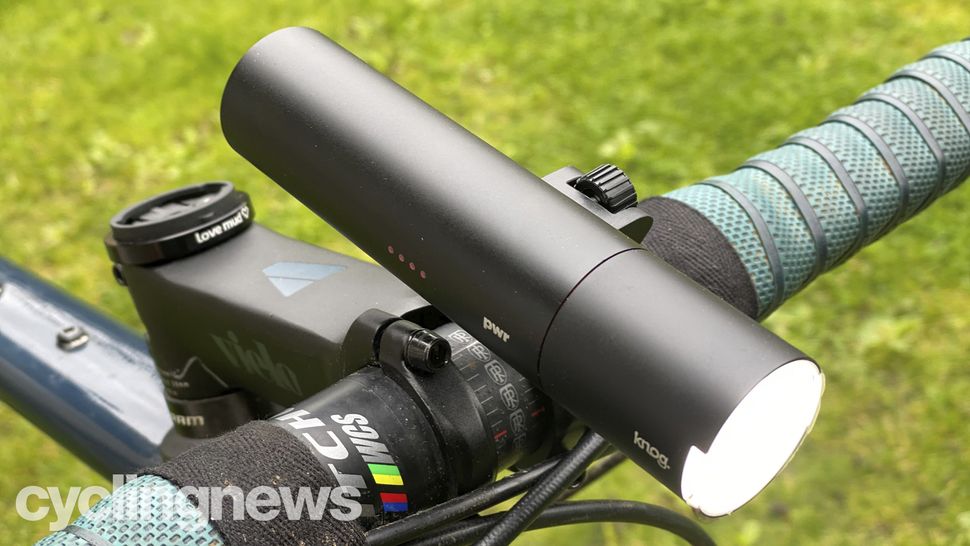 Knog PWR Road 700L
Modular light that doubles as a powerbank
Specifications
Price:
£99.99 / $89.95 / AU$139.99 / €94.99
Reasons to buy
+

Well shaped beam
+

Sideways visibility
+

Reasonable run time
+

Secure round bar bracket
+

Simple twist actuation
+

Modular battery & head versatility
+

Basic run time communication
+

Reliable
+

Expandable and upgradeable
Reasons to avoid
-

Pricey for the power
-

Supplied with round bar mount only
-

No remote switch option
Knog's PWR lights are an innovative idea that pairs a light head to a battery pack, allowing you to customise the pieces depending on your riding situation. With a quick-release bar mount, the battery doubles as a power bank should you need to top up your phone or head unit — although you can't use the light at the same time.
The light gives you 600 lumens of brightness and throws a nice oval-shaped beam that you're unlikely to outrun. Swapping between light modes is done by twisting the head, easily performed even with thick gloves, and the light modes themselves can be customised through the brand's ModeMaker app.
Even though the lights pull apart, they are fully sealed from dust and moisture.
Want to know more? Read our Knog PWR Road 700L light review.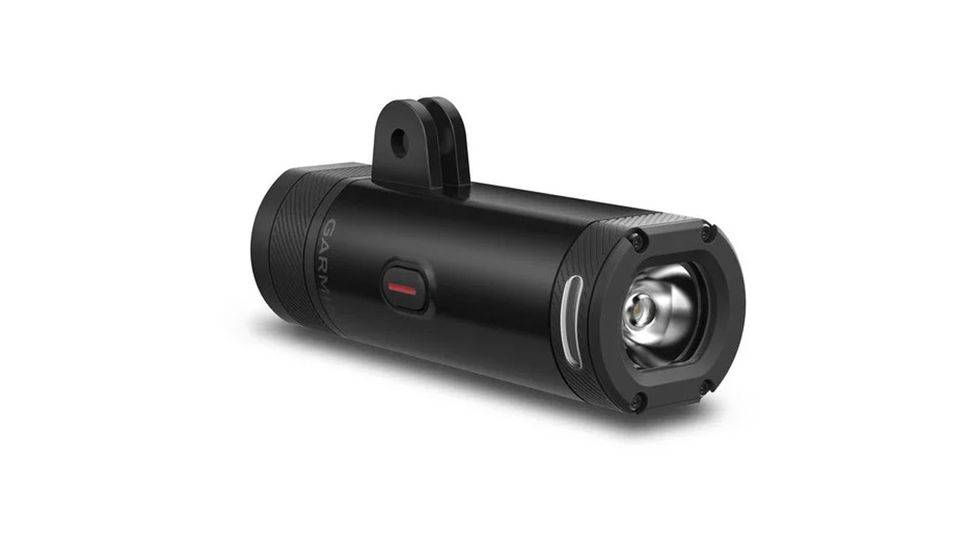 Garmin Varia UT 800
Light at any speed
Specifications
Mounts:
GoPro-style and Garmin quarter turn
Price:
£149.99 / $99.99 / AU$249 / €169.99
Reasons to buy
+

Beam auto-adjusts based on speed
Reasons to avoid
-

Expensive
-

Only works within the Garmin eco-system
There is nothing worse than outrunning the beam on your light on a ride after dark, and it can lead to some pretty scary moments on the bike. Garmin's Varia UT 800 light aims to prevent just that by working with your Edge head unit to tailor the light to your speed.
The Varia light sends just the right amount of light down the road to match the speed you are riding. Unfortunately for the time being the 'smart' functions of the Varia are restricted to the Garmin cycling computers.
Using a single CREE LED, Garmin says it offers 270-degrees of nighttime visibility and can be seen up to a mile (1.6km) away during the day. At full blast, this front bike light will last a little over an hour and the light uses a GoPro-style mount or can be paired with Garmin's universal out-front mounts using the quarter-turn adaptor.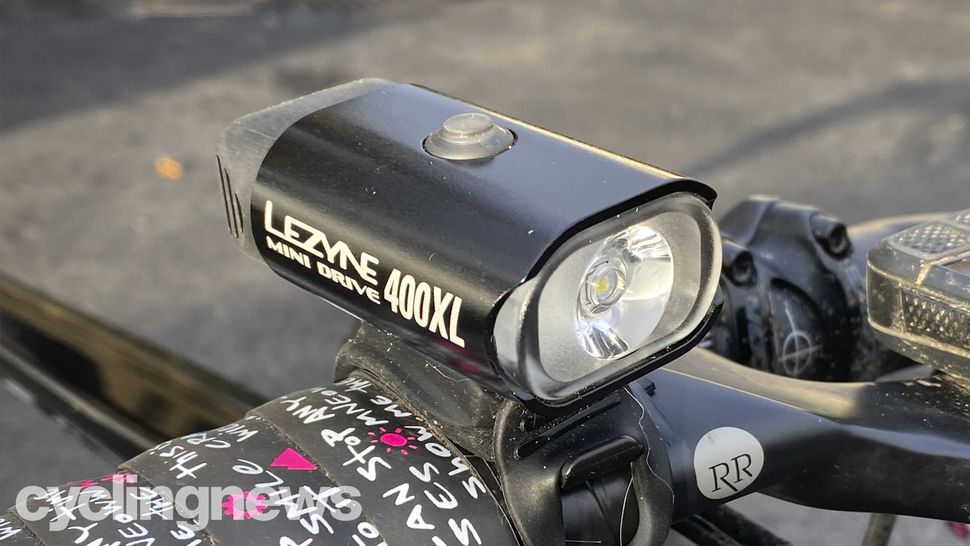 Best brightness bang for buck
Specifications
Price:
£34.95 / $34.95 / AU$TBC / €34.95
Reasons to buy
+

Lightweight
+

Value for money
Reasons to avoid
-

Battery life could be better
Packing 400 lumens into an extremely compact unit, the Lezyne Mini Drive 400 features what it calls a MOR (Maximum Optical Reflection) lens to focus every lumen into the best possible beam pattern. Side reflectors help other road users see you when the light isn't painting in their direction, and the CNC-machined casing does well to dissipate heat and resist the elements.
With seven modes (three solid, four flash modes, including a daytime flash) the light has built-in mode memory so the light returns to the mode it was in before being turned off. A simple silicone mount makes for a stable and faff-free install.
There is no need to rummage around for a charging cable as the Mini Drive 400 XL has a built-in USB stick that plugs directly into your computer or wall plug and a charge indicator lets you know how much battery the light has.
For the full rundown, check out our review of the Lezyne Mini Drive 400XL.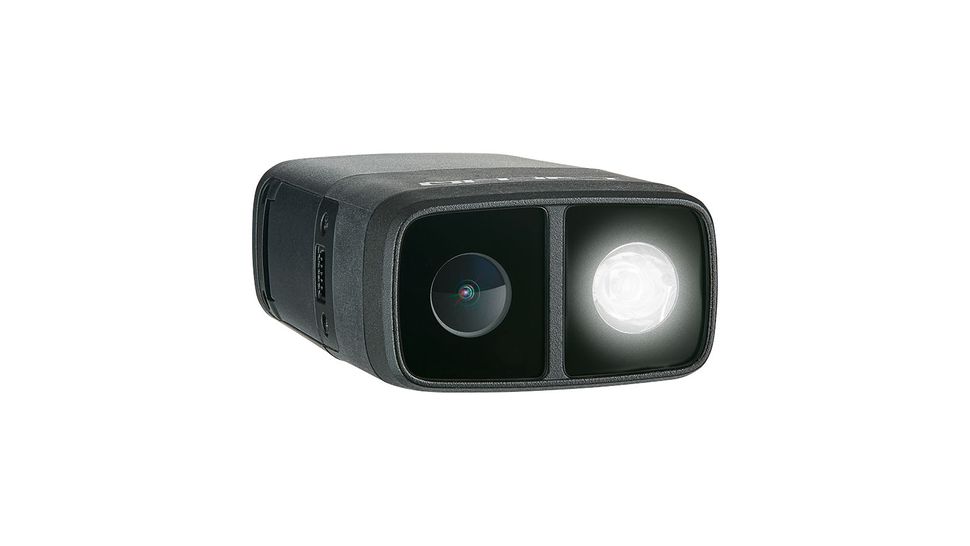 Cycliq Fly12
The best front bike light with an inbuilt camera
Specifications
Price:
£255 / $279 / AU$399 / €299
Reasons to buy
+

Inbuilt camera can record badly-behaving drivers
Reasons to avoid
-

Very expensive
-

The beam isn't that powerful
What started as a Kickstarter project spurred on by a time Kingsley Fiegert, Co-Founder of Cycliq, was hit with an object flung from a slingshot out of a passing car, has turned into full-coverage front- and rear-light camera combos. The Fly12 is the front-facing piece of the puzzle and pairs 600 lumens to a full 1080p camera with built-in stabilisation, 60fps capability and a 135-degree field of view - something that no other light on the market can offer (except for Cycliq's own Fly6 rear).
The light itself throws out a well-shaped beam for nighttime riding and features a home-safe mode where if the battery drops below five per cent the camera cuts out to extend run time.
The light also features Bluetooth and ANT+ connectivity, an accompanying app, and a bike alarm, too.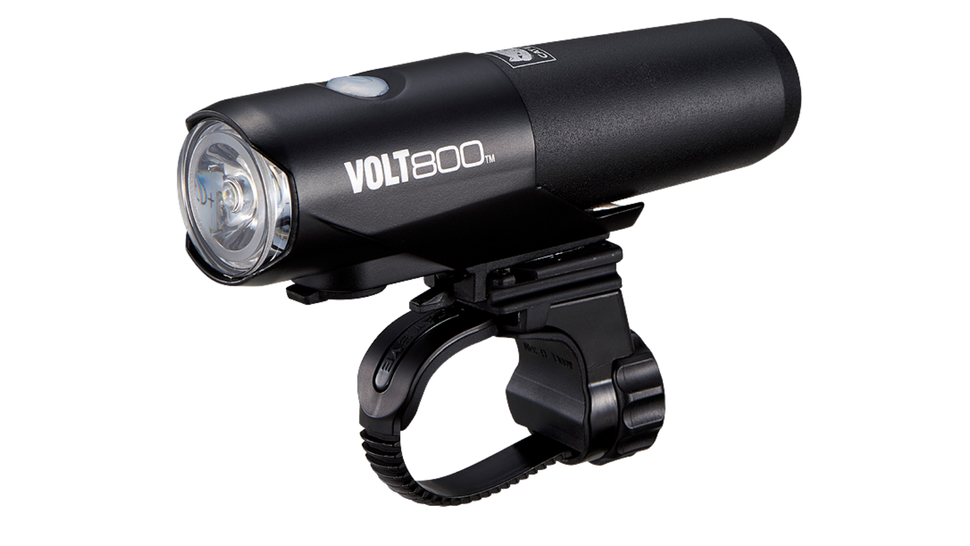 Cateye Ampp 800
A high intensity beam well suited to unlit roads
Specifications
Price:
£64.99 / $64.95 / AU$99.99 / €77.73
Reasons to buy
+

Robust build
+

Lots of light options
+

Well-focused bright beam pattern
+

Fast recharge
Cateye's Volt 800 feels robust and well-built, if a little heavy at 134g. However if you're not counting the grams, it makes an excellent light riding in unlit areas, whether it's cruising along country lanes or getting from one side of the city to another.
It comes with five modes to choose from, with three constant beam options and two flashing. Its maximum run time is claimed to be 80 hours on its flashing mode, while running consistently at 800 lumens maxes out around 2 hours.
It comes with a plastic bracket that stays affixed to your bars, which the light can be easily mounted onto and then removed in seconds. It's claimed to be weather resistant as well, which is an added bonus.
Best rear bike lights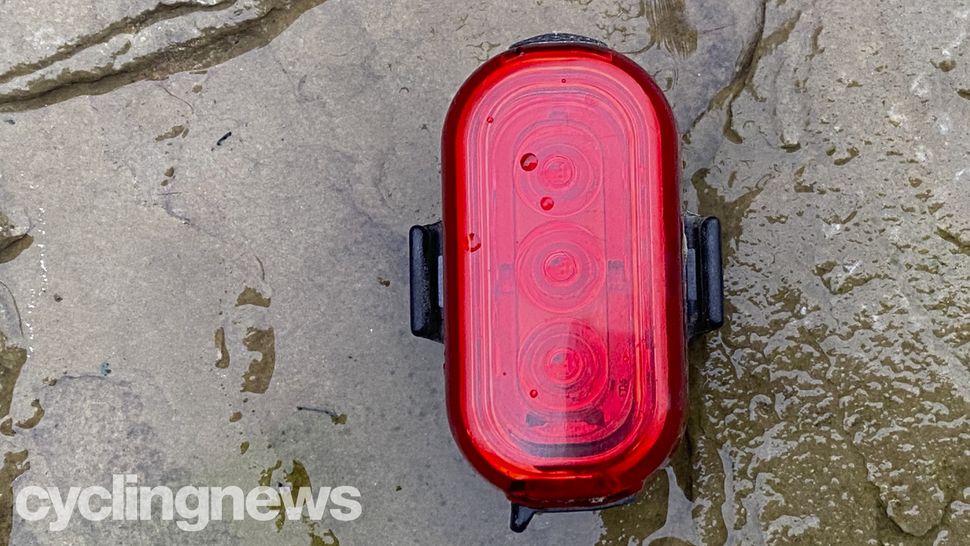 Compact yet super powerful with neat seat tube profile and excellent reliability
Specifications
Battery:
Lithium Ion, up to 30hrs
Price:
£36.99 / $44.95 / AU$39.99 / €TBC
Reasons to buy
+

Brutally bright
+

Super reliable
+

Tough
+

Long battery life
+

Well priced
+

Compact
+

USB C connection
Topeak's Taillux range comes with three models, with the 100 being its most powerful. Despite being brutally bright, it's also super compact and has a neat fitting system for all seat posts. It's loaded up with six powerful LEDs alongside three emitters up the centre, and it toggles through four different lighting modes that sequence the two sets of LEDs in different patterns.
Topeak claims that the Taillux 100 makes you visible up to a distance of 3.2km, and from our own experience with it, we reckon that's about right. It's IXP6 waterproof-rated, making it a great option for riding in all weathers, and it doesn't even cost an arm and a leg - what's not to love?
Check out the full Topeak Taillux 100 review for more.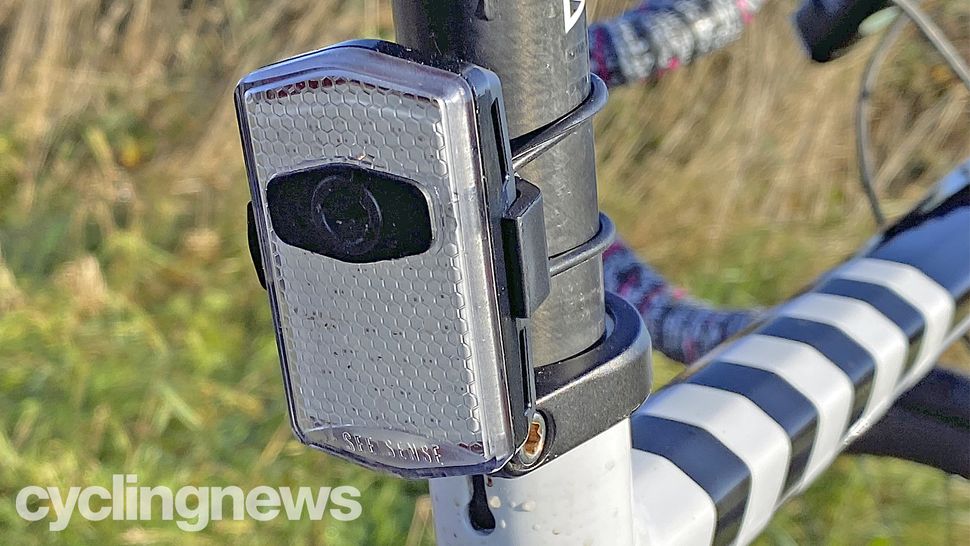 A lightweight rear light with added safety features and road reporting
Specifications
Price:
£44.99 / $TBC / AU$TBC / €52.47
Reasons to buy
+

Sentient rear light safety
+

Light, bright and waterproof
+

Range of effective bike and body mounts
+

Easy smartphone control
+

Theft and crash alerts
+

Fast recharge
+

Traffic/road feedback for planners
+

Basic fun ride facts
Reasons to avoid
-

Limited side visibility
-

Not as punchy as single LED lights
-

Traffic modes can currently irritate following riders
See.Sense is known for its smart lights and the Ace rear light does more than just put out 125 lumens of red lights. It automatically turns on when you start moving, thanks to in-built sensors, and pairs with the See.Sense app to give you an array of smart features. You can control and customise the brightness and flash pattern, receive battery life alerts, report road issues and share ride insights for road planners to make necessary upgrades, all in an eye-catching, compact, waterproof and easy-to-use package.
In addition to this, the Ace will detect an impact and notify your designated emergency contact, and it also collects ride stats for you, including how far you've travelled, the number of calories burned, the fuel you've saved by riding your bike, and other interesting facts about your rides.
For a full breakdown of what we like about this light, read our See.Sense Ace rear light review.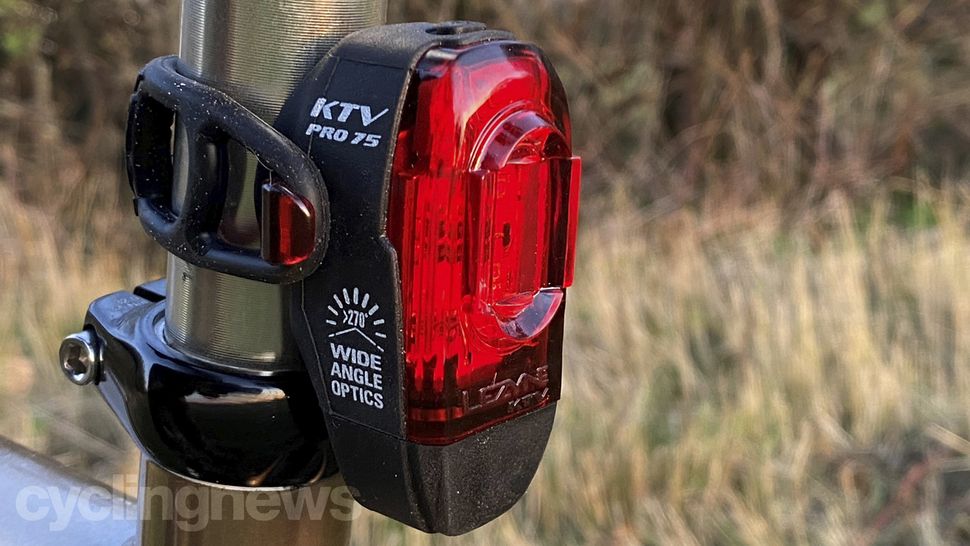 Affordable, near-universal fitment and immensely well sealed
Specifications
Price:
£27.00 / $29.99 / €TBC / AU$TBC
Reasons to buy
+

Great value for money
+

270-degree visibility
+

Brilliantly weather-resistant
+

Cable-free USB charging
+

Good run times
Reasons to avoid
-

Short rubber strap doesn't work with aero seatposts
-

Plenty of brighter options available
-

The warning light is a last-gasp alert
The KTV Pro Drive 75 is a good-value bike light that boasts a 75-lumen maximum output, a near-universal rubber strap mount, immense waterproofing, and an integrated USB charging tongue that means you'll never need to remember your charge cable again.
The light it outputs is spread through a wide 270-degree angle, so side-angle visibility is improved, and the four-hour run time is ample for most riders' evening rides, however, bear in mind that result was achieved in a lower (20-lumen) steady setting in our testing.
Find out more with our review of the Lezyne KTV Pro Drive 75.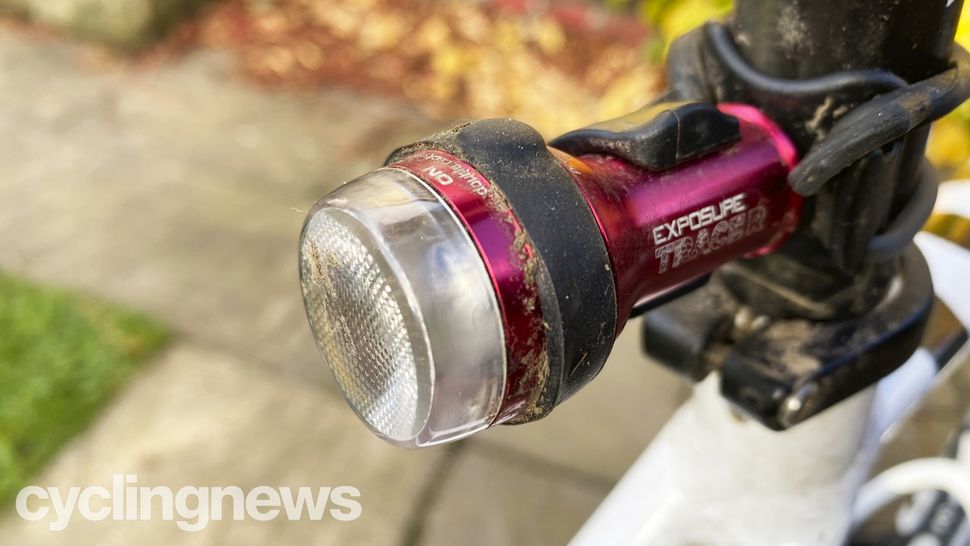 Massive rear-focused visibility in a tiny, tough, top-quality, fast-charging unit
Specifications
Price:
£45.00 / $60.00 / €55.00 / AU$80.00
Reasons to buy
+

Serious rear focused power
+

Tough all-alloy build
+

UK factory and event support
+

Simple 3x2 mode menu
+

Secure, sturdy mount
Reasons to avoid
-

Limited side visibility
-

Can pause before switching on
-

Stiff power button
-

Short life at full power
-

Needs extra adaptors for non-round posts
The TraceR is Exposure's smallest rear light, and weighs just 49g including the bracket. It's a great choice for anyone out on the open road where the priority is being seen from a distance behind, rather than from the side, as it doesn't offer much in the way of side-visibility.
Despite its size, it packs a serious punch, particularly when it comes to vivid rearward visibility in daytime and night. It features a red XPE-R LED light behind a 'fly eye' diffuser lens, which makes it particularly potent, and from our experience we've found it even exceeds the brand's claim that it can be seen a kilometre away.
It comes with six different modes - three constant, three flash - and can offer up to 24 hours of run time depending on which mode you use. The only thing to be mindful of is that if you don't have a round seat post, you'll need a separate adapter.
Read our full review of the Exposure TraceR rear light for more.
The best rear bike light for daytime riding
Specifications
Battery:
Li-ion USB, 53 hours
Price:
£52 / $54.99 / AU$92.99 / €62.19
Reasons to buy
+

Very powerful beam
+

Multiple modes
+

Universal fit
Reasons to avoid
-

USB plug can make charging awkward
As the company's flagship rear bike light, the Lezyne Strip Drive Pro boasts some impressive features including a 300-lumen daytime flashing mode and a 53-hour battery life.
With 11 different output modes to choose from – including three constant modes, six flashing modes and two daytime flashing modes – the Strip Drive Pro caters for all types of riding conditions and disciplines.
Unlike its rivals, the Strip Drive uses an integrated cable-free USB stick for recharging purposes — a nifty feature but the chunky body housing can get in the way when mating it with certain laptops and charging devices.
To find out more, read our review of the Lezyne Strip Drive Pro rear bike light.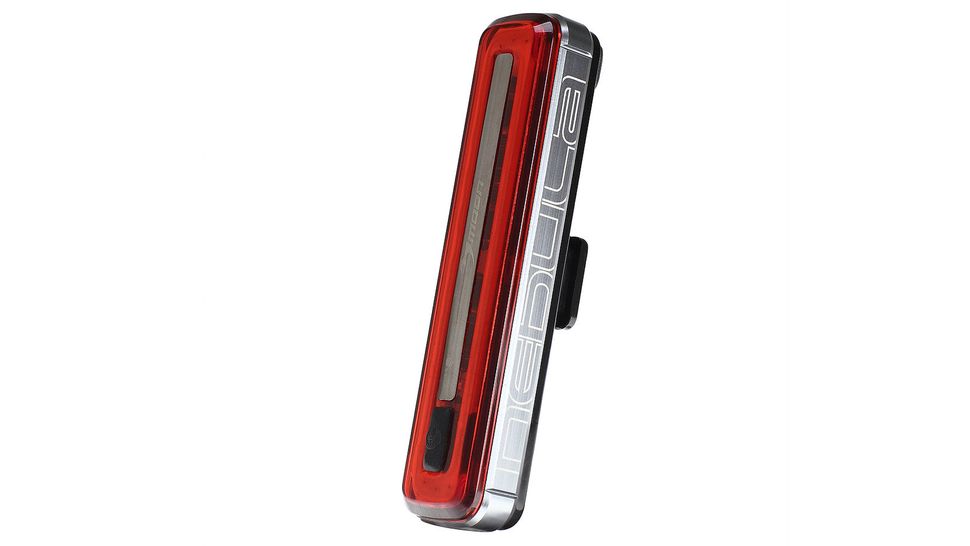 Moon Nebula
One of the brightest and most affordable bike lights in the segment
Specifications
Battery:
Li-Poly USB, 16 hours
Price:
£39.99 / $50.79 / AU$50.79 / €47.83
Reasons to buy
+

A lot of brightness for the price
+

Multiple modes
+

Compact design
Reasons to avoid
-

Highest setting can be too bright
The Moon Nebula is one of the lightest, brightest and most affordable rear bike lights on the market. Rated at 180 lumens in its highest mode, the Nebula is incredibly bright which makes it an ideal option for those who spend a lot of time in the saddle during the day.
That said it does possess eight modes which differ in terms of brightness and flash patterns. The 20-lumen flash mode is the most economic setting providing a good balance between visibility and battery life, nearly 20 hours.
In terms of mounting, the Nebula can be fixed to the seat post, saddle and helmet in both a horizontal and vertical format. Everything from universal brackets, clips and rubberised o-rings are included in the package. This is an excellent overall rear light.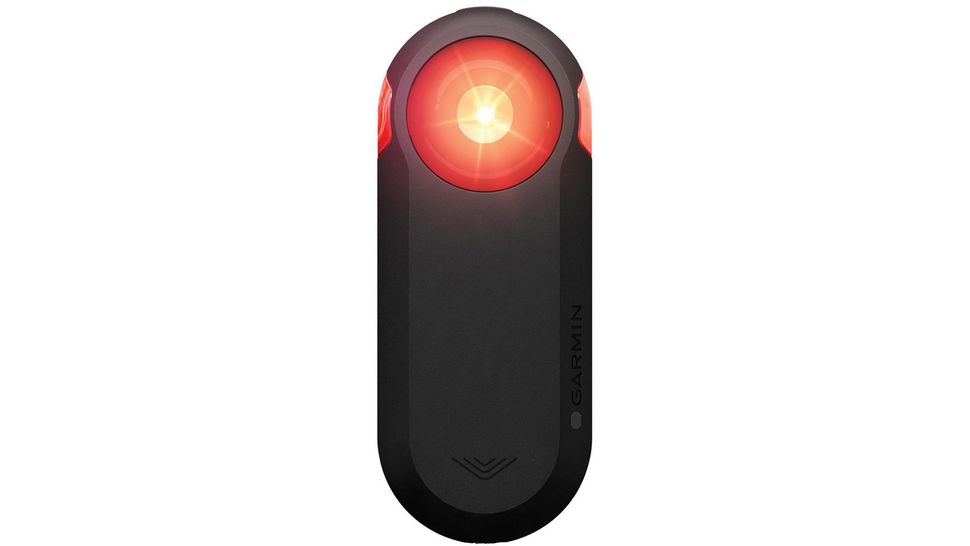 Garmin Varia RTL510 radar rear light
A pricey add-on but the early warning system makes it worth every penny
Specifications
Battery:
Li-ion USB, 16 hours
Mounts:
Garmin quarter-turn mount / silicone band
Price:
£169.99 / $199.99 / AU$299 / €199.99
Reasons to buy
+

Warning-detection system
+

Smart connectivity to be controlled by bike computer
+

Good visibility
Ideal for nervous riders or those who commute on dangerous and congested roads, the Varia RTL510 is a great piece of kit. It provides visual and audible alerts to warn of vehicles approaching from behind up to 140 metres and can be synced to a dedicated radar display unit or paired with a Garmin Edge computer.
Doubling up as a 65-lumen tail light, it offers day-time visibility of up to 1.6km (1 mile) within a 220-degree range.
In terms of battery life, the Varia RTL510 is on par with the Bontrager Flare RT with a maximum running time of 15 hours in flashing mode or six hours in steady- or night-flashing mode.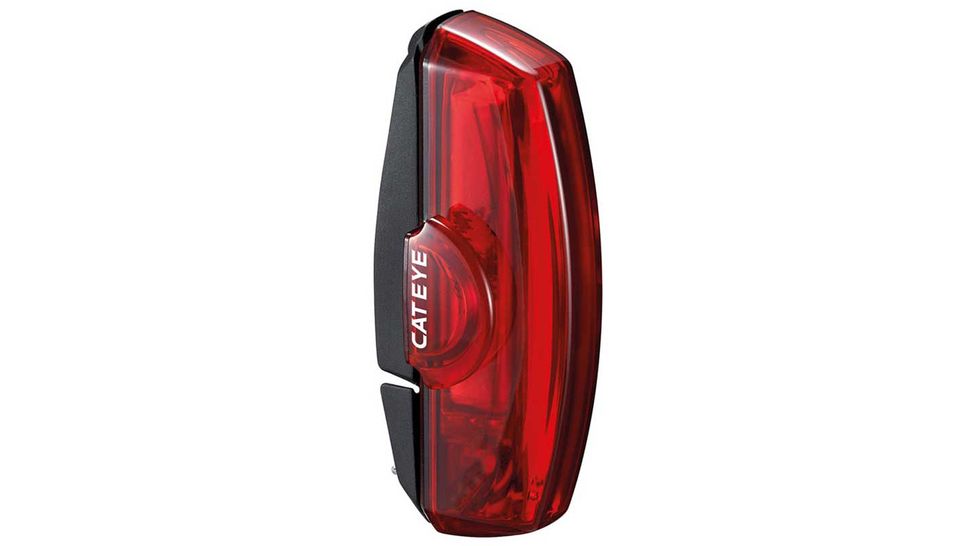 Cateye Rapid X3
One of the brightest, most adaptable rear bike lights money can buy
Specifications
Battery:
Li-ion USB, 30 hours
Price:
£49 / $40 / AU$59 / €TBC
Reasons to buy
+

Powerful beam
+

Offers great visibility
+

Easy to fit and remove
Reasons to avoid
-

Battery lasts just one hour in the most powerful setting
The Rapid X3 is the most powerful rear bike light in Cateye's range, doubling the brightness of the company's popular X2 with an output rated at 150 lumens (maximum power mode).
In this setting, the light will stay on for around one hour - not great by any stretch - but there are five alternative settings including a 30-lumen flashing mode that boasts a 30-hour battery life.
The X3's narrow profile and rubber-band-style mount means it's compatible with most bicycles and can be attached to any part of the frame including round and aero seatposts, seat-stays, handlebars and forks.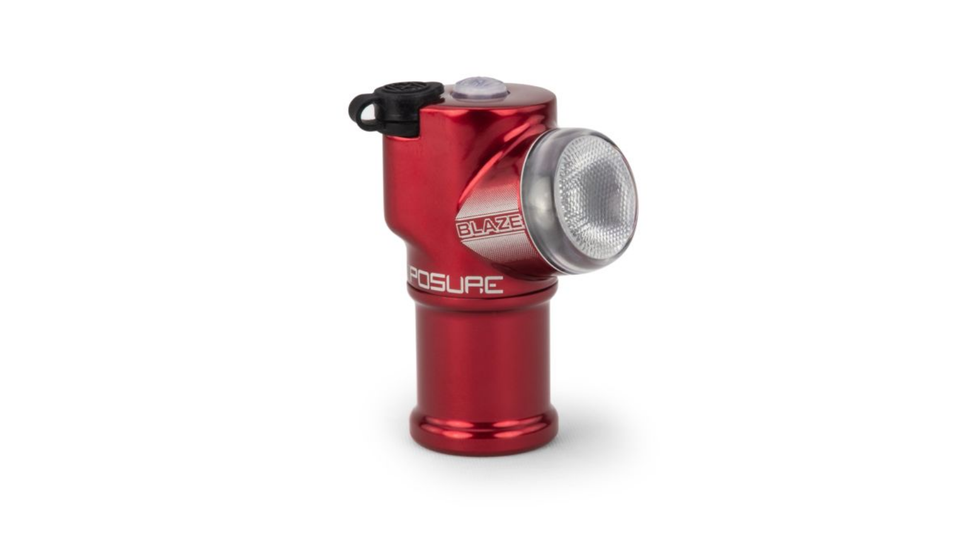 Exposure Blaze MK2 DayBright
A dazzling light that slices through pollution to make sure you're visible
Specifications
Price:
£95 / €114 / $130.15 / AU$TBC
Reasons to buy
+

Powerful output
+

Upward facing for visibility
+

Long run time
Reasons to avoid
-

Mounting options are limited
-

Over-complicated mode selection
Whether you're riding at night or day, it's important to be seen by drivers coming up behind you. The Exposure Blaze MK2 DayBright is, as the name suggests, designed to improve visibility in daylight hours.
It achieves this by putting out a powerful 80 lumens (which is quite high for a rear light, generally), while its unique design points the beam upwards slightly in order to make it as visible as possible. It also emits light from the sides for added visibility at junctions and when joining traffic.
It has six modes, including two functions called REAKT and Peloton. The former is a motion sensor that automatically adjusts the beam output accordingly and also doubles up as a brake light when you slow down. The latter, as its name hints at, is for use in group riding conditions and it emits a slightly dimmer beam to avoid dazzling your team mates. While these functions are excellent, selecting them is quite complicated, so that's worth bearing in mind.
Best light sets
Image 1 of 3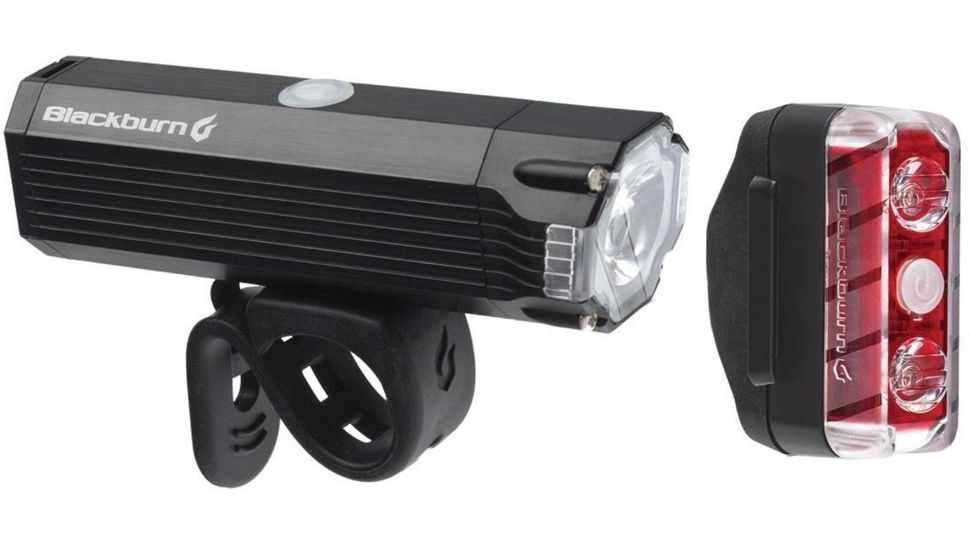 Image 2 of 3
Image 3 of 3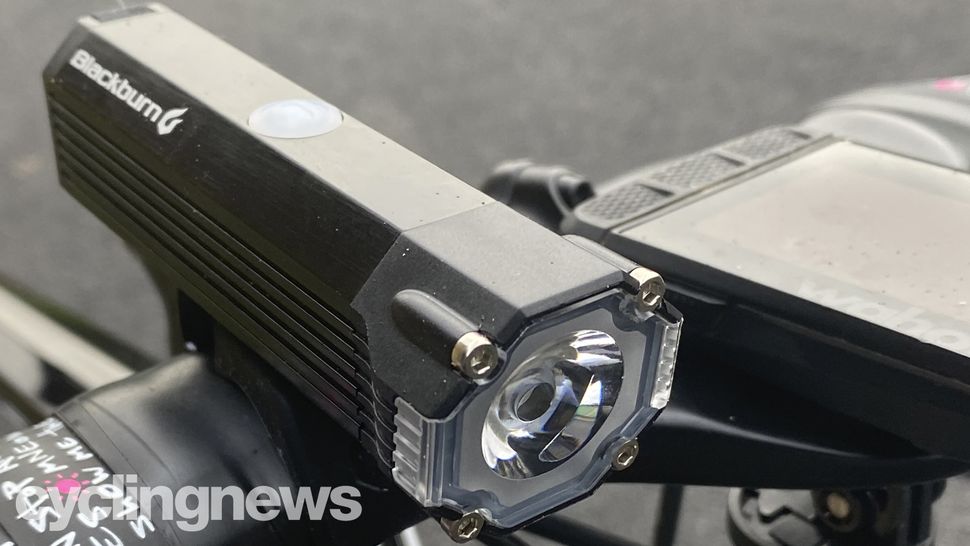 Blackburn Dayblazer 800 Front & 65 Rear Light Set
One of the best value bike light sets
Specifications
Battery:
Li-Poly USB, 6 hours
Price:
£85.00 / $100.93 / AU$144.92 / €84.29
Reasons to buy
+

High visibility
+

Light weight
+

Good value for money
+

Easy to mount and dismount
Reasons to avoid
-

Battery life could be better
Diminutive in design, the Blackburn Dayblazer 800 Front & 65 Rear light set is one of the most underrated in the segment. Both are super easy to mount and dismount from your bars and seatpost thanks to the hard-wearing and stretchy silicone band.
The Dayblazer 800 Front puts out a bright 800 lumens on its most powerful setting, which is enough to light up the path ahead even in areas with no street lighting, and be able to see far enough to maintain a decent amount of speed.
The 65 Rear also packs a punch, and its narrow profile makes for an easy and snug fit thanks to a recessed, rubberised backing plate.
Burn times vary from 90 minutes to 6 hours, mode dependent of course, and the battery life isn't the best so these are better suited for short rides when you need them at full beam. That said, if you're happy to run them on slightly less powerful settings, then they'll be good for most journeys, or just to get you back home after dark.
For more information on both lights, check out our Blackburn Dayblazer 800 and Blackburn Dayblazer 65 reviews.
Image 1 of 2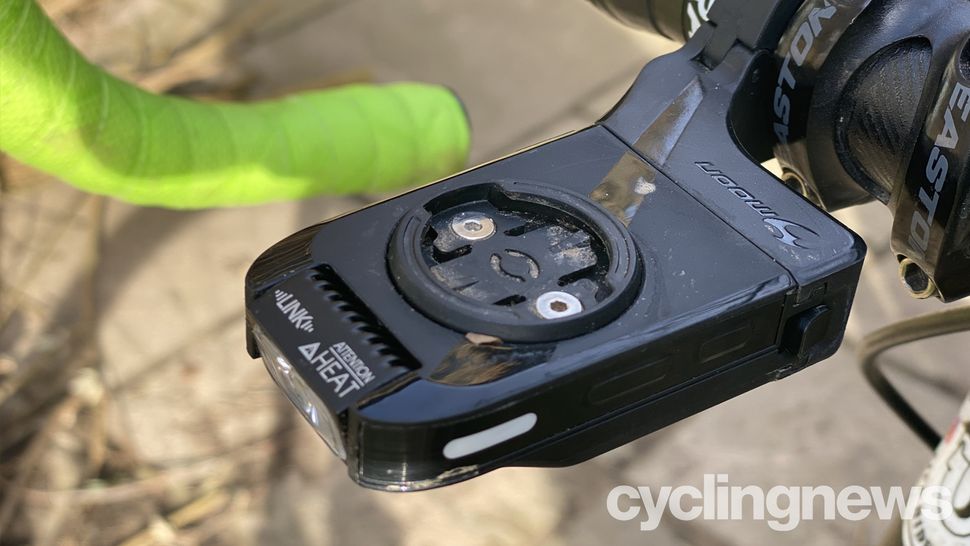 Image 2 of 2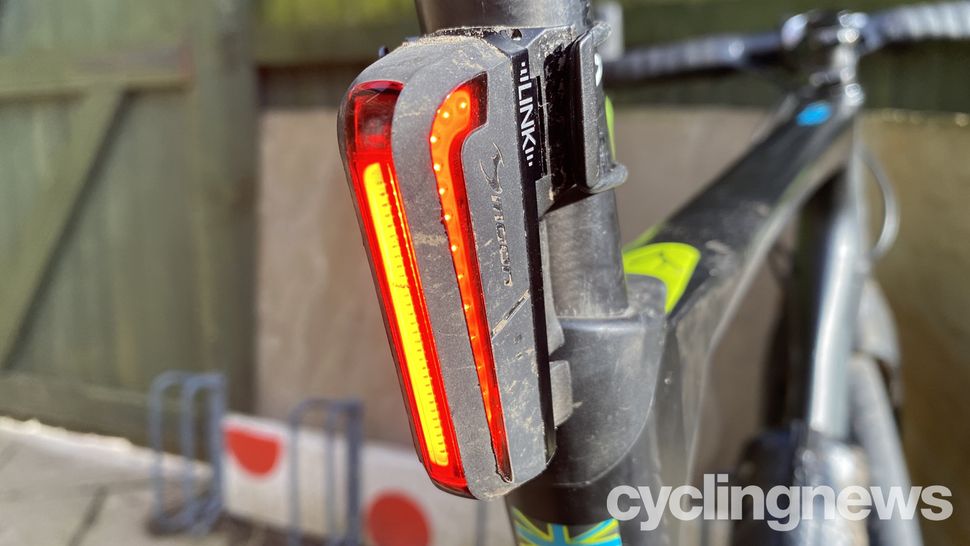 Best lightset for those who already have a high-power front light
Specifications
Mounts:
Round bar 31.8mm / Rubber strap
Price:
£104.99 / $104.90 / €TBC / AU$TBC
Reasons to buy
+

Surprisingly useable for cruising/commuting
+

Plenty of modes with custom options too
+

Very neat mount design that also integrated GPS devices
+

Very fast recharge
+

Great reliability record
Reasons to avoid
-

Expensive for power
-

Round bar only as standard
While the Moon Light MX surprised us with how much brightness spewed out of its 400-lumen claim, the MX & Cerberus pairing is definitely more of a be-seen light. It would also work as a back-up, since it also performs as an out-front computer mount, helping to reduce clutter on the handlebar. At the rear, the Cerberus' 150 Lumens is bright enough to be seen from a long way away, and its rubber strap mount is secure.
When paired together, the lights connect wirelessly, so switching one of them on will automatically switch on the other. Moon Light products have proven impressively reliable over recent years too, which should help to offset the high initial cost.
For more info, read our Moon MX & Cerberus light set review.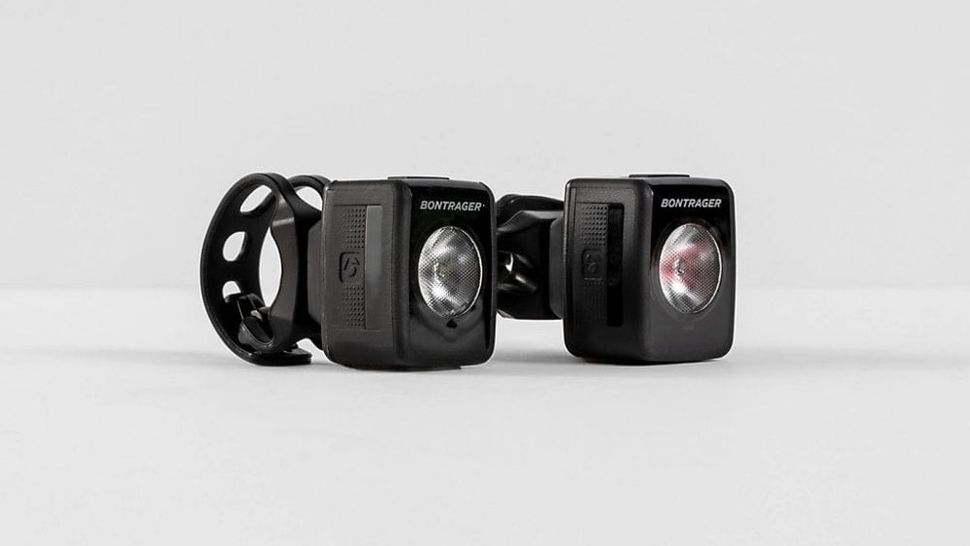 Bontrager Ion 200 RT & Flare RT
Compact yet powerful lights that punch well above their weight
Specifications
Battery:
420Li-Poly USB, 15 hours
Mounts :
Silicone and Blendr
Price:
£84.99 / $129.99 / AU$TBC / €104.99
Reasons to buy
+

Lens helps to crate a bright beam
+

ANT+ connectivity
Reasons to avoid
-

Garmin only ANT+ control
-

Battery life could be better
Bontrager claims the Ion 200 RT and Flare RT are visible from up to 2km away in daylight. With only 200 lumens of power up front and 90 at the rear, the lens focuses the light into a retina-burning flash that makes it one of the best bike lights for drawing attention.
Both use a silicone mount or Trek's Blendr mounting system, and also have a built-in ambient light sensor to auto-adjust brightness for maximum 'be-seen' visibility. The beam pattern isn't ideal for lighting up the road, so if you're riding without streetlights after dark, we suggest looking at something with a higher lumen count and a more focussed beam pattern.
The Ion 200 RT and Flare RT are ANT+ and Bluetooth compatible and can be paired with your Garmin head unit to show battery status, change the light setting or toggle on/off.
Finally there's a neat battery-saver mode that provides an additional 30 minutes of power when the charge drops to five percent.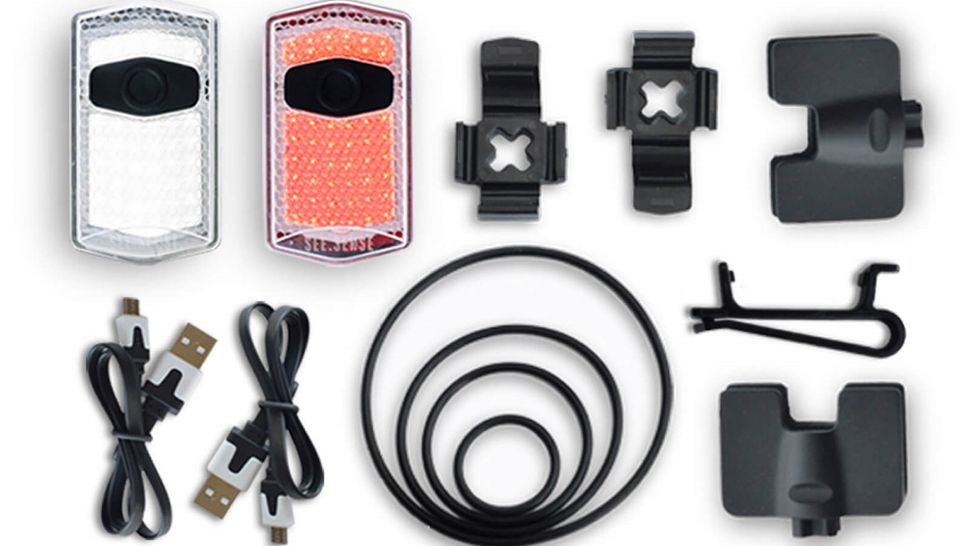 See.Sense Icon2 Front and Rear Set
Interactive and smart, the See.Sense Icon2 set has every base covered
Specifications
Battery:
Li-Ion USB, 16 hours
Reasons to buy
+

Smart connectivity
+

Excellent visibility
+

Additional safety features
Reasons to avoid
-

May be over-budget for some
With 400 lumens up front and 300 at the rear, the See.Sense Icon2 light set uses both a high-powered CREE LED (visible from up to 3km away) and a CoB LED panel which gives a wide dispersion of light and 270-degree range of side visibility.
Like its forebear, the Icon+, the Icon2 connects to a smartphone through an app where you can customise the flash patterns and brightness as well as monitor the battery level. It can also be set up as distress beacon if you crash and an alarm in the event that your bike gets stolen.
GPS is used to alter attributes such as flash rate and brightness when approaching intersections and roundabouts or when cars are approaching by sensing the headlights. There's also a new brake mode on the rear light which provides a constant beam as you reduce your speed reverting to the previous setting as you start pedalling again.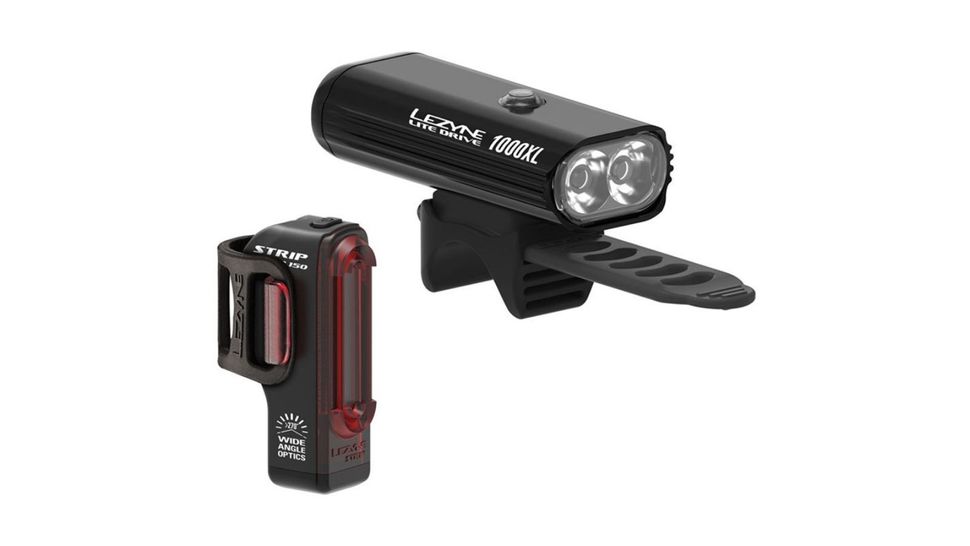 Lezyne Lite Drive 1000XL & Strip Pro Light Pair
A powerful multi-purpose bike light set with big battery life
Specifications
Battery:
Li-ion USB, 87 hours
Price:
£123.00 / $109.99 / AU$220.99 / €147.11
Reasons to buy
+

Day flash mode
+

High powered
+

Huge battery life
Reasons to avoid
-

8 modes might be too many to scroll through
If you're looking for a set of lights with a decent power output and a big battery life, you could do much worse than the Lezyne Lite Drive 1000XL and Strip Pro Light Pair. The rugged set of lights put out 1000 lumens at the front and 300 at the back, emitting a powerful and wide beam for good night-time visibility.
With eight different modes to choose from, there's definitely a lot of versatility there, and when running on the lowest mode it can keep going for up to a whopping 87 hours. For the forgetful commuter, this could be a one-charge-a-week job.
Of the many modes included is a Day Flash mode, which is designed to help drivers to see you better even in daylight, though you might find yourself succumbing to mode-fatigue, as it can take a while to scroll through all of them to find the one you want.
For more info, check out our reviews of the Lezyne Lite Drive 1000XL and the Lezyne Strip Drive Pro.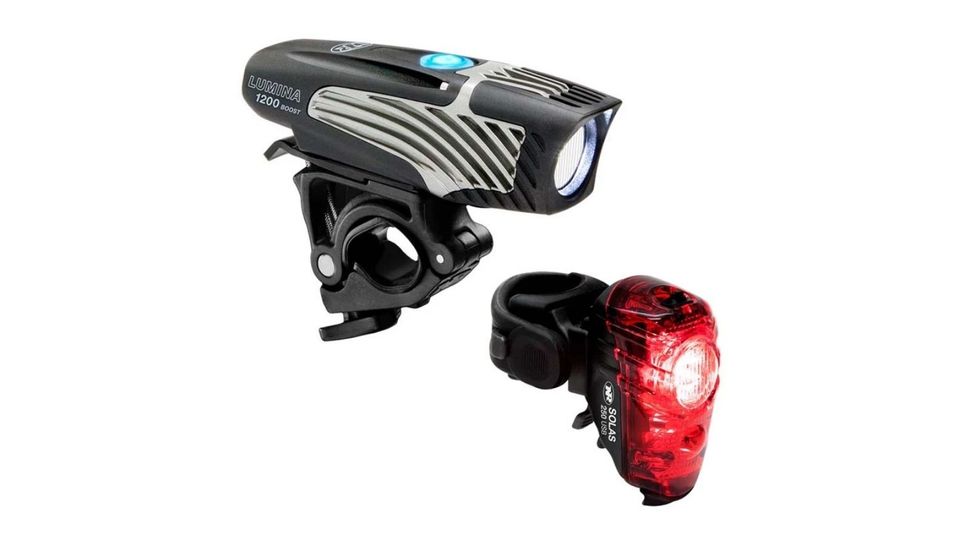 NiteRider Lumina 1200 Boost & Solas 250 Combo Light Set
Long battery life and good beam pattern
Specifications
Battery:
Internal li-ion battery
Mounts:
Bracket / Silicone
Price:
£130 / $177.99 / AU$240.99 / €153.99
Reasons to buy
+

Simple one-button operation
+

Concentrated beam shape
Reasons to avoid
-

Included front mount is bulky
The NiteRider Lumina front bike light has been around for a while in different guises, but the latest sees vast improvement for on-road users. There are numerous variations of the current Lumina, with lumen ratings going from 650 right up to 1800. The 1200-lumen model comes with a runtime of 1-18 hours.
Meanwhile the Solas 250 use two powerful LEDs to put out 250 lumens and features four modes (two flash, two steady). It features what NiteRider calls its 'Group Ride Mode', which provides up to 15 hours of constant beam without blinding those riding behind you.
The included quick-release mount is secure but takes up a heap of bar real estate, however, K-edge makes a metal GoPro-style mount adaptor that solves the problem. Thankfully the Solas mounts using a regular silicone band, so it doesn't require as much room.
How to choose the best bike lights
As a rule, the brighter the light, the better your chances are of being seen by other road users. It's also worth looking for bike lights that are durable, waterproof and capable of emitting a strong beam regardless of the time of day. To help you make a decision, here are some frequently asked questions answered.
Do I need a light to ride my bike at night?
While legal requirements differ from country to country, it's at the very least common sense to equip your bike with lights for night riding.
There are two distinct types of lights for cycling on the road: those that help you see, and those that help you be seen. The best bike lights which are designed to help you see also aid with visibility, but not all lights designed for visibility are bright enough to light up the road in front of you.
Lights to help you see will often have larger lumen counts, reflectors and a lens that throws a wide beam of light down the road, while lights for visibility will put out an unfocused beam in every direction.
If you're commuting down a well-lit road or bike path, a simple flasher will probably suffice, but if you're heading out for a night time training ride or your route is lit like the beginning of a horror movie, look for something brighter with a more road-specific beam pattern.
How many Lumens do I need for a bike light?
Just how bright is bright enough?
With advancements in LEDs and batteries, it's possible to buy bike lights that are several times more powerful than car headlights.
However the brightness needed depends on where you're riding, and can impact the cost of your lights as well as their battery life. The higher the lumen-count, the harder they'll need to work, and the more they're going to set you back financially.
For riding on poorly lit roads you don't need a 5,000-lumen light on your bars, as it will dazzle oncoming drivers. Instead you could opt for something between 500 and 1,500 lumens to do the trick up front, and something over 200 lumens at the rear.
Of course, if you're riding in well-lit areas and don't need to illuminate the path ahead of you, you can get away with fewer lumens, which would bring the price down. A 100-200 lumen front light and 60-100 lumen rear light can still do a great job of keeping you visible.
What battery type is best for a bike light?
Pretty much every light will use a rechargeable lithium-ion battery. Some lights will be completely self-contained, while others will use a separate battery pack.
On the road, we tend to go more for self-contained lights which eliminate the awkward cables and cumbersome battery packs, the latter of which are usually bigger and considerably more substantial.
For lights that consist of the head and separate battery joined by a cable, you'll need to find somewhere to put the powerpack. As batteries degrade over time, external packs can be replaced or upgraded, and some brands even offer options with different capacities.
How long should my bike light battery last?
Lights that won't last the entire duration of the ride are about as useful as mesh cycling shoes in the Arctic Circle. Take into account how long you're planning to ride for and budget a bit extra when looking at run time.
Did you know that many batteries are affected by temperature, and therefore the cold can have a severe effect on run time? If you live in an area where night time temperatures go below freezing, consider buying a bigger battery.
Knowing how much juice your lights have left is also vitally important. Some bike lights have rudimentary green, orange and red battery indicator lights, while others will show you time or percentage remaining.
How do I mount a light to my bike?
For riding on the road, a single light mounted to your handlebars and seat post would be more than enough - mountain bikers often use a helmet-mounted light to illuminate where they are looking, but for road riding these aren't necessary.
Many lights will come with a plastic/silicone mount, however, some of the more heavy-duty bike lights will have a dedicated mounting bracket, often made from aluminium for extra security.
With the advent of out-in-front computer mounts, there are plenty of options which see an action camera-style or brand-specific bracket on the underside; we like these as it cleans up your cockpit but still allows you to ride with a light.
If you're commuting and you need to secure your bike outside with a bike lock, look for lights that can be quickly removed without a multitool.
Why are bike lights so expensive?
There are a lot of cheap, poorly constructed and unreliable options out there, and the truth of the matter is, you get what you pay for.
The last thing you want is a light that fails mid-ride, especially a rear one that you're unlikely to notice right away. Therefore, it's imperative that you invest in a set of bike lights from a reputable brand.
While this might cost you a little more initially you can rest assured knowing they will last a good few years and often be covered by a warranty.
Should my bike light be still or flashing?
It's important that your bike lights have at least two lighting modes: flashing and constant.
The RVLR (Road Vehicles Lighting Regulations) states flashing modes should pulse between 60 and 240 times per minute (1–4Hz) but there's no clear indication as to which mode is most effective.
As a result, many cyclists run both flashing and constant lights just to be safe, and some lights feature a pulse setting which consists of a constant beam with a pulsing brightness.
How we test bike lights
Testing starts from the moment we open the box. We see how eco-friendly the packaging is and then weigh the light, mount and any other accessories. We know a load of people never read instructions so we check how intuitive the basic setup and operation is, then we read the instructions to see what we've missed (you'd be amazed how many hidden modes and features there are on some designs) while fully charging the light and fitting the mount to our bikes. We try it on several different bar shapes too - round, aero, flat rectangular - and even on the stem and fork leg because modern integrated cockpits can be a nightmare for nocturnal riding. If there's an obvious compatibility gap, we check websites and contact importers to see if there's an appropriate accessory.
We check the beam pattern against a blank wall to check for any obvious hot spots, dark bits, halos or abrupt changes. We run through all the possible power settings and functions for obvious pros and cons and then it's time to ride.
And while lights are better than they've ever been, this is where the crucial differences shake out (sometimes literally if the mount won't stay). It's out on the road - and trail if we think it's got potential as a gravel light - where we can check how the power and beam pattern impressions we got in the workshop play out in reality. How visible the lights are from the side, whether you get an eyeful if you're climbing out of the saddle or whether the lens doesn't work if you mount it upside down under an 'out-front' mount. We also test the lights for range and clarity by taking beam shots against benchmark points on a viaduct that our local bike path goes over.
We also see if the switches can be worked in fat winter gloves or whether the mount wobbles while riding or when trying to change modes.
For maximum comparative accuracy we'll often run three or four lights on the same ride, switching between them (or just sometimes covering the lens of one with our hands to see exactly how they stack up against each other. Because batteries sometimes 'condition' from new and because the operating temperature can affect output, we fully charge and then fully discharge each light at least three times to get an averaged run time. This also lets us know if the battery life indicator is useful or a panic-inducing last minute alarm. Whether the light has been rained on or not we'll hose it down to see how well sealed it is and we'll drop the light onto the road on it's lens, top and side from handlebar height to see how well made it is.
Finally we check in with our long-term user crew and any notes we've taken on similar lights before to see how well any previous samples have fared. That's because while remotes switches and multiple modes are cute, having a light that always works when you need it to is absolutely crucial. Now we throw all this information onto the lights-test spreadsheet we've been adding to annually for over a decade, cross check the notes and data one last time and write up the most accurate comprehensive, relevant and verified data-based review we can.
But don't think the testing stops there. Not only do we keep all the lights on test with our long term crew for that crucial reliability feedback, we also backtrack to older lights reviews if a new light resets the benchmark for overall or value-based performance.
Because whether you're using them for commuting safety, night time training or just having fun after the sun has gone down, lights are literally only brilliant if you get the right one for you.
Sign up to the Cyclingnews Newsletter. You can unsubscribe at any time. For more information about how to do this, and how we hold your data, please see our privacy policy
Thank you for signing up to Cycling News. You will receive a verification email shortly.
There was a problem. Please refresh the page and try again.