Best road bike wheels: Our pick of the best wheelset upgrades
By Colin Levitch , Josh Croxton
Upgrading your road bike wheels can transform the performance of a bike by improving aerodynamics, cornering grip and comfort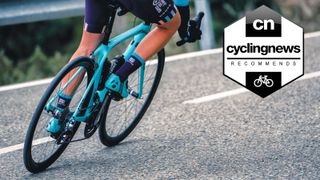 (Image credit: Bontrager)
Of all your bike's components, upgrading to a set of the best road bike wheels is one of the easiest ways to greatly improve your bike's performance. A light and stiff (but not too stiff) wheel will make your bike feel like it's gliding up a climb, help you effortlessly hold speed along the flats and also improve steering accuracy. High-quality hubs keep things spinning along for years with a bit of elbow (or waterproof) grease here and there and, most importantly, keep the elements out.
With more options than ever, between carbon or alloy rims at different depths, clincher, tubeless, and tubular tyre compatibility, disc or rim brakes, and quick release or thru-axle options, finding the right wheelset to buy isn't always straightforward.
We've compiled a list of our favourite road wheels to help you find and buy the best road bike wheels for your budget.
Jump to our guide on what to look for in a set of road wheels
Best road bike wheels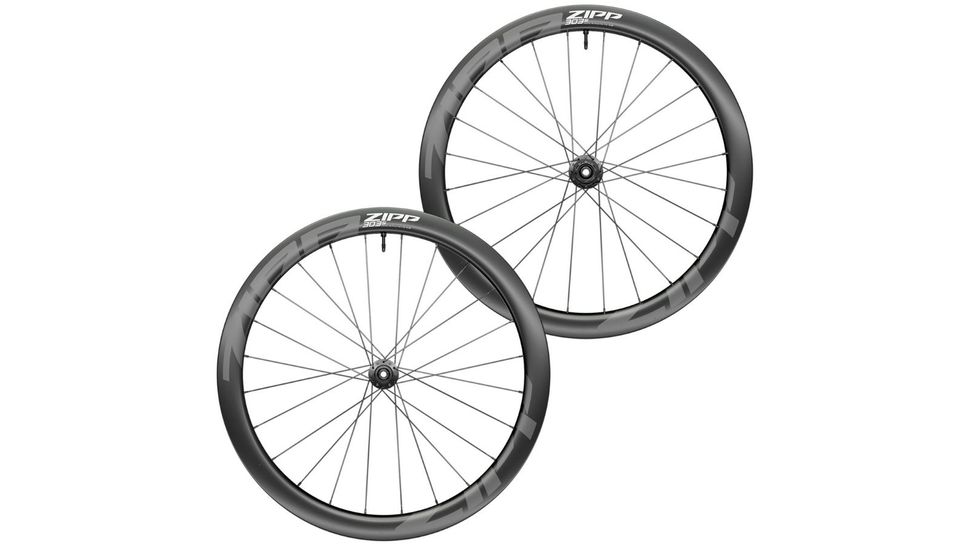 Quietly rapid, responsive, comfortable and versatile, with an impressive price
Depth: 45mm | Brake: Disc | Tyre format: Tubeless | Rim width: 23mm (internal) | Spoke count: 24/24 front/rear | Weight: 1,610g (with tubeless valves)
Fast everywhere
25-50mm tyre compatible
Brilliant warranty
Not Continental tyre compatible
If you're looking for a wheelset that will offer versatility, then you could do much worse than the 303S wheels, which are compatible with tyres from 25-50mm wide. Tubeless tyre installation is a breeze thanks to the hookless rim design, although not all tyre brands are compatible, most notably Continental.
They weigh 115g less than their predecessor, and fall under Zipp's Total System Efficiency ethos for wider and lighter wheels. This results in a smoother, faster and more cultured ride for a great price.
Harnessing the latest trend for wide tyre, low pressure, they're suitable for on-road and off, and as a bonus they come with a lifetime warranty.
Zipp 303S Carbon Tubeless Disc wheelset review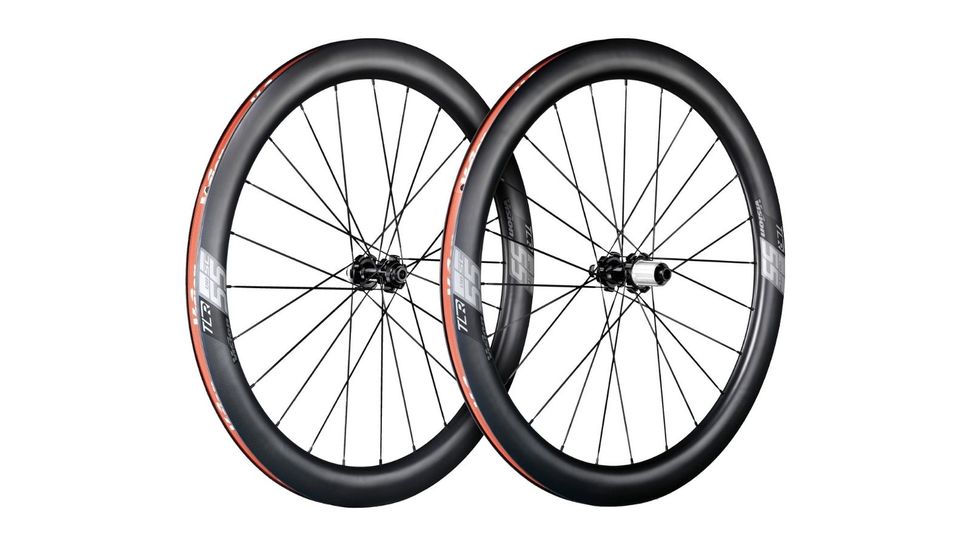 Affordable performance that doesn't skimp on speed and weight
Depth: 55mm | Brake: Disc | Tyre format: Tubeless and clincher | Rim width: 25mm (external) | Spoke count: 24/24 front/rear | Weight: 1,710g
Two affordable price points
Aerodynamic properties
19mm internal rim width for improved traction and low pressures
Rim graphics could be bolder
The Vision SC (which stands for Service Course) wheel range comes with both rim- and disc-brake options, as well as two rim depths to choose from. We tested all four, back to back, and were extremely impressed by the entire range, especially considering its affordable price point.
The disc wheelset is marginally heavier than the rim equivalent, however they still offer almost the same performance levels, aerodynamic qualities, and rim specifications.
The Vision SC 55s inherit the same rim shape and carbon fibre layup from the brand's superior Metron line, and perform just as well. Considering how much of an investment is needed to upgrade your wheelset, the trickle-down technology at this price point offers exceptional value for money.
Vision SC wheel range - ridden and reviewed
Pioneering road-off-road wheels that offer outstanding performance
Depth: 45mm | Brake: Disc | Tyre format: Tubeless | Rim width: 25mm (internal) | Spoke count: 24/24 front/rear | Weight: 1,410g (with tubeless valves)
Fast everywhere
Brilliant warranty
Lightweight
Not Continental tyre compatible
28mm tyres and up
Pushing the boundary of road wheels, Zipp's 303 Firecrest offers phenomenal performance both on- and off-road.
They offer razor-sharp handling and outstanding smoothness on-road, complemented by the low weight - just 1,410 grams with tubeless valves - when the road picks up. That weight becomes astonishing when you consider the impressive impact strength on offer, making the 303 Firecrests an outstanding wheel for fast-going off-road use.
The only potential downside is that you're limited - according to Zipp's recommendations - to 28mm tyres and up, although, in reality, that's the way the trend is going, so our advice is to embrace it.
Zipp 303 Firecrest Carbon Tubeless Disc wheel review
Top-of-the-line ultra-lightweight wheels
Depth: 37mm | Brake: Disc | Tyre format: Tubeless | Rim width: 21mm (internal) | Spoke count: 24/24 front/rear | Weight: 1,360g
Easy tubeless setup
Lightweight
Crosswind handling performance
When our reviewer's only hang-up about the Aeolus RSL 37 wheels is the price tag, you know you're looking at an outstanding pair of wheels.
While not quite as progressive as some options here, the 21mm internal width will play nicely with any and all of the best road bike tyres, blowing them up nice and wide to help with lower tyre pressures, increase grip and handling, and avoid pinch flats. Tubeless setup is a cinch too, blowing up with little more than a cheap track pump, and ride performance is simply faultless, especially when it comes to crosswinds.
They roll on DT Swiss' new Ratchet EXP hubs, which are light, stiff, durable, and super-simple to maintain, and if you manage to write off a wheel in the first two years, Bontrager will replace them and also backs them with a lifetime warranty.
Bontrager Aeolus RSL 37 TLR review
Roval Rapide CLX
Radically wide front rim paired with a deeper rear makes high-speed stability
Depth: 51mm front / 60mm rear | Brake: Disc | Tyre format: Clincher | Rim width: 21mm (internal) | Spoke count: 18/24 front/rear | Weight: 1,400g
Crosswind handling performance
Eagerness to go fast
Not tubeless
When Roval launched the Rapide CLX wheelset, it came with two major talking points. The first was the lack of tubeless compatibility, which will certainly put many tubeless converts off, but the second was a radical reinvention of rim shaping with the mindset that better stability equals fewer speed-killing mistakes.
To achieve this, the most noticeable feature comes as the width of the front wheel. A fairly typical internal width of 21mm is paired with an incredibly wide 30.7mm external width - meaning the rim itself remains wider than every tyre we've used on them to date.
These wheels are stunningly quick across all gradients. They weigh just 1400 grams and feature DT Swiss' latest and greatest Ratchet EXP freehub.
For those who are yet to be bitten by the tubeless bug, we can't recommend a better choice than these wheels.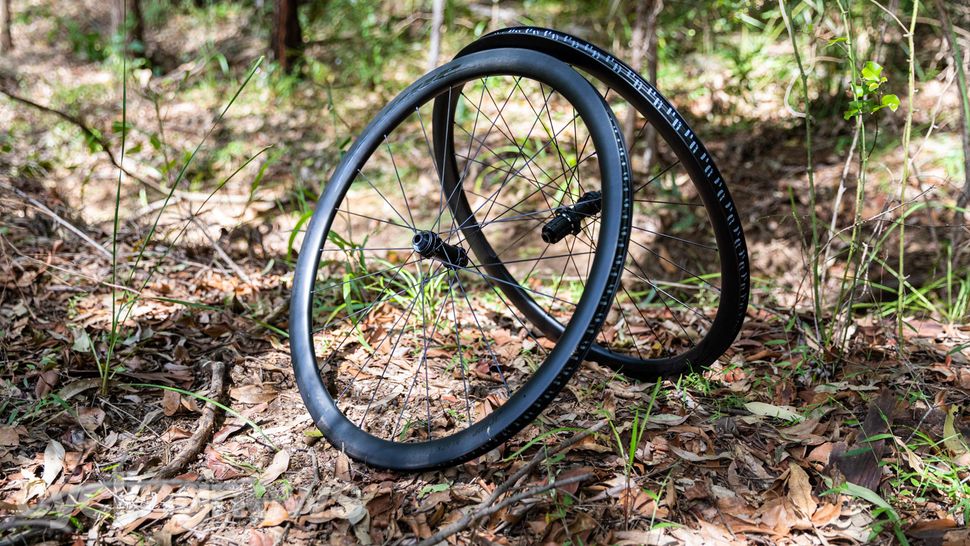 Quite simply a great wheelset at a great price
Depth: 38mm | Brake: Disc, Rim | Tyre format: Tubeless | Rim width: 19mm (internal) | Spoke count: 24/24 front/rear | Weight: 1,540g
Price
Tubeless setup
Hubs are nothing special
You'll need cone wrenches if you wish to switch hub end caps
As with everything from Wiggle-CRC's own component manufacturer Prime, these BlackEdition 38 wheels help to change perceptions of carbon fibre's premium price point.
They're competitively light at 1,540 grams, and while the 19mm isn't at the cutting-edge of design, they play nicely with both 25mm and 28mm rubber, spreading the casing smoothly across the rim and providing plenty of sidewall support for lower tyre pressures.
They come tubeless-ready straight out of the box, and we've managed to set them up with various tyre models with little more than a cheap track pump.
They are from an open mould - as many are these days - so while the aero performance is unconfirmed, they seem to hold speed well at 30km/h and above. With the backing of the world's largest online cycling retail group, you can bet they'll make a great upgrade from your bike's stock alloy wheels.
Prime BlackEdition 38 carbon wheelset review
A premium price is matched by premium performance
Depth: 65mm | Brake: Disc, Rim | Tyre format: Tubeless | Rim width: 22.4mm (internal) | Spoke count: 21/24 front/rear | Weight: 1,540g
Depth-to-weight ratio
Easy tubeless setup
High RRP
On paper, the Cadex 65 wheelset is a gamechanger. At 65mm deep, you'd be forgiven for thinking they were about pure straight-line speed, but they also tip the scales at just 1,540 grams. This isn't quite as light as the best lightweight wheels, but it does pitch them as a great all-rounder and you never feel as though they're holding you back.
Tubeless setup is among the easiest we've used, blowing up immediately without sealant, without removing the valve core, and using a budget track pump.
The leading edge of the rim is blunt in profile, but not quite to the level of the U-shaped rims that took the industry by storm a few years ago, and as a result of this and the 65mm depth, performance is a little skittish on blustery days, but that aside, get them up to speed and they don't seem to want to let that speed go.
Cadex 65 wheelset: First ride review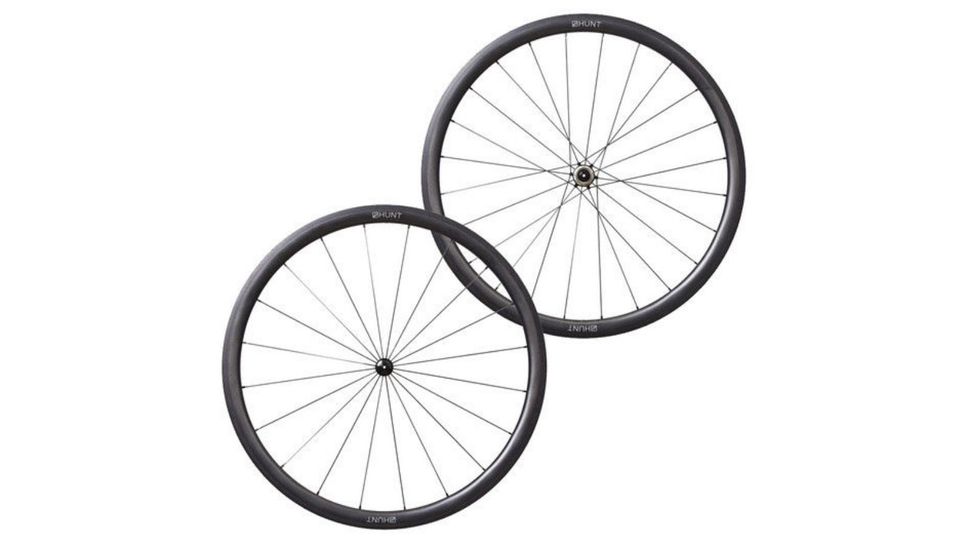 Great value rim-brake performance for mountainous riding
Depth: 36mm | Brake: Rim | Tyre format: Tubeless and clincher | Rim width: 27mm (external) | Spoke count: 20/24 front/rear | Weight: 1,417g
Lightweight
Reinforced freehub
Brass nipples
More mid-width than 'wide'
The lightweight rim-brake wheels from Hunt offer responsive handling without the punishing ride feel.
Despite being marketed as 'wide', the internal rim width is 19mm, which puts it more at the mid-width mark. This is still fairly wide for a rim-brake wheel, but well under disc wheel offerings, making it a good compromise for the rim-brake purist who still wants to fit a slightly wider tyre.
The hooked beads work well with 28mm tyres, which are often the widest clearance available with rim brakes, and result in them feeling quite voluminous.
All the wheelsets come with tubeless rim tape already installed, and there's an option to order them complete with the valves for a tubeless setup. Plus when you order them from Hunt you can get a bundle that includes tubeless tyres from Schwalbe, Maxxis or Hutchinson.
Hunt 36 Carbon Wide Aero wheelset review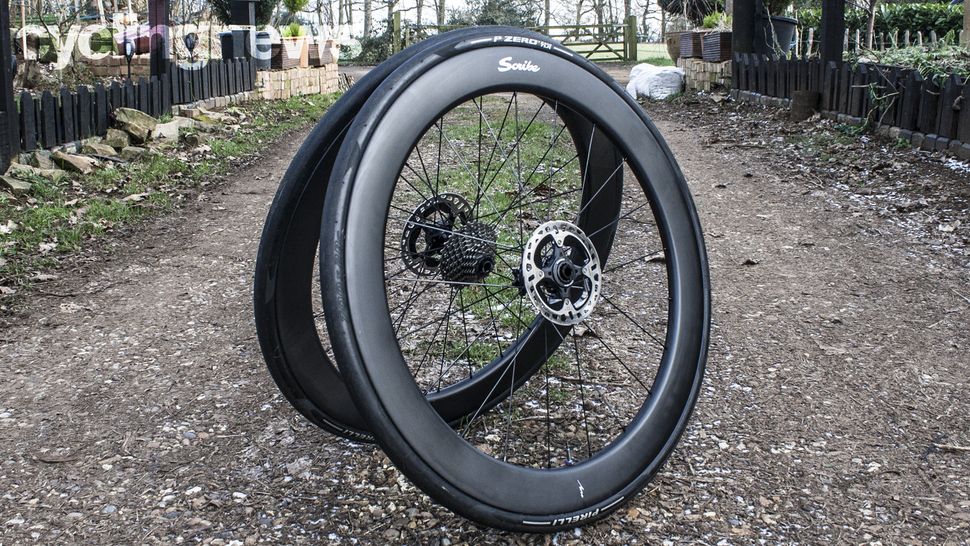 A fast-rolling, deep-section wheelset at an affordable price
Depth: 60mm | Brake: Disc | Tyre format: Tubeless and clincher | Rim width: 21mm (internal) | Spoke count: 21/24 front/rear | Weight: 1,579g
Affordable
Three-year warranty and crash replacement guarantee
Easy tubeless setup
Wide, internal rim architecture
Aerodynamic rim depth
Lack of brand cachet
Minimalist aesthetics may not appeal to all
Scribe's Aero Wide+ 60Ds sit just below the range-topping 6565D and 6585D wheels in the family hierarchy. As the name suggests, the wide 21mm internal profile wheels measure 60mm deep and cater for disc-brake-actuated road bikes. The wheels can be used with both traditional inner-tube-type tyres and tubeless rubber - we suggest the latter as it will unlock the true talents of this wheel system. Owing to the wide 21mm internal width (30mm external) wider tyres and lower pressures can be used thanks in part to the better tyre profile support.
The Aero Wide+ 60Ds are a worthy alternative to the costlier options currently flooding the market, especially when you consider the three-year warranty and lifetime crash replacement policy. They're fast and compliant and can be manipulated to perform to your exact requirements.
Scribe Aero Wide+ 60D wheels review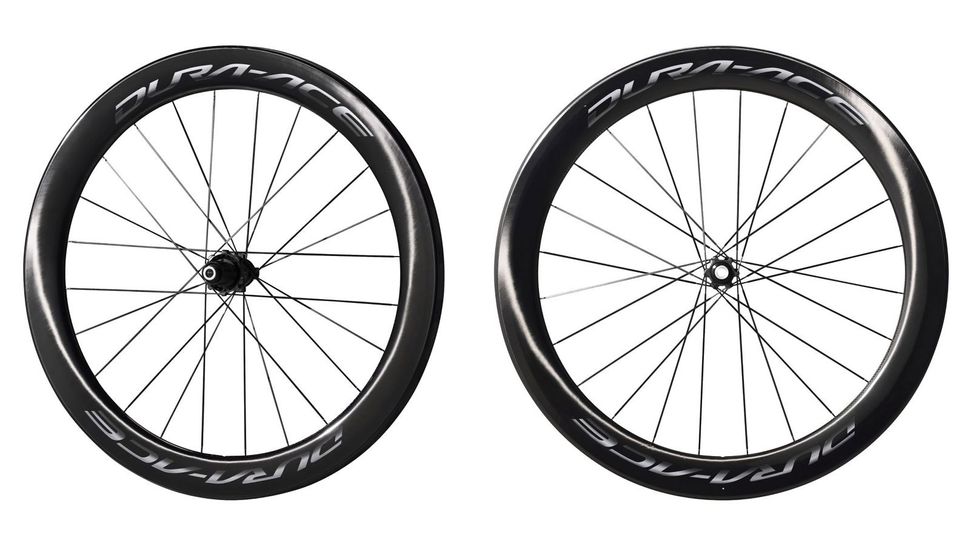 Shimano Dura-Ace R9100 series C60
Deep section wheel used by the pros
Depth: 60mm (also available in 24mm (C24) and 40mm (C40)) | Brake: Rim, Disc | Tyre format: Tubular, tubeless, and clincher (23mm-32mm) | Rim width: 28mm | Spoke count: 24 | Weight: 1508g (disc, pair)
Cup and cone bearings
Alloy brake track
Weight of rim brake clincher
Not every wheel tubeless
With six WorldTour teams rolling on Shimano's Dura-Ace wheels, there's no question they are some of the fastest wheels money can buy. The deepest C60 variant is available in rim or disc brake varieties as well as tubular and clincher—the rim brake version features an alloy brake track, which vastly improves braking performance but adds a bit of weight too. The disc brake C60 are also tubeless compatible and use a 12mm thru-axle.
Shimano says the C60's OPTBAL rear spoke arrangement can handle the forces coming from the cassette with better efficiency. The deep section rims are based around the D2 rim shape, which the brand says offers the best aero performance in both head and crosswinds.
Aside from the claims Shimano makes, one of the most attractive features of the Dura-Ace wheels is the cup and cone bearings spinning inside the hubs for their ease of maintenance, and of course how smooth they roll.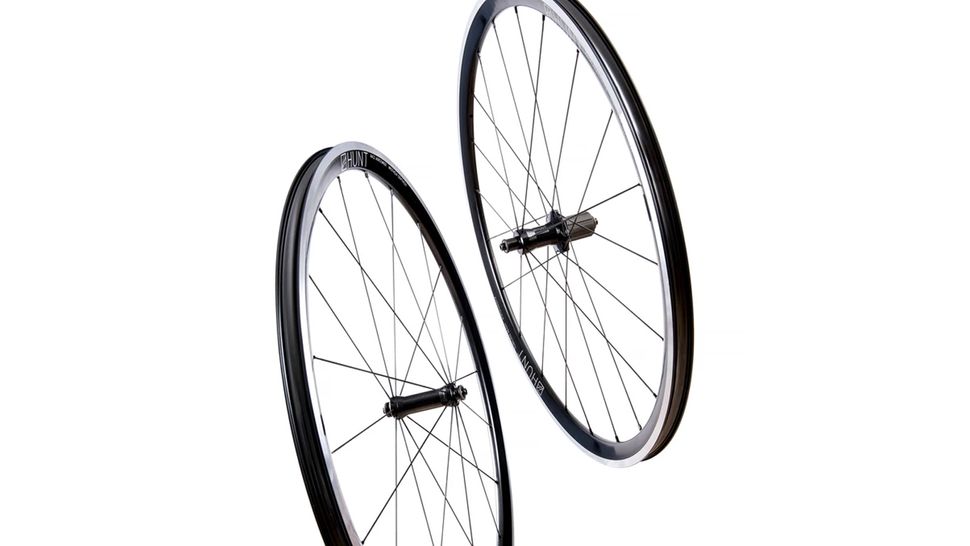 Budget upgrade that brings more performance than its price would suggest
Depth: 31mm | Brake: Rim | Tyre format: Tubeless, clincher | Rim width: 19mm (internal) | Spoke count: 20 front, 21 rear | Weight: 1496g (pair)
Stiff and fast rolling
Lightweight
Superb value for money
Comes with tubeless valves, spare spokes and spoke key
Rim brake only
Unsubtle freehub noise
Hunts Race Aero Wide wheelset is incredible value for money when you consider what you get in the box. At this price point, there doesn't appear to be anything that can match them. They're light, they appear to be faster on the straights for the same effort, and they're also very stiff without being uncomfortable.
You get decent hubs, in the form of Hunt's Race Straight-Pull with 10-degree RapidEngage four-pawl freehub, high quality sealed cartridge bearings from Ezo, and the freehub is coated with H_CERAMIK coating, which Hunt says increases protection from cassette damage.
If you're looking for a relatively inexpensive wheelset that will suit the majority of your types of riding all year round (save for the harshest of winters), and can even be used off-road as well as on it.
Zipp 404 NSW
Tech heavy carbon hoops designed to cheat the wind, but you'll need deep pockets
Depth: 58mm | Brake: Rim, disc | Tyre format: Clincher, tubeless | Rim width: 19mm | Spoke count: 24/24 (front, rear) | Weight: 1690g (disc, pair)
Aerodynamics
Hub
Braking
Price
Weig
Zipp is well known for its stiff, wind-cheating hoops and the 404 NSW are the brand's do-it-all speedsters. With a 19mm internal rim width, the 404 NSW's are tubeless compatible and the carbon fairing looks like golf ball dimples covered in what the brand calls ABLC SawTooth technology, claiming to make them extra slippery through the air.
When it comes time to scrub speed, the Showstopper textured brake track (rim brake only) give the brake pads something to grab onto and offers excellent modulation.
The real star of the show is the Cognition hub which uses a magnetic Axial Clutch claimed to reduce drag while coasting and provide instant engagement when it's time to bring back the power. The only real negative to these wheels is the price.
Easily one of the fastest-rolling deep-section carbon options on the market
Depth: 55mm | Brake: Rim, disc | Tyre format: Tubeless, clincher | Rim width: 19mm (internal) | Spoke count: 21 front, 24 rear | Weight: 1632g (disc, pair)
Stiff and fast rolling
Lightweight,
Impeccable value for money
Ride quality can be harsh if paired with regular clinchers
Developed in-house at its headquarters in the Netherlands, Scope has focused heavily on refining the shape, width, weight and stiffness of the R5 wheels, which have been verified through Computational Fluid Dynamics (CFD) and wind-tunnel testing.
In terms of weight a complete R5d wheelset tips the scales at 1632g (755g front/877g rear) which is on par if not lighter than some of its more established rivals. To achieve this Scope has used what it calls 'Local Reinforcement Technology' (LRT) which strengthens the rim at the spoke holes instead of the entire wheel circumference resulting in a 10 per cent reduction in weight with no compromise on durability and resilience.
The Scope R5 disc wheels have been manufactured to go the distance and be used day in day out with assurance, a 3-year warranty is standard. They are easily one of the fastest options in the segment - light and stiff, they offer all the qualities of the more established segment players at a lower price point.
Scope R5d wheelset full review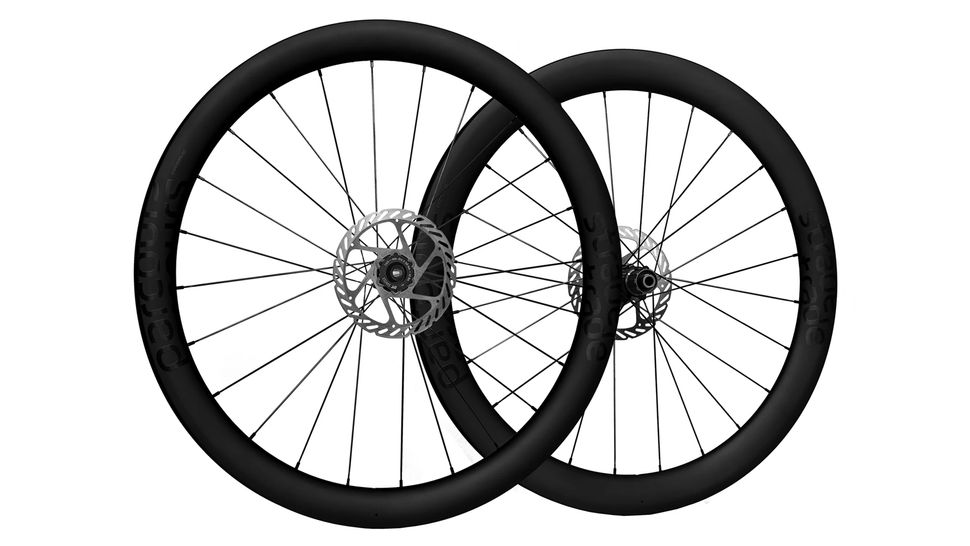 Affordable, aerodynamic wheelset designed around 28mm tyres
Depth: 49mm front, 54mm rear | Brake: Disc | Tyre format: Tubeless, clincher | Rim width: 22.5mm (internal) | Spoke count: 24 front, 24 rear | Weight: 1520g (disc, pair)
Stealth aesthetics
Contrasting front/rear rim profiling for improved aerodynamics and performance
Affordable pricing
Decals prone to scratching
Can only accommodate tyre sizes of 25c and up
As a robust, disc-equipped option, the Strade wheelset is versatile in that it can be used for both training and racing, and can be run using traditional tubes or tubeless tyres, the latter will, of course, provide a far more engaging and granular riding experience.
The wheels use machined Parcours-branded alloy hubs laced in a 24 front/rear, two-cross pattern with Sapim CX-Ray aero spokes - the freehub body comprises a four-pawl, three-degree engagement system. Both hubs employ EZO cartridge bearings and centerlock disc threading and have been optimised for 12mm thru-axles front/rear (adapter kits are available for other axle standards). The hubs can be optioned with ceramic Kogel bearings on request. The wheels come ready-to-ride as a tubeless application out of the box with pre-installed rim tape and valves, and freehub spacers for 8/9/10-speed cassettes.
Parcours Strade disc wheelset review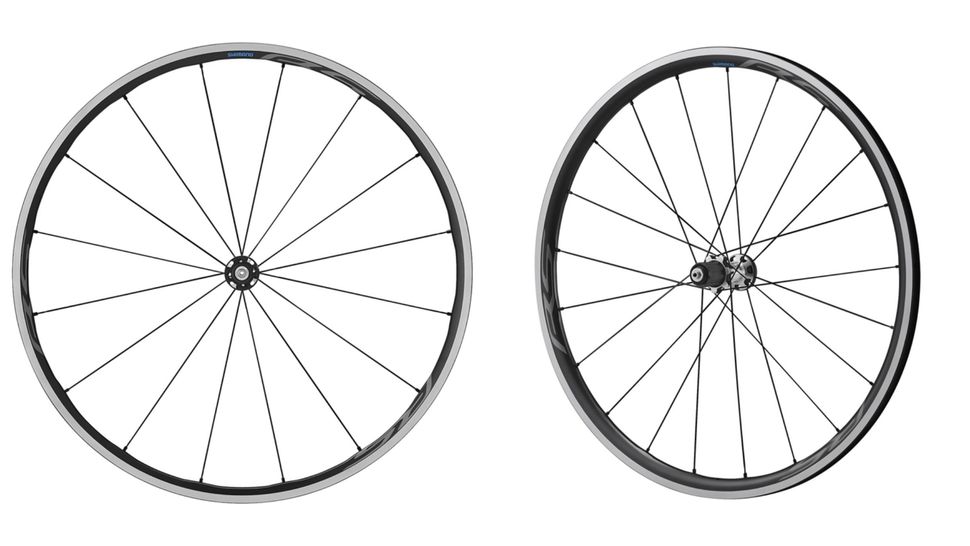 Shimano Ultegra RS-700
Value for money training or racing wheel
Depth: 31mm | Brake: Rim, (Shimano Ultegra RS-770 Disc) | Tyre format: Tubeless (23mm-32mm) | Rim width: 20.8mm | Spoke count: 16 front and 21 rear | Weight: 1540g (rim, pair)
Wide, tubeless ready rims
Can be hard to find in stores
Released along with the latest Ultegra groupset are the RS700 and RS770 (disc brake version) hoops. At 31mm in depth, like the Dura-Ace version they are available in both rim and disc varieties. However, the rim brake version is a carbon laminate construction with an alloy brake track, and the disc is full carbon because there is no brake track.
Slotting in as an everyday driver, both are tubeless-ready and feature a 20.8mm internal rim width and will stand up to plenty of abuse — they aren't the widest or the lightest wheels on the market, but that's not the point of these wheels.
Like their Dura-Ace bigger siblings, the Ultegra wheels get the easy to maintain cup and cone bearings.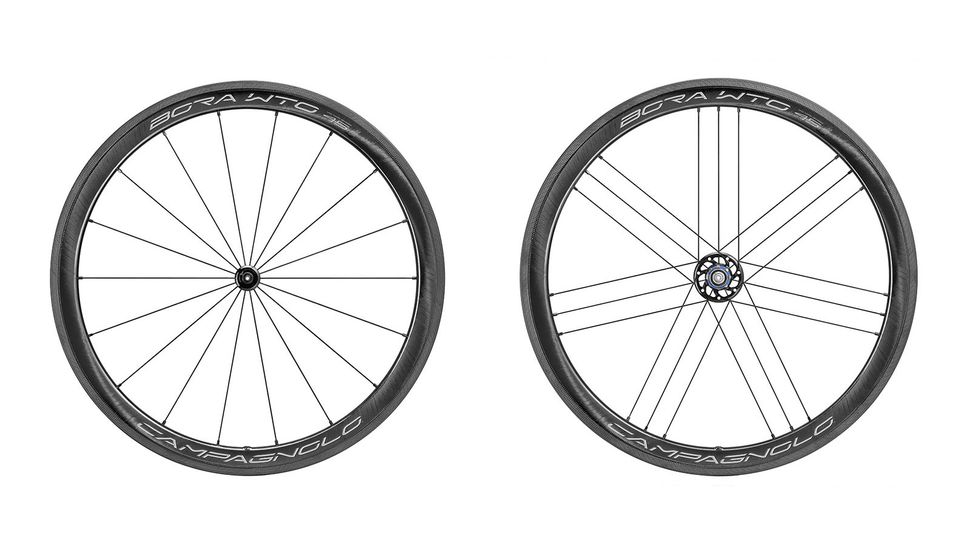 Campagnolo Bora 45 WTO
Versatile, mid-depth carbon clincher
Depth: 45mm | Brake: Rim, disc | Tyre format: Tubeless, clincher | Rim width: 26.5mm (external) | Spoke count: 18 front, 21 rear | Weight: 1476g (rim, pair)
Weight
Aesthetics
Marketing hype
Launched alongside Campagnolo's Super Record 12-speed groupset, Campagnolo, in typical bike industry fashion, claims the Bora 45 WTO (Wind Tunnel Optimised) features the most aero shape on the market, even going as far as saying in certain wind conditions the wheel generates negative drag, or the sailing effect.
While claims like these should be taken with a grain of salt, the new Bora WTO's feature a 19mm internal width, Campy's 2-Way rim bed, meaning they can be run tubeless. The rear wheel features the brand's G3 spoke pattern, and the spoke holes are moulded not drilled into the rim. Available in both rim and disc varieties, the rim brake Bora WTO's feature the AC3 textured brake track, which offers a notable improvement over the standard braking surface.
On top of all that they are a great looking wheelset. The outer layer of unidirectional carbon and minimal graphics make for a stealthy-cool set of wheels.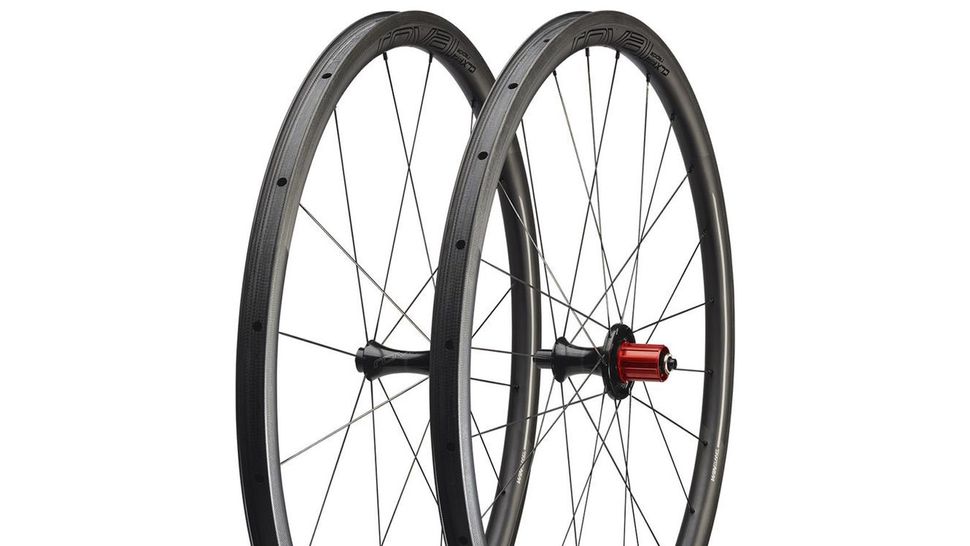 Roval CLX 50
High-end carbon wheel that is tough enough to take past where the road ends
Depth: 50mm | Brake: Rim, disc | Tyre format: Clincher, tubeless, tubular | Rim width: 20.7mm internal / 29.4mm external | Spoke count: 16 front, 24 rear (rim); 21 front, 24 rear (disc)) | Weight: 1415g disc clincher
Weight
Stiffness
Difficult tubeless setup
The Roval CLX50 is Specialized's in-house all-rounder carbon wheels, and they've been around for a number of years now. They've since been superceded by the Rapide CLX, however still remain a popular choice for their tubeless compatibility - something the newer models go without. At 1410g a pair, they're also super competitive in the weight stakes.
They're tubeless-ready and utilise a tubeless plug system to block the spoke holes, although rim tape is lighter, much faster to install and better performing. While the hubs say Roval on the outside, the internals come from DT-Swiss with the 240 star-ratchet, and spin on CeramicSpeed sealed bearings.
Roval's CLX50 is a do-it-all wheelset; lively on the road and are plenty stiff, and available in both rim and disc versions, in either tubeless-ready clinchers or tubular versions.
For the rim model, the brake track isn't blasted with lasers nor do they receive any special surface treatments, but even still, braking is predictable and the modulation is pretty good too. Just beware that the brake track wears quite quickly if being ridden in poor conditions regularly.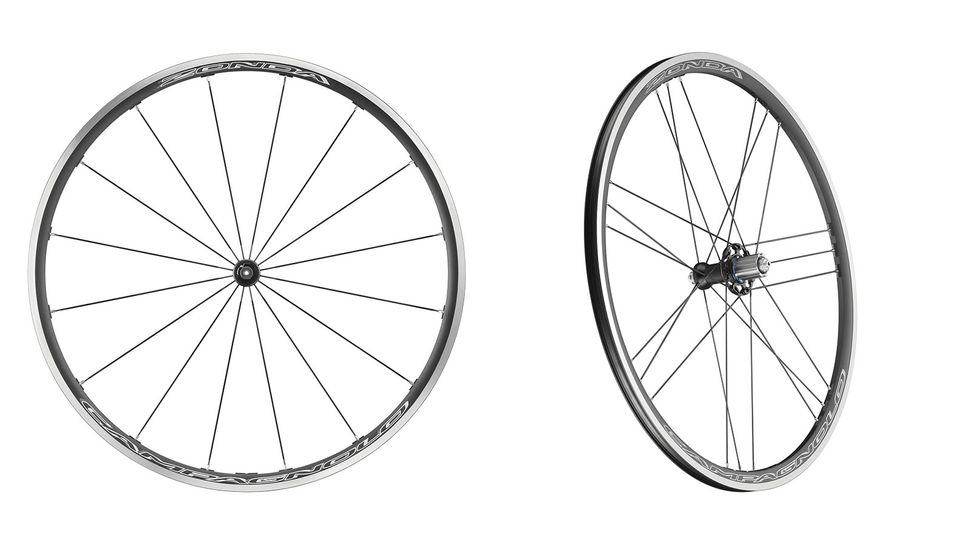 Campagnolo Zonda C17
One of the most dependable lightweight alloy training wheels available
Depth: 24mm front, 30mm rear | Brake: Rim, disc | Tyre format: Clincher | Rim width: 22mm (external) | Spoke count: 16 front, 21 rear | Weight: 1540g (rim, pair)
Weight
Stiffness
Durability
Harsh ride quality
Not tubeless
As one of Campagnolo's best selling wheels, the Zonda is a lightweight alloy training wheel. The rims are supremely stiff and now been widened (22mm) to better pair with wider tyres.
Using what the brand called a C17 rim, it's milled to reduce weight and sees a differentiated rim height and the brands Mega-G3 Spoke pattern. This spoke arrangement makes for a surprisingly robust rear wheel that has quite a lot of snap when you put the gas on.
This stiffness, however, does translate to harsher ride quality.
What to look for in a set of road wheels
With everything from deep-section carbon wheels that prioritise aero performance over all else, to lightweight climbers and even bombproof alloy wheels that can be ridden through pothole after pothole and remain as true as the day you bought them, there are a few things to keep in mind when you're shopping for a new set of hoops.
1. Rim width
One of the first things you'll see talked about when you click a review or a news story about a wheelset, regardless of their intended use, is rim width. Wide rims allow the wheel to better slice through the air while also creating more air volume inside the tyre, allowing you to run lower pressures and improving ride comfort.
It's crucial to differentiate internal vs external rim width because they have different effects; internal width will affect how the tyre is spread across the rim, and allow you to run something wider because the rim can support the casing. External width, while somewhat dependent on the internal size, is more closely related to aerodynamics. And, as wheels and tyres have become broader, an unfortunate side effect is that some newer wheels won't fit in older frames.
2. Rim depth
Next is rim depth. The deeper a rim is, generally the more aerodynamic it is, especially when compared to a low-profile box-section rim. However, deep-section wheels use more material and therefore weigh more than their more svelte counterparts. If you live in a mountainous area, you're probably going to be better served with a low profile or shallow rim. However, if your local roads are pan-flat, something deeper might be more your style.
Deeper rims are also more affected by crosswinds because there is more material for the moving air to grab. However, wheel makers are becoming ever cleverer with their rim profiles and have moved from a 'V' profile to a more snub-nosed 'toroidal' shape, while others have implemented new technology, like Zipp's biomimicry Hyperfoil design.
3. What tyres
No wheelset is complete without a good set of tyres, and your rim will dictate whether you can run clincher, tubular or tubeless tyres. We're not going to get into the positives and negatives of each tyre system here, but we will point out that tubulars are more often than not lighter than their clincher cousins because there is no need for a tyre bead.
4. Brake compatibility
Last but not least is brakes, which will be determined by the frame you'll be riding. With many wheels now available in both disc and rim brake varieties, many brands are including multiple end caps, allowing a single hub to accept quick-release skewers and 12mm or 15mm thru-axles.
Sign up to the Cyclingnews Newsletter. You can unsubscribe at any time. For more information about how to do this, and how we hold your data, please see our privacy policy
Thank you for signing up to Cycling News. You will receive a verification email shortly.
There was a problem. Please refresh the page and try again.