Best heart rate monitors of 2023 - Accurately track your training and health
Track your heart rate comfortably, consistently and accurately with the best heart rate monitors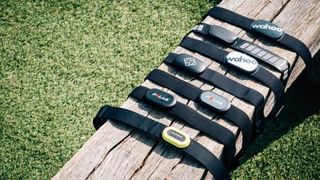 (Image credit: Future)
When it comes to tracking your fitness, there aren't many metrics more intrinsically connected to your body than heart rate, and the best heart rate monitors allow you to accurately capture this data and transmit it to a device that lets you see it in real time. Luckily, even the best heart rate monitors are relatively affordable devices. They can connect to our smartphones and cycling computers, are built into smartwatches and some even have onboard memory and waterproof ratings so you can leave your phone at home entirely if you're headed to the pool for a swim.
They come in various guises. The original chest strap design is still the best for accuracy, but optical sensors built into forearm straps are preferred by some for their comfort. Optical sensors are also built into many of the best smartwatches, which provides a level of convenience to the package for anyone who wants to track their heart rate outside of exercise. If you want to know more about the pros and cons of each, we've compared wrist vs chest straps in a detailed deep dive.
The basic requirement for the best heart rate monitors is easy connectivity, consistent and accurate tracking of your heart's BPM (beats per minute), good battery life and a comfortable fit. Some come with extra features like onboard memory, accelerometers to track metrics like running stride length, as well as the ability to control your music during exercise.
For the past year, I've been using all of the best heart rate monitors back to back - sometimes two or three at a time - in a bid to work out which is best. So whether you're after long battery life, all the multisport bells and whistles, or just a budget-friendly design that works, here's my pick of the best heart rate monitors available today.
Best heart rate monitors available today
You can trust Cyclingnews Our experts spend countless hours testing cycling tech and will always share honest, unbiased advice to help you choose. Find out more about how we test.
1. Polar H10
The best heart rate monitor for data accuracy and comfort
Specifications
Connectivity:
Bluetooth and ANT+
Battery:
CR2025 (400 hours)
Concurrent Bluetooth connections:
2
Added features:
Onboard memory, HRV
How easy to adjust?:
9/10
Reasons to buy
+
Third electrode and silicone gripper
+
Can measure HRV
+
Quick and easy one-handed adjustment
+
Available in two sizes
Reasons to avoid
-
Lacks advanced features
-
Slightly higher price than Tickr X
Polar claims the H10 is the most accurate on the market - accurate to +/- one millisecond - thanks to a third electrode and silicone grippers to keep it in place. In testing, I saw no issues to refute those claims, but given most other chest straps here have performed as well as necessary, I wouldn't buy the H10 for that reason alone.
However, one major reason in favour of buying it is the super-simple adjustment and hyper-comfortable fit. The added bonus of grippers is that you can run it looser than usual without it slipping, and while I personally don't suffer much from chest strap discomfort, I know it's an issue that plagues a few. Swapping to an optical sensor such as the Polar Verity Sense is one option, but the downside to that is a reduction in the accuracy of your data, which is common with optical sensors.
Comfort aside, the H10 is entirely waterproof, can be worn while swimming and also record your heart rate variability — though you'll need to use it in combination with one of the brand's smartwatches to take advantage. It can connect to two concurrent devices with Bluetooth, and it uses a CR2025 (2.5mm thick) battery, rather than the more common 3.2mm thick CR2032.
2. Wahoo Tickr
Best budget heart rate monitor
Specifications
Connectivity:
Bluetooth and ANT+
Battery:
CR2032 (500 hours)
Concurrent Bluetooth connections:
3
How easy to adjust?:
6/10
Reasons to buy
+
Status LEDs allow easy check of battery and power status
+
Waterproof enough for a downpour
+
Easy-access (but secure) battery
Reasons to avoid
-
No advanced features at all
-
Slightly complex adjustment
-
Occasional data drops
By far the cheapest on this list, the Wahoo Tickr is the best heart rate monitor for anyone who wants a no-frills budget-price chest strap without all the bells and whistles with both Bluetooth and ANT+ and a strong warranty in the case of issues.
The strap connects via the two snap-on buttons at the pod, meaning it essentially gets switched off when you remove it, which should help battery life. Despite this, although Wahoo claims around 500 hours of use before the CR2032 coin cell battery needs replacing, I've never managed to get close. The battery cover is secure - it's dust and waterproof rated to IPX7 - and is easily removed with a coin, meaning battery changes take just seconds.
Adjustment of the strap is a fairly straightforward affair, too, but it does require both hands and is easier to do when removed. It holds pretty well though, so should be a one-time job.
For ease of use, the Tickr range can simultaneously connect to three devices, which is particularly useful for indoor cycling, as it enables you to control your headwind fan whilst riding on Zwift via your laptop, or track your heart rate via a cycling computer and a phone at the same time. In our testing, data has been consistent and accurate, tracking within a single BPM against the more expensive Tickr X on both average and maximum heart rates.
I've experienced a couple of momentary data drops during testing, which is clearly something to bear in mind, but a few seconds of lost data isn't something I'm ever worried about in a normal training session. If you are, however, Wahoo support has never let me down in the past, so I'd still be happy to recommend the Tickr to anyone with a keen eye on the budget.
3. Polar H9
The best all-rounder if you want a basic-function heart rate monitor
Specifications
Connectivity:
Bluetooth and ANT+
Battery:
CR2025 (400 hours)
Concurrent Bluetooth connections:
2
How easy to adjust?:
9/10
Reasons to buy
+
Easy to adjust one-handed
+
Super comfortable and secure
Reasons to avoid
-
Lacks advanced features
-
Higher price than the similarly-functioning Tickr X
The Polar H9 doesn't come with any added bells or whistles like onboard memory or accelerometers. It's not the cheapest here (Wahoo Tickr wins that crown), and Garmin's HRM Dual offers a better battery life. However, when you combine everything into a single device, the Polar H9 is my favourite heart rate monitor for 'basic function', ie monitoring my heart rate while cycling or running, and the reasons are as follows:
Firstly, in my testing, it has provided more accurate and consistent data than the cheaper Wahoo Tickr, which makes it worth the slightly higher price in my opinion. Secondly, while the Garmin HRM Dual is equally accurate, it is a little more expensive again. Thirdly, it's a darn sight easier to adjust the strap on the H9 than on the HRM Dual, and finally, when it comes time to change the battery, the H9 can be done in seconds (just prize away the flap with a flathead screwdriver) while the HRM Dual requires a tiny screwdriver to remove four small screws.
To cap it off, it's comfortable and stays secure, so unless you're specifically chasing a budget price, a huge battery, or need the added features, this is the best heart rate monitor for you.
4. Garmin HRM Dual
The best heart rate monitor for battery life and budget HRV support
Specifications
Connectivity:
Bluetooth and ANT+
Battery:
CR2032 (1277 hours)
Concurrent Bluetooth connections:
2
Added features:
HRV support
How easy to adjust?:
3/10
Reasons to buy
+
3.5-year battery life
+
Supports heart rate variability
Reasons to avoid
-
Complex and difficult to adjust
-
Difficult to replace the battery
The HRM Dual is Garmin's answer to budget heart rate tracking, but at RRP, it is more expensive than both Wahoo's Tickr and Polar's H9.
With that said, it can often be found discounted, which obviously increases its appeal. Where the Garmin stands out is with its claimed 3.5-year battery life (assuming an hour per day on average) and the ability to monitor heart rate variability (when paired with an appropriate app).
Beyond that, the HRM Dual is a reasonably basic heart rate monitor, so it doesn't come with the bells and whistles of onboard memory and swim/run dynamics. Its construction also leaves a little to be desired, as the three-part adjustment system is unnecessarily complex to use. This is frustrating given Garmin clearly knows how to do it better since the more expensive HRM Pro is by far the easiest to adjust on this list.
Furthermore, it's a good job the battery life is so good because when it comes to replacing the CR2032 battery inside, there are four tiny screws which are fiddly and easy to damage. And that assumes you have a screwdriver small enough in the first place since it doesn't come with one.
Unless you're specifically after huge battery life, then in my opinion, the Polar H9 is a better choice at their respective recommended retail prices.
5. Wahoo Tickr X
The best heart rate monitor for cyclists and runners
Specifications
Connectivity::
Bluetooth and ANT+
Battery type:
CR2032 (500 hours)
Concurrent Bluetooth connections:
3
Added features:
Run dynamics, internal memory, music control
Reasons to buy
+
Onboard memory
+
Advanced metrics for cycling and running
+
Double-tap controls
Reasons to avoid
-
No swim metrics
-
Slightly complex adjustment
Taking the standard Tickr and raising the game, the Wahoo Tickr X adds in a host of extras that make it the best heart rate monitor for those who mix their cycling with their running. With an onboard memory that can store up to 50 hours of heart rate and calorie data, the Tickr X allows you to train device-free, should you wish to head out for a run/ride without your phone or cycling computer.
As well as heart rate and calories, the Wahoo Tickr X can also provide running analytics and even track your indoor cycling cadence thanks to inbuilt accelerometers, making it a much more comprehensive package than the basic Tickr. Wahoo claims it can also control your music, although to access this, you need to be recording via the Wahoo Fitness app, which isn't everyone's preference, and even then I've never managed to get it to work, so it's a bit of a non-feature in my experience. Nonetheless, the running metrics are a decent addition and one that comes at a significant cost saving over the Garmin HRM-Pro. Garmin's HRM-Run is slightly closer in price, but that doesn't have Bluetooth, limiting the devices you can pair it with.
It's a little complex to adjust the strap - not as bad as the Garmin HRM Dual - but as with the Tickr, it stays secure so only needs doing once. It's IPX7 waterproof, and benefits from the same easy battery cover when the CR2032 inside runs flat. Wahoo reckons this is after 500 hours, but as with the standard Tickr, I've not experienced this.
6. Garmin HRM Pro
The best heart rate monitor for triathletes
Specifications
Connectivity:
Bluetooth and ANT+
Battery:
CR2032 (365 hours)
Concurrent Bluetooth connections:
2
Added features:
Run & swim metrics, onboard memory, HRV
How easy to adjust?:
10/10
Reasons to buy
+
Super easy to adjust one-handed
+
Swim metrics & running dynamics
+
Onboard memory
Reasons to avoid
-
The highest-priced chest strap heart rate monitor around
The HRM Pro is the best heart rate monitor in Garmin's range, with both ANT+ and (unlike the brand's HRM-Run or Swim) Bluetooth compatibility. It's the highest-priced chest strap on this list, but it does come with a long list of added features. Whether you actually need them is a question you'll need to ask yourself.
It features onboard memory, and it will automatically measure your heart rate data and then push it to your device when you next connect it to Garmin Connect. For cyclists, it'll easily pair with your Zwift device or any brand of cycling computer. And for dedicated runners, it can also track detailed running metrics such as ground contact time, stride length and more. These are seriously impressive metrics, but frustratingly, you need one of Garmin's smartwatches to take advantage - you can't access it via a smartphone.
The strap is by far the easiest on this list to adjust; it's a one-handed affair and it doesn't self-loosen over time, it also stays put without being worn too tightly.
Like many others here, the battery is a CR2032 coin cell and Garmin claims it will last around 12 months, with an hour's use per day, which equates to 365 hours of training time between changes. We've no reason to refute this claim, but it is noticeably less than the HRM Dual, no doubt because of the much more battery-intensive list of features. The battery change is fiddly, requiring the removal of the yellow cover, four small screws beneath, and an o-ring that's easily misplaced or damaged if you're not careful.
The HRM Pro's pod cannot be removed from the strap, which means washing needs to be done by hand, rather than through the washing machine, and according to Garmin, that's necessary after seven workouts or after every pool swim. For those planning on swimming a lot, the HRM-Swim does come with a wider strap, which helps it stay put better, especially useful for those not wearing a wetsuit, swimsuit or triathlon vest over the top.
7. Whoop 4.0
Best heart rate monitor for tracking recovery
Specifications
Battery type:
Rechargeable
Battery life:
Approx 3-4 days
Concurrent Bluetooth connections:
2
Added features:
Connected Whoop app
How easy to adjust?:
8/10
Reasons to buy
+
Recharge without removing
+
Lightweight and unobtrusive
Reasons to avoid
-
Not as accurate as a chest strap
-
Expensive by comparison
Buying a Whoop 4.0 requires a monthly subscription that not only gives you the wrist strap itself but access to Whoop's extensive heart rate, respiratory rate, blood oxygen and skin-temperature monitoring app. Whoop's premise is built primarily on heart rate variability (HRV), which is basically the variation in time between each of your heart's beats, measured in milliseconds.
The theory is that a higher HRV (when compared to your individual average) means you are fresher, or more recovered. Wear the Whoop 24/7 and it will collect this data alongside your activities to monitor your strain vs recovery (incl. sleep) and provide guidance on how to improve. It's a seriously deep data dive that most people won't need, but for committed athletes looking to optimise their life around training, it could be the tool to unlock the next level.
It's clever in that the charger is a portable slide-on battery pack that you wear, and the device itself is waterproof enough to be worn in the pool, the shower, or the sea so you'll never lose a moment's data. However, bear in mind charging is necessary every three to four days. Using the app, you can even relay the heart rate to third-party devices such as cycling computers, should you want to avoid using a chest strap at the same time, and when your Whoop detects an activity, it will not only automatically figure out if it was a ride, a run, mountain biking or more (which it's really good at) and it can then be synced to Strava, Training Peaks or Apple Health.
You need to ensure it's tight against the skin for consistent results, but in my testing, I've found it to be accurate enough for its purpose of tracking overall fatigue and freshness, even if the beat-by-beat measurement might be less perfect than chest straps during exercise.
8. The smartwatch you already own
Free and convenient if you already have one
Reasons to buy
+
No added cost, assuming you already have one
+
One less thing to remember to put on
Reasons to avoid
-
Not worth the cost if you don't own one and only need heart rate tracking
I include this as a bit of a left-field option knowing full well that it may not apply to everyone, but hopefully, you can see my motivation.
If you want hyper-accurate heart rate data during exercise, then a chest strap is the best heart rate monitor for you. However, it's unlikely you're going to want to wear a chest strap to bed - no judgment if you do - so an optical wrist strap will probably be the preference. However, when you get into this realm, if you already own one of the best smartwatches, you'll probably find it can already do what you need it to.
Fitness trackers like Fitbit and Whoop can be great, but they are very specific to a single task. Smartwatches, such as the Wahoo Elemnt Rival meanwhile can often do the basics of fitness tracking whilst also offering much more, so even if you don't already own one, if you would benefit from the hoards of added features that smartwatches provide, such as mapping, multisport tracking, contactless pay, smartphone connectivity, music and more, then you might get better value for money in buying one of those instead of a heart rate monitor, even though it'll cost you more upfront.
Of course, be realistic with yourself. If you won't use those added features, then only buy what you need. There's no point in owning a Formula 1 car if you're only driving it to the shops.
How to choose a heart rate monitor
Unfortunately, as is often the way, there isn't one 'best' heart rate monitor for everyone; each has its pros and cons. Choosing a heart rate monitor is a decision you'll need to make based on your needs, so the first step, naturally, will be understanding what those needs are.
Do you prioritise accurate heart rate data during exercise over the convenience of wearing something all day like a smartwatch? If so, then a chest strap is going to be the best heart rate monitor for you.
Are you a multisport athlete who wants to be able to track your running or swimming metrics in addition to your heart rate? If so, then one of the more high-spec heart rate monitors will be needed, such as the Tickr X (for running) or the Garmin HRM Pro (for running and swimming).
Alternatively, if your reasons for tracking heart rate are not directly related to exercise, but more that you want to track it in everyday life, a wearable such as a smartwatch or a fitness tracker like the Whoop would likely be a better heart rate monitor for you.
Those are some of the basics, but no doubt as you've worked through my list of recommendations above, you'll have had some questions about some of the jargon and terminology I've used. Below, I've rounded up some of the more common questions in order to help you make your decision.
What's the difference between ECG and optical heart rate sensors?
Electrical impulses or beams of light? Which one is best for you?
Since its inception in the 1970s, heart rate monitors have relied on measuring the electrical impulses created by the muscles in your heart as it beats. It's similar to what happens when you get an echocardiogram (ECG) at the hospital, only with two or three sensors instead of the twelve commonly used for medical examinations. The electrical sensors measure a small electrical output, and the control unit relays this information to your device of choice (or stores the information for later analysis).
Recently, optical sensors have become more common, especially in multi-sport offerings. These work by shining a light into your skin and measuring the variance in blood flow. While both systems rely on physical contact to gather their readings, optical sensors tend to be used in arm- or wrist-based systems where the variance can be seen.
One problem with this is that a smartwatch is rarely worn as tightly as an elasticated chest strap and as such optical systems tend to be more prone to issues over rough terrain, as bumps can briefly break the all-important contact between skin and sensor.
In simple terms, the best thing for measuring your heart rate will almost always be a chest strap, but if you're curious about general trends and day-to-day heart health too, a wrist-based optical system will likely be more up your street for its comfort, convenience, and the onboard computer that will process the data rather than relying on being paired to a phone or bike computer. If you want to run a hybrid system, some smartwatches will have the ability to monitor your heart rate independently using the optical sensor on the back, as well as pair with a dedicated HRM strap for more accurate in-sport measurements.
If you're still in two minds we have a dedicated guide to wrist vs chest straps, as well as a separate guide to the best smartwatches if those are what you want.
Should I use a heart rate monitor or a power meter for cycling?
Heart rate is often a rider's first introduction to structured training - perhaps beyond 'perceived effort' or a hill and a stopwatch - and it should always remain a key part of the picture, no matter the amount, intensity or type of training an athlete is undertaking.
Within the context of cycling performance, the best heart rate monitors are regularly overshadowed by the best power meters. They are better for monitoring your training since they offer a more immediate and consistent measure of physical output. However, even with a power meter, heart rate should never be ignored.
Heart rate can also help to identify fatigue to prevent overtraining, especially with the help of HRV. Want to know how? Check out 'what is HRV?'
Is an ANT+ or Bluetooth heart rate monitor better?
We, cyclists, can sometimes have an insatiable thirst for data. Speed, power, cadence, and even blood glucose (see our Supersapiens review if you've missed this phenomenon) can be monitored alongside heart rate. All of these sensors will ultimately need to be connected to something that can translate the raw data into something more visually palatable, which is usually your smartphone or a cycling computer. Most fitness equipment can connect using ANT+, which is a Garmin-created protocol. However, rarely will a smartphone, tablet or laptop use anything other than Bluetooth.
We've got a full explainer of what ANT+ is but we'd suggest you use a Bluetooth device since this will prevent you from needing to buy an ANT+ adaptor for your smartphone.
Fortunately, most heart rate monitors will have the capability to do both ANT+ and Bluetooth transmissions simultaneously, allowing you to hook up wirelessly to your cycling computer of choice and non-ANT+ devices like your laptop or tablet at the same time without a dedicated adaptor.
Beware, some of Garmin's devices (the HRM-Run & HRM-Swim) are still ANT+ only.
What do the waterproof ratings mean?
IPX7, IP67, 5ATM? Can someone please make sense of this?
Waterproof ratings are a complex mix of numbers and letters that need a bit of decoding before you can understand their meaning. Luckily, it's pretty easy to do.
IP ratings stand for Ingress Protection, and the two subsequent digits represent protection against solids and liquids respectively. The first digit, representing protection against solids like dust and dirt is a rating between 0 and 6. The larger the number, the better the protection, while an X means it hasn't been tested. The second digit, representing protection against liquid ingress - ie water - is a rating between 0 and 8, and again, the bigger the number the better.
ATM ratings focus solely on waterproof pressure rating. They are most easily defined by multiplying the number by 10, to get the depth at which your device can handle pressure. For example, a device with a 5ATM rating can sustain pressures equivalent to what you'd find in water at a depth of 50 metres.
What added features should I look for in a heart rate monitor?
If you run or swim then a heart rate monitor can do more for you than just measure your heart rate, it can monitor your stride length, vertical oscillation, cadence, and even your swimming pace and form. Of course, whether you actually need these features is a question to ask yourself, since smartwatches can often do the same, smartphones can often handle the running metrics, and some running shoes offer the added features. It all comes down to what you need and what you already have.
How often should I wash a heart rate monitor?
When considering chest strap heart rate monitors, if you are particularly sweaty then make sure you get something that is easily washed. The control unit of most chest straps pops off, and keeping it clean will save you from salt corrosion. Most devices recommend being hand washed after each use, and then a trip through the washing machine after around seven uses. However, since the control unit on Garmin's HRM-Pro is fixed, this needs hand washing each time. Of course, it goes without saying that different rules apply to smartwatches.
What is the best heart rate monitor for Zwift?
When it comes to Zwift, all these heart rate monitors are created equal, but some are more equal than others.
On paper, this common question is easily answered with 'any of them,' since they are all technically Zwift compatible. However, beyond connectivity there are some considerations that make some better than others for Zwift and the world of indoor cycling in general.
As touched on above, chest-based heart rate monitors are usually more accurate than optical wrist-based monitors, so if you're after accuracy, make sure any heart rate monitor you use in Zwift is chest-based.
Next, riding on any of the best smart trainers is always a sweaty affair, even if you set yourself up in a freezer, and as such corrosion resistance is a more pertinent issue than for riding outdoors.
Furthermore, Zwift and other indoor cycling apps can require a multitude of sensors transmitting simultaneously. While all are compatible, if you're running a particularly complex data setup then make sure you opt for something with both Bluetooth and ANT+ to help avoid unwanted interference issues.
Does size or weight matter in heart rate monitors?
Why hasn't it been mentioned so far?
Sure, the size and weight of something you're going to need to carry on your wrist or your chest is important. You obviously don't want a 3kg house brick strapped to your chest whilst you're trying to run or ride. However, the reason we've not mentioned it in our guide or product recommendations above is that the differences are so small that it's not worth comparing.
A heart rate strap that weighs 19g vs another at 21g won't be noticeable, nor will one that's 8mm thick compared to another at 10mm. Metrics that make more sense to compare are things like battery life, ease of adjustability and how securely and comfortably they stay in place when worn.
What is HRV?
HRV stands for Heart Rate Variability, but what does it mean?
It's a common misconception that your heart beats at a perfectly regular pace, and by that, I mean if your heart is beating at 60bpm, it isn't beating exactly once per second. According to Stephanie Shell, a Senior Physiologist specialising in recovery at the Australian Institute of Sport, the time between each beat might actually differ by between around 20 and 200 milliseconds.
HRV, or Heart Rate Variability, is the measurement of the irregularity in these intervals. We have a detailed deep dive explaining what is HRV, but the basic overview is that this is directly tied to our body's autonomic nervous system, and that a larger HRV number (compared to our own baseline) is a good indication of being well recovered and ready to take on more training stress.
What do the adjustability ratings mean?
In each of the product recommendations above, I've rated how easily the heart rate strap can be adjusted. Many will only need adjusting every few weeks as they loosen or go through the wash, but if a heart rate monitor is complex to adjust, it can often lead to it being too tight or too loose. You can bet that the one time you find it's slightly too loose is when you're already midway through a ride, and you don't want to have to strip your layers off to be able to adjust it to prevent it from slipping down and becoming a belt.
As a result, I spent time fitting and adjusting each of the straps in turn, making notes to compare how easily it could be done, whether it could be done one-handed, or whether it baffled me more than trying to free a pair of tangled headphones.
How do we test the best heart rate monitors?
My testing for this guide to the best heart rate monitors has been an ongoing process for a number of months. Each test started with an unboxing, during which I made a mental note of the packaging for its eco-friendliness. All brands use some form of plastic in their packaging, but Wahoo is the best in this regard.
For chest straps, I then read the care instructions and make a note of washing recommendations, before removing the battery cover in a trial run battery swap, noting the difficulty. Next up, comes the adjustment, and working out how easy - or difficult - it is to fit the strap. On the chest straps, Garmin's HRM Pro wins this, with close seconds coming to both Polar options.
Next, I researched the claimed features and qualities of each heart rate monitor and tried out these features during testing to see if there were any quirks or issues.
In the absence of having a doctor with an ECG machine on hand for all of my workouts, I improvised a way to confirm accurate readings. Throughout testing, I spent a period of time wearing three heart rate monitors for my workouts - two chest straps and a wrist strap - testing each heart rate monitor against at least three others in order to weed out any devices with inaccurate data or poor connectivity.
I then set them all to the same length before wearing them individually to note comfort and how securely they stay in place. Luckily, none suffered significantly poor performance in this regard, but the Polar H10 was most comfortable and secure.
Get The Leadout Newsletter
The latest race content, interviews, features, reviews and expert buying guides, direct to your inbox!
As the Tech Editor here at Cyclingnews, Josh leads on content relating to all-things tech, including bikes, kit and components in order to cover product launches and curate our world-class buying guides, reviews and deals. Alongside this, his love for WorldTour racing and eagle eyes mean he's often breaking tech stories from the pro peloton too.
On the bike, 30-year-old Josh has been riding and racing since his early teens. He started out racing cross country when 26-inch wheels and triple chainsets were still mainstream, but he found favour in road racing in his early 20s and has never looked back. He's always training for the next big event and is keen to get his hands on the newest tech to help. He enjoys a good long ride on road or gravel, but he's most alive when he's elbow-to-elbow in a local criterium.