Best e-bike helmets in 2023: E-bike-specific safety and tech features
The best e-bike helmets can help keep you safer and deal with the extra speed that an e-bike brings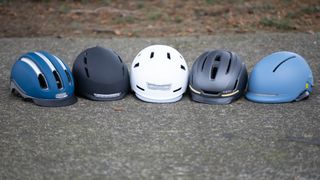 (Image credit: Josh Ross)
The best e-bike helmets can increase safety and include additional tech and design features to better cope with the higher speeds and different riding positions that e-bikes have.
Due to the extra weight that comes from things like motors, batteries and frames designed to accommodate these features, e-bikes are nearly always heavier and capable of travelling at higher speeds than non-electric bikes. This is the case no matter if we're talking about the best electric bikes for commuting, electric mountain bikes, or folding e-bikes. Extra weight moving at higher speeds means more kinetic energy, and in turn, more impact force in the event of a crash.
E-bikes can travel fastest by law in the United States compared to the rest of the world, where the maximum stated speeds are slightly lower. Regardless of this, it's key to use a helmet that's up to the job at hand. You will about MIPS a lot in this article, here is a link to our what is a MIPS helmet article here in case you are wondering what we keep talking about.
The best commuter bike helmets may very well be a solid option, especially if you ride multiple bikes, both regular and electric.
The Cyclingnews team are all highly experienced cyclists who have ridden through the fads and trends and know what works and what doesn't. We have put in the miles while wearing all of the helmets listed to provide you with our pick of the best, so continue reading through the buyer's guide for our choice of the best e-bike helmets. Alternatively, head to the bottom of the page for some useful information on how to choose the best e-bike helmet for you.
Best e-bike helmets available today
You can trust Cyclingnews Our experts spend countless hours testing cycling tech and will always share honest, unbiased advice to help you choose. Find out more about how we test.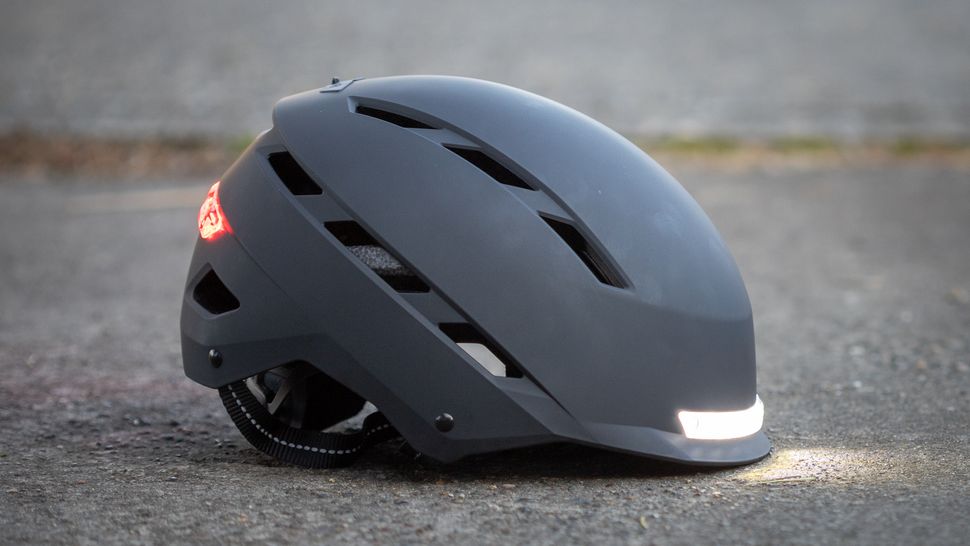 A great budget-friendly MIPS-equipped option from Giro
Reasons to buy
+
Comes with unobtrusive MIPS integration
+
Front and rear lights built-in
+
Stylish design and looks
Reasons to avoid
-
Not USB-C charged means slightly slower charging
-
Rear padding non removeable meaning cleaning in situ
Giro has quite a line of helmets for e-bike and urban riders and the Giro Escape MIPS is one of the lighter options, as well as includes a well-integrated MIPS liner that's less likely to catch on hair.
Giro includes front and rear lighting that's easy to control via two buttons on the rear of the shell, with Giro quoting a long 10-hour battery life from the Micro USB charged battery. We found it a comfortable, well-balanced helmet, although you can't remove the padding at the rear and will have to clean it in situ.
We have more information in our full review of the Giro Escape MIPS helmet.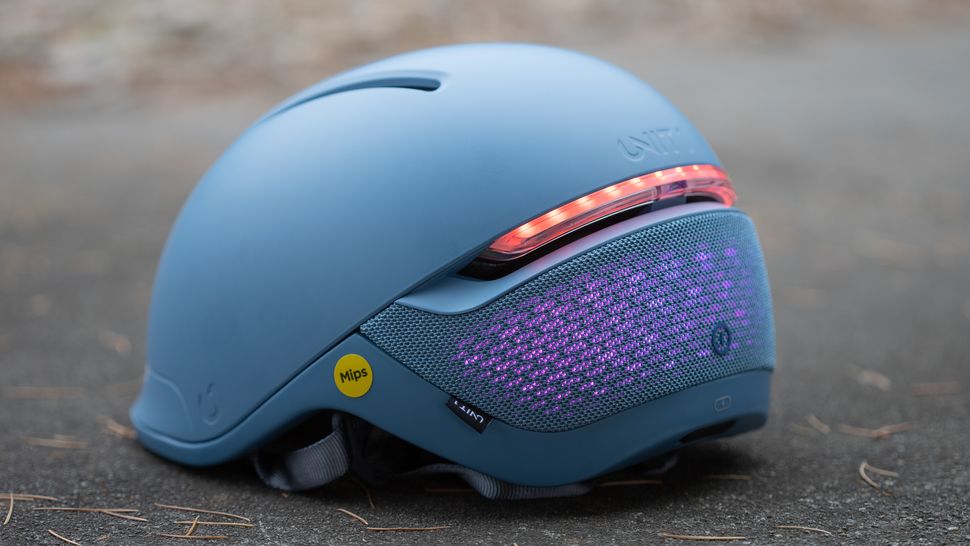 Best e-bike helmet for illumination configurability
Specifications
Rotational safety :
Optional
Reasons to buy
+
Lots of in-built lighting
+
Robust outer shell
+
MIPS option
+
Optional turn signals
Reasons to avoid
-
All the tech makes the helmet quite heavy
-
Magnetic buckle strap could wear out over time
The Unit 1 Faro follows the trend for in-built illumination in helmets for urban use, with LEDs front and rear and even more LEDs under a fabric strip at the back of the helmet that can be programmed via a phone app and used, among other things, as turn and brake signals. There's an optional remote so that you can operate the turn signals from the handlebars. There's even a light sensor built in that alters the brightness depending on ambient light conditions.
The shell of the Unit 1 Faro helmet is made of ABS, which gives it a tougher shell than polycarbonate to help protect the helmet from knocks and up its longevity. The straps are closed by a magnetic buckle that's simple to use.
You can buy the Unit 1 Faro helmet with or without MIPS. The battery to run all the lights makes it quite heavy, but the weight is well balanced and the helmet is comfortable on the head.
We have a full review of the Unit 1 Faro commuter bike helmet if you want more details.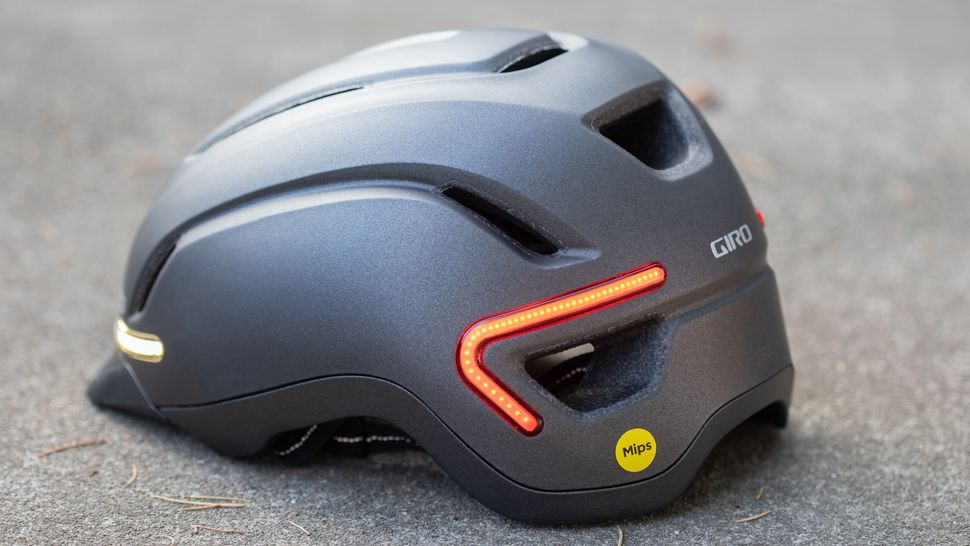 Best e-bike helmet if you want a lighter option from Giro
Reasons to buy
+
The helmet beeps when it turns on and when you signal
+
Relatively lightweight for this type of helmet
+
The design works well to keep the front of the helmet low
+
USB-C charging
Reasons to avoid
-
High retail price
-
Peak won't deal with a big impact
-
Not possible to turn the helmet on from the remote
The Ethos MIPS is a stylish addition to the expanding Giro range of commuter and e-bike-specific helmets. The helmet uses a total of 12 vents to aid cooling, and the helmet has coverage around the back of the ears and at the rear of the head making for a safe yet comfortable fit.
The helmet is available in metallic grey or a chalk colour and uses the MIPS safety system to keep the rider protected. The front of the helmet has a rubberized TPU brim to protect both the helmet and its user.
The Ethos model features an in-built lighting system that comprises a pair of white LEF strips at the front of the helmet and a line of red LED lights at the rear. The front lights kick out 45 lumens while the red rear lights provide 30. The rear lights can also change to an amber colour when you are indicating to turn. This is achieved by using a small rubber remote that attaches to your handlebars. The light set charges using a USB-C port at the rear of the helmet. This is also where the power button is located which allows you to cycle between modes.
You can read a full review of the Giro Ethos MIPS helmet here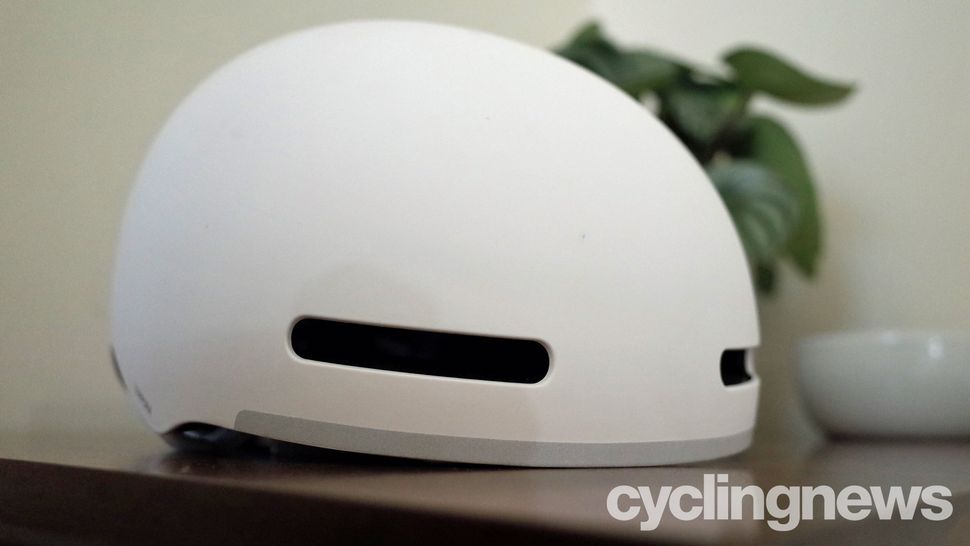 Best e-bike helmet with urban style
Reasons to buy
+
Robust urban design
+
Easy to use magnetic buckle
+
Built-in rear LEDs with simple control
Reasons to avoid
-
On the pricer side
-
White-only helmets can scuff quickly
The POC Corpora AID helmet comes with a stylish urban look that includes wide slot vents front and rear and dot vents on the crest of the helmet for plenty of airflow. There are five red LEDs at the rear that are built into the helmet shell, which gives up to 18 hours of illumination. Rather than fiddling with a button on the shell, POC gives you a single button attached to the straps to control the lighting mode.
The shell is made of ABS plastic that should be durable, but the Corpora AID is available only in white, which means that it's likely to look scruffy sooner than a helmet in a darker colour. It's quite expensive for a commuter helmet too.
Read our full review of the POC Corpora AID commuter bike helmet for more information.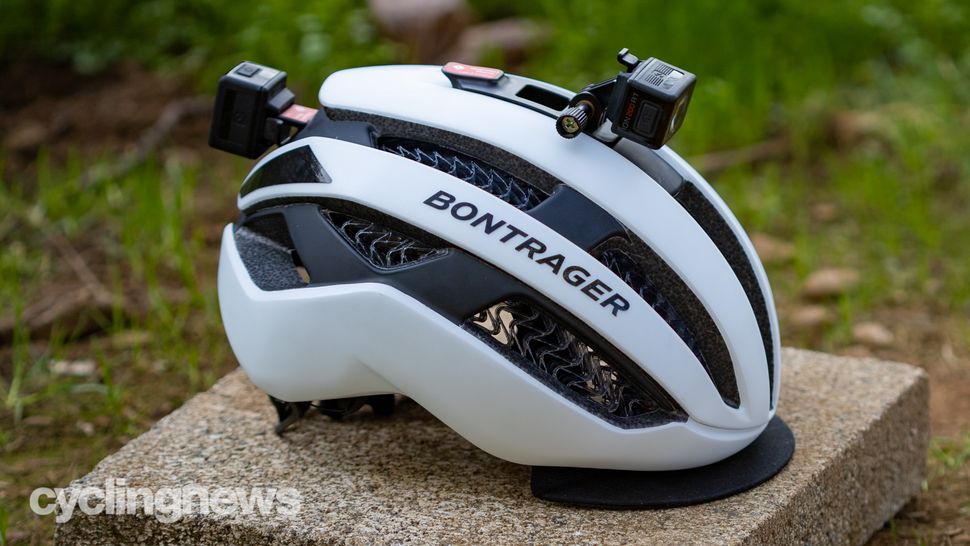 Best helmet for electric road bike riders
Specifications
Rotational safety :
Wavecel
Reasons to buy
+
Removeable light mounts for dual-duty use
+
Visor can be added for urban use
+
Wavecel impact protection
Reasons to avoid
-
Rear light mount is fiddly
-
Wavecell tech means you cant scratch your head through the vents if you feel the need
Bontrager uses its Wavecel crushable layer to add extra crash protection to the Circuit Wavecel helmet. As well as being great for urban riding, with good airflow, it's a helmet that can easily see action at the weekend if you want to get out for a recreational ride.
But attach the included front and rear light carriers and you can mount a Bontrager Flare light set to the Circuit Wavecel, upping your visibility on urban rides. The lights stay put well - we tested them over gravel rides without losing them. You can add a visor for more eye protection too.
Adjustability is good, with a replaceable Boa dial rear cradle and comfortable fit. Check out our full review of the Bontrager Circuit Wavecel helmet for a complete summary of our experience using the helmet.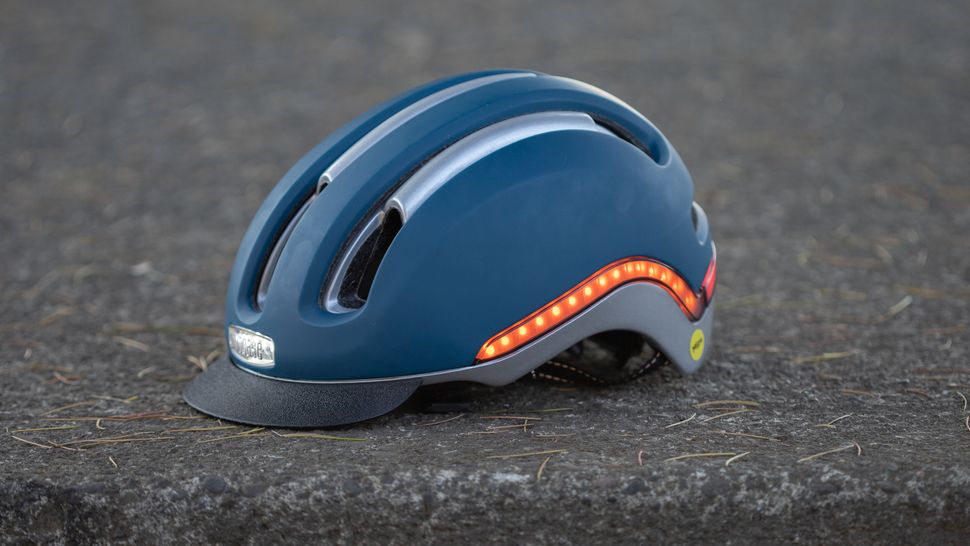 Best if you mix urban e-biking with a spot of gravel
Reasons to buy
+
Plenty of built-in lights
+
Good venting
+
Would work for gravel rides as well as commutes
Reasons to avoid
-
Only two sizes are available
-
The rear cradle doesn't adjust vertically
Porting over some of the technology from its kids' bike helmets, but with a less extreme style, the Nutcase Vio has larger vents than many e-bike helmets, so it runs cooler in hot conditions. It includes MIPS to up protection in the event of a crash and a dual-density EPS foam liner for even more impact protection.
Nutcase includes lights on the front and the rear and amber lights on the sides, so you're well covered for visibility, with flashing, pulsed and constant modes. The Vio is a little lighter than some helmets too, thanks to a slightly smaller battery, although that does drop run time to around 2.5 hours. That's going to be ample for most out-and-back commutes and there's quick charging via a USB port in the helmet shell.
You can find more details in our full review of the Nutcase Vio MIPS commuter bike helmet.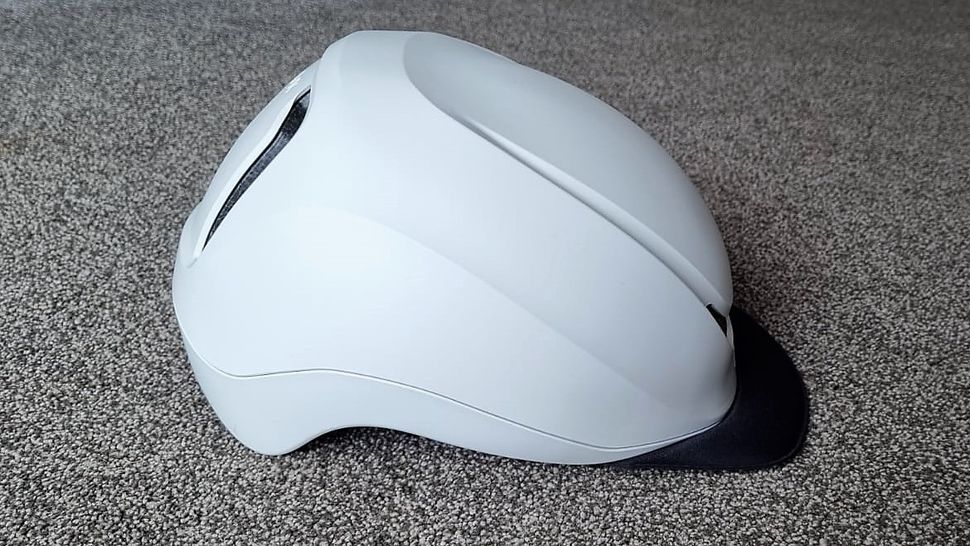 The best e-bike helmet for those who aren't a fan of MIPS
Specifications
Rotational safety:
KASK Rotational Impact WG11 Tested
Reasons to buy
+
Excellent airflow and cooling properties
+
Comfortable
+
Durable and hard-wearing
+
Easy to remove the peak and adjust the straps
Reasons to avoid
-
Lacks a size small option for smaller heads
-
If you have to have MIPS tech you'll need to look elsewhere
Urban helmets have to put up with a lot of wear and tear that something from our list of the best aero helmets will never experience. In and out of bags, sliding along a wall while clipped to the outside of a bag, keys dropped alongside in a bag, any number of day-to-day activities that will scratch up a quality finish in no time. For the Moebius, Kask uses a scratch-resistant ABS outer that should do a good job of keeping the helmet looking nice for a long time to come. It's an important feature because the outer surface of a helmet is part of what helps keep its integrity. Although looks matter, this is a feature that goes beyond just looks.
In fact, much of what Kask offers goes beyond what you can see on the surface. Instead of MIPS, or other rotational impact protection technologies, Kask takes the stance that those technologies oversell an unnecessary need. Instead, the brand has the WG11 test showing that even without specific mitigation technologies there is enough protection. Given how complex the field of impact protection is, they may well be correct. Not only that but a comfortable helmet that is a joy to wear is always going to be a plus and Kask makes some of the most comfortable helmets on the market.
Like the impact protection technologies, it might be hard to tell but our reviewer praised how comfortable the Moebius is. If you want to hear more details, take a look at our full Kask Moebius review. The only thing you might need to keep in mind is that there's no small size available for those with smaller heads.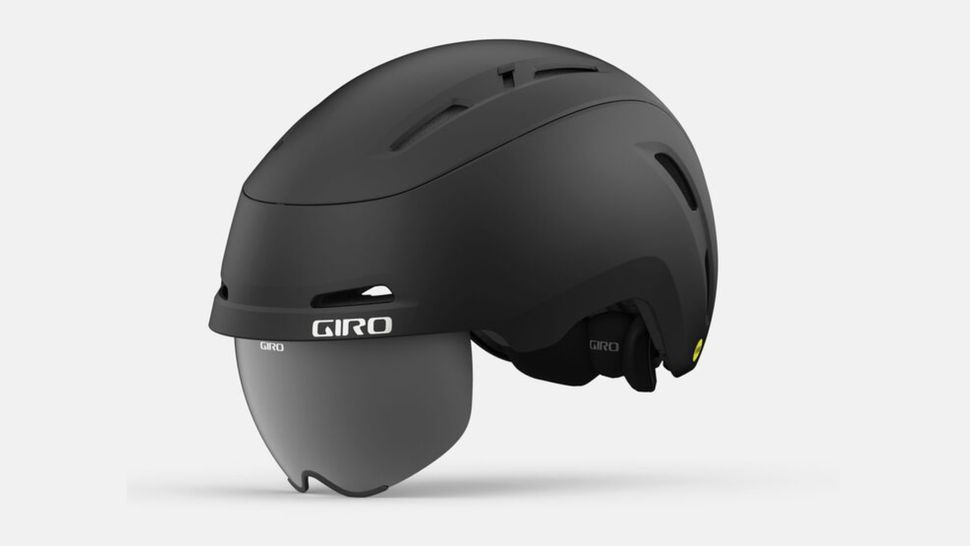 8. Giro Bexley MIPS
An e-bike helmet for anyone who wants all the features
Reasons to buy
+
Sliding shield for eye protection
+
Solid safety features
+
Adjustable airflow
+
Integrated light
+
Fidlock magnetic buckle
Reasons to avoid
-
Heavy at over half a kilo
-
High retail price
-
Styling may not be to everyones tastes
If you want a helmet that looks futuristic and aero, with all the comfort and safety specifications, the Bexley is it. On the safety side you'll find MIPS technology on board to deflect rotational energy in the event of a crash as well as the typical certifications for the markets it's sold in. There is something new as well though, a certification called NTA-8776 which specifically focuses on e-bikes that max out at 45kph (or 28mph). It's not in widespread use yet but there are a few brands that are starting to include it and if it's important to you, the Bexley has it.
Safety buffs will also understand that it's as important to avoid a crash. On that front, the Giro Bexley has features to keep you visible and able to see. There is an integrated rear light that helps other road users see you in the first place. Then, up front, a retractable Zeiss shield is part of the helmet's front structure to protect your eyes from rain, wind or debris.
Of course, as mentioned elsewhere, helmets have to be comfortable. With that in mind, there are a total of ten vents to keep you cool when it's hot. If it's cold you can close four of them to limit heat loss. The Fidlock magnetic buckle is also a nice addition that makes it easy to get in and out of.
This is a helmet with virtually every feature you might think about in an e-bike helmet. The downside of that is it's not the cheapest, and it also weighs more than any other on this list at nearly 700 grams. With that said, if you like the general style and the integrated visor, but want something a little cheaper, check out the Cratoni below.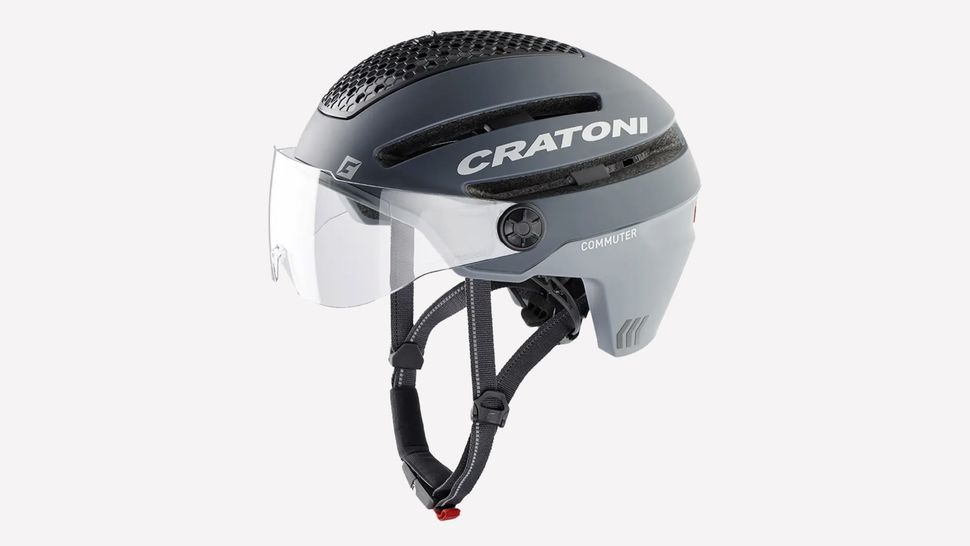 9. Cratoni Commuter
Best for budget conscious commuters
Reasons to buy
+
Has a visor for those rainy rides
+
Generous airflow panel adjustment
+
Extended protection covers lower down the head
Reasons to avoid
-
No added rotational impact protection
-
Slightly underwhelming styling
E-bike riders who get annoyed by wearing a helmet that is over 500g will be heartened by this option. The brand name might sound Italian, but Cratoni is German. And with its Commuter, the appeal is its light 400g weight classification and the presence of an active top vent.
Although this helmet does not have a slip-plane liner or integrated rear light, there are reflective bands as part of its rear structure. The retractable visor will keep your eyes shielded from weather and debris. Cratoni has also chosen to make the securing straps padded, which helps to increase comfort.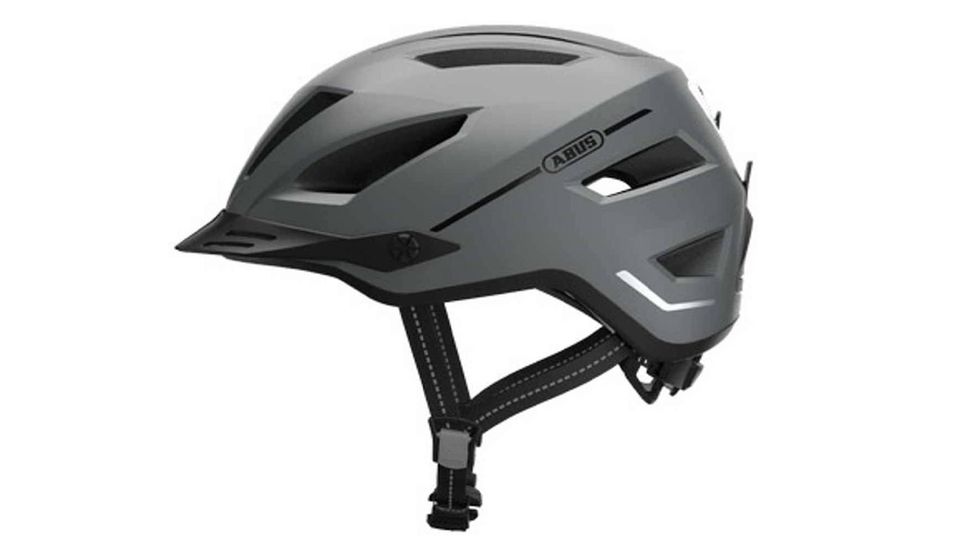 10. Abus Pedelec 2.0
The best e-bike helmet for anyone with a ponytail to worry about
Reasons to buy
+
Ponytail compatible
+
Integrated rain cover
+
Bug netting
+
Fidlock Magnetic strap buckle
Reasons to avoid
-
Absence of a MIPS liner
-
Magnetic buckle may not suit some
Another German e-bike helmet option is from the people who make some of the best bike locks you can buy. Abus offer this helmet in a range of colours that include a vivid tennis ball yellow, whilst visibility is further enhanced with reflectors and an integrated LED rear light.
For ventilation, the Pedelec 2.0 has four inlet ports, with airflow leaving the helmet through nine outlet channels. Although none of these vents is adjustable, it is a fairly balanced fixed airflow design that works well to keep things cool.
Industrial designers at Abus have been mindful of hairstyle and ensured that the Pedelec 2.0 remains comfortable, even for riders who style their hair into a ponytail. Abus also uses the Fidlock magnetic buckle to secure chinstraps, which is considered one of the better systems of its type. The Abus might lack a MIPS liner, but it's light, well ventilated, and there's even an integrated rain cover.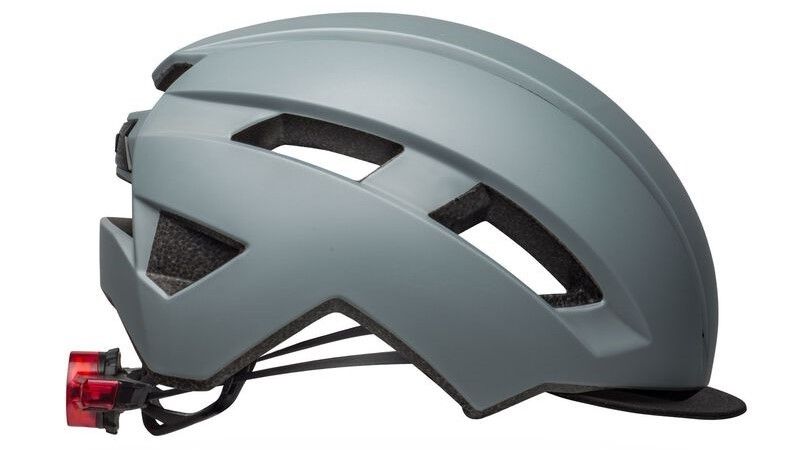 11. Bell Daily MIPS
The best e-bike helmet if you want a powerful integrated rear light
Reasons to buy
+
A dedicated commuter design, from one of the best helmet brands
+
Good features, for the price
+
High-lumen rear light
Reasons to avoid
-
Universal size might not appeal to all
The Bell Daily is an affordable commuter helmet with some handy safety features. Bell's vast experience in helmet design is clear with the Daily's mix of ergonomic refinement, safety and attractive styling.
The helmet's overall proportions and appearance are slick, without compromising structural safety. It has a MIPS liner to reduce rotational acceleration of the brain in the unfortunate event of a crash. The Daily's MIPS inner does not reduce its ergonomic comfort, with Bell combining it with an Ergo-Fit retention system.
With a 20-lumen aft LED, the Daily MIPS ensures that any wearer is visible to traffic approaching from the rear. The design of this piece is similar to the Bern Hudson but there's quite a bit more light available from the Bell so if that's an important feature to you, consider the Bell Daily as a choice that makes more sense.
How to choose the best e-bike helmet for you
There is a lot of choice of helmets out there. It's worth considering if you want an e-bike-specific helmet or whether a more generic urban helmet will work for you. To a large extent, that depends on where you live and what you're riding.
If your e-bike is capable of higher speeds, an e-bike-specific helmet is a wise choice, whereas riders of lower-speed e-bikes may prefer an urban style, or even a road bike helmet to increase ventilation and comfort.
Here are a few things to consider when choosing the best e-bike helmet for your needs.
How do I choose the right helmet?
There are a few factors that are likely to influence your e-bike helmet-buying decision. These are most like going to be: price, aesthetics, features and fit.
Knowing how much you want to spend on a helmet will kick-start your search, there are some great deals to be found on high-end helmets, you can find these on our cheap bike helmet deals page. But generally, it's a good idea to spend as much as you can on a helmet. It's an essential bit of kit to help keep you safe.
Aesthetics, features and fit are going to influence the rest of your decision. Helmets come in a huge range of styles and colours, if you like the idea of a bright red helmet to help you stay visible, rest assured there will be plenty of options. Fit is relatively easy to get right and most manufacturers will have helpful size guides, you can measure your head at home and work from this. You can also head to a local bike shop to try on a helmet to guarantee a good fit, but don't then leave to buy the helmet online if the shop gives you helpful buying advice and their time for free. Helmets come with more and more integrated features now. If you are commuting a lot or riding at night then an integrated light for example might be a useful feature to shop for. Asking other riders and even trying their own helmets on for size can also help you decide what might work for you.
How do I find the right fit?
E-bike helmets are usually sized S/M/L based on head circumference. The manufacturer's site will indicate the range of head circumference that each helmet size is designed to fit, so measure yours and you should be able to narrow down the size of helmet that you need.
There's a lot of adjustability in most helmets, usually via a dial at the rear that tightens or loosens the cradle. Further adjustment is usually possible by sliding the cradle up and down so that it fits below the occipital bone, the lump on the back of your head.
Generally speaking, the helmet should be able to cover the majority of your forehead without impairing vision and you should be able to adjust the straps so they are snug under your chin without being uncomfortable.
But helmet shapes differ, some with a more elongated shape front to rear and some more rounded, so you may be more comfortable and have a better fit in some helmets than others. There's no substitute for trying before you buy.
What is MIPS and do I need it?
Many of the best e-bike helmets now include MIPS or another system to provide additional protection in the event of a crash. MIPS is designed to reduce the impact transferred to your skull and thence to your brain in the event of a crash with a glancing impact of your helmet on the ground or another object when modelling shows that there can be significant shear forces generated.
MIPS includes a sliding plane between the helmet shell and your head, which slips in a crash, absorbing some of the impact energy. MIPS helmets are regularly rated among the safest helmets in independent testing by bodies such as Virginia Tech, which publishes an annual league table based on its testing.
There are other systems besides MIPS designed to help dissipate impact energy. These include Wavecel, used in Bontrager helmets from Trek, SPiN used in some POC helmets and Koroyd used by Endura, Smith and others. Don't discount these systems because they're not MIPS.
Should I consider integrated lights when riding an e-bike?
An e-bike means faster riding, more mixing with traffic and if anything does happen, a heavier bike is involved in the accident.
Sometimes the best way to stay safe doesn't have anything to do with the ability of a helmet to mitigate trauma in an accident. A great strategy is to avoid accidents altogether and one way of doing that is greater visibility. We have a list of the best bike lights available, and often electric bikes have integrated lights, but too many lights are rarely an issue. Choosing a helmet with a light is a great way to help keep you safe while riding an e-bike.
How important is venting when choosing an electric bike helmet?
Ventilation is a huge theme with the best road bike helmets; however, e-bike helmets don't have the same demands.
On a warm day, you want to experience the highest volume of airflow, but with an e-bike, that logic is slightly suspended as you can use the bike's pedal assistance to reduce workload and avoid heat build-up without sacrificing speed. You will still want some airflow through to keep your head fresh under the helmet though.
Most e-bike helmets choose to ventilate heat by radiation rather than airflow. This allows heat to escape out of the helmet without having large vents which let rain or too much cold air in.
Could I use a motorcycle helmet for an e-bike?
The simple answer to this is no. You might think an electric bike is just like a motorcycle, especially for US readers who have access to faster electric bikes, but they are not the same. Helmets designs are specific and testing is stringently controlled for the intended use.
Motorcycle helmet designs take into consideration all the nuances of motorcycle design and aren't appropriate for use when riding an electric bike. Although many companies are having discussions about the necessity of rotational impact protection, you really can have too much of a good thing.
It's worth noting though that if you buy an e-bike with a motor that's not limited a 15.5mph / 25km/h in the UK and Europe, you'll need to wear a moped-style helmet rather than a cycle helmet to conform to the legal requirements.
How did we put together our list of the best e-bike helmets?
The reality with helmets is that there's some amount of trust we have to have in the promises made. Our team here at Cyclingnews is a group of dedicated cyclists and we spend a lot of time in helmets. Although a few of us have been unfortunate enough to test their protection, it's not how we like to put together our recommendations for helmets.
Thankfully all helmets have to pass relevant government-mandated tests before hitting the stores in your country. What our team brings together in a list like this is our experience using them, testing for comfort, durability, breathability, ease of adjustment and more. We looked for options that will make the ride better each time you sit down on the bike.
Get The Leadout Newsletter
The latest race content, interviews, features, reviews and expert buying guides, direct to your inbox!
Josh hails from the Pacific Northwest of the United States but would prefer riding through the desert than the rain. He will happily talk for hours about the minutiae of cycling tech but also has an understanding that most people just want things to work. He is a road cyclist at heart and doesn't care much if those roads are paved, dirt, or digital. Although he rarely races, if you ask him to ride from sunrise to sunset the answer will be yes.
Height: 5'9"
Weight: 140 lb.
Rides: Cannondale Topstone Lefty, Cannondale CAAD9, Enve Melee, Look 795 Blade RS, Priority Continuum Onyx