Best cycling backpacks 2022: Comfort, capacity, protection, and utility
By Colin Levitch Contributions from Will Jones published
The best cycling backpacks will carry a heavy load with ease, with added features to aid the daily commuter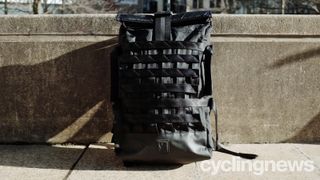 (Image credit: Graham Cottingham)
Not everyone uses their bike to pursue speed at all costs. A lot of riders, even those who race, use their bikes to transport things without having to rely on a car or public transport. For many, this is a commute to and from the office with some clothes and maybe a laptop. For others, like bike messengers, it can be anything from a single envelope to an actual kitchen sink. In all cases, having one of the best cycling backpacks hung off your shoulders will help you carry your load with greater comfort, and usually with added protection for both the contents and you as a rider too thanks to waterproof materials and reflective detailing.
When commuting, or even just heading to a friend's house, we normally chuck one of the best bike locks into our bags just in case we want to spend some time off the bike, as well as one of the best waterproof cycling jackets because you never know when the weather might turn sour for your homeward journey. Admittedly not everyone who is commuting or carrying a load will be using a backpack. Many of the best commuter bikes will feature a pannier rack to take the load off the rider, and even those on more racy bikes can use the best bikepacking bags to take a load off. That being said, for quick and simple haulage, the best cycling backpacks are hard to beat.
With our years of experience in riding and commuting using various backpacks, we've got a pretty good handle on what makes them comfortable, secure, protective and more, so read on for our chosen preferences. Alterntaively, if you're not sure what separates the best from the rest, worry not as we've got a handy guide at the bottom of the page to help guide you.
Best cycling backpacks available today
The best cycling backpack for heavy haulage
Reasons to buy
+
Durable
+
Water-resistant
+
High capacity
Reasons to avoid
-
Hot back when riding hard
-
Heavy in itself
A true staple of the messenger community, the Chrome Industries Barrage is built to last, with a waterproof tarp construction and a roll-top to ensure no water ingress through zips. This rugged, built to last construction comes at the cost of both a heavy weight and a high price, but in our experience Chrome bags really stand the test of time, regardless of how much they're abused.
The Barrage can fit a lot more into it than the capacity would suggest, with an expandable cargo net, and has the straps to cope with some seriously heavy haulage. Added benefits come with features like the built in lock holder for quick access, and some models come with reflective webbing for added night time visibility.
Besides the weight, we found the Barrage needed careful packing to make the most of the cavernous void, and to maximise on-bike comfort.
To find out the full story head to our Chrome Industries Barrage Cargo backpack review.
Patagonia Black Hole 25L
The best cycling backpack for repairability
Reasons to avoid
-
Patagonia brand name brings with it a high price tag
From bike commutes, to day hikes, to air travel, we've put the Patagonia Black Hole 25L backpack through the wringer, and it still looks pretty much brand new. Made from a mix of burly ripstop and TPU-coated polyester, it shrugs off abrasions and rain; inside there are two padded sleeves, with the large one big enough for a 15in laptop. A zippered pocket on the top keeps your small items organised, while stretch mesh pockets on either side mean you can take a water bottle and coffee thermos too.
Daisy-chain loops on the front of the bag work well for clipping a helmet on when you get to your destination, and the air-mesh panel helps to keep you cool and comfortable. Even better, should you manage to wear a hole in your bag or bust a seam, take it to a Patagonia store and they will fix it for you.
Osprey Archeon 25L
The best cycling backpack for fans of all black everything
Reasons to buy
+
Looks
+
Expandable capacity with roll-top
+
Adjustable harness
Made from recycled nylon canvas, the Osprey Archeon 25L roll-top bag looks good and performs better. It comes in both men's and women's fits, includes water-bottle pockets on either side, and there's also a stretch pocket on the front that's perfect for shoes, wet clothes or things you might need to access on the go.
The Rolltop has a zipper on the front that allows the upper sleeve of fabric to be folded so that you can see what's inside your bag; there's also an internal sleeve and zippered pocket on the side with a key keeper. The harness is size adjustable and can be fitted to your specific torso size, and the mesh-covered 'Airscape' back panel works to stave off the dreaded sweaty-back patch.
Altura Thunderstorm City 30
The best cycling backpack for staying visible
Reasons to buy
+
Completely waterproof
+
Expandable capacity
+
Laptop sleeve
Reasons to avoid
-
Bag lacks structure when fully loaded
Weighing just 600g empty, the Altura Thunderstorm City 30 is an IPX6-waterproof-rated, 30L backpack. It's fully seam-sealed so its contents will remain moisture-free on even the most treacherous commutes, and the roll-top closure allows you to tailor the size of the bag based on how much you need to carry.
While it's essentially a drybag with backpack straps, there is still a padded laptop sleeve and a zippered pocket so you won't need to go searching for your keys. The harness is well padded and features a sternum strap and waist belt to keep the load stable. It's also hi-vis with reflective detailing to help in low-light conditions.
Brooks Pickwick Daypack
The best cycling backpack for fashionistas
Reasons to buy
+
Aesthetic
+
Build quality
+
Two-year warranty
The majority of the backpacks featured here are hyper-technical with expandable this, suspended-ventilated that, and hidden X, Y, and Z. However for some, a simple, good looking backpack will provide all the functionality that's needed, and the Brooks Pickwick Daypack ticks all of those boxes.
Manufactured in Italy, the bag is made from water-resistant cotton canvas, the roll-top closure reveals a cavernous main compartment while allowing the capacity to be expanded. It also comes in a 12L and 26L capacity. There is also a dedicated tool pocket, so your spare tube and tyre levers are easy to find. The shoulder and sternum straps are adjustable, and the attachment points are reinforced with leather, so you don't have a blow-out.
Thule Pack 'n Pedal
The best cycling backpack for internal organisation
Reasons to buy
+
Removable laptop sleeve
+
Bright-blue interior makes gear easy to see
+
Lots of organisation pockets
Thule's Pack 'n Pedal bag has a utilitarian style, which translates into an extremely functional rucksack. The roll-top backpack features an IPX4-rated main compartment to keep your gear dry in the rain, and also sees a stowable rain cover for ultimate moisture resistance built-in. Inside is a removable padded laptop compartment, with a tablet sleeve and mesh cable pockets; it's designed to sit on the top of the bag, rather than against your back, for improved comfort.
On the side is a zippered, crushproof 'SafeZone' pocket, for sunglasses and your phone, while the front pockets see mesh sleeves, a key keeper and internal zippered pocket to keep your small items in order. The front of the bag and the rain cover both feature reflective detailing, as well as a clip which is compatible with all of the best bike lights.
Osprey Radial
The best cycling backpack for added features
Reasons to buy
+
Expandable volume
+
Pockets for everything
+
Raised mesh back panel that doesn't affect the internal volume
+
Removable hip belt
The second-generation Osprey Radial is one of the most feature-packed bike commuting bags you can buy. With everything from the LidLock helmet clip, U-lock storage, a separate pocket for dirty clothes or shoes, to a rear light attachment, sunglasses pocket lined with non-scratch fabric, and even an integrated kickstand, it's anything but basic.
The bag borrows the suspended mesh back panel seen on the brand's heavy-duty expedition packs, its capacity is expandable from 26L to 34L, and the Radial has an integrated rain cover, too. Inside, there is a padded laptop sleeve and a separate magazine/document pocket, while the exterior features a stretch bottle sleeve and ride-accessible zippered pocket.
Ortlieb Commuter Daypack City 21L
The best cycling backpack for keeping your things dry
Reasons to buy
+
Expandable capacity with roll-top
+
Fully waterproof
+
Removable chest and waist straps
Made from durable nylon fabric, the Ortlieb Commuter Daypack is a roll-top bag that looks good and performs better. It comes in a unisex fit, includes back padding with ventilation channels, and a reinforced underside to prevent scuffing when you put it down. As you'd expect from Ortlieb, it's fully waterproof (with the exception of the front zippered pocket which is only water-resistant), and it comes with removable chest and waist straps to help get the fit just right.
Some great details include lock loops, which you can use to attach your helmet, a rear light, or pretty much anything that can be strapped down, freeing up your hands when you're off the bike. Inside there's a padded laptop sleeve, plus a couple of organiser pockets, alongside the spacious main compartment.
Chrome Citizen Messenger Bag
The best cycling backpack for quick access
Reasons to buy
+
Waterproof
+
Room for a ton of gear
+
Quick-release strap
Unless you're a bike messenger, you probably don't need to ride with huge boxes with God-only-knows-what inside, but you might still need to bring more than just a spare change of clothes along for the ride. For that, Chrome Industries' mid-sized Citizen Messenger Bag is pretty much as good as they come. Made from 1000 denier Cordura, with an 18-ounce truck-tarp liner, the Citizen Messenger is totally waterproof, and to call it durable would be an understatement.
The bag features what the brand calls a floating liner, so you can separate wet and dry items, and there are stow-and-go organisational pockets on the front for quick access to essential items. The Citizen Messenger Bag comes with the brand's trademark seatbelt chest strap – a stabilising strap to keep the load in place – and even has an integrated bottle opener.
While all the load is carried on one shoulder, the stabilisation chest strap keeps it from moving, and it also means you can swing it round to your front and get into the back without having to take it off your body.
How to choose the best cycling backpack for you
Before committing to a new cycling backpack you need to evaluate your needs. These will vary from rider to rider, and which bag you choose will be a function of cost (as with any purchase), but also how much you carry, how far, and whether you do it in the wet or dry, hot or cold, day or night.
It's no good buying a superlight bag that doesn't have the capacity there when you need it, and likewise, it'd be a waste of your hard-earned money buying a 30-litre backpack if you only need to carry a pair of underwear and a packed lunch to the office two miles down the road.
Can I cycle with a hiking backpack?
If you already have a hiking backpack that's the right size then definitely give it a go first to see if it fits your needs. You could save yourself a good load of money that way. That being said, cycling specific backpacks have some features that hiking bags lack. When riding a bike you're in a more forward leaning position, and cycling backpacks will be designed to carry a load in this orientation, rather than the upright stance of a hiker. They'll also feature things like lock and helmet storage options, and places to attach lights, all of which would be next to useless for a hiker.
How big should a cycling backpack be?
In general for most uses anywhere between 20L and 30L we've found to be ample. If you need more than 30L you're probably a bike messenger, or need to consider a cargo bike.
Bear in mind that the heavier your backpack, and the more you stuff it with, the more load will be going through your wrists and the soft tissue around your sit bones. Packing light is a skill, and having the capacity there when you need it is occasionally useful, but having an enormous bag can sometimes encourage you to throw in things you don't need.
On the flip side, a lightweight, low-capacity bag might be comfier on the bike, but you don't want to be in a position where you're deciding between bringing clothes or food to the office because you can't fit both.
If you're unsure, go for the bigger option - better to have the capacity and not need it than need it and not have it.
What are you carrying?
A dedicated laptop sleeve will better protect what is a pretty expensive bit of tech while out on the bike, and is a feature of the majority of commuter-focussed backpacks. If you're regularly carrying lots of different things then internal organisation can sometimes be a burden and get in the way, so if that's the case then maybe opt for something that offers a single cavity that you can throw anything into at random.
If you're carrying clothes then a bigger cavity with crease things less. If you work somewhere dead casual where creases don't matter then that might not be a concern, but for those still working in more formal gear it could be the difference between a good first impression with a client and them thinking you're a shabby mess.
Are cycling backpacks waterproof
Some are, others not. Some are water-resistant, but in our eyes, it's worth reading this as 'not waterproof'. You don't want to get to work to find your laptop and clothes are soaked through after your new bag wasn't as resistant as you thought in a downpour.
You can buy aftermarket waterproof covers if yours isn't already, but if you're riding anywhere remotely rainy we'd suggest opting for something that's waterproof by design.
Are cycling backpacks comfortable?
At its simplest the cycling backpack is a drybag with some straps attached. This might not be the most comfy option, but it'll get the job done.
Wider straps, sternum supports and a hip belt all serve to reduce the pressure at the shoulders and stop the bag swaying about as you pedal, so if you've a long commute then features like these should be high on your list of considerations.
Based on the Gold Coast of Australia, Colin has written tech content for cycling publication for a decade. With hundreds of buyer's guides, reviews and how-tos published in Bike Radar, Cyclingnews, Bike Perfect and Cycling Weekly, as well as in numerous publications dedicated to his other passion, skiing.
Colin was a key contributor to Cyclingnews between 2019 and 2021, during which time he helped build the site's tech coverage from the ground up. Nowadays he works full-time as the news and content editor of Flow MTB magazine.