Worlds: Pirrone doubles up with junior road race title
Italian solos to second win in a week
Junior Women - Road Race: Bergen - Bergen
Image 1 of 29
Image 2 of 29
Image 3 of 29
Image 4 of 29
Image 5 of 29
Image 6 of 29
Image 7 of 29
Image 8 of 29
Image 9 of 29
Image 10 of 29
Image 11 of 29
Image 12 of 29
Image 13 of 29
Image 14 of 29
Image 15 of 29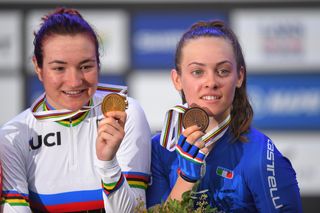 Image 16 of 29
Image 17 of 29
Image 18 of 29
Image 19 of 29
Image 20 of 29
Image 21 of 29
Image 22 of 29
Image 23 of 29
Image 24 of 29
Image 25 of 29
Image 26 of 29
Image 27 of 29
Image 28 of 29
Image 29 of 29
Elena Pirrone completed a remarkable double at the 2017 World Championships, winning the junior women's road race to add to the individual time trial gold medal she won earlier in the week.
The 18-year-old Italian forged clear of the already-reduced peloton on the penultimate descent of Salmon Hill, with some 30 kilometres remaining, and was never seen again.
Emma Norsgaard Jorgensen (Denmark) took second place, leading home a 13-rider chase group that lacked the collaboration and firepower to catch Pirrone in the closing kilometres, while Letizia Paternoster claimed the bronze medal to make it a near-perfect race for Italy.
The 76.4km route for the junior women's race was based on four laps of a 19.1km circuit in Bergen, with the climb of Salmon Hill – 1.4km long with an average gradient of 6.5 per cent – central in terms of its positioning on the course and its importance to the outcome.
Norsgaard Jorgensen enjoyed some time off the front on the opening lap, and the bunch started to thin on the second, but it was the third lap where the race-defining moves were made.
The Australian Madeleine Fasnacht produced the most promising of a flurry of attacks, but she fell away on the descent, while Pirrone did just the opposite. With two teammates in what was now a chasing group of 16 riders, it was the perfect situation for the Italians, as Pirrone hit the flat with a lead of 15 seconds and kept it as she took the bell for the final lap.
In the first chase group were: Letizia Paternoster, Nicole D'Agostini (Italy), Sophie Wright, Pfeiffer Georgi (Great Britain), Alena Petchenko, Maria Novolodskaya (Russia), Madeleine Fasnacht (Australia), Hannah Ludwig (Germany), Anne-Sophie Harsch (Luxembourg), Simone Boilard (Canada), Olha Kulynych (Ukraine), Evita Muzic, Jade Wiel, Clara Copponi (France), Caroline Bohe, Emma Norsgaard Jorgensen (Denmark).
The gap was as low as 12 seconds at one point, but on the approach to the final ascent it grew out to 40 seconds as the group looked at each other. Ludwig waved her hand sarcastically, and she was right – they were saying goodbye to Pirrone and the gold medal.
Pirrone's lead had halved by the top of the climb but once again she descended better than anyone, and had enough left in the tank for the flat 5km run to the line in Bergen. Norsgaard Jorgensen once again accelerated in pursuit, but otherwise there wasn't a coordinated chase, with the French conspicuous by their absence from the front of the group despite having three riders there.
Pirrone, though, was worth every carat of her gold medal, and had enough time in the home straight to sit up and revel in what has been a magical week.
Full Results
| # | Rider Name (Country) Team | Result |
| --- | --- | --- |
| 1 | Elena Pirrone (Italy) | 2:06:17 |
| 2 | Emma Cecilie Norsgaard Jorgensen (Denmark) | 0:00:12 |
| 3 | Letizia Paternoster (Italy) | |
| 4 | Maria Novolodskaya (Russian Federation) | |
| 5 | Jade Wiel (France) | |
| 6 | Pfeiffer Georgi (Great Britain) | |
| 7 | Clara Copponi (France) | |
| 8 | Simone Boilard (Canada) | |
| 9 | Anne-Sophie Harsch (Luxembourg) | |
| 10 | Evita Muzic (France) | |
| 11 | Caroline Bohe (Denmark) | 0:00:16 |
| 12 | Sophie Wright (Great Britain) | |
| 13 | Olha Kulynych (Ukraine) | 0:00:40 |
| 14 | Madeleine Fasnacht (Australia) | 0:00:42 |
| 15 | Hannah Ludwig (Germany) | 0:01:40 |
| 16 | Nicole D'agostin (Italy) | |
| 17 | Alena Petchenko (Russian Federation) | 0:02:02 |
| 18 | Marta Jaskulska (Poland) | 0:04:12 |
| 19 | Marie Le Net (France) | |
| 20 | Gyunel Mekhtieva (Russian Federation) | |
| 21 | Anastasiya Kolesava (Belarus) | |
| 22 | Lorena Wiebes (Netherlands) | |
| 23 | Sofia Rodriguez Revert (Spain) | |
| 24 | Marit Raaijmakers (Netherlands) | |
| 25 | Franziska Koch (Germany) | |
| 26 | Misuzu Shimoyama (Japan) | |
| 27 | Noa Jansen (Netherlands) | |
| 28 | Viivi Puskala (Finland) | |
| 29 | Lotte Rotman (Belgium) | |
| 30 | Karin Penko (Slovenia) | |
| 31 | Thale Kielland Bjerk (Norway) | |
| 32 | Sara Martin Martin (Spain) | |
| 33 | Hannah Gruber-Stadler (Austria) | |
| 34 | Alana Castrique (Belgium) | |
| 35 | Lara Krahemann (Switzerland) | |
| 36 | Aleksandra Stepanova (Russian Federation) | 0:04:14 |
| 37 | Erin J Attwell (Canada) | |
| 38 | Eva Jonkers (Netherlands) | |
| 39 | Vittoria Guazzini (Italy) | |
| 40 | Shari Bossuyt (Belgium) | 0:04:30 |
| 41 | Rozemarijn Ammerlaan (Netherlands) | 0:06:17 |
| 42 | Jessica Roberts (Great Britain) | 0:06:56 |
| 43 | Katharina Hechler (Germany) | 0:08:52 |
| 44 | Maria Martins (Portugal) | |
| 45 | Maja Perinovic (Croatia) | |
| 46 | Anhelina Krasko (Belarus) | |
| 47 | Ricarda Bauernfeind (Germany) | |
| 48 | Juste Juskeviciute (Lithuania) | |
| 49 | Daniela Atehortua Hoyos (Colombia) | |
| 50 | Emeline Eustache (France) | |
| 51 | Abigail Youngwerth (United States Of America) | |
| 52 | Megan Heath (United States Of America) | |
| 53 | Petra Machalkova (Slovakia) | |
| 54 | Amalie Lutro (Norway) | 0:09:59 |
| 55 | Clara Lundmark (Sweden) | |
| 56 | Karolina Kumiega (Poland) | |
| 57 | Greta Karasiovaite (Lithuania) | |
| 58 | Alyssa Rowse (Bermuda) | |
| 59 | Anne De Ruiter (Netherlands) | |
| 60 | Joanna Golec (Poland) | |
| 61 | Svetlana Pachshenko (Kazakhstan) | |
| 62 | Martine Gjos (Norway) | |
| 63 | Laurie Jussaume (Canada) | |
| 64 | Lauren Murphy (Great Britain) | 0:10:01 |
| 65 | Ariana Gilabert Vilaplana (Spain) | |
| 66 | Isabel Martin Martin (Spain) | |
| 67 | Cinthya Teresita Covarrubias Rocha (Mexico) | |
| 68 | Summer Moak (United States Of America) | 0:11:04 |
| 69 | Elne Owen (South Africa) | 0:13:56 |
| 70 | Maggie Coles-Lyster (Canada) | 0:16:09 |
| 71 | Veronika Myrxina (Kazakhstan) | 0:17:34 |
| 72 | Emelie Roe Utvik (Norway) | 0:18:23 |
| 73 | Chaniporn Batriya (Thailand) | 0:18:25 |
| 74 | Aksana Salauyeva (Belarus) | 0:18:37 |
| 75 | Regina Stegvilaite (Lithuania) | 0:19:42 |
| 76 | Marib Aguirre Mangue (Argentina) | |
| 77 | Marina Kurnossova (Kazakhstan) | |
| 78 | Oliwia Majewska (Poland) | 0:20:43 |
| 79 | Alijah Beatty (United States Of America) | 0:22:18 |
| 80 | Johanna Johansson (Sweden) | 0:22:23 |
| 81 | Zayd Hailu (Ethiopia) | 0:28:16 |
| DNF | Shira Biran (Israel) | |
| DNF | Gintare Kiupelyte (Lithuania) | |
| DNF | Anzhela Solovyeva (Kazakhstan) | |
| DNF | Liontin Evangelina Setiawan (Indonesia) | |
| DNF | Martina Fidanza (Italy) | |
| DNF | Ashleigh Parsons (South Africa) | |
| DNF | Kanyarat Kesthonglang (Thailand) | |
| DNF | Chia Yi Lu (Chinese Taipei) | |
| DNF | Andrea Ramirez Fregoso (Mexico) | |
| DNF | Rhona Callander (Great Britain) | |
| DNF | Tsadkan Kasahun (Ethiopia) | |
Cyclingnews Newsletter
Sign up to the Cyclingnews Newsletter. You can unsubscribe at any time. For more information about how to do this, and how we hold your data, please see our privacy policy