2020 Tour de France stage 11 preview
By Cyclingnews
September 9, 2020: Châtelaillon-Plage > Poitiers, 167.5km
Image 1 of 2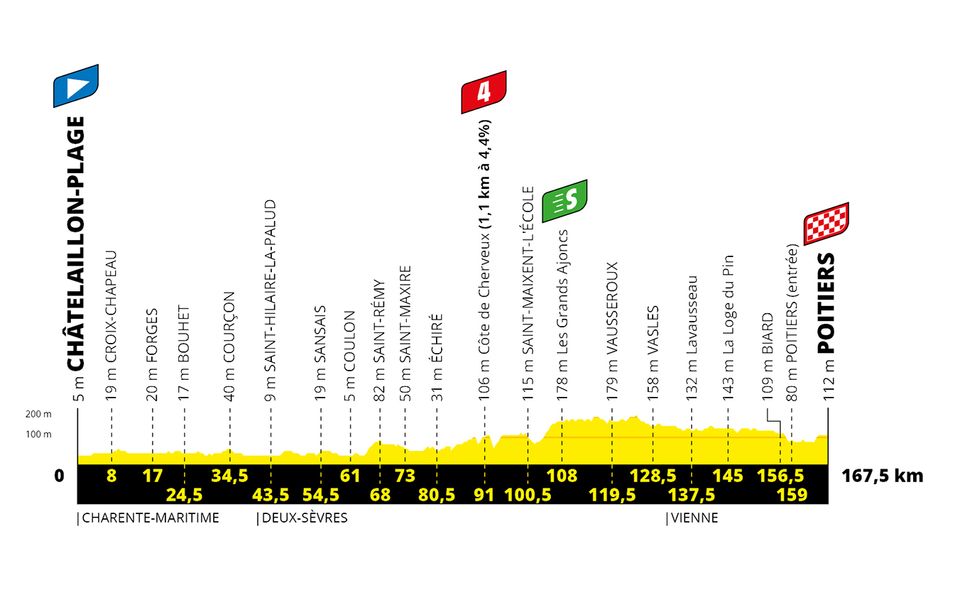 Image 2 of 2
Stage 11: Châtelaillon-Plage - Poitiers
Date: September 9, 2020
Distance: 167.5km
Stage start: 1:25 p.m. CEST
Stage type: Flat
Expect Stage 11 to be a steady day in the saddle for riders, heading inland from the coast with a fast finish for the bunch sprinters.
The post-structuralist philosopher Michel Foucault is one of Poitiers' most famous sons. He theorised that power comes in two different forms: empirical and theoretical. It's something that the four or five riders who make it into the break on this stage might have time to consider, if only they weren't trying to engineer a more prosaic form of power - watts through their pedals. Theoretically, they may believe they can make it to the finish and prevent the inevitable. Empirically, however, the evidence will be clear to them that their attempt to win the stage is doomed to failure.
This is probably going to be the quietest, most straightforward stage of the 2020 Tour. It looks benign, with a single category climb, Côte de Cherveux, 91 kilometres into the stage. Seventeen kilometres later and across rolling terrain, the one sprint is contested at Les Grands Ajoncs. The final three kilometres in Poitiers do have some elevation gain, including the Pont Neuf across the River Clain.
The GC riders will take a well-earned break, the sprinters will crack on with controlling the break then contesting the finish in Poitiers, sure to be a shootout with a straight 1.5km chute to the line.

Thank you for reading 5 articles this month* Join now for unlimited access
Enjoy your first month for just £1 / $1 / €1
*Read 5 free articles per month without a subscription

Join now for unlimited access
Try your first month for just £1 / $1 / €1
Sign up to the Cyclingnews Newsletter. You can unsubscribe at any time. For more information about how to do this, and how we hold your data, please see our privacy policy
Thank you for signing up to Cycling News. You will receive a verification email shortly.
There was a problem. Please refresh the page and try again.