2020 Tour de France stage 15 preview
By Cyclingnews
September 13, 2020: Lyon > Grand Colombier, 174.5km
Image 1 of 2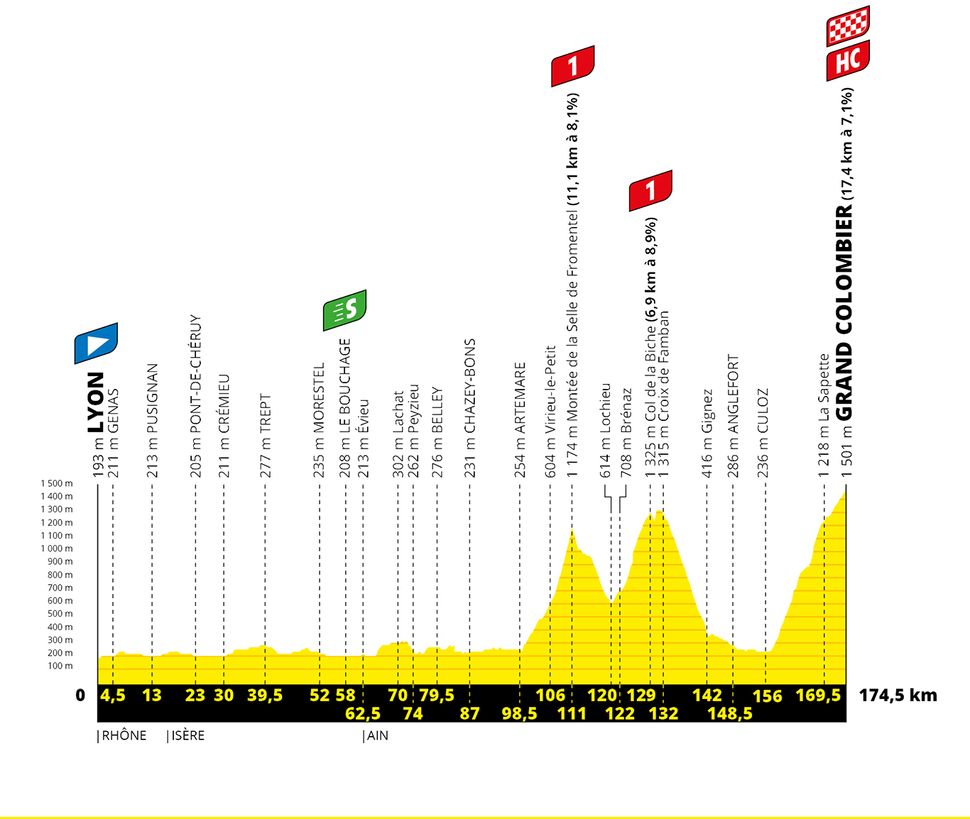 Image 2 of 2
Stage 15: Lyon - Grand Colombier
Date: September 13, 2020
Distance: 174.5km
Stage start: 12:25 p.m. CEST
Stage type: Mountain
The second Alpine summit finish of the 2020 Tour, 12 days after the first, is the beautiful Col du Grand Colombier, which is as tough as it is scenic. The Grand Colombier hosts its first summit finish, eight years after it made its debut in the race in 2012. Since that first appearance, it has been a regular climb, featured in the 2016 and 2017 Tours, with Poland's Rafał Majka (Bora-Hansgrohe) the first over in both those years.
The massive tectonic movements and enormous pressures that created the Alps from the slow-motion collision of the African and Eurasian land plates have pushed the range above 4,000m. The Jura, a more modest set of mountains, was formed from the ripples that spread from the principle area of collision - they're a lower, less extreme introduction to the Alps proper, much like stage 15 of the 2020 Tour, which takes the riders back up from their brief stay in the Rhône valley to 1,501m by the end of the stage.
Stage 15 could be seen as the end of the beginning of the race, coming before the second rest day, or the beginning of the end. The Grand Colombier is the first HC climb to feature as a summit finish this year. The Montée de la Selle de Fromentel, the first climb, is actually the north-west side of the Grand Colombier. The riders will turn off before the summit, then loop around the massif via the Col de la Biche, ride to the south and climb up the photogenic route from Culoz to the top. It is 17.4 kilometres from there to the summit of the Grand Colombier, with the average slope being 7.1 per cent and some stretches peaking out to 12 per cent.
This is territory only for the best climbers.

Thank you for reading 5 articles this month* Join now for unlimited access
Enjoy your first month for just £1 / $1 / €1
*Read 5 free articles per month without a subscription

Join now for unlimited access
Try your first month for just £1 / $1 / €1
Sign up to the Cyclingnews Newsletter. You can unsubscribe at any time. For more information about how to do this, and how we hold your data, please see our privacy policy
Thank you for signing up to Cycling News. You will receive a verification email shortly.
There was a problem. Please refresh the page and try again.