Best lightweight wheels: Shallow wheels for climbing and accelerating fast
The best lightweight wheels for cycling typically feature shallow-section rims built to save weight and climb fast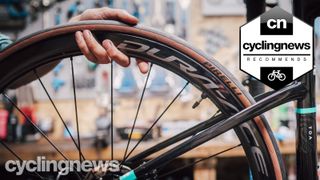 (Image credit: Chapter2)
There are plenty of ways you can upgrade your bike to give it a new lease of life, but few make as big an impact as installing a pair of the best lightweight wheels. A new pair of the best road bike wheels will affect the manner in which your bike handles and reacts to different topography types, while going as lightweight as possible will help you eke out an extra advantage when the road ahead begins to point skyward.
This guide is one for the weight weenies; the grimpeurs or mountain goats who enjoy dancing on the pedals in a quest to overcome gravity as quickly as possible. Unlike their burlier, deep-sectioned siblings, the best lightweight wheels feature shallower rim depths, helping to dismiss climbs with ease, with the added benefit of remaining more stable in crosswinds.
Choosing the best lightweight wheels for your bike will be a decision affected by various constraints. Budget will always play a part, and the wheelset's weight will be high on the list, but compatibility mustn't be ignored. If your bike uses disc brakes, for example, you'll need to ensure the wheels you choose are disc brake compatible too.
To help you bag that elusive uphill Strava KOM, we've compiled a list of the best lightweight wheels currently available, and we've outlined the specifications of each to help you choose the right wheels for you. Then at the bottom, we've outlined everything you need to consider when buying.
Don't forget, if shedding weight off your steed is your highest priority, then it might even be worth investing in one of the best lightweight bikes you can buy, to give yourself the best chances of flying up those climbs.
Best lightweight wheels
Why you can trust Cyclingnews Our expert reviewers spend hours testing and comparing products and services so you can choose the best for you. Find out more about how we test.
Tubeless technology done to perfection
Specifications
Rim width (internal):
22.4mm
Wheelset RRP:
$3,450 / £2,498 / AU$4,500
Reasons to buy
+
Cadex tubeless setup has always been flawless
+
Aesthetically stunning
Reasons to avoid
-
Lighter wheels available for less money
The latest set of wheels from Cadex didn't set out chasing a reduction in weight. Instead, it was designed to be an all-day wheelset that balances weight, aerodynamics, stiffness and comfort. Being designed with a depth of 36mm, hookless bead and carbon fibre spokes, a positive side effect that they come in as some of the lightest wheels available today.
Weighing in at 1,302g, they are beatable on the scales (and for less money) but the performance they offer extends beyond a reduction in weight. The carbon fibre spokes offer extreme stiffness without being harsh, the ceramic bearings offer increased durability and efficiency, and the wide internal width maximises stability and cornering confidence.
But most impressive is Cadex's continued ability to make tubeless wheelsystems that just work. In all our testing with all three of Cadex's tubeless wheels, the tubeless tyres have been a breeze to fit, and have retained air perfectly - no snapped tyre levers, and no leaks whatsoever.
All in all, while the price is high, the Cadex 36 is a wheelset that works in all scenarios, so is a great choice for those looking to own a single wheelset that will perform brilliantly no matter what your ride entails.
For all the reasons we love them, take a look at our Cadex 36 Disc wheelset review.
An energetic set of race wheels that pairs well with 25 and 28mm tyres
Specifications
Rim width (internal):
21mm
Wheelset RRP:
$2,400 / £2,000 / AU$3,800
Reasons to buy
+
Tubeless setup is easy
+
Crosswind performance is great
Reasons to avoid
-
Heavier than similar-priced, similar-depth options
When our reviewer put these wheels to the test, the only negative he came away with was the price tag, proving that the Bontrager Aeolus RSL wheels are a darn good set of wheels to use.
Everything about them checks the future-proof boxes. They are tubeless-ready, disc-brake compatible, and feature an on-trend 21mm internal width. The 37mm depth is a few mm deeper than the purebred lightweight wheels here, meaning they capture a little bit of the extra flat-land aerodynamic performance without gaining too much weight.
At 1,360g, they're not the lightest mainstream wheelset available, but they're certainly sprightly on the climbs.
For more details, check out our Bontrager Aeolus RSL 37 TLR review
The lightweight wheel 'sweetspot' between weight, capability and price
Specifications
Depth:
F: 35.6mm / R: 39.3mm
Rim width (internal):
22.5mm
Reasons to buy
+
Value for money
+
Capability on light gravel
+
Option for ceramic bearings
Reasons to avoid
-
The weight isn't exceptional, but it's competitive at this price point
In our Parcours Ronde Review, we concluded that the Ronde wheels hit a sweetspot between comfort, handling and all-out speed, thanks to the solid build and stiffness-to-weight ratio. But more impressively, they do so with a competitive 1,423g weight, and an impressive £1,049 price tag.
They achieve this by designing two altogether separate rims, the front is 35.6mm deep and 32mm wide, while the rear is deeper at 39.3mm but narrower at 30.5mm.
The result is a stable front wheel that tracks well through corners and remains unaffected by crosswinds, and a rear-wheel that benefits from extra aerodynamic performance.
There's even more information on these in our Parcours Ronde wheelset review.
Roval Alpinist
One of the lightest pair of clinchers on the market
Specifications
Rim width (internal):
21mm
Wheelset RRP:
£1,850 / $2,500
Reasons to buy
+
The wheels' stiffness is impressive without being jarring
+
They manage to hold speed better than expected on flatter ground
At 1,248g, the Alpinist is one of the lightest options on this list, which makes it an exciting proposition given the price is reasonably competitive among the best lightweight wheels. Of course, at £1,850 / $2,500, they're still a big investment, but they're less than half the price of the most expensive wheels on this list.
The only real negative of the Alpinists is their lack of tubeless compatibility, which will certainly put off anyone who has fallen for the technology.
But if like us, you're still happy to use inner tubes, then the Alpinists are a genuinely great pair of wheels. Thanks to that minimal mass, their acceleration is instant and they climb like little else we've ridden. The 33mm depth means crosswinds aren't an issue, and despite expecting them to suffer aerodynamically on the flats, they hold their own much better than we anticipated.
Vision Metron 30 SL
Affordable and trouble-free carbon climbing wheelset trusted by the pros
Specifications
Rim width (internal):
19mm
Wheelset RRP:
£1,623 / $2,290
Reasons to buy
+
Affordable
+
Balanced rim depth for all-round performance
+
Trusted lineage and reputation
+
Tubeless-ready
+
Easy tyre fitment
Reasons to avoid
-
Not the lightest option, but reliability makes up for it
Vision's Metron 30 SL is the brand's climbing focussed wheelset. At 1,470g, they may not be the lightest option here but when it comes to reliability and all-round performance, they deliver in spades. Unlike some of its rivals, Vision offers both rim- and disc-brake options which broadens its appeal to a bigger audience.
Furthermore, the Vision Metron 30 SL wheel family is available in tubular and clincher TLR versions - it all depends on your individual preference. Measuring in with a 19mm internal rim width, the Metron 30 SLs are right up there with contemporary standards allowing you to run wider rubber and lower pressures.
The 2:1 spoke lacing pattern ensures stiffness of the highest order without compromising ride quality, enabling the wheels to respond instantly to pedal inputs - a boon for out-of-the-saddle attacks. The wheels are compatible with most hub standards; Shimano 10/11-speed, Sram 10/11-speed and FSA 11-speed. Like all of Vision's products, the Metron 30 SLs are covered by a two-year warranty.
Zipp 353 NSW
Sawtooth design reduces weight and better crosswind stability
Specifications
Rim width (internal):
25mm
Wheelset RRP:
£3,200.00 / $4,000.00 / €3,600.00
Reasons to buy
+
Wide internal rim width means round tyre shape which increases cornering stability
+
Great stability in crosswinds
+
Great weight for their depth
Reasons to avoid
-
Minimum tyre compatibility of 28mm
-
High RRP
The Zipp 353 NSW was launched as the lightest wheel ever produced by Zipp and, at 1,290g (with XDR freehub and tubeless valves included), they're extremely competitive. This weight reduction is made possible thanks to Zipp's switch to hookless rims, the sawtooth rim design, and a redesigned clutch that uses fewer parts.
They're designed as a 'road endurance' wheel, meaning despite their low weight, they're not restricted to short-term hill climbs. Instead, they are ready to be ridden all day long.
With a particularly large 25mm internal rim width, they come with a minimum recommended tyre width of 28mm, which is perfectly in line with the road endurance category, and is also pretty future-proof since tyres continue to trend wider with every season. That rim width means 28mm tyres are given a nice rounded profile, which offers extreme grip, stability and confidence during corners, to a level that is quite possibly the best on the market.
They are disc-brake and tubeless-type only, yet like any tubeless-ready wheelsets, you can still fit an inner tube should you wish.
The downside, however, is the huge price tag, and if it's purely the minimal mass that you're after, there are similar-weight wheels available for less.
Scope R3
Available in both rim and disc-brake variety, the Scope R3 wheelset caters for everybody
Specifications
Tyre format:
Tubeless and clincher
Rim width (internal):
21mm
Spoke count:
18/21 (rim) / 21/24 (disc)
Weight:
1,359g (rim) / 1,487g (disc)
Reasons to buy
+
Great value for money
+
Good stiffness-to-weight ratio
Reasons to avoid
-
Lacks brand cachet of rivals
The Scope R3 is the company's best lightest wheelset, weighing just 1,440g in rim brake guise (1,447g for the disc version). Like all Scope products, the R3 wheels are designed as a system, meaning everything used in its construction has been meticulously thought out to deliver the best performance.
Despite their impressive weight, the Scope R3 wheels are also impressively stiff thanks to the 19mm internal rim width and wide-flange hubs.
Stopping-power is superb on both the disc and rim-brake options, the latter using a special surface that claims to deliver linear-like brake performance and feel, regardless of the riding conditions.
Roval CLX32
A premium, lightweight carbon wheelset with the hardiness to match
Specifications
Tyre format:
Tubeless, tubular and clincher
Rim width (internal):
20.7mm
Spoke count:
16/24 (rim), 21/24 (disc)
Weight:
1,350g (disc) / 1,280g (rim) / 1,155g (tubular rim) / 1,230g (tubular disc)
Wheelset RRP:
$2,400 / £2,200
Reasons to buy
+
Crosswind stability is faultless
+
Ceramic bearings
+
Available in all tyre and braking variants
Reasons to avoid
-
The tubeless plug system is fiddly, but tape is also an option
The Roval CLX 32 might have since been overshadowed by the 100g-lighter Alpinist CLX wheels, but they still have their place in the market, by virtue of their compatibility with tubeless tyres, as well as continued availability in rim brake and tubular variants.
Weighing in at 1,350g per pair, they're still no slouch when the road points up, and only the Bontrager RSL 37 comes close to matching the balance of price, weight and compatibility.
As a tubeless-ready option, they can be set up to work with either rim tape or a plug system to block the spoke holes - the latter, however, is trickier to install, so we'd stick with the tape option.
Despite the Roval branding, the hubs feature DT-Swiss' 240 internals complete with star-ratchet system and CeramicSpeed sealed bearings, which helps ensure efficiency and durability.
Lightweight Meilenstein Obermayer
When less weight is the only important factor
Specifications
Rim width (internal):
N/A
Reasons to buy
+
Incredibly low weight
+
Extreme stiffness
Reasons to avoid
-
Ridiculously expensive
-
Outdated rim profile
-
Tubular & rim brakes only
If your search for lightweight wheels is purely one-dimensional and the reduction in weight is literally the only thing that matters, then you needn't look further than a brand called Lightweight.
The Lightweight Meilenstein Obermeyer wheels are tubular in design and are some of the lightest wheels available today. At 935 grams per pair, they are lighter than many deep-section rear wheels alone.
However, they come with a few downsides. Not least the price, which hovers around the £5,000 mark. They are compatible with tubular tyres and rim brakes only.
They also have a particularly old-fashioned V-shaped rim profile, which has been proven to be less aerodynamic than a more blunt shape, although on terrain where you're going to need these wheels, aerodynamics probably doesn't make much of a difference.
Campagnolo Bora Ultra WTO 33
Performance as a system
Specifications
Rim width (internal):
21mm
Wheelset RRP:
$3,585 / £2,810 / €3,150
Reasons to buy
+
Visually striking
+
Hidden spoke nipples for extra aero performance
+
Ceramic bearings
Reasons to avoid
-
Can easily get lighter wheels for less money
The headline features of Campagnolo's Bora Ultra WTO 33 wheels aren't the most impressive in this list, but once you get to riding them, you begin to understand why so many people love the Campagnolo brand.
At 1,385g, they're 130g heavier than the lightest tubeless-ready wheels featured here, and yet they still request a rather high asking price. However, there is so much more to these wheels than meets the eye. Firstly, the rim itself is completely sealed, meaning there's no need for tape or plugs when setting them up tubeless. The spoke nipples are hidden inside the rim, and they're laced to an all-new striking-looking hub. These hubs encase a 36-tooth ratchet system with Campagnolo's own CULT ceramic bearings for durability and efficiency.
They are disc brake and tubeless only, and their 21mm internal rim width is bang on trend with the progression towards wider tyres.
Vision Metron SL 30
Pro approved and competitively priced
Specifications
Tyre format:
Tubeless, Clincher, Tubular
Rim width (internal):
19mm
Weight:
1470g (disc), 1400g (rim), 1370 (tubular)
Wheelset RRP:
€1,837 - €1,889
Reasons to buy
+
Choice of rim or disc
+
Choice of tubed, tubeless or tubular
Reasons to avoid
-
Lighter options are available for a similar price
-
Internal width isn't as wide as many of today's options
Vision's Metron SL range represents the brand's top line componentry, and it is a range used by multiple WorldTour pro teams including EF Education Nippo, Bahrain Victorious and Team Bike Exchange.
The headline weight numbers don't stand out against the competition here, with the disc brake tubeless version weighing in at a comparitively portly 1470g, but as an entire system, Vision's wheels are still worthy of consideration.
The tubeless ready rims are some of the best we've tried when it comes to compatibility with tubeless tyres, and that means you can typically get away with using less sealant, because you don't need to rely on the sealant to form the initial seal, and less sealant equals less weight, in part making up for the initial negative.
How to choose the best lightweight wheels
Before splashing out on the first set of wheels you set eyes on, it's worth looking at the various attributes that make up the best lightweight wheels. Not only are the following factors fundamental in terms of compatibility with your bike (disc, tubeless, wheel width), they also have a direct impact on the strength, efficiency and longevity of a wheel.
Are lighter bike wheels better?
Reducing the rotational mass of a wheel is a far more important upgrade than trying to lighten your frame. If you think about it, climbing wheelsets are around 350-500g lighter than the aero equivalent, so not only are you losing total mass, you get the added benefit of saving energy (and wattage) to overcome inertia.
Of course, all else being equal, a lighter wheelset will be faster, but 'all else' is never equal. Reducing weight will usually come at the expense of something else. That could be depth, strength, or even compatibility with tyres.
Take a moment to consider your requirement for aerodynamics. If you're only ever riding along on the flats, then a lightweight pair of wheels will ultimately be slower than a heavier, more aerodynamic pair.
Are disc brakes heavier than rim brakes?
Despite their surge in popularity, and the many benefits that come with them, disc brakes are indeed heavier than rim brakes, so if you're a weight weenie trying to keep your setup as miniscule as possible, you might want to bear this in mind.
Of course, if you only have one bike to work with, then that will already dictate which type of braking system you'll be using. A disc-brake wheelset won't work with a rim-brake frame and vice versa. When choosing the best lightweight wheels for your bike, you'll need to ensure you get the correct braking type.
Are thru-axles heavier than quick-release?
Again, yes. With disc brakes came the requirement for stiffer axles, and the solution was 142x12mm thru-axles. Modern disc brake bikes will usually have these thru axles. Modern rim brake bikes will usually still use quick release skewers, and the best lightweight wheels tend to follow the same script, but just to be on the safe side, double-check your bike's axles and ensure your new wheels match.
Which rim depth is best for lightweight wheels?
Lightweight wheels for climbing possess a far shallower profile than their deep-dished brethren, usually around 25-40mm, which is great for climbing and cross-winds but not so much for straight-line efficiency. For many, however, the sacrifice in aerodynamics is worth the gain in gravity-trumping weight. It all comes down to the type of terrain you ride - if your local training roads are mountainous or hilly then it's wise to go with a climbing wheelset; if it's flat or rolling, go aero.
Are carbon wheels worth it?
While it's no secret that carbon is stiffer, more responsive, and better at absorbing vibrations than aluminium, there isn't much of a weight discrepancy between the two materials. In fact, in some instances, aluminium is lighter, and it's certainly cheaper. If the wheels listed in this guide are a little on the steep end of your budget, then look to aluminium for some cost savings.
Do lighter tyres make a difference?
The best lightweight wheels are all about keeping weight to a minimum while still retaining stiffness so it's imperative that you choose a tyre that complements its function - there's little point in fitting chunky 30mm tyres as this defeats the purpose. It's also worth considering the compatibility, as with the introduction of tubeless wheels and hookless beads, not all tyre manufacturers are guaranteed to be compatible.
The brands behind all of the best lightweight wheels will have a tyre compatibility chart that tells you what's safe (and more importantly, what's not safe) to use.
Get The Leadout Newsletter
The latest race content, interviews, features, reviews and expert buying guides, direct to your inbox!
As the Tech Editor here at Cyclingnews, Josh leads on content relating to all-things tech, including bikes, kit and components in order to cover product launches and curate our world-class buying guides, reviews and deals. Alongside this, his love for WorldTour racing and eagle eyes mean he's often breaking tech stories from the pro peloton too.
On the bike, 30-year-old Josh has been riding and racing since his early teens. He started out racing cross country when 26-inch wheels and triple chainsets were still mainstream, but he found favour in road racing in his early 20s and has never looked back. He's always training for the next big event and is keen to get his hands on the newest tech to help. He enjoys a good long ride on road or gravel, but he's most alive when he's elbow-to-elbow in a local criterium.
Get The Leadout Newsletter
The latest race content, interviews, features, reviews and expert buying guides, direct to your inbox!
Thank you for signing up to The Pick. You will receive a verification email shortly.
There was a problem. Please refresh the page and try again.